6 Best Portable Photo Printers in 2020
3D Insider is ad supported and earns money from clicks, commissions from sales, and other ways.
Smartphones let us take more photos than ever before. They also reduce them to ephemeral data, easily lost due to malfunctioning hardware or buggy software updates. Printed photos can last for decades, but paying someone else to do it is a hassle and impractical. That's why a photo printer is an ideal choice for preserving your fondest memories!
Modern photo printers fit inside the palm of your hand yet produce images no less vibrant than ones you'd get from a print shop. They interact with phones wirelessly, and most have rechargeable batteries, letting you take photos anywhere and print them right away. Some even offer advanced photo manipulation and even augmented reality integration through their apps.
Here are the six best portable photo printers on the market today. They use different technologies and produce prints of varying formats. You don't need any technical knowledge to use any of them, and the resulting photos are wonderful keepsakes that will keep your memories alive long after you've exchanged your smartphone for a better one. Check out what each can do, and start preserving your life's highlights in style.
Budget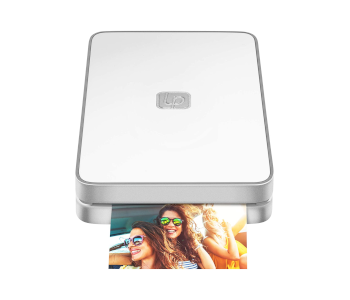 Lifeprint 2×3 Hyperphoto Printer
x/5.0
Resolution: 314×400
Speed: 30s
Easy to use & replace paper.
Check Amazon
Best Value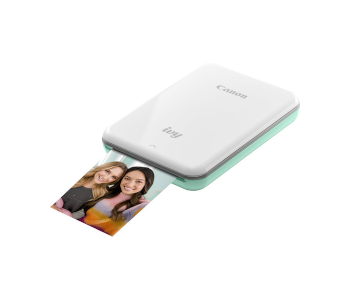 Canon IVY
4.3/5.0
Resolution: 314×400
Speed: 50s
Easy to use and appealing to teens.
Check B&H
Top Pick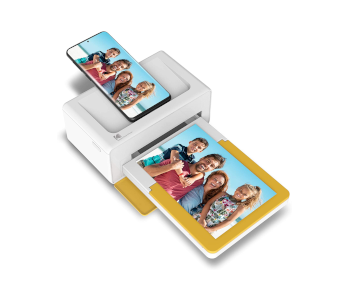 Kodak Dock Plus
4.6/5.0
Resolution: 300 dpi
Speed: 50s
Great photo quality and intuitive app.
Check Amazon
Portable Photo Printers Comparison Table
1. Best Overall – Kodak Dock Plus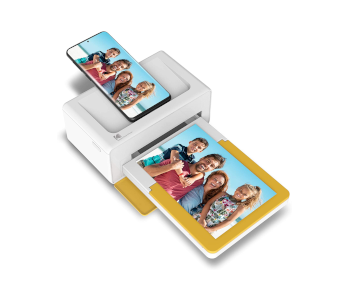 View on Amazon
Editor's Rating: 4.6/5
Kodak's original Dock printer offered a hassle-free way to transfer digital images onto paper but not without flaws. The Plus version sees improvements in almost every respect – the prints are bigger & take less time to complete, and Bluetooth has replaced wi-Fi. The ease of use remains, as does the intuitive app you use to control the printer. Best of all, the cost per print has gone down as well.
Overview of Features
The Dock Plus looks like a streamlined version of the already barebones original. The printer itself is small & square-shaped but doubles in width once you attach the paper tray to its front. The tray holds ten sheets of special glossy paper that goes through the printer four times. One of three colors is applied with each pass. The final one adds a clearcoat layer to protect the photo and deepen contrast.
Kodak has improved the Dock Plus's speed considerably. It prints an image in 50 seconds on average, down by 15 seconds from the original. It also takes less time to process image data and start up. The photos dry quickly and are on par with prints you'd get from a local photo shop. The colors & contrast are a little subdued by default, but you can quickly edit these with the app.
The power button is the Dock Plus's only physical control. You activate the rest by docking your phone and downloading the Dock app. You can gain access to images directly from storage or use a Bluetooth connection to control the printer without utilizing the docking port. There's no reason not to since the printer accepts phones of all sizes and recharges them while connected.
The app is instrumental in using the Dock Plus, so it's fortunate that it's designed with maximum simplicity. It lets you access and review photos, apply borders or various stickers, and chose among several profiles. These include ID photos, cards for special occasions, photo booth-style photos, and more.
What We Didn't Like
The Dock Plus's paper tray is prone to jamming. You'll have to give it a push now and then or tilt the printer upward to let gravity do its thing. This is the largest and heaviest printer on review. While it's still portable, you can't put it in a pocket like most others.
Tech Specs
Dimensions: 7.9 x 6.8 x 5.6"
Weight: 3.4 lbs
Photo size: 4 x 6"
Printing medium: Dye-sublimation paper
Resolution: 300 dpi
Speed: 50s
Capacity: 10 sheets
Pros
Great photo quality
Intuitive app
Charges your phone while printing
Large print size
Cons
Larger and heavier than other models
Paper tray might jam on occasion
2. Best Value – Canon IVY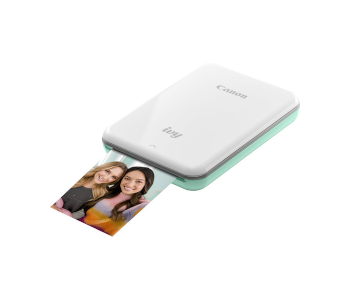 View on B&H
Editor's Rating: 4.3/5
Most portable photo printers aren't expensive but come with high running costs. The IVY form Canon doesn't fall into that category, especially if you buy refills in bulk. It's a capable printer that uses Zink paper to produce decent-quality images you'll love to gift to friends or stick onto the fridge. Add a simple app, and you've got a winning combination for value-seeking shutterbugs.
Overview of Features
Few things stand out about the IVY's design. It's a thin, wallet-sized device with rounded edges that comes in a combination of white and three pastel colors. Its physical controls are more elaborate than most, though. There's an on/off toggle, two status lights, a micro USB port for charging, and a reset button you press with a needle or toothpick in case the printer stops working correctly.
Competitive photo pricing is the best thing about the IVY. The photos are 2 x 3 inches, which is standard for this type of printer. Buying packs of 50 sheets of Zink paper is your best bet as the cost-per-print comes to around 45 cents in that case. That's also the average number of seconds it takes to complete a photo. Different results depend on temperature conditions and your phone's specs.
We found the Canon Mini Print app to be accessible and offer most features you'll get from the competition. There's single photo mode, a collage, and a pre-cut sticker mode that splits a photo into four so you can combine them into a larger print. The app has access to your phone's storage but may also print files off of a Google Drive or take photos from Facebook & Instagram. There's a comprehensive selection of stickers to choose from. The app also offers lots of colorful & creative border styles.
Are There Drawbacks?
The IVY works with Zink paper that uses color crystals and heat to generate color. It has only three color channels and lacks black, so the hues aren't as deep as you'd expect from an ordinary color printer. A slight crop is applied during printing, so make sure that your photo's extreme edges don't contain bits vital to the overall scene.
Tech Specs
Dimensions: 4.7 x 3.2 x 0.7"
Weight: 5.6 oz
Photo size: 2 x 3"
Printing medium: Zink paper
Resolution: 314×400
Speed: 50s
Capacity: 10 sheets
Pros
Excellent value for the money
Cost-effective prints
Fun and simple app
Easy to use and appealing to teens
Cons
Prints are slightly cropped
Mediocre photo quality
3. HP Sprocket Select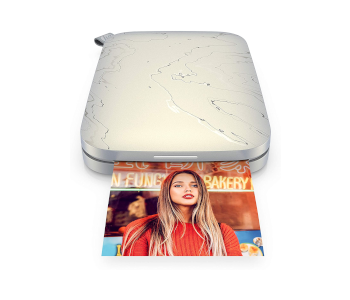 View on Amazon
Editor's Rating: 4.5/5
The Select is the newest & most refined printer in HP's Sprocket family. It supersedes older models with better print quality, more developed augmented reality options, and ease of use. It makes some of the best looking Zink prints around and is among the most compact models we've tested. Print times could be quicker, but that's a reasonable setback given the quality of the result.
Overview of Features
The Sprocket Select is a wallet-sized printer you'll barely notice inside a pants pocket. It has a sleek modern design with rounded edges and an elegant, marble-like pattern on top. An on/off button and two informative LEDs disrupt the otherwise smooth surface. The LED next to the power button glows orange or green depending on its charge level and will switch to red if there's an error. The other LED is located next to the paper output and will blink white during a job to indicate data transfer. Switching to orange means there's a paper jam.
HP's printers use Zink or Zero-ink paper. The title is somewhat misleading since ink makes colors appear on the paper – it's just embedded into each sheet in crystal form. Initiating a print causes different parts of the printer to heat up to a minute degree, causing the heat difference to translate into varying colors. Zink prints are usually lower in quality than photos made with dye sublimation, but the Sprocket Select's show strong color presence and lots of detail.
This is another printer entirely dependent on its app, to which it connects exclusively through Bluetooth. The interface is basic and functional. It asks you to select a photo source; local files are supported, as are photos from your Instagram or Facebook accounts. The view automatically shifts to portrait mode. You can choose to print the image on one, four, or nine pieces of Zink paper.
The Sprocket Select implements augmented reality in two ways. Reveal embeds information about your recent photo activities onto a print, letting you look them up as you scan it with your smartphone's camera. You may also print frames from video clips and have the clips play once they're scanned, but the scanner needs to have access to the file in question to make use of the feature.
What's Bad About It?
Zink paper specific to this printer is expensive, which makes the Sprocket Select one of the least cost-effective printers on the list. It connects only through Bluetooth and doesn't support desktop computers.
Tech Specs
Dimensions: 5.1 x 3.5 x 0.7"
Weight: 6.3 oz
Photo size: 2.3 x 3.4"
Printing medium: Zink paper
Resolution: 321×600
Speed: 70s
Capacity: 10 sheets
Pros
Excellent quality for a Zink printer
Elegant and portable
Fun app with interesting augmented reality features
Intuitive status LEDs
Cons
High print cost
Exclusively connects through Bluetooth
4. Fujifilm Instax Mini Link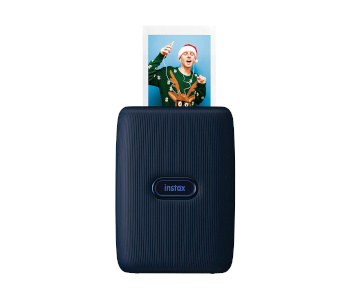 View on Amazon
Editor's Rating: 4.4/5
Are you a fan of the instant film camera comeback but want to print photos from your phone on film instead? The Instax Mini Link offers the best of both worlds, allowing you to take any image stored on your phone and develop it on original Instax Mini film. It's tiny, works anywhere, and has a great app that offers loads of creative features. The printer itself is affordable, and photos can be if you snag the film at a discount.
Overview of Features
The Instax Mini Link is among the smallest and lightest printers on review. It fits comfortably inside a pants pocket and is easy to take out thanks to contoured ridges. It's available in various attractive colors and doesn't weigh much even when you load it with a pack of ten exposures. The printer is battery-powered, with the Li-ion cell lasting for 100 exposures per charge. All you need for it to work is a small flat area and a Bluetooth connection to an android or iOS phone.
The Instax Mini Link app offers one-tap printing while also being comprehensive. Simple Print prompts you to select a photo and lets you add effects like black & white or sepia before printing. A collage mode offers plenty of patterns with up to five images per exposure.
Match Test and Party Print are two fun modes two to five people can enjoy. The first gives you and your partner a series of questions to answer and then prints your photos side by side with an overall compatibility score. The latter lets five people download the app and connect to the host. She can then choose photos from each of their phones and print them in a unique collage.
Printing the photos takes less than twenty seconds, making the Instax Mini Link the fastest printer on review. The film still needs time to develop, which takes another minute or two. The results look surprisingly good for film of this type. Print and image quality go hand in hand, so expect amazing quality for the medium if you develop pictures taken with high-resolution cameras.
What We Didn't Like
The Instax Mini film the printer uses isn't cheap. You'll have to buy in bulk, wait for a discount, or refrain from too much snapping for the printer to make economic sense. The format is also small, doubly so, since each photo has a thick border.
Tech Specs
Dimensions: 5 x 3 x 7.1"
Weight: 10 oz
Photo size: 1.8 x 2.4"
Printing medium: Instax Mini film
Resolution: 800×600
Speed: 12s
Capacity: 10 sheets
Pros
Light and portable
High-capacity rechargeable battery
Makes great-looking pictures that look better as the source quality increases
Versatile & fun app
Cons
Small print format
High cost-per-print
5. Canon Selphy Square QX10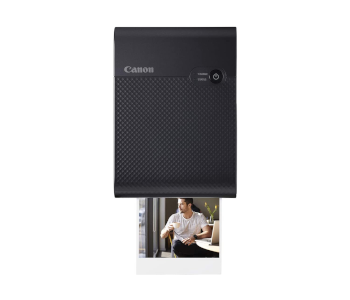 View on Amazon
Editor's Rating: 4.3/5
Are you bored with the same old photo format? Why not switch to square instead? That's the philosophy behind the Selphy Square QX10 from Canon, a printer that produces great-looking square pics reminiscent of old Polaroids. It's a breeze to use, looks attractive, and is backed by a simple app that gets the job done. It's also among the quicker printers we've tested, taking just 45 seconds to produce a picture.
Overview of Features
We're fans of the Selphy Square QX10's design as it's understated yet attractive. A textured top provides enough surface for a comfortable grip, and the rounded front makes this model stand out from the rest. You can get it in one of four variants, two of which combine white with either pink or green. Physical controls boil down to the on/off button and LEDs for power and status indication. You control everything else via Bluetooth.
The Selphy Square QX10 uses the same kind of dependable dye-sublimation technology we've already seen with the Dock Plus. Picture quality is correspondingly high, with punchy colors and pleasing contrast. The square shape is a fun alternative to conventional dimensions. There's adhesive backing on each sheet you can peel off to stick the photo anywhere.
The Selphy Photo Layout 2.0 app behaves similarly to others we've tested. Its main screen allows for quick one-off printing and presents you with numerous collage options. You may augment an image by adjusting the brightness & contrast to bring colors out more. It's also possible to add lots of stickers and personalize any photo with short text messages. There's nothing original about any of this, but the implementation is excellent.
Are There Drawbacks?
The Selphy Square QX10's unusual photo format comes at a cost as prints will run close to 75 cents each. The device has a rechargeable battery, but its capacity is small. It has enough juice for 20 photographs before needing a refill.
Tech Specs
Dimensions: 4 x 1.2 x 5.7"
Weight: 1 lb
Photo size: 2.7 x 2.7"
Printing medium: Dye sublimation paper
Resolution: 321×600
Speed: 45s
Capacity: 10 sheets
Pros
Excellent picture quality due to dye sublimation
Attractive design
App offers lots of customization options
Produces square prints with adhesive backing
Cons
Expensive refills
Mediocre battery life
6. Best Budget Option – Lifeprint 2×3 Hyperphoto Printer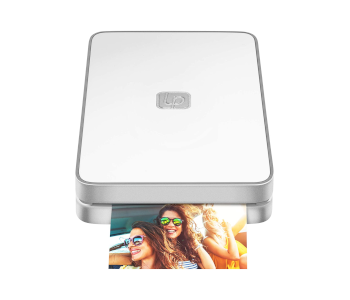 View on Amazon
Editor's Rating: x/5
Lifeprint's 2×3-inch printer looks like a decent choice on the surface. It's straightforward to use, not too expensive to run, and costs less than other models on review. That would have been enough to give it our budget recommendation, but the printer also has a novel feature all others lack. It uses augmented reality to turn stills into movies like something straight out of a Harry Potter movie.
Overview of Features
The 2×3 Hyperphoto looks tailor-made for Apple fans with its sleek lines and minimalistic appearance. It's the size of a smartphone, albeit twice as thick. With a slit in the middle through which standard Zink photos are ejected. Unlike other models, it has a Kensington lock to prevent theft; a thoughtful feature other portable printer manufacturers should copy.
Cartridges of Zink paper are inserted by sliding off the top plate and exposing the printer's internals. It's a straightforward process that takes a minute to complete. Three status LEDs indicate whether the device is printing, connected, or in need of recharging. Bluetooth is the only supported connection type, so using the printer with a PC is out of the question.
The Lifeprint app fully embraces the Harry Potter aesthetic, even offering users a chance to pick one of the wizarding world's four houses as their own. It's a fun if inconsequential touch as you'll mostly be using the app to crop and color-correct images before printing. There's also a social network aspect. The app prompts you to make an account and connects you to other users. You may share messages and post the photos you printed for everyone to see.
Hyperphoto is what sets Lifeprint's device apart from the rest. You need to take either a screencap from a movie clip or use a photo to embed an AR code when printing. This lets users who download the Lifeprint app watch the video associated with the code through their phone's camera. It works better than the similar feature seen on the HP sprocket since the video is saved on Lifeprint's cloud and is accessible to anyone scanning the code.
What's Bad About It?
The 2×3 Hyperphoto uses Zink paper, and its photo quality is on par with the Canon IVY. The social network is a neat idea but can feel intruding. You have to manually disable the uploading of each photo individually if you don't want them to end up in the cloud.
Tech Specs
Dimensions: 4.6 x 3 x 0.9"
Weight: 6.4 oz
Photo size: 2 x 3"
Printing medium: Zink paper
Resolution: 314×400
Speed: 30s
Capacity: 10 sheets
Pros
Hyperphotos bring prints to life in a memorable way
Easy to use & replace paper
Fun app with an engaging social aspect
Simplistic design
Cons
Photo quality could be better
Social media aspect of the app may be intrusive