6 Best Portable Video Lights of 2019
3D Insider is ad supported and earns money from clicks and other ways.
Whether you're making a documentary on the slums of Cairo or want to build a successful YouTube channel, the lighting in your videos needs to be on point. Poor lighting can put the importance of your message as well as your professional skills into question. That's why you need a dependable light source for any occasion, one provided by portable video lights.
Unlike the large lights you see in studios, portable video lights fit onto your camera or in a small bag. They travel with you unobtrusively and work wherever they're needed thanks to rechargeable batteries. The smartest of them are accompanied by mobile apps that let you control the light remotely.
LED technology has advanced to the stage where even small-sized lights can brightly illuminate the space around them. This means you can take just your camera, your light, and a spare battery and be confident that your videos will look fantastic. Today's portable video lights handle pitch-black darkness, the whimsical lighting conditions of nature shoots, or the controlled environment of your home studio with equal ease.
These are the six best portable video lights you can get today. They vary by price, brightness, and even their best use case, so check them all out before you make a decision.
Budget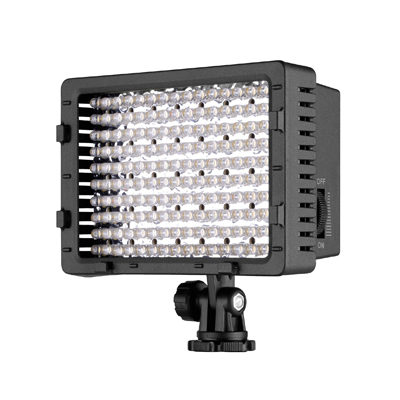 Neewer CN-160
3.9/5.0
Weight: 8.6 oz.
Brightness: 900 lumens
Color temperature: 5,600K
Comes with two filters, emits even, flicker-free light.
Check Amazon
Best Value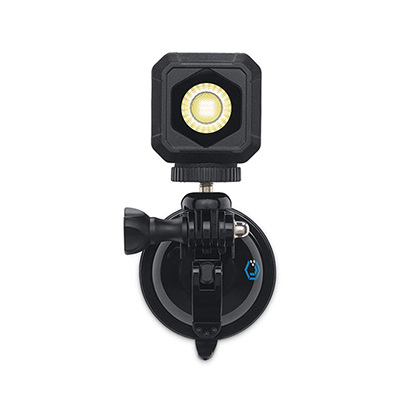 Lume Cube AIR VC
4.6/5.0
Weight: 2 oz.
Brightness: 400 lumens
Color temperature: 5,700K
Highly portable and versatile, strong light output for its size.
Check Amazon
Top Pick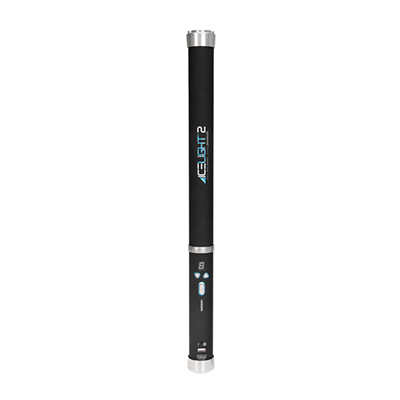 Westcott Ice Light 2
4.8/5.0
Weight: 1.3 lbs.
Brightness: 1,740 lumens
Color temperature: 5,500K
Great output considering the size, natural light with a good CRI.
Check Amazon
6 Best Portable Video Lights Comparison Table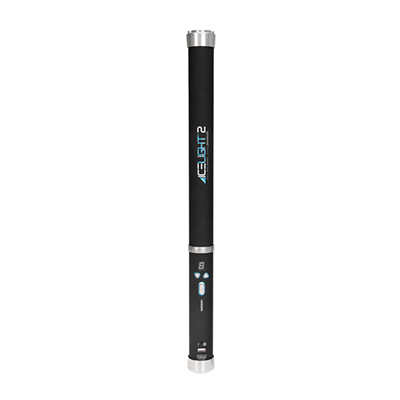 View on Amazon
Editor's Rating: 4.8/5.0
When filming outdoors, you need to plan for any eventuality. Lousy weather and unfavorable lighting can put a severe damper on production times, but these are no longer a problem if you buy Wescott's Ice Light 2. This pricey portable LED light is built to perform regardless of the weather. It emits natural-looking light at a high color rendering index (CRI), is easy to control either manually or with an app, and has a long-lasting battery.
Overview of Features
The Ice Light 2 looks like a heavy-duty lightsaber with a sizeable cylindrical LED at the top and basic controls towards the bottom. Both ends have a ¼-inch thread so you can attach the light to a tripod. Power is drawn from a rechargeable Li-ion battery which has enough juice for an hour of continuous operation at the Ice Light's brightest setting. When it's depleted, you can even charge the battery in your car.
Controlling the Ice Light is simple – you turn it on with the on/off toggle and can then specify one of 18 light levels that increase in brightness in 5-percent increments. The physical controls are massive and responsive so you won't have trouble operating the light even if you're wearing thick gloves. There's a battery power indicator light under the on/off switch. It glows blue until the battery runs low, then it switches to orange and lets you know it's time to recharge. You can also check on the battery level and adjust brightness through the Westcott app for iOS.
Performance-wise, the Ice Light 2 is fantastic. It emits a diffuse, concentrated beam of light which doesn't create harsh shadows. Its color temperature is a natural white 5,500K. Combine that with a high CRI of 96, and you get colors that are true to life no matter where you're shooting. Additional accessories are available to help you customize the light's performance. For example, Westcott offers separate barn doors if you need to manipulate the beam with more precision.
What We Didn't Like
Ice Light 2 suffers from minor issues. You can't turn off the blue LEDs that surround the physical controls. You may need to cover them up during close-up shots so the blue glow doesn't interfere with color fidelity. The Westcott app isn't available for Android devices.

Tech Specs
Dimensions: 21.6 x 1.7 x 1.7 in
Weight: 1.3 lbs.
Brightness: 1,740 lumens
Color temperature: 5,500K
CRI: 96
The Pros
Great output considering the size
Natural light with a good CRI
Easy to control in any conditions
Good battery life
The Cons
No Android app
No way to turn off LED lights that surround the controls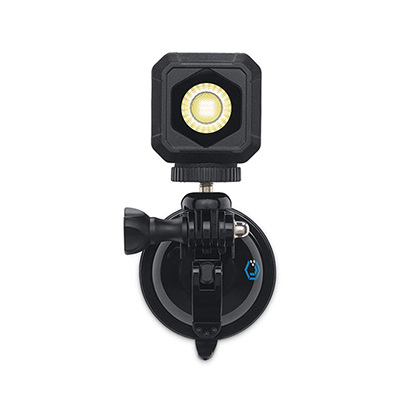 View on Amazon
Editor's Rating: 4.6/5.0
Are you a vlogger who needs a portable yet powerful LED light? Do you create content from home but don't wish to clutter up the room you're working in with bulky lighting? If so, the Lume Cube Air VC is the perfect lighting accessory! It's small enough to attach to your cellphone or camera, weighs next to nothing, and is easy to control with a well-made companion app.
Overview of Features
The Lume Cube Air VC is a new& enhanced version of the original Lume Cube. It is smaller in size, lighter, and waterproof to a depth of thirty feet. The VC In its name means that you get a suction cup along with the light. This mount lets you quickly attach the cube to any surface and leave no marks behind when you move it. The Lume Cube Air has both a thread for tripods and a magnet though, so if you don't need the suction cup mount, you can buy a standalone version for $10 less.
You control the Lume Cube Air exclusively through the Lume-X app. This lets you change the brightness settings, strobe frequency, and light modes for multiple cubes. You can also keep track of battery levels, browse a gallery of your videos, and share them to YouTube.
The Lume Cube Air puts out a respectable 400 lumens and is ideal either for close-ups or as a fill light. Its color temperature is set at 5,700K, but you get an orange diff user if you need a warmer color. There's also a white diff user which doesn't change the color temperature but softens the light so your features appear more flattering.
The light is powered by a rechargeable battery which will last for an hour at the brightest of its four settings. The battery recharges through a MicroUSB cable you can hook up to a power bank to drastically extend its running time.
What's Bad About It?
Lume Cube Air is heavily dependent on its app. You can turn it on/off and check the battery level only through Lume-X. The light has a CRI of 90 overall. However, the CRI is much lower in the red spectrum. Nature scenes and skin tone colors will still be reproduced accurately, but the Lume Cube Air may not be suitable for professional work where every color needs to be recreated faithfully.

Tech Specs
Dimensions: 1.6 x 1.6 x 1.1 in
Weight: 2 oz.
Brightness: 400 lumens
Color temperature: 5,700K
CRI: 90
The Pros
Highly portable and versatile
Strong light output for its size
Good set of accessories
Companion app gives in-depth control
The Cons
Can only be controlled through app
Low CRI, especially for shades of red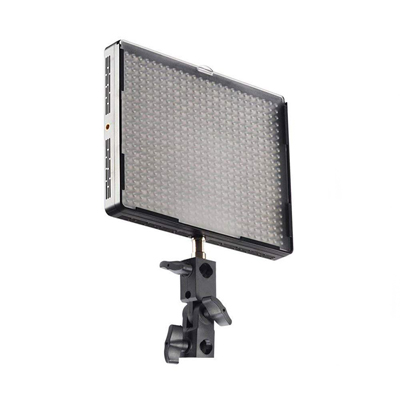 View on Amazon
Editor's Rating: 4.4/5.0
The portable lights we've discussed so far will find a wide range of application, but they aren't as bright as stationary lights you'd encounter in a professional video studio. The Aputure Amaran 528s is here to bridge the gap between portability and power! Its brightness of 4,300 lumens is enough to bathe an entire room in a soft glow that imitates daylight well. Setting up and controlling the light is simple, and you get a ton of useful accessories as part of the deal.
Overview of Features
The 528S is a rectangular LED light with a fixed color temperature of 5,500K and a CRI of 95. The 528 in its name stands for as many LED lights which never run warm. The housing is made of thin plastic which might warp if the light ever falls, so you'll need to be careful when handling it. The 528S can be powered by rechargeable batteries, but none are included.
Nevertheless, the accessories package is generous. You get an adapter and power cable, a swivel mount that lets you control the light's direction, two diff users, and a carrying bag. The bag is particularly useful since it has compartments for the light and all other accessories. It is meticulously organized and ensures you'll have everything you need to operate the light within arm's reach.
You control the 528S through dials and buttons located on its back panel. The controls are basic and include an on/off switch as well as a brightness adjustment dial. The dial rotates smoothly rather than in increments, allowing you to adjust the brightness exactly to your liking. An LCD screen shows which setting you're using in big red numbers ranging from 10 to 99. The 528S also remembers which setting you used last.
Are There Drawbacks?
The supplied power cable is too short. You'll want to buy an extension cable to use the 528S without restrictions. The clips used to secure batteries in place are cheaply made. You may need to push down on them with something slender like a screwdriver to close them all the way.

Tech Specs
Dimensions: 9.4 x 7.5 x 1.3 in
Weight: 1.2 lbs.
Brightness: 4,380 lumens
Color temperature: 5,500K
CRI: 95
The Pros
Exceptional brightness
Excellent assortment of accessories
Runs on both AC power and batteries
Easy to operate
The Cons
Short power cable
Flimsy battery clips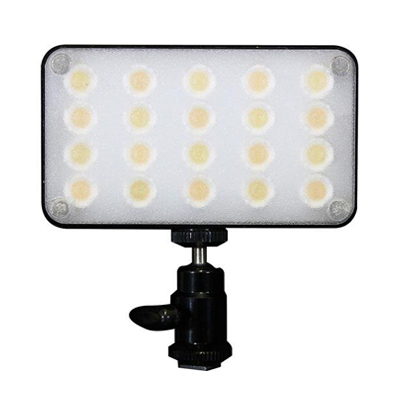 View on Amazon
Editor's Rating: 4.3/5.0
The TorchLED Bolt 250 W is hot on the 528S's heels in terms of brightness and performance. It's a smaller model suitable for mounting on cameras, but it manages to put out a whopping 3,000 lumens! Add to that the ability to change color temperature as well as a small power draw, and you've got a cost-effective, portable light that's ready for anything.
Overview of Features
This is a lightweight camera-mounted LED light that comes in three power configurations. You can buy a standalone version, one with an AC adapter, or one with the adapter and rechargeable batteries. Without these accessories, the TorchLED Bolt draws power from your camera. It needs just 13 volts per hour to operate, meaning it can last four hours or more without interfering with the camera's normal operation.
Unlike previously reviewed lights, the TorchLED Bolt lets you adjust its color temperature gradually from a warm 3,200K to a daylight equivalent at 5,700K. The beam it casts is narrow, but the accompanying diff user helps in dispersing it and softening the glow. At 3,000 lumens this is the second-brightest light on review and an excellent performer considering it is small enough to mount on a DSLR.
The brightness can be set from 0 to 100 percent. Combined with the variable color temperature and diff user, this lets the TorchLED Bolt excel in any lighting situation. Its raw power and the spot light nature of its unaltered beam mean you can use the light to shoot from a distance and at night. On the other hand, changing the color temperature allows you to capture wildlife scenes and nature shots regardless of shifting lighting conditions. The TorchLED Bolt works well as a vlogging light too, but it really comes into its own when used by news crews and documentary makers.
What We Didn't Like
The diffusion panel is secured to the TorchLED Bolt with magnets so you can quickly attach and remove it. Problem is, you might receive a model that has a corner which isn't magnetic. This can cause the diff user to fall off. The ball head that comes with the light has a shallow fitting. This means you'll need to screw it all the way in for the light to fit securely. Applying too much force when doing this can strip the thread over time and cause the mount to become even more unstable.

Tech Specs
Dimensions: 5.2 x 3 x 1.7 in
Weight: 0.6 lbs.
Brightness: 3,000 lumens
Color temperature: 3,200 – 5,700K
CRI: 95
The Pros
Excellent brightness
Adjustable color temperature
Can draw power from camera battery
Low power consumption
The Cons
Magnets on diffusor might not work
Shallow ball head fitting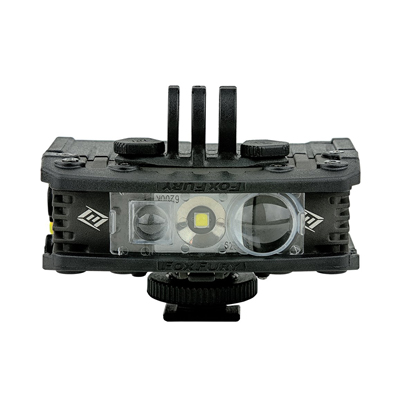 View on Amazon
Editor's Rating: 4.0/5.0
If you thought the Lume Cube was versatile, wait 'till you see what FoxFury's Rugo can do! We're not exaggerating when we say that the Rugo is a marvel of engineering. It can be used on drones or mounted to cameras. It will withstand harsh environments and illuminate underwater scenes 10 feet deep or less. If one is not enough, you can string multiple Rugos together and create a truly custom light. The possibilities are endless.
Overview of Features
The Rugo is an LED light with a color temperature of 5,700K and a maximum strength of 700 lumens. It has a rugged outer shell that's waterproof and resists impact. There are four brightness levels, and the Rugo runs on an interchangeable power bank up to six hours on the lowest one. The power banks snap easily into place and replacing a depleted one with a backup takes seconds. Accessories include a carrying bag and three mounts so you can connect the Rugo to either an action camera, drone, or DSLR.
Three lens settings are the Rugo's unique feature. You can choose between spot, area, and flood lights depending on the situation. The spot light concentrates the beam and is ideal for shooting far-away subjects. If you're using a DSLR, you'll get the best use out of the area light since it behaves closest to other portable lights we've tested. Lastly, the flood light gives off a soft, dispersed glow and comes in handy as a fill light.
The light works well whether you're inspecting a field with your drone or shooting an underwater music video. We love that you can also connect more than one into a chain and address any lighting need with a unique combination of lens settings and brightness levels.
What's Bad About It?
The Rugo has a CRI rating of 80. While this isn't terrible, it does mean that some colors might appear washed out and subtle shades will blend together. While the light is built like a tank, the same can't be said for its mounts. They're made from cheap materials and will be the first to give out and need replacing.

Tech Specs
Dimensions: 2 x 1 x 2.9 in
Weight: 5.6 oz.
Brightness: 700 lumens
Color temperature: 5,700K
CRI: 80
The Pros
Rugged build
Three light types in one
Swappable power banks
Multiple units can be linked
The Cons
Low CRI
Flimsy mounts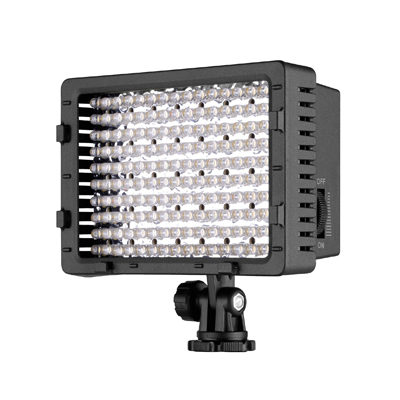 View on Amazon
Editor's Rating: 3.9/5.0
Can you get a decent portable video light for less than $25? Yes, provided you buy the CAN-160 from Neewer. This entry-level light is all you need to drastically improve the lighting quality of your videos on a budget. It comes with two diffusion filters, emits pleasing natural light, and can be mounted to any DSLR camera thanks to its hot shoe mount. This is the light to get if you're just starting out as a videographer and need a cheap yet reliable key light.
Overview of Features
The CN-160 is an LED light that has a hot shoe mount and a ¼-inch screw which let you easily attach it to cameras, camcorders, or tripods. It takes 6 AAA batteries and supports Sony's popular rechargeable models too. A set of batteries lasts for 80 minutes with the brightness dial turned all the way up. Two diff users are also a part of the bundle which is generous considering the low price.
The light's back panel is dominated by a large battery compartment. There are four indicator LEDs underneath it. As the batteries are drained, the number of glowing LEDs decreases until there's only one left when power is low. There's a single control wheel on the side which acts both as an on/off switch and a brightness adjustment dial. The grooves on its surface help you adjust the intensity and keep your finger from slipping.
The light's overall performance is solid. The glow it gives off is equally bright everywhere, and there's no trace of flickering, even when brightness is set to low. Without the diff users, the CN-160 acts as a spot light and can be used from as far away as 15 feet. Adding the diff users limits its range but makes the light softer or both softer and warmer in case of the orange diff user.
Are There Drawbacks?
The CN-160's documentation doesn't include its CRI. Its build quality is mediocre, which isn't surprising since the light is so affordable. One thing about this is worrisome though – there's no cover for the batteries. They're completely exposed, which means that the CN-160 isn't suitable for outdoor use.

Tech Specs
Dimensions: 5.5 x 2.4 x 5.9 in
Weight: 8.6 oz.
Brightness: 900 lumens
Color temperature: 5,600K
CRI: Not specified
The Pros
Excellent value for the money
Supports rechargeable batteries
Comes with two filters
Emits even, flicker-free light
The Cons
Poor build quality
Exposed batteries
CRI isn't specified