6 Best Posture Monitors of 2019
3D Insider is ad supported and earns money from clicks, commissions from sales, and other ways.
The nature of modern work mandates that many of us spend half of our waking lives sitting down. That on its own poses health risks, but if you also have lousy form while sitting the consequences can be serious. Back pain, problems with the cardiovascular system, and even degradation in mental health are all linked to slouching. While you might not be able to switch to a more active job, you can do something about your sitting habits!
Posture monitors instill positive habits by alerting you whenever you're slouching or leaning forward too much. It doesn't take long for them to train you how to sit or stand up straight, and you get to keep the habit for life once you've formed it. Some posture monitors also track your fitness stats while others manage your posture during specific situations like yoga practice.
We've assembled and reviewed the six best posture monitor you can get. They employ different monitoring methods and attach to various body parts, but all encourage you to impact your health with a few small corrections meaningfully. Pick the posture monitor you find most appealing and do something for your long-term wellbeing today!
Budget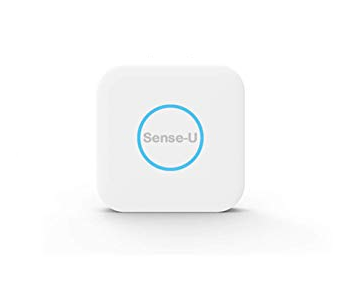 Sense-U Clip3
4.5/5.0
Weight: 0.5 oz.
Positioning: Under collarbone
Excellent price and elegant design.
Check Amazon
Best Value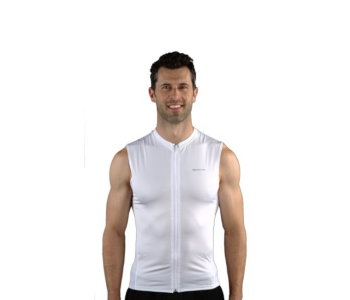 TruPosture Smart Shirt
4.5/5.0
Weight: 1 oz.
Positioning: Upper body
Breathable and safe for machine washing.
Check Amazon
Top Pick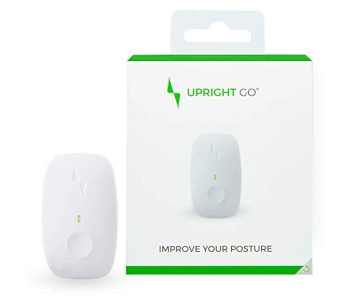 Upright GO
4.7/5.0
Weight: 1 oz.
Positioning: Upper back
Accurate slouching and leaning detection.
Check Amazon
Posture Monitors Comparison Table
1. Best Overall – Upright GO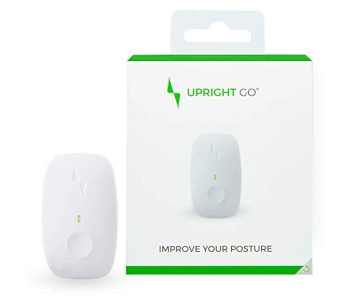 View on Amazon
Editor's Rating: 4.7/5
A posture monitor needs to be unobtrusive to achieve its full effect. After all, you can't go about your business and correct bad habits if you're bogged down by a clunky device. The Upright GO is the most straightforward posture monitor around – it straps to your back and you forget it's there until you start to slouch. It has a simple yet highly effective design as well as an intuitive and customizable companion app. Get the Upright GO and start sitting correctly in two weeks or less.
Overview of Features
The Upright GO is a small plastic square with rounded edges you put on your upper back. It is held in place by double-sided tape which can be reused multiple times. The device has a single on/off button and an indicator LED that glows while it's active or charging. Becoming accustomed to the GO's small size and weight takes only a few minutes.
You start using the GO by calibrating it in the companion app. It prompts you to sit up straight so that the GO can determine your optimum posture. Once you stray from that posture, the GO beeps and vibrates. You'll pick up on both signals instinctively and sit up straight to make them stop.
The app has two modes. Training provides sound & vibration alerts every time you're slouching while Monitoring does just that and logs the results to a daily stats page. It's useful to keep Training mode active more frequently in the beginning, and you can dial it down when your habits start to improve. The best thing about Upright GO's monitoring parameters is that you can change them. You may choose how long a slouching position can be maintained before the alarm goes off as well as specify the leaning angle. That significantly reduces false alarms and motivates you to keep at it.
Upright also sells the Upright PRO, a clunker yet more sophisticated devices you can use either on your upper or lower back. Other than slouching control, it monitors your core muscles and helps you strengthen them.
What We Didn't Like
While the Upright GO is excellent, the tape that comes with it isn't. Some strips might last you the entire two weeks it takes to train your posture while others fall off after a few minutes. The battery that powers the device has an inconsistent charge as well. It should last a whole day but may need charging after six hours, especially when you're starting and need more correcting.
Tech Specs
Dimensions: 4 x 3.5 x 2 in.
Weight: 1 oz.
Positioning: Upper back
Tracks: Slouching, leaning
The Pros
Accurate slouching and leaning detection
Naturally encourages improvement
Well-made and customizable app
Unobtrusive until it needs to correct you
The Cons
Erratic battery life
Bad sticky tape
2. Best Value – TruPosture Smart Shirt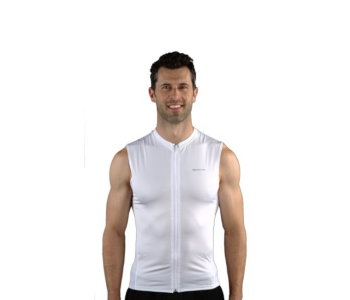 View on Amazon
Editor's Rating: 4.5/5
Having to fiddle with unreliable straps is a surefire way of losing interest in even the best posture monitor. Why not get rid of the need for straps completely? That's the idea behind TruPosutre's Smart Shirt! It ensures you're not slouching in the most natural way possible and nudges you to improve whether you're leaning forward or back. The shirt looks great, has a functional app, and lets you monitor your posture in three positions.
Overview of Features
The TruPosture Smart Shirt is a sleeveless piece of sportswear available for men and women in five sizes each. It has a zipper in the front so you can put it on more quickly. The shirt is made from a combination of elastane and polyester and is perforated for faster drying. It is safe to wash in the machine and can be tumble dried too.
Depending on the version of shirt you bought, there are three or five sensors placed along the middle of its back. These measure the spine's curvature and report it to the app. The result is a real-time image of your spine you can check to see which part is positioned incorrectly. The Smart Shirt is able to distinguish between slouching & leaning forward on the one hand and leaning too far backward on the other. It alerts you with one vibrating pulse for the former or two in case of the latter.
Once initial calibration is complete, you don't even need to use the app as the shirt is standalone! You should, though, because the app offers insight into your habits and contains historical data on your performance. The shirt itself can store the past 72 hours of activity and transfers that through Bluetooth whenever you turn on the app. That's also where you get to calibrate the shirt for different body positions as standing and stretching are supported along with sitting.
What's Bad About It?
The shirt's zipper is of poor quality. It tends to snag, so you'll need to use it slowly and carefully. While you can choose your size, the shirt is only available in one design and color for each gender.
Tech Specs
Sizes: Small to X-large
Weight: 1 oz.
Positioning: Upper body
Tracks: Spine curvature
The Pros
Posture monitoring with pinpoint accuracy
Detects excessive backward movements
Adapts to standing and stretching
Breathable and safe for machine washing
The Cons
Low-quality zipper
Limited color and style choices
3. ZIKTO Walk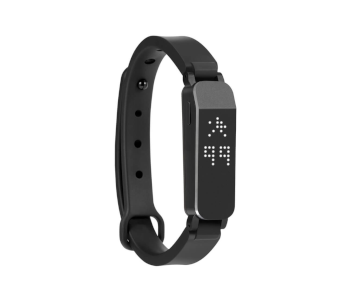 View on Amazon
Editor's Rating: 4.4/5
Slouching is a severe concern while sitting down, but how much attention do you pay to your posture when walking? The Zikto Walk is a posture monitor and fitness tracker that takes detailed measurements of how you walk and gives feedback on what & how to improve. It's stylish, simple to use, and offers a more in-depth insight into your habits.
Overview of Features
The Zikto Walk is the best-designed gadget on the list! At first glance, it's a small metal plate with holes on either side for straps. You get a single black leather strap but can choose between different fabrics and colors. Turning the Walk on reveals hidden LEDs that spell out either abbreviated messages or the time. The device is powered by a rechargeable battery which lasts five days.
Rather than measuring your spine's position in relation to an ideal, the device tracks your walking habits. That includes measuring changes in your gait & cadence as well as how much you swing either arm. It even compares differences in arm swings to detect imbalances in your body and suggests exercises to improve them. Alerts are accompanied by haptic feedback and labeled differently depending on what caused them. For example, the Walk will light up one way if you were leaning forward to check your phone and another if you were dragging your feet.
Don't forget that the Walk is also a full-fledged fitness tracker, meaning it keeps an eye on how many steps you take and calories you burn daily. It's a good idea to wear the walk 24/7 since it has a sleep tracker too. On top of that, you can sync the device with your phone through Bluetooth LE and have it inform you of incoming calls & messages.
What We Didn't Like
You need to wear the Walk on the one hand for twenty seconds and then switch it to the other for the same amount of time to gauge balance issues. This gets annoying if you're doing it often. The Walk is the most expensive device on review. You could get an Upright GO plus a dedicated fitness tracker with more options for the same price.
Tech Specs
Dimensions: 12 x 9 x 2 in.
Weight: 1 oz.
Positioning: wrist
Tracks: Gait & cadence, arm swings during walking, steps taken, calories burned, sleep cycle
The Pros
A competent posture monitor and fitness tracker in one
Offers concrete advice on improving balance
Detects multiple posture problems
Minimalistic yet functional design
The Cons
Expensive
Balance measuring procedure is a hassle
4. NADI X Smart Yoga Pants
View on Amazon
Editor's Rating: 4.2/5
So far, we've only discussed devices that monitor your posture in mundane situations. Nadi X are different in that they're meant specifically to improve your form during yoga, helping you master thirty different poses more easily. The pants are well-made and have strategically placed motors that respond accurately. They're a niche product, but yogis of all skill levels will find them a useful improvement tool on the road to enlightenment.
Overview of Features
Nadi X are yoga pants made from an elastic, machine-washable fabric. They come in an intriguing box that opens up in an x shape and contains simple-to-understand visual instructions on how to set up & use the pants. You also get a USB charging cable and the Pulse, a small device that supplies power and communicates with your phone. You can expect a snug fit and the pants to stay in place whichever of the four sizes you get.
There are small motors positioned on your ankles, knees, hips, and lower back. They vibrate to guide you until you've reached the correct posture for a given pose. You can regulate the strength of these vibrations from strong to barely there and will want to bring it down as your mastery increases.
The pans couldn't adapt to each new pose without the Nadi X app. There you choose which of the 30 poses you want to practice according to your level. You don't have to do them in any particular order, just follow the instructions. These come in video & written form while a voice guides you through the steps necessary to complete a pose. The pants respond differently depending on the current step and react as soon as you've done the previous one correctly.
What We Didn't Like
Since the Nadi X are limited to monitoring your lower body, there's no way of telling whether you're holding your upper body, head, and arms properly. It takes some time to get used to the haptic feedback since the pants tell you what body part to move but not in which direction.
Tech Specs
Sizes: X-Small to Large
Positioning: Lower body
Tracks: ankle, knee, thigh, and lower back position
The Pros
Detailed real-time posture correction for yoga practitioners
Clever packaging
Comfortable fit with no snagging
App offers poses for all levels complete with in-depth instructions
The Cons
No way of monitoring upper body posture
No directional guidance
5. Lumo Lift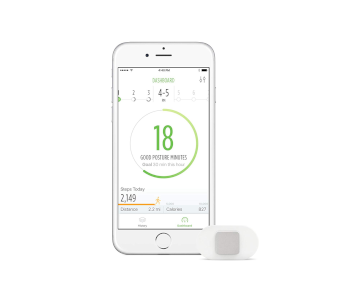 View on Amazon
Editor's Rating: 3.8/5
The Upright GO is a fantastic posture monitor, but that's all it does. If you want a device that tracks your health habits more thoroughly, you need the Lumo Lift! It trains you to adopt a better posture whether you're sitting or standing. It provides info on how much you've walked today and the calories you've burned. Lumo Lift is a solid choice if you've been eyeing a fitness tracker but don't want to spend money on two separate devices.
Overview of Features
The Lumo Lift is made up of a pad and a magnetic clasp. Its pad contains sensors & motors and goes under your clothes beneath the collarbone. You should position it as close to the skin as possible. The magnetic clasp clings to the pad from the outside and keeps it in place. You might get some strange looks if you're using the Lift at your office, but you won't notice it until vibrations remind you to sit up straight. You charge the device via a magnetic docking port. A charge lasts for five days of moderate use and it takes two hours to recharge the battery.
The Lift's coaching principle is the same as that of the Upright Go – slouch or lean in too much, and a strong vibration will persuade you to stop. Lumo recommends that you set the coach to alert you if you've been slouching for two minutes, but you can adjust the timer if that's too long.
The most interesting difference between this monitor and the overall winner are the Lift's calibration options. You need to double-tap the device to recalibrate it each time you change your position. While this might be annoying at first, it means that you can keep maintaining a good posture while standing or walking.
The app is simplistic and easy to navigate, yet shows everything you need to know. There are gauges for good posture time and steps taken which fill up over time and start glowing green once you've achieved your daily goal. The app receives data from the tracker via Bluetooth, but Lumo Lift has enough internal storage for three weeks and syncs whenever Bluetooth is on.
What's Bad About It?
Ironically, the Lift is so unobtrusive that you might forget to remove it from your clothes before washing them. The device is not waterproof. Inconsistent results are a more significant concern. It will vibrate ceaselessly one day and not at all the next even though you're clearly slouching.
Tech Specs
Dimensions: 1.8 x 1 x 0.5 in.
Weight: 0.5 oz.
Positioning: Under collarbone
Tracks: Slouching, steps taken, calories burned
The Pros
Corrects posture regardless of your position
Tracks steps and calories
Simple informative app
Stores data for three weeks before needing to sync
The Cons
Not for the forgetful
Inconsistent results
6. Best Budget Option – Sense-U Clip3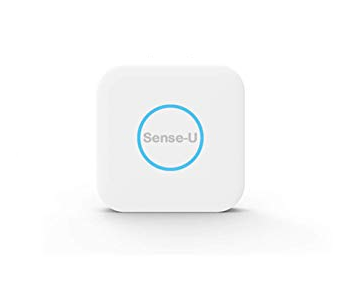 View on Amazon
Editor's Rating: 4.5/5
The third Sense-U clip is similar to the Lumo Lift yet surpasses it in both quality and affordability. This versatile monitor looks elegant, keeps track of a host of useful stats, and can keep going for ages thanks to a long-lasting battery. It's also among the more customizable trackers as its app lets you set daily posture schedules.
Sense-U uses the same magnetic clip system as the Lift, but its outer side looks like a tasteful badge with the company's logo. The monitor runs on a powerful battery and works for ten days before needing a recharge. You calibrate the Clip by adopting an upright position and tapping it three times. You need to do this every time you sit down or stand up to maintain accuracy.
Initial pairing with the app is a must, but you can use the Clip on its own after that. The app is a wellspring of information on your activities – it calculates the percentage of time you're slouching as well as how long you sleep each night. A distance meter as well as step & calorie counters are available too.
The best thing about the Posture Trainer app is its degree of customization. You can set how long you need to be slouched before the alarm kicks in and how sharp your leaning angle can get. The Sedentary Alarm is a unique feature that reminds you to get up and do some light exercises after a prolonged sitting period. The app also has scheduling – you can designate posture correction periods on a daily and weekly basis. This is an excellent feature for when you want to wear the Clip to work but don't want to mind your posture during a lunch break, for example.
Are There Drawbacks?
Both the Clip's magnet and the one that keeps it in place during charging are weak. You'll want to use the Clip on skin-tight clothes to get the best results and to ensure it doesn't fall off. The vibration alarm is weak regardless of setting, forcing you to pay attention to the Clip instead of your activities.
Tech Specs
Dimensions: 1.4 x 1.4 x 0.4 in.
Weight: 0.5 oz.
Positioning: Under collarbone
Tracks: Slouching, steps, distance, calories burned, sleep
The Pros
Highly customizable settings & scheduling options
Excellent price
Elegant design
Sedentary alarm
The Cons
Weak magnets
Faint vibration