25 Practical and Useful Things to 3D Print
3D Insider is ad supported and earns money from clicks, commissions from sales, and other ways.
3D printing is a very versatile technology, but its usefulness in practical, real-world applications has been questioned through the years of its popularity. Although 3D printing offers huge design freedom, there are still major limitations to the scale and durability of the objects that it can produce.
This does not mean that 3D printing is good for creating things that are just nice to look but serve no real purpose. With a little bit of creativity and imagination, you can use 3D printing to come up with objects that can be useful around the house or in your office. Below are 25 of our most favorite practical and useful things that you can create with 3D printing.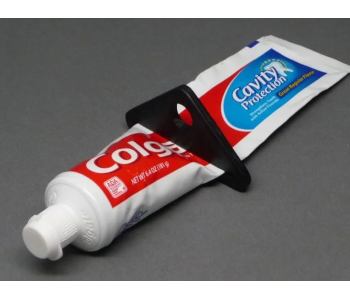 Let's start with a tool that serves such a basic need that it's a wonder why no one has come with the design before. There are lots of 3D designs out there that all have the same purpose, but we prefer this toothpaste squeezer that looks just about as simple as possible. For best result, we recommend sanding the toothpaste squeezer when you're done printing, which should make it easier to slide through your tube of leftover toothpaste. The simple and flat design of this object means that it shouldn't take more than an hour or two to finish printing it and that it should be easy to sand and finish.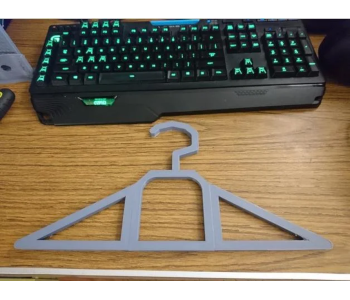 When you're traveling, you likely don't have enough extra space in your luggage to bring along your own coat hangers. This usually isn't a problem if you're staying in a nice hotel, but that may not always be the case. This handy coat hanger breaks down into three pieces, allowing you to bring one or two along with you without taking up as much space. Despite the design being highly popular, there isn't any quite like it – a testament to how unique the idea is.
We also like how tight the slots that hold the pieces together are, to the point that putting it all together can be difficult at first. It takes some time to get used to it (you might have to sand the slots a bit), but this is a brilliant design that should last through a lot of trips.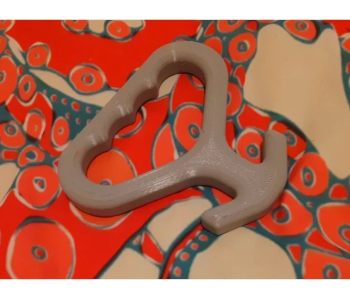 When it comes to 3D printing, the design that serves the most basic needs typically become the most popular. This simple grocery bag carrier provides a solution to one of the most perennial problems of modern people: having to carry multiple grocery bags in a single trip. This design is as simple as it gets, but gets the job done: two hooks to loop in your grocery bags and a handle with contours that will conform comfortably to your fingers. If your grocery bags still won't fit on this carrier, then you probably have too many for a single trip. There's no shame in doing multiple trips!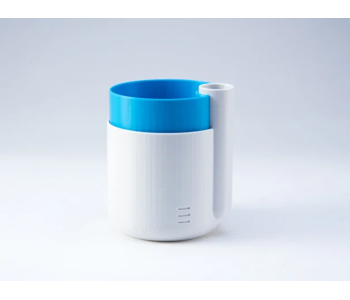 Taking care of a plant should be easy, but our history of about a dozen dead plants certainly seems to say otherwise. This self-watering planter removes a lot of the guesswork involved in watering your plants regularly, which should let you keep your plants alive despite having a decidedly busy routine that has no spare time for plant care. The design also allows you to mix and match different filament colors so that you can have a desktop piece that looks just the way you want it. Do take note that you will still need to refill the reservoir every few days, depending on the type of plant you have.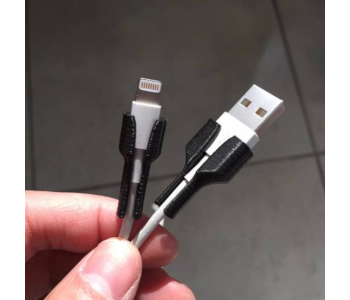 The tendency of Lightning cables to break, particularly at the junction between the cord and the USB plug, has been an irritatingly persistent problem through the years. Apple device owners have come up with a lot of ways to protect their Lightning cables, most of them succeeding only in delaying the inevitable. This 3D printed cable protector may just be one of the most promising solutions we have seen to the Lightning cable problem.
This design allows you to place a rigid protective sleeve over your Lightning cables, particularly at the junction where the cord joins into the USB or Lightning plug. The size of the sleeve effectively makes it extremely durable, so you should no longer have problems with Lightning cable getting damaged due to repeated movements.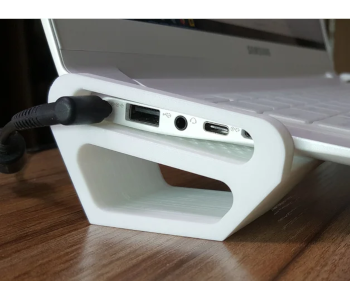 Having an ergonomic workstation can be a bit challenging if you're the type of person who needs to work anywhere. There are lots of things that you can do to improve your posture while working, and this portable laptop stand should be of great help. You may have to play around with the dimensions of the model to fit your laptop, but it has been designed to elevate your laptop to a more natural position, which improves both your posture and your laptop's air circulation. The pieces that comprise this laptop stand are small enough to fit into any laptop bag so that you can carry them around should you need to set up a workstation in some unfamiliar place.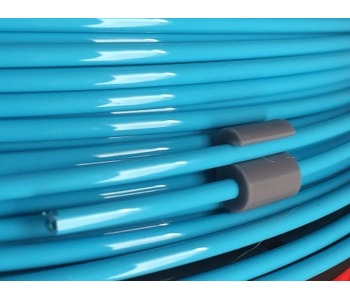 If you've got a lot of leftover filament spools in your stockroom, then few things are as pleasing as seeing them neat and organized. This filament clip is unlike most of the others that you see in 3D model sites. Instead of clipping to the spool, this clip attaches the end of the filament to the filament roll itself. This is useful if you're working with a small amount of leftover filament, or if the filament you're using does not come with a spool at all. The model was designed for filaments with a diameter of 3 millimeters, but you are free to scale it down for use with 1.75-millimeter filaments.
Everyone hates having the handles of their zipper break. You either have to resort to some crude zipper handle made from a random object or simply use the zipper without a handle. If you have a 3D printer, then you no longer need to worry about broken zipper handles as you can just 3D print one when you need it. This zipper handle is easy to install and can be scaled down or up, depending on the size of the original zipper. They may last just about as long as the original handle, but there's great comfort in knowing that you can just make your own zipper handle anytime any of your zipper handles break.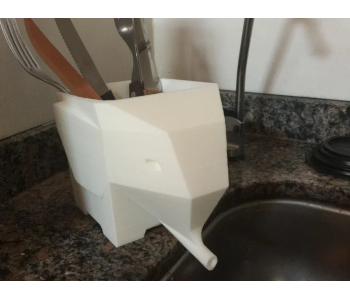 Cutlery drainers are a standard accessory in any kitchen. You probably have one in your kitchen right now, but chances are it's made with boring aluminum or stainless steel. Why don't you spruce up your kitchen with this interesting elephant-shaped cutlery drainer? The storage compartment has enough space for about a dozen or so different pieces of cutlery, all of which drains out into the spout of the elephant design. It's best to sand the finished print smooth so that you can avoid bacterial buildup since it will be under a lot of moisture. Make sure to also clean it regularly as bacterial growth cannot be 100% avoided, no matter how good of a sanding and finishing job you do.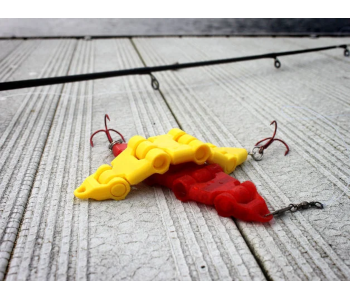 Even a hobby as old-fashioned as fishing can benefit from the technology of 3D printing. Fishing lures can get expensive if you go through them quickly, so why don't your just 3D print a whole load of them so that you'll always have on when you need them? This creatively designed fishing lure has multiple joints that allow it to wiggle and swing around once they are underwater. Despite having multiple points of articulation, this design prints in a single piece. It also comes with slots where you can add metal BBs to weigh down the lure and to further exaggerate its movement underwater.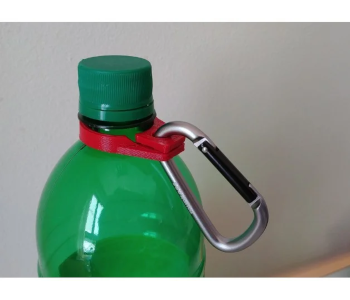 Water bottles that come with built-in carabiner clips are a staple of mountaineering gear. Being able to clip and unclip your water bottle to your backpack can prove to be very handy if you want to have a quick drink without having to stop to set your pack down. With this adaptable bottle holder, you can have the same level of convenience and accessibility even if you're just carrying a standard PET water bottle. This bottle holder merely wraps around the neck of a standard drinking bottle and has a hole for a carabiner. You can simply scale the design up or down depending on the size and shape of your bottle, although we don't recommend using it for anything larger than 1 liter.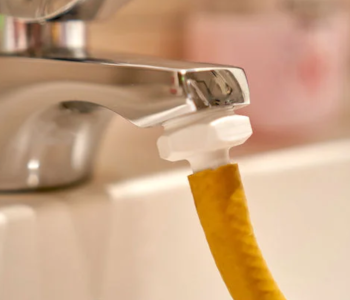 Having to drive to the hardware for an accessory that costs less than $5 is more trouble than its worth – especially since you're not even sure that you can find the part you're looking for. Why don't you just 3D print it at home? This handy adapter screws into a standard 24-mm diameter faucet and fits snugly into a water hose. If you have a faucet or a hose with a different size, then you can easily edit the scale of the design. We also recommend using PLA for this print since it's extra flexibility should result in a snugger fit EXCEPT if you plan on running hot water through your tap.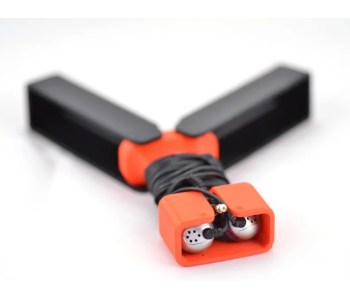 You can probably find hundreds of different designs for earbud holders floating around online but hear us out on this one. This is our favorite earbud holder design because how organized and safe it keeps our earbuds, and the fact that it looks really cool. This design combines all the best elements of good earbud holders: a compartment to protect the earbuds and plug, a column where you can wrap the cord around, and an external casing that keeps the whole thing safe from untangling or getting damaged. It's a pretty small design so don't feel about printing it at 100% infill to make sure that it will last you a few good years.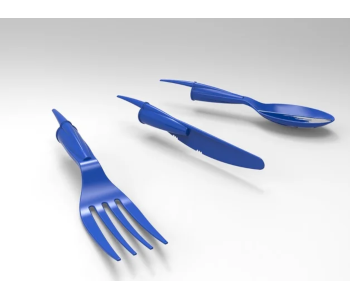 This is one of the more "out there" 3D printing ideas we've seen but also one that makes a lot of sense. This pen cap cutlery set can turn any standard pen into an instant spoon, fork, or knife. Since these items take up much less space than a standard cutlery set, these can free up your day bag for more important items. Bringing this set with you anywhere means that you never have to resort to disposable cutlery when dining outside. You'll have to endure a few strange looks, for sure, but you can take comfort in knowing that you're not the fool who eats with a disposable knife. By the way, make sure that you polish these prints as smooth as possible to keep them hygienic.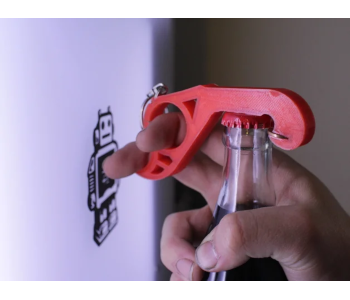 Bottle openers are one of those things that everyone has lying around the house but just can't seem to find when they are needed. As you can imagine, coming up with a 3D design for a bottle opener is incredibly simple. This is the reason why we're partial to this innovative design that allows you to open a bottle one-handed. Aside from being incredibly useful, you can't deny that opening a bottle with just one hand is just really cool. It may seem surprising, but most 3D filament materials are tough enough to be used to make a bottle opener, even the humble ABS or PLA. If you plan on printing this, we suggest going for maximum durability and printing at 100% infill.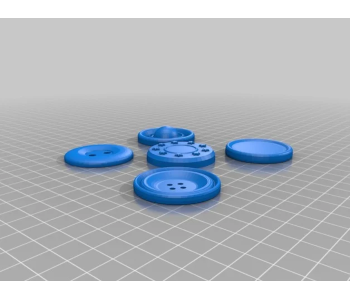 When you lose a button from your favorite shirt, looking for a new button that looks just the same as the old one can be frustratingly difficult. Most times, you end up just having to replace the whole set. While you're at it, why don't you just replace them with a highly customized, 3D-printed button? The design we have linked to in this post contains five different types of buttons, but there are literally hundreds of button designs available online from the formal to the quirky. If you'd rather make your own buttons than to check out the ones that everyone buys from the crafts store, then just look around online.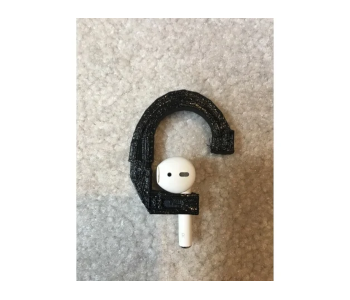 The Airpods are some of the most advanced and sophisticated Bluetooth earbuds around, and their popularity has led to other brands coming up with similar wireless designs. However, we also can't help worrying about them falling off and disappearing forever. This simple design clips into your Airpods and hooks them into your ear, providing another layer of support against the Airpods falling out. We'll be first to admit that adding an ear hook to the Airpods doesn't look quite as sexy. In fact, it pretty much negates the minimalist design of the Airpods. However, we'll choose the less choose to look less cool any day rather than fork over another $150 for a new pair.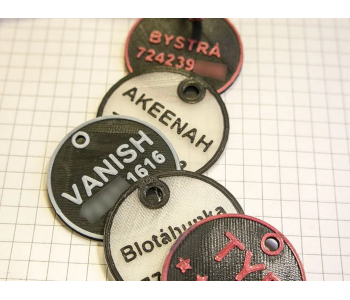 If you have a dog, then making your own dog tag has never been this easy! Just download this model, customize the text, and you can have your 3D printer working in just a few minutes. You can also scale the model up or down depending on the size of your dog or change up the colors of the tag and the text. 3D printing your own dog tag is a great idea if you find that you constantly need to change up the tags of your dog as he grows up or if they always end up broken or missing.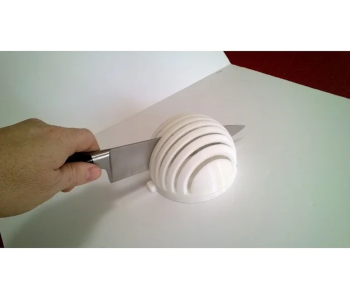 For many people, their least favorite part of cooking is having to slice up veggies into small and equal-sized portions. This slotted bowl can be draped over any vegetable and provide an easy guide for your knife to follow. If you need to dice your veggies, simply rotate the slicer bowl by 90 degrees and start chopping again. The design comes in two pieces – a slicer bowl and base – that interlock with each other. When you're done chopping, just turn the bowl over and remove the base, and you have an instant strainer for washing your veggies.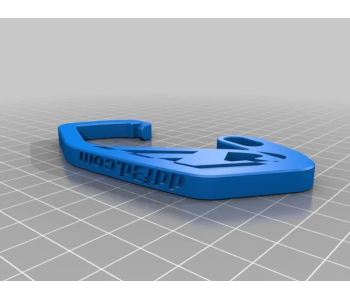 Just so we're clear, you will not be able to 3D print a carabiner that is durable enough for climbing or to be used for safety harnesses. These 3D printed carabiners look great and are very useful but do NOT use them when there is an element of safety involved. Otherwise, these carabiners are great for hooking up small objects to your backpack and serves as a handy keychain. The load that they can handle will depend on the filament material you use, but they can typically withstand up to 35 kilograms on a 50% infill using either PLA or ABS. You can, of course, print with a higher infill and a filament with a higher tensile strength rating.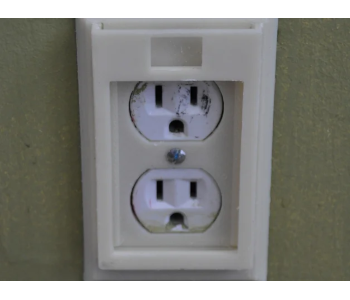 When you have kids crawling or walking around in your house, your eyes become trained to look for all the possible ways that they can hurt themselves. One of the biggest dangers comes from electrical outlets that are left in the open and free to access. With this outlet cover, you no longer need to worry about your toddler sticking a fork in an effort to achieve death via electrical outlet. The design is very simple and not particularly inventive, but it does take a bit of effort to open the covers. Hopefully, by the time your kid is smart enough to open these outlet covers, they would also be smart enough not to mess with electrical outlets.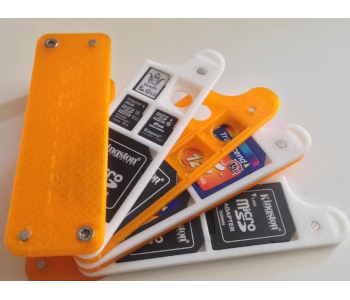 SD and MicroSD cards are great for quick and easy to share storage of your digital files, but they are also prone to get lost. Keeping track of several of these all at the same time can also be stressful, especially if you don't have backups for their contents. This design has everything you need to build your own handy holder for all your SD and microSD cards. It offers different compartments for different types of cards, and you can print as many compartments as you need. It also has front and back covers to provide some mechanical protection to your precious physical storage media.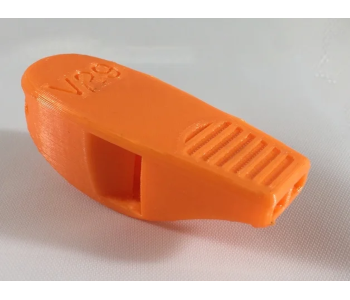 This humble whistle is one of the most famous models in the 3D printing community. Despite how simple it looks, a lot of thought has been put into the design of this whistle. The whistle produces two different tones that alternate between each other, resulting in a sound that is more distinct and attention-grabbing. Its sound intensity can reach up to a deafening 118 decibels. Designed as a personal safety accessory, it comes with a handy loop so you can attach it to your bag or use it as a keychain. It is small and solidly built. The designer has even gone as far as running it over with a car just to verify how rugged this simple whistle is. Great things really do come in small packages, and this whistle is a perfect example.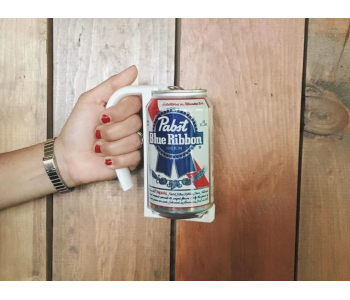 Beer mugs are kick-ass. Beer cans, decidedly less so. With this mug handle for beer cans, you can feel like you're drinking from a beer mug without having to deal with the extra weight and the breakability of actual beer mugs. This handle adapter can fit any standard 12-ounce can, so soda and tonic water cans are also fair game. This is a great little idea for sprucing up your backyard parties and barbecues. Since the handles are open, you can even leave them hanging on objects, allowing your guests to socialize with their hands free.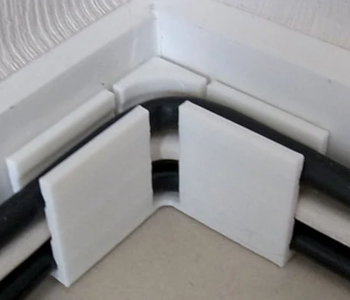 We hate unorganized cables. However, the work it takes to have them neatly tucked away close to walls and corners is equally off-putting and can even result in the cables getting damaged. This simple 3D printer cable organizer is designed specifically to keep cables neatly stacked in corners without the need to for screws or sticky tape. You can print a design for a single cable or stacked designs for two or three cables. The default design scale should be large enough to accommodate most cables, although you can easily fit over-sized cables simply by scaling up the design.
Final thoughts
How practical 3D printing technology depends on how you use it. While it's perfectly suited for coming up with nice display pieces or odds and ends that look great without serving any purpose, 3D printers are also perfectly equipped for creating useful and practical projects. The list we have come up with are just 25 of our favorites, and there sure to be hundreds of thousands more out there. The best thing is that most of them are available for free. That certainly beats having to buy them pre-made!
Have you tried to print any of the designs we have listed here? Do you also have a favorite useful and practical object that you've worked on with your 3D printer? Just leave a comment below to let the rest of our community know!
Warning; 3D printers should never be left unattended. They can pose a firesafety hazard.