10 Best Pre-painted RC Bodies
3D Insider is ad supported and earns money from clicks and other ways.
Let's say you have an RC vehicle, but you want it to be different from the others. There are various ways to achieve this. One is to strip the old paint and decals off and refurbish the body to your liking. Another is to buy a clear, readymade shell and customize that. Or, you can buy pre-painted RC bodies and rework them. Each of these approaches results in a unique RC vehicle.
This page reviews 10 pre-painted body shells for scale models. Don't skip the intro if it's your first ever project, though. There are a few tips and tricks to follow that guarantee a successful outcome.
Trimming and Mounting RC Bodies
Trimming and mounting is a straightforward process if you take your time and follow the necessary steps. First, make sure you have the essential tools needed for the job. They include:
Paint or nail polish (see below)
Prepainted bodies may need some trimming if they fit a wide range of RC vehicles. If they're "model specific," then the trimming will be minimal. Your beautiful new body should come with contoured trim lines for you to follow. There are two ways to cut along these. One is to use curved body scissors, and the other a sharp hobby knife. Knives are the hardest of the two.
Model-Specific RC Bodies
Model-specific bodies are those that fit a particular brand or series. There's no guesswork or compromise to worry about with these shells. All the molded dimples and contours should be a perfect match. A simple reamer tool and curved scissors will have your shell fitting like a well-tailored glove in no time. The secret is to take your time to ensure all cuts and holes are perfect.
Cut and Uncut Wheel Wells
Some pre-painted RC bodies have the wheel wells cut out. Those that don't allow you to cut the wells to fit whatever model you want the shell to cover. There are usually contour lines to guide you, so it's not hard providing you use the proper tools.
Mounting the RC Body
Choose an RC body that has molded-in guidance dimples for the posts when possible. If not, you must find the exact place to drill. One way to do this is to shine a bright light up through the body as it sits on the vehicle. The torch on a smartphone might do it. The body posts should become visible as they contact with the painted shell. All you do then is mark the spots, remove the cover, and drill the holes.
There's a plan B if the posts are not visible using the bright light method above. You need a little brush-on pain or nail varnish for this approach. Add a tiny drop to each of the vehicle's body posts and then gently lower the shell into place. You now have small paint spots on the exact location to drill.
About My 'Pre-Painted RC Bodies' Guide
There are 10 mini-reviews below that highlight some popular RC pre-painted bodies. There are many shells to choose from today, and these are some of the current favorites. I also considered user feedback from sales pages and RC forums before making the shortlist. The first three are the Editor's Choice for Best Budget, Best Value, and the Top Pick.
The table below shows these products as they appear on the page.
Pre-Painted RC Bodies Comparison Table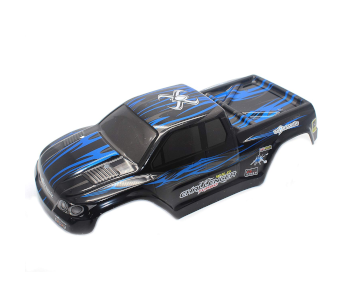 EDITOR'S RATING: 4.8/5
Compatible with: RC 1/12 scale GPTOYS High-Speed Monster Truck S911 A.
The Best Budget RC car body goes to the HOSIM 1/12 scale shell for GPTOYS' monster truck. It can also fit over the 1:12 Savage Flux XS, though you need to drill new holes. The cover comes in either blue or green colors. The paintwork is a high-quality finish. Also, the plastic material seems thicker and more durable than the stock shell. It's an excellent replacement part with an affordable price tag.
Cons: No negatives to report for this RC body.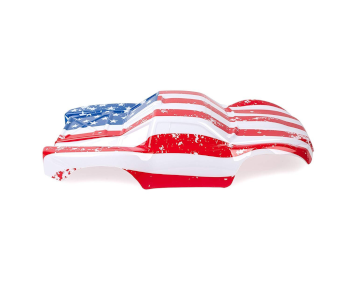 EDITOR'S RATING: 4.9/5
Compatible with: RC 1/10 scale Traxxas Slash and other models with minor modifications.
The SummitLink custom RC body with its striking US flag design makes the Best Value slot. This replacement shell has pre-drilled holes and is ready-to-use on the Traxxas Slash. It fits over other models too but needs new holes drilling. You may have to change the height of the mounting posts depending on the model. This cover also comes with a custom decal sheet.
Cons: No negatives to report for this RC body.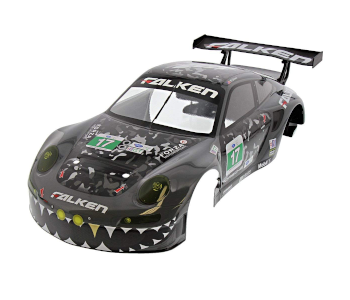 EDITOR'S RATING: 4.7/5
Compatible with: RC 1/10 scale Falken Porsche 911 GT3.
The Top Pick goes to HPI Racing's glossy gray shell for 1/10 scale Porsche RC. It's a beautiful replacement body in every respect. It replicates the iconic Porsche 911 shape that never fails to turn heads. There's nothing to compare the urban camo look with and its stylized shark-mouth at the front. It's a durable product that comes with a full decal sheet of no less than 30 attractive stickers.
Cons: It's an excellent product but still pricey for a replacement shell.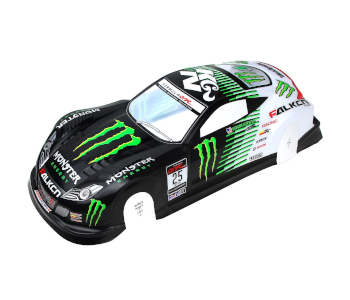 EDITOR'S RATING: 4.7/5
Compatible with: RC 1/10 scale cars and trucks with modifications.
The Coolplay pre-painted RC body shell is excellent value for 1/10 scale racing vehicles. It's a durable cover with some attention-grabbing logos to boot. The PVC plastic used is impact-resistant.
Cons: The wheel wells are uncut. They need to be, as this is a custom kit for use with various models. Cutting the body can be tricky for beginner's, though, and requires proper modeling scissors.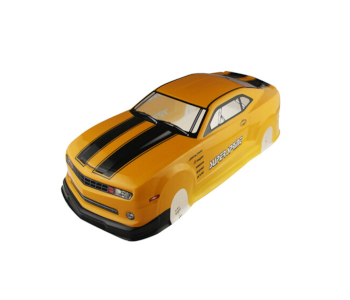 EDITOR'S RATING: 4.6/5
Compatible with: RC 1/10 scale drift car.
The Chevrolet Camaro PVC plastic body is another value for money RC shell by Coolplay. The hip looking stickers are also pre-applied, so what you see on the sales page is what you get. The shiny finish gives any model that brand-new car look. It would be hard to find a body at this scale and pro finish for twice the price.
Cons: Need to trim the wheel wells and drill mounting holes.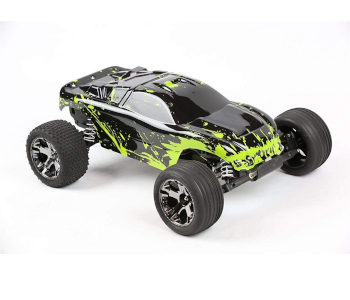 EDITOR'S RATING: 4.9/5
Compatible with: RC 1/10 scale Rustler VXL
This is a muddy green over glossy black RC replacement car body by SummitLink. The holes are pre-drilled and the wheel wells are factory cut, so it's ready to use right out of the box. It's a perfect fit for 1/10 scale Rustler VXL too. SummitLink has even thrown in a bunch of extra Traxxas, Red Bull, and Monster Racing stickers. It looks and feels more like a 60-dollar shell than $20 (at the time of writing).
Cons: No negatives to report for this RC body.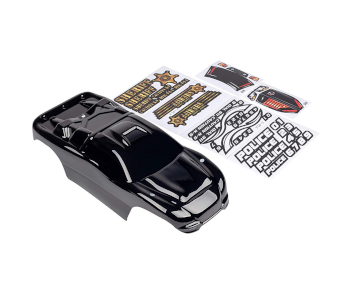 EDITOR'S RATING: 4.8/5
Compatible with: RC 1/10 scale Rustler VX.L
This RC pre-painted body is another quality product by SummitLink for the popular Rustler VXL. It's a police car custom cover finished in high gloss black. The shell arrives plain, but there's a full police/sheriff decal sheet included. There's nothing else to do other than add the glossy stickers. The holes are predrilled and the wheel wells cut, which makes it a snug fit right out of the box.
Cons: No negatives to report for this RC body.
EDITOR'S RATING: 4.7/5
Compatible with: RC 1/10 scale SCX10 II 90046 90047 Cherokee.
These INJORA soft plastic decorative interior shells are for the Cherokee RC body. Details include a steering wheel, dashboard, plus front and rear seats. Interior details like these give any SCX10 II 4×4 Jeep Cherokee a more realistic appearance. They look much better inside the car than they do out, so don't let the bare product put you off.
Cons: Needs a little pruning and drilling to install.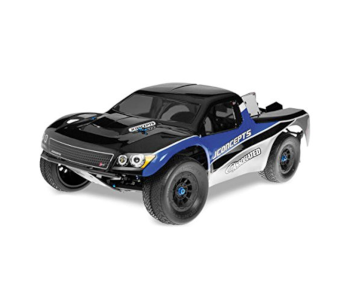 EDITOR'S RATING: 4.3/5
Compatible with: RC 1/10 scale Short Course Trucks (SCTs).
This RC body by JConcepts is for 1/10 scale trucks. It's an attractive shell that's well-made using high impact strength material. The cover is thin and lightweight, but it's more durable than it feels. It comes with front & rear fender flares to allow maximum clearance. And the large blacked-out side windows give models a futuristic appearance with an air of menace.
Cons: Need to drill holes and cut wheel wells. The good news is that the body comes with dimples and a template to make prepping easier.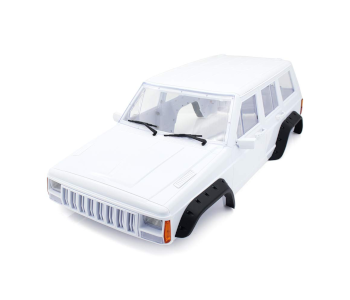 EDITOR'S RATING: 4.5/5
Compatible with: RC 1/10 scale Axial SCX10, SCX10 II, Traxxas Trail Rock 4 TRX4.
The last mini-review is a durable, DIY body kit for the RC Cherokee by INJORA. The high-quality plastic used has a load-bearing of more than 132 lbs. (60 kg). The body is clear, so you can leave it as-is or paint it in whatever colors you wish. The pack includes soft rubber fender flares and inside decoration. The interior parts consist of a dashboard, steering wheel, and car seats. Other welcome extras are the convenient, pre-reamed holes and easy-to-follow instructions.
Cons: Beginners may find mounting certain body parts awkward. Also, the side mirrors are too rigid and break off easily on impact. Rubber ones would have made a lot more sense.