Pros and Cons of Upgrading to An All-Metal Hot End
3D Insider is ad supported and earns money from clicks, commissions from sales, and other ways.
3D printing enthusiasts are no strangers to tinkering with their 3D printers to make upgrades here and there. These upgrades are made to enhance a printer's overall performance, make them easier to monitor, or allow the printer to work with more exotic filaments.
One of the more "premium" upgrades that one can make is to swap out the stock hot end with an al-metal replacement. One thing you need to know about an all-metal hot end is that it may not be ideal for every single 3D printing project. With benefits and drawbacks to consider, you may want to think twice before committing to this laborious upgrade.
What is an all-metal hot end? How is it different to a stock hot end?
As the name implies, an all-metal hot end is a hot end that is made completely of metal. This puts it in contrast to the standard hot end that typically comes with 3D printers.
A standard hot end is made of a heating block right above the nozzle, a heat sink for drawing away the excess heat, and a coupling that connects to the extruder. Inside this entire assembly is a PTFE tubing to allow for low-friction passage of the filament through the hot end.
On the other hand, an all-metal hot end has a PTFE tubing that terminates just above the heat sink. The objective behind this design is to keep any PTFE material away from the components that are actively or passively heated. An all-metal hot end provides better heat resiliency for the price of losing out on the low-friction characteristics of the PTFE tubing.
Why upgrade to an all-metal hot end
A standard hot end with PTFE tubing has one major flaw – the PTFE liner starts to degrade at temperatures above 240 °C. This means that the liner has to be replaced frequently as its breakdown can cause extrusion problems.
This limitation of the PTFE material means that it no longer becomes practical to print with filaments that require very high temperatures. Notable examples include Polycarbonate (260 C) and Nylon (240 C). If you want to print with these filaments at a consistent level of quality, then it would be a good idea to invest in an all-metal hot end.
An all-metal hot end can be exposed to very high temperatures without any worries of suffering heat degradation. You also will not have to deal with frequent replacements of PTFE liners – a task that takes a lot of work and has little room for error.
Possible drawbacks of switching to an all-metal hot end
However, an all-metal hot end is not quite the perfect "upgrade" because it also has a few drawbacks. The absence of the PTFE liner makes passage of the filament through the hot end more difficult, on account of increased friction. It becomes more challenging to print at high extrusion multiplier values.
Retraction can also be problematic in an all-metal hot end, especially if you set a very high retraction distance value. Without the PTFE liner, there can be a huge temperature drop when the filament from the melt zone is retracted towards the heat sink. This can effectively form a plug that can cause the extruder to jam.
The more pressing problem encountered in all-metal hot ends is a phenomenon known as "heat creep." This happens when heat from the heating block travels conductively up the heat sink and past the PTFE tubing in the coupler. This causes the filament to soften even outside the melt zone.
The swelling of the molten filament makes it harder to extrude, eventually causing quality issues in the current project. Worse still, the heat can cause the PTFE liner to still get damaged, even if it's already located away from the heating block. If this happens, it invalidates one of the major benefits of using an all-metal hot end.
How to avoid all-metal hot end issues
It's already fairly obvious that there are benefits to using an all-metal hot end, particularly if you wish to print with high-temperature filaments. This only means that you will have to deal with all the other issues that come with the use of an all-metal hot end. Here are some measures that you can take.
Optimize the heat sink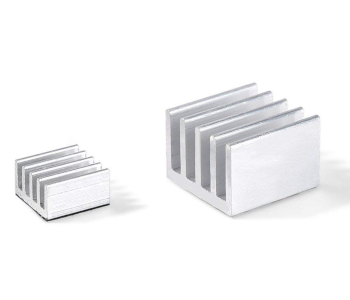 Your best tool to avoid problems with an all-metal hot end is the heat sink. The function of the heat sink is to act as a buffer that draws heat away and prevents it from creeping to the more upstream components of the extruder. A typical heat sink design has baffles for increased surface area and an integrated cooling fan.
An easy way to tell if your heat sink needs more work is to touch it with your hand. If it feels warm to the touch, then it can still be improved. The first thing you need to do is to make sure that your heat sink and cooling fan are clean, and that the cooling fan is set at its maximum speed. If that still does not work, then you may need to swap out your extruder cooling fan for something that is more powerful.
Reduce the printing temperature
Just because you can print at high temperatures with an all-metal hot end does not mean that you should abuse this advantage. Controlling the printing temperature is one of the primary means of avoiding a heat creep. As long as you can keep within the recommended temperature range for your filament, you can try reducing the temperature by 5 °C increments. Just be wary of signs that you've already gone below the optimal temperature such as warping and poor layer adhesion.
Avoid or reduce retraction
If your design has a lot of "empty runs," then enabling retraction is often one of the go-to slicer settings. As mentioned, enabling retraction isn't quite as simple when using an all-metal hot end. This situation is further compounded if your heat sink happens to be doing an excellent job.
Consider first if your project can be completed without any retraction at all. Retraction is typically only activated to counter issues such as stringing or blobs. If no problem of this nature is encountered, then it's a good idea to just deactivate retraction.
Some slicers also have a feature for coasting. This wipes the tip of the nozzle, making it less likely for the molten material to cause blobs or stringing. You may want to explore activating the coasting feature first before resorting to retracting.
Should you replace your 3D printer's hot end?
An all-metal hot end is a great option for your 3D printer. If you wish to widen the horizons of your 3D printing capabilities, then we believe that you NEED to have an all-metal hot end. Some filaments simply need temperatures that are far beyond what PTFE liners can withstand.
However, making the switch to an all-metal hot end can also be a huge commitment. It means having to deal with issues like heat creep which isn't likely to have happened in a PTFE-lined hot end. Filaments with low melting temperatures, like PLA, may turn out to be harder to handle because of heat creep.
Our advice is to not switch over to an all-metal nozzle until you absolutely need to. When you do so, make sure that you are armed with the knowledge to handle with all the potential problems it will bring.
Final thoughts
Making the switch to an all-metal hot end is seen by most as making an upgrade to your 3D printer. We believe that it's a bit more complex than that. An all-metal hot end is a 3D printing tool that is beneficial under the right circumstances but is by no means an upgrade with zero drawbacks.
The major issue of using an all-metal hot end is the phenomenon known as heat creep. This is a subtle, almost invisible problem, that can cause major consequences. When using an all-metal hot end, you need to make sure that the heat sink is working as optimally as possible.
Warning; 3D printers should never be left unattended. They can pose a firesafety hazard.