6 Best Prosumer Video Camera Picks for 2020
3D Insider is ad supported and earns money from clicks, commissions from sales, and other ways.
Finding a capable video camera for a demanding audience isn't straightforward. For example, you can't rely on buzzwords like 4K anymore since all but entry-level mirrorless and DSLR models support it, not to mention high-end smartphones. A camera worthy of the pros needs to offer more, features a passing glance isn't enough to uncover.
Sharp and detailed 4K video is just the minimal prerequisite; pro-grade cameras also have to store as much color information as possible either locally or to external drives. Log profile and LUT support are crucial for experimenting with footage in post and providing an idea of what it will look like as you're shooting. A tiltable screen is always a nice touch, while external microphone and headphone compatibility is a given. Some cameras sweeten the pot by adding image stabilization. Others employ aliasing filters to tackle unwanted visual disturbances.
These are the six best prosumer video cameras currently available. All of them excel at video quality, so the price difference boils down to their photography performance and advanced video features. Choose a favorite and start creating cinematic masterpieces today!
Budget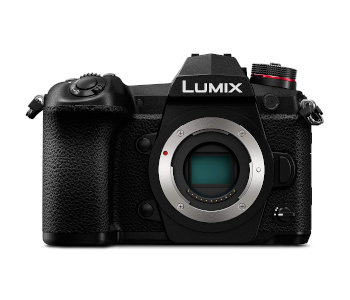 PANASONIC LUMIX G9
4.0/5.0
Sensor: 4/3
ISO range: 200 – 25,600
This has internal 10-bit 4K videos.
Check Amazon
Best Value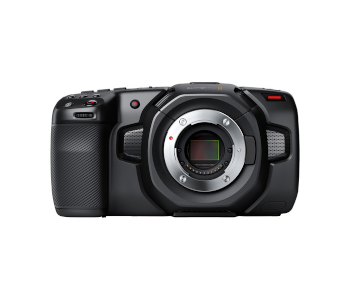 Blackmagic Design Pocket Cinema Camera 4K
4.6/5.0
Sensor: 4/3
ISO range: 100 – 25,600
Huge, detailed screen with a 16:9 aspect ratio.
Check B&H
Top Pick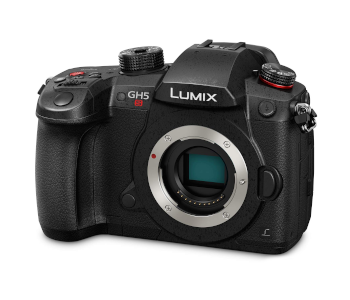 PANASONIC LUMIX GH5S
4.8/5.0
Sensor: 4/3
ISO range: 160 – 51,200
Supports four LUTs and comes with VLog-L.
Check Amazon
Prosumer Video Cameras Comparison Table
1. Best Overall – PANASONIC LUMIX GH5S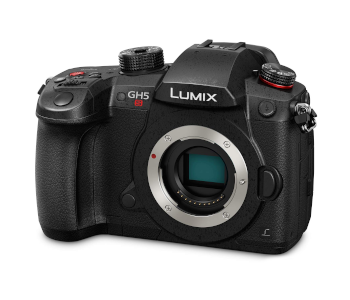 View on Amazon
Editor's Rating: 4.8/5
Panasonic's GH line of cameras was always a step ahead of the competition, and the GH5S continues the trend. It features numerous videocentric options like a multi-aspect sensor, dual native ISO, and focus transition to give you maximum control over video output and quality. This is the camera to get whether you make documentaries, feature films, or world-class YouTube videos.
Overview of Features
The Gh5S is a small yet hefty camera that looks almost identical to the less expensive GH5. Its body is made from a magnesium alloy, weather-sealed, and protected against extreme temperatures. You can frame scenes using either the 3-million dot OLED viewfinder or a 3-inch LCD. The screen articulates fully, meaning you can flip it out to record yourself or place it at different angles to make a variety of situations less challenging.
A 4/3 10MP sensor is the first telltale sign of the GH5s's intended purpose. It has just enough pixels to deliver native 4K video and is set up in a way that takes complete advantage of its height regardless of aspect ratio. The camera has an anti-aliasing filter that would be a drawback for stills but comes in handy for video since it gets rid of moiré patterns. The GH5S omits image stabilization since pairing it with professional-grade dollies would cause the sensor to shake otherwise.
Videos on the GH5 are shot in either DCI or UHD 4K with a maximum framerate of 60fps. You can sustain internal capture at 10-bit 4:2:2 for 4K at 30fps o switch to 8-bit 4:2:2 or 10-bit 4:2:0 at higher framerates. The included VLog-L color profile lets you capture more dynamic range information and bring out subtle differences in shade during post-processing. You can also activate one of four lookup tables as a screen overlay to judge what the footage will look like when graded.
The GH5S is an excellent performer regardless of light levels, thanks to dual native ISO. This setup ensures you're getting the best dynamic range possible in good light while increasing the ISO in dim conditions doesn't introduce much noise. Focus transition is another useful feature that lets you specify three focus points and switch freely between them during shooting. It's exceptionally useful for delivering consistently focused footage when you've planned out a scene and know where & when each subject will be.
What We Didn't Like
The GH5S accepts HDMI input as well as external mics and headphones. The HDMI and headphone jacks are placed on the left and limit the range of movement of the screen when in use. The camera delivers slow-motion video at 1080p with a max framerate of 240fps. You can slow the video down 4x and retain smooth 60fps or decrease the speed ten times if you set the playback to 24fps. However, using more than 200fps crops the sensor, so make sure to frame the shot properly not to lose edge details.
Tech Specs
Dimensions: 5.5 x 3.9 x 3.4 in.
Weight: 23.3 oz.
Sensor: 4/3
ISO range: 160 – 51,200
Max still resolution: 10 MP
Max video resolution: 4096 x 2160, 60fps
The Pros
Exceptional video quality
Rugged and weatherproof design
Dual-ISO makes it a great performer in challenging light
Supports four LUTs and comes with VLog-L
The Cons
Videos faster than 200fps are cropped
Port placement limits LCD articulation
2. Best Value – Blackmagic Design Pocket Cinema Camera 4K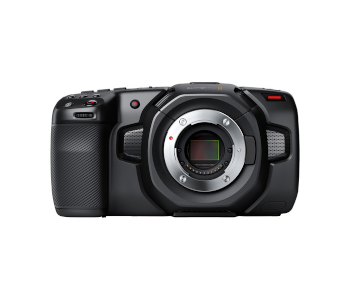 View on B&H
Editor's Rating: 4.6/5
The Pocket Cinema Camera lives up to its name as it's among the smallest and yet one of the most feature-rich cameras in existence. Everything about it is engineered to deliver a flawless video making experience while photography takes a backseat. It has a fantastic screen, lots of ports, and delivers excellent-quality 4K video. The camera isn't expensive either, considering the wealth of features filmmakers are getting.
Overview of Features
This is the most unusual-looking camera on review. It's more rounded than traditional stills and video hybrids, and heat-dissipating vents accentuate the strangeness. However, the Pocket Cinema Camera 4K is a delight to hold and handle thanks to a generous textured grip. It has an abundance of buttons for settings like ISO or iris, the shutter angle, and exposure control. You can map any desired function to several customizable buttons as well.
The Pocket Cinema Camera 4K features every type of connection you could possibly need to make a cinema-grade video. It has a tripod mount, a hotshoe for external flashes or light panels, and accepts external batteries. There's a HDMI port on the right along with XLR input for professional microphones. Two 3.5mm jacks take care of headphone monitoring and mic input, while USB-C and a DC plug handle file transfer and power.
Videographers will love the Pocket Cinema Camera 4K's fantastic screen. It has a 5-inch diagonal and is much larger than screens on ordinary cameras. The display is touch-sensitive and has a resolution of 1080p with an aspect ratio of 16:9. This means you can frame shots as they'll appear on the big screen and don't need to hook up external displays or account for black borders.
The Pocket Cinema Camera 4K's video quality is impressive. The details are tack-sharp without being artificially enhanced, and 13 stops of dynamic range preserve them even in contrasting lighting. The camera has dual native ISOs and lets you crank the value up to 3,200 without introducing noise. It shoots in either 4K RAW video or ProRes and delivers a flat color profile you can tweak in post-processing to an absurd degree.
What's Bad About It?
The worst thing about the Pocket Cinema Camera 4K is its poor battery life. A single cell is good for 40-45 minutes of video, meaning you'll want to always carry multiple spares or make use of the DC port. The screen is sharp and bright but is fixed in place.
Tech Specs
Dimensions: 7 x 3.8 x 3.4 in.
Weight: 24 oz.
Sensor: 4/3
ISO range: 100 – 25,600
Max still resolution: 8.3 MP
Max video resolution: 4096 x 2160, 60fps
The Pros
Fantastic video quality and tweaking
Supports numerous external devices through a plethora of ports
Huge, detailed screen with a 16:9 aspect ratio
Accessible physical controls and comprehensive menus
The Cons
Battery drains quickly
Fixed LCD
3. Sigma fp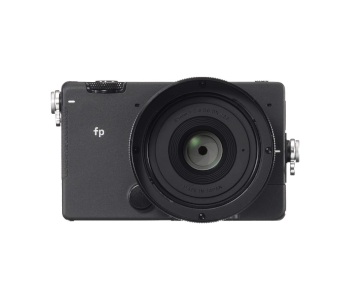 View on Amazon
Editor's Rating: 4.5/5
The fp is Sigma's newest unconventional camera and the smallest mirrorless model to feature a full-frame sensor. It's another video-first design that offers more bang for your buck than similarly-priced but more well-rounded alternatives. It has a modular build, delivers outstanding 4K video, and can put clips out in CinemaDNG for remarkable color quality and dynamic range.
Overview of Features
The first thing you'll notice about the fp is its utilitarian build. It's easy to mistake it with a beefy compact or action camera due to the square aluminum body, but the fp is a full-fledged mirrorless system packing a 24MP 35mm sensor. It's protected from the elements and has a set of heat sinks around the screen to get rid of the heat generated by long recording sessions.
The camera itself is awkward and uncomfortable to hold. This is Sigma's intent since the fp is most likely to be used as the central part of a camera rig. Its small size is also ideal for use with gimbals. Sigma offers nine accessories to enhance the fp's usability, including several grips, an EVF, and a hotshoe mount.
Sigma's unconventional approach extends to the fp's controls too. Several are under its touchscreen, and you'll find that many of them control video-specific settings like the tone and color palette. This lets you tweak a video's look on-the-fly without having to consult LUTs. The screen takes up most of the fp's back. It's large and bright, so recording in sunny weather isn't an issue despite there being no viewfinder. The screen's touch functionality is limited to selecting focus points; you'll have to access the menus via the D-pad or set up your own through the Quick Selection button.
The fp captures video at 4K, 30fps. Its internal capture is limited to 8 buts, but you can hook it up to an external HD recorder and SSD to take full advantage of 12-bit CinemaDNG. File sizes might be huge, but the quality of 4K video produces by the fp is among the best we've seen. You may enhance its look by using one of several color profiles, and a flat log profile is coming later this year to give you more creative freedom in post.
Are There Drawbacks?
The fp has poor continuous autofocus prone to hunting regardless of ambient light. Fortunately, this is more of a problem for photography and the reason you should look elsewhere if stills are as important to you as video. The fp isn't cheap to begin with, and its modular approach means you'll likely spend more on add-ons.
Tech Specs
Dimensions: 4.4 x 2.8 x 1.8 in.
Weight: 14.9 oz.
Sensor: 35mm
ISO range: 100 – 25,600
Max still resolution: 24.6 MP
Max video resolution: 3840×2160, 30fps
The Pros
Excellent external 12-bit and internal 8-bit 4K video
Compact and lightweight but durable
Modularity lets you tailor the camera to your own preferences
Comprehensive, videocentric control scheme
The Cons
Poor continuous autofocus
Asking price likely won't end up being the final amount you spend on it
4. Fujifilm X-T4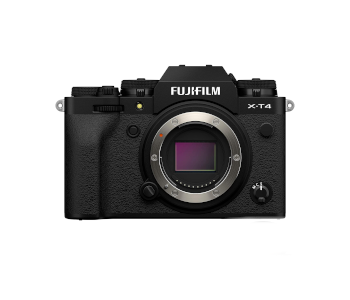 View on Amazon
Editor's Rating: 4.3/5
Fujifilm's recently-released X-T4 has almost everything we want to see in an accomplished stills and videos hybrid. It has fantastic image stabilization, photo quality unrivaled in the APS-C category, and a classic look coupled with full modern amenities. Best of all, it records 4K videos at 60fps internally with 10-bit capture.
Overview of Features
You'll love the X-T4 if you're a fan of classic SKR design. It's a looker thanks to a magnesium alloy body with a silver-colored top plate. The camera feels traditional to control as well since it has lots of dials for controlling the drive mode, EV compensation, ISO, and shutter speed. Many of the camera's buttons can be customized, as can its quick access on-screen menu. There's no dedicated record button; you flip a switch that toggles between cine and stills modes instead and use the shutter.
A vari-angle touchscreen display is the most significant departure the X—T4 takes from its predecessor. It's bright and a fine performer in sunlight. You can flip it around for vlogging or have it facing the camera, so it doesn't get scuffed when not in use. The EVF is equally brilliant: It's an OLED display that refreshes instantly while delivering a true-to-life reproduction of the camera's frame without tearing.
Fujifilm has outfitted the X-T4 with its newest generation of in-body image stabilization. It delivers an impressive 6.5 stops of correction and makes run & gun shooting possible. You can do a lot of running with the X-T4 since the battery is among the best in its class. You can charge it internally through USB-C and even purchase a separate pack that extends its life three times while also offering better purchase when recording vertically.
Internal 10-bit 4K footage looks outstanding and runs smooth at 60fps. You're limited to 20-minute clips to prevent overheating in this mode, 30 if you drop the framerate. The X-T4 can also create super slow-motion 1080p videos at 240fps. The camera's customization options abound. You can apply an f-log preview while recording neutral footage, use focus peaking & zebras, and even keep the camera from abruptly switching to its full view from a focused one. The X-T4 has dual memory card slots and lets you choose whether to shoot on one card and then the other or use them simultaneously for easy backup creation.
What's Bad About It?
The X-T4 is compatible with standard and line-level microphones out of the box, but the same isn't true for headphones. You can connect headphones only via a USB-C to 3.5mm dongle that's easy to lose and a hassle to carry. Autofocus for images is on point, but subject tracking isn't available in video mode.
Tech Specs
Dimensions: 5.3 x 3.7 x 2.5 in.
Weight: 21.4 oz.
Sensor: APS-C
ISO range: 180 – 12,800
Max still resolution: 26.1 MP
Max video resolution: 3840×2160, 60fps
The Pros
Richly detailed 4K video at 60fps
Separate controls for stills and video
Beautiful design that encourages a hands-on workflow
Excellent touchscreen and viewfinder
The Cons
Attaching monitoring headphones requires an awkward dongle
Autofocus in video mode doesn't include subject tracking
5. Nikon Z6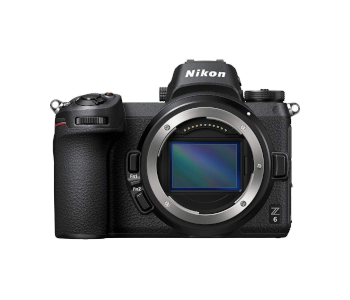 View on Amazon
Editor's Rating: 4.2/5
Nikon's Z6 is a balanced camera that puts out excellent-quality videos while supplementing them with a strong set pf photo capabilities. The camera has in-body image stabilization and works well for run and gun shooting. It can record oversampled 4K video, has one of the best viewfinders on the market, and is a pleasure to handle.
Overview of Features
The Z6 is the bulkiest camera on review, but it's also the most comfortable to handle and hold. Its deep grip makes-single handed operation easy, and there's enough room between the buttons and dials for users with large hands to not feel cramped. The Z6 pairs with Z-mount lenses that have a customizable focus ring. You can set it to adjust exposure and aperture or disable it altogether.
You can use the Z6 either as a stationary or dynamic camera, thanks to 5-axis image stabilization. It corrects for five shutter speed stops when handheld, allowing you to follow a subject and report live as the action unfolds without worrying about getting viewers seasick. Framing a shot in these conditions isn't hard either since the Z6 has a sharp EVF with 0.80x magnification that turns the LCD off once you place an eye close to it. The LC D is responsive and has limited tilt to help with challenging angles. Finally, there's a small OLED screen on the camera's top that shows you info like battery life and settings at a glance.
The Z6 has a solid autofocus system that got even better with a recent update. It works equally well for photos and videos, zeroing in on subjects and not letting go even if their movement is erratic. The autofocus splendidly follows a subject's eyes, even if they're wearing glasses. It can also track animals, which should be great news for wildlife documentary filmmakers.
The camera records 8-bit video internally and can put out 10-bit 4:2:2 10-bit footage if connected to an external recorder. Output quality is excellent since the Z6 uses its 24.5MP sensor's full area and then downsamples the footage. That results in crisp video that looks dull since it isn't processed yet. However, you can enable a preview mode that will let you better judge the final result. You may choose to share settings like exposure and IISO between photo and video modes. Alternatively, you can keep them separate and switch between modes easily.
What We Didn't Like
The Z6 has poor battery life for a mirrorless camera and will require several replacements during long filming days. Its viewfinder is large but suffers from a slight lag you may find impractical while shooting video.
Tech Specs
Dimensions: 5.3 x 4.0 x 2.7 in.
Weight: 41.4 oz.
Sensor: 35mm
ISO range: 100 – 51,200
Max still resolution: 24.5 MP
Max video resolution: 3840×2160, 30fps
The Pros
Has effective image stabilization
Puts out high-quality 4K video
Excellent viewfinder and LCD
Comfortable to hold and operate
The Cons
Battery drains fast
Viewfinder suffers from slight lag
6. Best Budget Option – PANASONIC LUMIX G9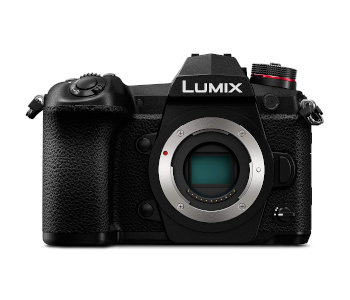 View on Amazon
Editor's Rating: 4/5
Our budget recommendation is another mirrorless camera made by Panasonic, the G9. It was initially a fine sports and action camera primarily aimed at stills. However, a firmware update has improved its video qualities to the point that they're close to rivaling the GH5S! Combining the two gives you a camera that's excellent for wildlife documentaries, travel vlogs, and any other movie shot out in the open.
Overview of Features
The G9 is surprisingly large for a micro four-thirds sensor mirrorless. Even so, it's a light model that won't weigh your camera bag down. Its profile is angular with lots of defined edges reminiscent of Panasonic's other cameras. Going bigger was a smart move since it enabled more physical controls and the addition of an informative top LCD, a first for Panasonic cameras in this price range.
Pleasing design decisions continue with the large EVF and LCD. The viewfinder has a resolution of 3.68 million dots with 0.83x magnification, allowing you to frame subjects clearly. The LCD is of the articulating variety, easy to use, and has a useful night mode that turns it red to help your eyes adjust to the darkness.
Panasonic uses Depth From Defocus to drive the G9's autofocus. While it's based on older contrast-detect solutions, DFD is among the quickest and most reliable out there. It allows for 20fps burst speeds with continuous focusing. Its speedy and accurate performance translates into video too as the AF has no trouble keeping up with dynamic subjects, human or otherwise.
The G9 was a decent video shooter on release, but a firmware update it got in November of 2019 made it into much more. The camera can now record 4:2:2 10-bit video internally at 30fps, 60 if you don't mind exporting via HDMI. You can also shoot with variable framerates in 2-60fps at 4K or 2-120fps at 1080p. Vlog-L and waveform monitoring are also supported, but you'll have to pay for an upgraded license to unlock them.
Are There Drawbacks?
The G9 has a similar layout as the GH5S, including a handful of ports that won't let you move the LCD freely when they're in use. No eye sensor is present either. That means it's easy to accidentally change an AF point with your nose if you're shooting through the viewfinder.
Tech Specs
Dimensions: 5.4 x 3.8 x 3.6 in.
Weight: 23.2 oz.
Sensor: 4/3
ISO range: 200 – 25,600
Max still resolution: 20.3 MP
Max video resolution: 3840×2160, 60fps
The Pros
Excellent value for the money
Great as a video camera and for action photography
Internal 10-bit 4K videos
Excellent focus tracking
The Cons
Easy to inadvertently change AF point due to lack of eye sensor
Port placement obstructs screen's full range of motion when in use