Proto Labs: A 3D Printing Giant that Will Only Grow
3D Insider is ad supported and earns money from clicks and other ways.
Proto Labs was founded by Larry Lukis in 1999. He's an entrepreneur and computer geek who was interested in reducing the time it took to get injection molded plastic prototype parts. He succeeded in achieving this by creating software that would be connected to multiple mills and presses at the same time. As a result, plastic and metal products could be produced in significantly less time. This was just the beginning for a company that keeps growing with every passing month.
Since then the company has continued to grow. It expanded its injection modeling envelope and introduced their quick turn CNC machines. The company also opened factories in Europe and Japan.
3D Printing Revolution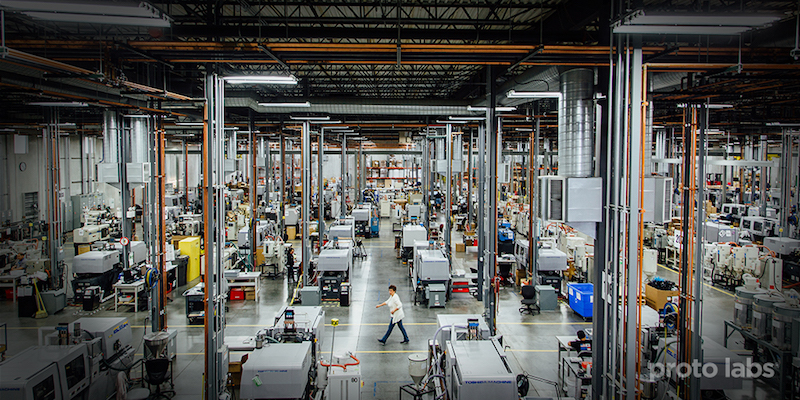 In 2014 Proto Labs launched 3D printing services to give engineers and designers an easier way to move from early prototyping to low volume production.
Succeeding in achieving what Larry Lukis was aiming for, Proto Labs is now the fastest manufacturer of custom prototypes in the world with manufacturing facilities in five countries. The company has 600,000 square feet of manufacturing space worldwide.
The company had a humble start in 1999 in a garage in Minnesota, but now it has more than 800 machines: over 450 CNC mills, 150+ 3D printers, and at least 200 presses. It now also serves over 160 countries spread over six continents. Proto Labs mold an average of 3 million parts per month in the United States alone.
Expanded Service Offering
The company services greatly expanded in 2014 as well. In 2014 it could only offer 2 processes: plastic injection molding and CNC milling. Today they offer eight more processes: four 3D printing processes (stereolithography, selective laser sintering, direct metal laser sintering, PolyJet), CNC turning, liquid silicone rubber injection molding, overmolding, and insert molding. This expansion in just 3 years show the ambition of the company.
Proto Labs is forever evolving to meet the needs of its customers and the changes in the market. In 2016 the company managed to serve over 30,000 product developers around the globe. As 3D printing booms, research at Proto Labs goes on to make their services affordable, available to more countries around the world, and available at a faster rate.
Proto Labs is a giant when it comes to molding and 3D printing. If you're a product designer looking to produce something at a cheap cost and without having to wait too much then Proto Labs is the choice for you. Not to mention their vast global presence, unless you're in Antarctica that is.
Warning; 3D printers should never be left unattended. They can pose a firesafety hazard.