6 Best External SSD Hard Drives for the PS4
3D Insider is ad supported and earns money from clicks and other ways.
Even after more than five years since its release, the PS4 is still going strong. With a powerful processing unit, a thriving online community, and a library of excellent games that continue to grow year by year, there's still no sign of the PS4 hype train slowing down.
As your collection of games grow, you're likely to run out of storage space on your PS4 eventually, especially if you buy your games digitally. Fortunately, it's possible to augment your game console's storage space with an external drive. When should you consider getting an external drive for your PS4? What are the best options available today?
Why use an external drive for your PS4?
You've probably poured several hundred to more than a thousand dollars on your PS4 console and your collection of games, so why should you spend some more to get an external drive? There are several good reasons, and you're bound to realize one of these eventually.
1. Store more games
Most of the premium PS4 games can occupy close to a hundred to several hundred GB of storage space. Even if your console has a built-in 1 TB hard disk, you will eventually find yourself running out of space to install new games. People without external drives end up having to uninstall some of their beloved games which can be heartbreaking, especially if it's one of those games you're looking forward to replaying in the far future. If you buy your games digitally, this means having to redownload the game from the PSN store all over again.
2. Transfer your games across consoles
If you're upgrading from an original PS4 console to a PS4 Pro, using an external drive is the easiest and fastest way to transfer your games to your new console. You won't be transferring just your games, of course, but also all your save files, screenshots, and downloaded apps.
An external drive even makes it possible to carry your games and your save files along with you when you visit your friend's house and play on their console. Just plug in your drive and you can pick up right where you left off, even if you're playing on a console that's not your own.
3. Speeds up load times
You also have the option of using a solid state drive to store your games for the PS4, which can reduce load times to as little as a tenth of what they would have been if they were stored in a hard drive. This technology isn't exactly groundbreaking, but it's only been in recent years when gaming consoles have started to take advantage of SSD technology. You don't need to wait for the next generation of gaming consoles to enjoy it, though, as you can just hook up an SSD to your PS4.
The top 6 best external drives for your PS4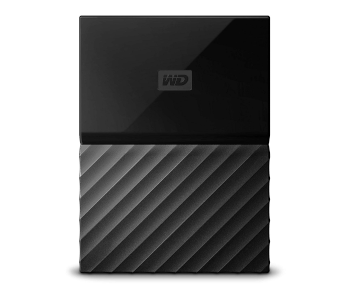 Editor's Rating: 4.7/5.0
Our top pick happens to be a line of external disk drives that don't exactly have any standout features but happens to be so reliable and durable that it's one of the most trusted and widely used brands worldwide. Western Digital's My Passport is available in a wide range of colors and has been used over the years by students and professionals alike. It's also available in a range of different capacities, but we're featuring the 4TB variant here. After all, who doesn't more space for games?
For an HDD with this capacity, the WD My Passport is exceptionally small and thin. Whether you intend to keep this external drive permanently plugged into your PS4 or you want to bring it along to your friend's house for hours of coop gaming, the My Passport is remarkably reliable and portable. Its USB 3.0 port ensures that it's compatible with a PS4 console, although it lacks any SATA port for internal use. Since it doesn't require an external power source, you don't have to endure the hassle of having extra wires in an already complicated gaming setup.
Settling for an old-fashioned HDD instead of an SSD doesn't seem so bad when you consider the price of the WD My Passport. For around $100 to $150, you can have more storage space for your games that you could ever need. Of course, you need to be wary of the usual precautions of HDDs, such as avoiding dropping them or moving them around while they are running. You also don't get any improvements in terms of loading times.
Tech Specs
Technology: HDD
Product Weight: 0.54 lbs.
Dimensions: 4.3 x 3.2 x 0.9 in.
Capacity: 4TB
Ports: USB 3.0; USB 2.0 compatible
The Pros
Great cost-to-capacity ratio
Available in different colors
Reliable and durable
Does not need external power
Small and compact design
The Cons
Does not reduce loading times
Prone to mechanical damage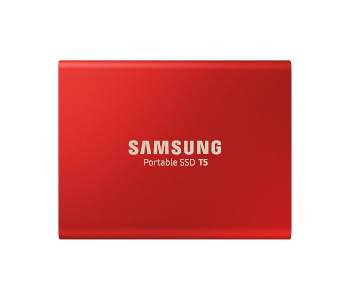 Editor's Rating: 4.8/5.0
If you're already looking to expand your console's storage with an external drive, why not improve its performance while you're at it? This is the unique value of getting an SSD for your PS4. We highly recommend this 1TB portable SSD from Samsung, as it's considered superior to SSDs from other brands. It's incredibly light and thin, and the metallic finish looks great.
We're massive fans of using an SSD for your PS4. The read-write speeds of an SSD is unparalleled, and your games stored in this SSD will have massively reduced loading times. It's hard to appreciate the benefits of an SSD without experiencing it first-hand, but trust when we say that it's a huge quality of life upgrade.
Aside from reduced loading times, the absence of an optical storage system means an SSD is much more durable. It should also last longer than the typical lifespan of an HDD. The biggest downside of the SSD is its price: for only 1TB of storage space of an SSD, you'll have to spend more than half the cost of a standard PS4 console. Admittedly, it's not for everyone, but we are eager for SSDs to become much more affordable in the coming years.
Tech Specs
Technology: SSD
Product Weight: 0.11 lbs.
Dimensions: 2.2 x 2.9 x 0.4 in.
Capacity: 1TB
Ports: USB 3.0; USB 2.0 compatible
The Pros
Very light and small
Very high read-write speeds
More durable than HDD
The Cons
Expensive
Small storage capacity
Editor's Rating: 4.5/5.0
Not everyone has the spare cash to blow on an external disk, especially considering that buying a PS4 console and a collection of games is expensive enough as it is. This 1TB external HDD from the Toshiba Canvio line can effectively double the storage capacity of a PS4 Pro for less than $60. That is just an amazing deal, no matter how you look at it.
Given the modest price of this Toshiba Canvio portable HDD, you'll also have to manage your expectations for it. It does not come in other colors aside from standard black and isn't quite as durable as the WD My Passport. Still, it's reliable enough for everyday use as long as you take care of it in the same way that you take care of an old-fashioned HDD.
The Toshiba Canvio is best described as a no-frills portable HDD that is very simple to set up and use. It retains a light and compact design that is perfect for on-the-go gamers. The Toshiba Canvio Basics line comes with a 1-year limited warranty, which is another bonus deal considering how affordable it is.
Tech Specs
Technology: HDD
Product Weight: 0.33 lbs.
Dimensions: 4.3 x 3.1 x 0.55 in.
Capacity: 1TB
Ports: USB 3.0; USB 2.0 compatible
The Pros
Affordable
Simple and easy to use
The Cons
Small storage capacity
Not as durable as WD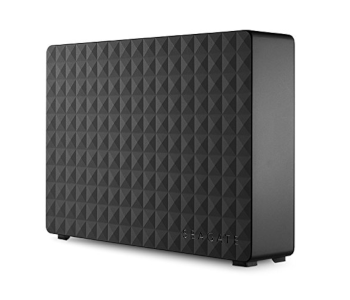 Editor's Rating: 4.3/5.0
If you've had your PS4 console since launch, then you've probably collected such a massive library of games. A library of that size deserves an external drive that is just as big. For massive storage needs, we recommend this huge 6TB external HDD from Seagate. Dubbed as an extended desktop storage, this external HDD is big enough so that you'll never need to delete games or recorded videos from your console ever again.
An HDD of this size is also going to be very useful if you're migrating your library of games from one console to another. With rumors of the PS5 having backwards compatibility, you might need the Seagate 6TB HDD sooner than you think.
The biggest downside of an HDD of this size is that it requires external power. It does come with its own 18W power adapter, but then there's the matter of adding another cord into your PS4 setup that is probably already filled with power cables and charging cables for your controllers. It's also pretty big, as you'd expect, so carrying it around won't be as convenient.
Tech Specs
Technology: HDD
Product Weight: 2.09 lbs.
Dimensions: 6.9 x 4.8 x 1.4 in.
Capacity: 6TB
Ports: USB 3.0; USB 2.0 compatible
The Pros
Huge storage capacity
Very good cost-to-capacity ratio
The Cons
Needs a separate power supply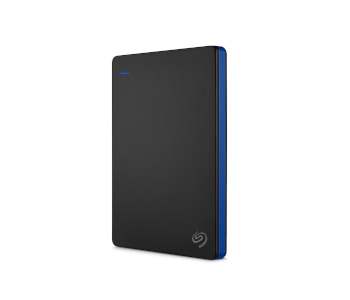 Editor's Rating: 4.2/5.0
The Game Drive from Seagate certainly looks the part: its blue and black color scheme was deliberately chosen to match with the blue light and black casing of the PS4. This particular model offers 2TB of storage space at a great price and in a compact and travel-ready form. Since it's been designed for the PS4, there should not be any compatibility issues.
Aside from its PS4-geared design, what makes the Game Drive an interesting choice is that Seagate cut out much of the fat that typically comes with portable HDDs that are made for all-around use. Since the Game Drive was made to be used for games, it does not come pre-loaded with unnecessary apps and features. It can, of course, still be used as a standard HDD since the hardware is still the same.
Again, the Seagate Game Drive is prone to the usual vulnerabilities of HDDs. Take care not to drop it, and refrain from moving it around while the disk is spinning. It also doesn't offer much boost to loading times, contrary to its claims.
Tech Specs
Technology: HDD
Product Weight: 0.30 lbs.
Dimensions: 4.8 x 3.0 x 0.38 in.
Capacity: 2TB
Ports: USB 3.0; USB 2.0 compatible
The Pros
Affordable
Very good cost-to-capacity ratio
Color scheme is compatible with the PS4
The Cons
Prone to mechanical damage
Doesn't offer a speed boost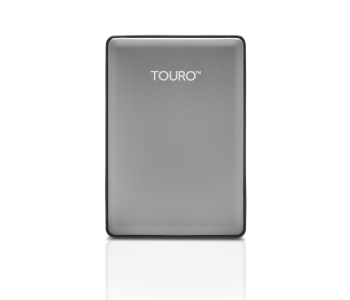 Editor's Rating: 4.3/5.0
Sticking to old-fashioned HDDs doesn't have to mean putting up with the long load times of graphic-intensive PS4 games. The Touro High-Performance Drive from HGST, a Western Digital company, offers the fastest performance possible from a traditional disk drive. This hard drive operates at 7200 rpm, more than 20% faster than the usual 5400 rpm drives. This speed isn't quite close to SSD speeds, but you should still notice a reduction in loading times and faster retrieval of game saves.
The good thing about the Touro using the same old technology of HDDs is that it's far from being as expensive as an SSD. You'll have to pay a slight premium, but the price of the HGST Touro isn't that far off from the WD My Passport. For a small additional fee, you can get a slight improvement in performance. Sometimes, even just a small improvement is good enough.
Despite the seeming complexity of the Touro and its sleek, futuristic design, it's still pretty easy to use. It's a plug and play device that will allow you to install games and transfer files with minimal setup. Again, it's still an HDD, so you'll need to take care not to damage it with falls.
Tech Specs
Technology: HDD
Product Weight: 0.34 lbs.
Dimensions: 4.5 x 3.2 x 0.47 in.
Capacity: 1TB
Ports: USB 3.0; USB 2.0 compatible
The Pros
Slightly faster than the usual HDD
Much cheaper than SSD
The Cons
Prone to mechanical damage
Final thoughts
Many consider the current era as the golden age of gaming. This is truer with the PS4 than any other gaming console system. Excellent, award-winning games have been coming out for the PS4 for several years now, which makes it easy to understand why the 500GB and 1TB built into the consoles can easily get filled up.
We strongly recommend upgrading to an SSD alternative, but we understand that the high costs may not appeal to everyone. Fortunately, it's still very easy to find budget options that can effectively double or triple your console's storage capacity. More room for games is never a bad thing.