5 Best USB Hubs for Your PS4
3D Insider is ad supported and earns money from clicks, commissions from sales, and other ways.
It's easy to see why the PlayStation 4 is the best-selling console of this generation. With its library of exclusive games, excellent hardware performance, and the highly ergonomic and responsive DualShock controllers, the PlayStation 4 offers the most complete experience to gamers.
Since its launch, the ecosystem of the PlayStation 4 has widely expanded. With wireless headsets, external hard drives, and the PlayStation Move controllers, the standard USB ports that come built into the PS4 (and even the extra USB slot of the PS4 Pro) are simply no longer enough. If you were to buy a USB hub for your PS4, which ones are considered the best?
What to look for in a PS4 USB hub
Getting a USB hub for your PS4 isn't exactly a complex matter. If you have lots of accessories and controllers, getting a USB hub allows you to charge them all at the same time. If you have a wireless headset or an external hard drive, then one or two USB ports on your PS4 will pretty much permanently be used by these accessories. With these things considered, what should you be looking for in a good USB hub?
1. Speed
If you're buying a brand-new USB hub, then there's no reason for you to buy anything less than one that has USB 3.0 technology. The superior speed and efficiency of USB 3.0 make it excellent for connecting your external drive, especially if you use an SSD. A USB 3.0 port is also capable of delivering higher current, which allows faster charging of your controllers. Since USB 3.0 ports are backwards compatible with any USB 2.0 device, you shouldn't run into any compatibility issues even if you have old devices or cables.
2. Size and design
The PlayStation 4 is the arguably the best-looking PlayStation ever, so you wouldn't want to ruin its aesthetic with a USB hub that is less visually appealing. When looking for a USB hub, look for one that is compact and has a sleek design. Some people might say that it's not that important, but with so many choices for USB hubs in the market, why would you settle for one that doesn't look great?
3. Number of ports
More ports in your USB hub means that you can have more devices connected at the same time, which is never a bad thing. Your mileage may vary when it comes to this matter. You may be satisfied with four ports, but you can certainly go up to seven or eight. Before committing to a USB hub, you should take inventory of how many accessories and controllers you have for your PlayStation 4.
5 best USB hubs for the PS4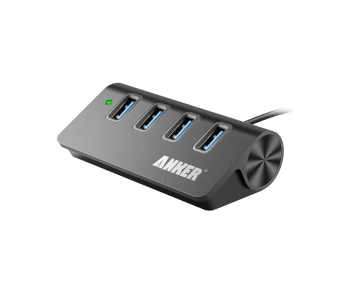 For versatility and reliability, we'll have to give the top spot to this 4-port USB 3.0 hub from Anker. Although it's not being marketed as being specifically designed for the PlayStation 4, we see no reason why it wouldn't work perfectly with the console. With a total data transfer rate of 5 Gb/s, this USB hub is fast enough to handle SSD speeds, which will greatly enhance your gaming experience.
This USB hub requires no external power but can transmit enough juice to charge several DualShock controllers simultaneously. Having an external drive plugged in while you charge several controllers might be a bit of a problem, though. If you use an external drive with your PlayStation 4, we recommend plugging it in directly to the console as it draws much more power.
One more thing we like about the Anker USB hub is its design. It sports a curved and sleek design that not only looks great but also makes the ports much more accessible. The USB hub comes with a Velcro attachment so that you can mount it to virtually anywhere and you don't end up with a cluttered gaming setup. The Velcro strip also helps prevent the hub from moving, which can be really irritating when you have to plug or unplug any device.
While this USB hub isn't the cheapest of the bunch, we find it hard to complain about a sub-$20 price tag for a product of this quality.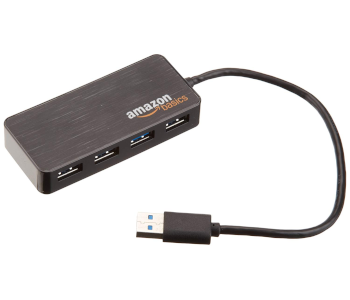 If you want bang for your buck, then this 4-port USB hub for AmazonBasics is certainly worth a look. It supports the data transfer speeds of up to 5 Gb/s of USB 3.0 but is also fully compatible with USB 2.0 devices. Each of the four ports can deliver up to 0.9 A of current, which is perfect for charging your controllers.
Like the Anker USB hub, this USB hub from AmazonBasics also needs to be plugged using an included AC adapter to charge multiple devices simultaneously. However, this USB hub supports auto-switching between direct power and bus power, in case your charging needs aren't so power-intensive.
The great thing about getting an Amazon product, aside from the very low price, is the benefit of being able to contact Amazon for tech support. Based on reviews, the reliability of this USB hub seems quite spotty. However, getting in touch with Amazon to solve your technical issues should be a cinch.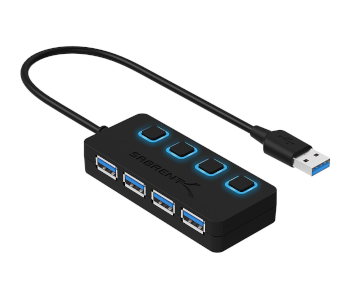 If you're on a really tight budget, then this 4-port USB hub from Sabrent might be exactly what you're looking for. At less than $10, this is certainly one of the cheapest USB hubs you can get for your PlayStation 4. It features four LED lights that indicate the power status of the ports – a nice addition, given the plain look of the USB hub.
More than just flashy additions, the addition of a power switch for each of the four ports makes it easy to switch between several high-powered devices. Since the power output of the hub is limited, you won't be able to use several power-intensive devices simultaneously, such as external drives. With the switches, you can just switch one port off an activate another port without having to unplug your devices. This is very convenient, and we wonder why it's not a common feature in other USB hubs.
What this USB hub lacks is a power adapter provision that should make it more reliable as a charging hub. Since the hub only supports a maximum current of 900 mA, you won't be able to charge two controllers simultaneously, nor will you be able to use any other device if you have an external drive plugged in. This is a major flaw of this product, effectively making it merely a convenient switch between multiple devices.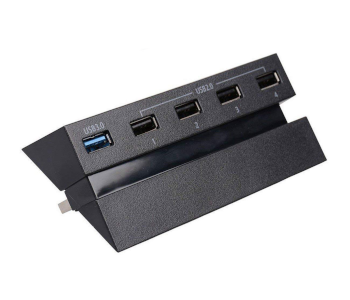 It would be remiss for us to write this list and not include USB hubs that were specifically designed for the PlayStation 4. This 5-port USB hub from LinkStyle plugs right into the front USB hubs of the standard PlayStation 4. The design of the hub mimics the form factor of the PlayStation 4, making it look like an extension of the console instead of just a mere accessory.
One limitation of this product is that it only has one USB 3.0 port – all of the other four ports are only USB 2.0. It can still be quite useful, though. You can use the USB 3.0 port for an external drive, with its fast data transfer rate speeding up loading times for your games. The USB 2.0 ports can then be used for simultaneous charging of controllers. It's not all bad, especially considering a price tag that is only slightly above $10.
Take note that due to the unique design of the LinkStyle USB hub, it is only compatible with the standard PlayStation 4 edition – not the Slim and the Pro. In the right console and when installed correctly, this USB hub is one of the best-looking ways to extend your console's USB accessibility.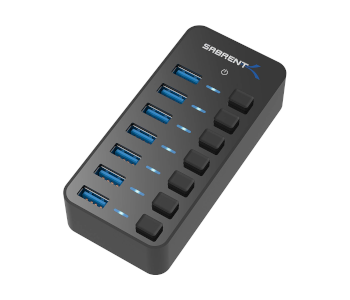 In case four or five ports just isn't enough, this 7-Port USB hub from Sabrent should be more than enough for all your devices. Just like their 4-Port hub, Sabrent has conveniently provided toggle buttons for each of the seven ports of this hub, making it easy to switch between devices without having to unplug them. This is great if you need to switch between charging your controllers, using your wireless headset, or connecting your external drive to your PlayStation 4.
With the potential of charging lots of devices at the same time, this 7-Port hub offers the option of providing power through an AC adaptor. This makes it a much more reliable charging hub, even if you have a few power-intensive devices in constant use.
Getting such a big USB hub means that your gaming setup would certainly end up getting more cluttered. It's also quite expensive, compared to the other 4-Port and 5-Port USB hubs in this list. However, we certainly know of many PlayStation 4 gamers who have more than four or five accessories that need to be plugged in all at the same time. Sometimes, it just can't be helped, and it's nice to have the kind of option that Sabrent offers.
Final thoughts
There's no argument that playing games on a PlayStation 4 is fun. It's even more fun when you enhance your setup with the right accessories: an external SSD to store more games and reduce loading times, more controllers to play coop games with your friends, and a PlayStation VR to explore the future of gaming.
With all these accessories, you'll soon run out of USB ports on your console to plug them into. Fortunately, there are several excellent USB hubs that you can use with your PlayStation 4. They look great, work great, and are very cheap – certainly worth the price for an enhanced gaming experience.