9 Best Quadcopters with Quality Cameras
For Every Budget – Cheap & Expensive Quadcopters


Today everyone can own drone and more people are taking to the skies than ever before. Consumer drones let you go to places where no one has gone previously—at least not with a camera.
Maybe you want a career as a drone aerial photographer? Or perhaps you just want it for personal reasons. There are lots of affordable choices out there and my guide can help you choose.
This page looks at the best quadcopters with quality cameras. Before we get into the top 9 drones, we'll look at what a quadcopter is — exactly — and why they're the best choice for aerial photography.
This introduction explains what to look for in a camera drone based on budgets and expectations. By the end of this short intro, you'll be in a much better position to make a well-informed decision.
| Name | | Range | Flight Time | Rating | Price |
| --- | --- | --- | --- | --- | --- |
| | DJI Mavic Pro | 7 km (4.3 mile) | 27 minutes | | |
| | 3DR Solo | 1.5 km (0.9 miles) | 25 minutes | | |
| | Traxxas Aton Plus | 152 m (500 feet) | 25 minutes | | |
Quadcopter Drones By Budget :
Click below to get detailed information on each drone.
The Camera Drone Reviews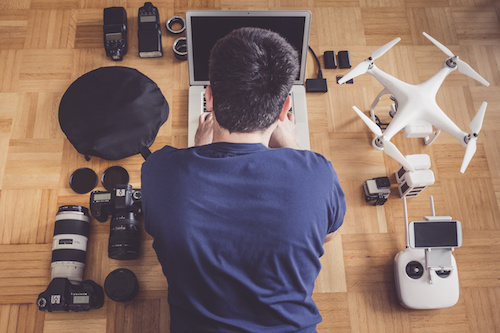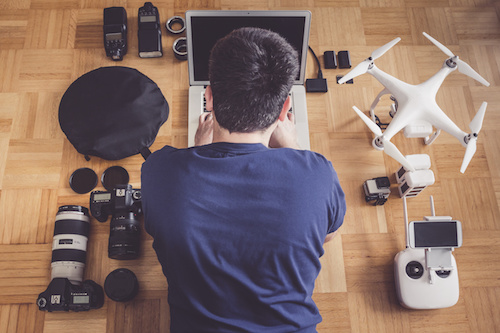 Each review here talks about the drone, its qualities, and setbacks—if any. Aside from highlighting the photographic and filming capabilities, you'll also get to discover the other important features.
These include battery life (flight time), control range, and the controller. There's a table at the end of each review as well. This draws attention to the main technical aspects along with any pros and cons.
There's something for everyone in this guide. At the top end, there's one very worthy high-priced contender over $3,000. We then have a couple of camera drones over $1000. There are three in the mid-range in between $500-$1000, and four others under $500.
For each category, I've arranged the quadcopters in order of Editor's Rating. The best-ranked drones are at the top. Personal research, expert opinions, and user feedback, all help to form these reviews.
Camera Quadcopter Comparison Table
The table below shows my top 9 picks of camera drones at the time of writing. From left to right there's the name, type of camera, image resolution, and megapixels.
DOMC = Depends on the mounted camera, CD = Camera dependent, MP = Megapixels
Different Types of Rotary Drones
Different Types of Drone Cameras
Quick Glossary of Common Camera/Video Terms
Before You Read These Reviews
Quadcopter Drone Bundle Over $5,000
Buying any drones higher than toy status can be quite an investment. Drones bundles costing over $5,000 are what all ambitious drone pilots dream of, yet only serious prosumers and professionals buy.
This might sound like an unrealistic price tag for some. If you're a professional drone pilot, though, it's a tool of the trade and therefore worth every dollar. The one we have here is a very serious contender.
You can get the drone without the camera bundle for around $3000. You can also consider the DJI Inspire 1 for a quality drone camera bundle for half the price of the latest model.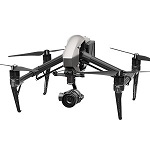 The Pros
Excellent design (ergonomics)
FPV front-facing camera
+10 more
Fast top speed
New Lightbridge technology
Smart Return-to-Home feature
Responsive controller
Tripod Mode
Long transmission range
Long flight time
Exceptional camera
5.2K crisp, clean video
Excellent stability
The Cons
High price tag
High cost of cameras
+1 more
Limited camera compatibility
If you're a fan of DJI, you'll know that the Inspire 2 is an exceptional flying robot favored by supporters with deep pockets. Most buyers, though, are professional videographers and local news broadcasters.
The craft is all pro-grade as you'd expect with a camera drone in this class. It's a pleasure to operate and provides a very stable flight experience even at its top speed of 58 mph in Sports Mode.
There are some reports of getting this drone to over 65 mph in perfect conditions. However, with high speed come higher risks. Obviously, you need clear space — and lots of it — especially for stopping.
Tech Specs
| | |
| --- | --- |
| Weight: | 1216 g (2.7 lbs.) |
| Battery: | 6000 mAh 2S LiPo |
| Charging time: | 90 min (1.5 hrs.) |
| Control range: | 1000 m (3281 ft.) |
| Max flight time: | 27 minutes |
| Max speed: | 16 m/s (36 mph) |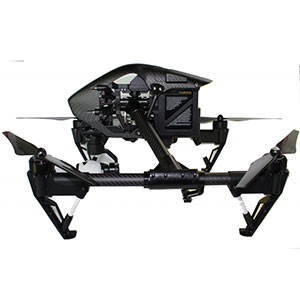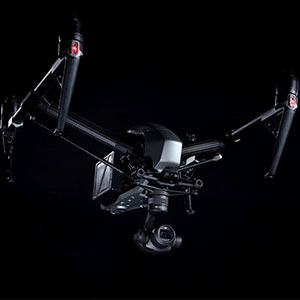 This is a UAV that's pretty nifty even in standard flight mode (40 mph). At optimal conditions, the DJI Inspire 2 gives you 28 minutes flight time per charge. Recharging takes a reasonable 1.5 hours.
This flying camera has a few standard safety measures. Its Return-to-home feature is vital for a craft with a control range of 4.3 miles. It's a safeguard in the event of lost or disrupted communication.
There are plenty of bells & whistles to the DJI Inspire 2's intuitive remote controller (RC). Despite this, it's well-designed and simple to operate. This is an important point for drones that film as well as fly.
Here's a rundown of the controller's key features:
Device clamp
Antenna
Thumb sticks
Power button
LED indicators
The RC camera and video buttons and dials include:
Intelligent flight pause button
Camera settings dial
Camera shutter button
Mode selection button
Record button
Gimbal dial
It sounds cluttered but it's not. New users will become familiar with the DJI Inspire 2 remote controller in no time. The RC clamp houses your mobile device which must have the DJI GO 4 app installed.
The camera we looked at for this review was the superb Zenmuse X5S. It's a tiny micro four thirds camera with an option to change lenses. It can capture amazing 5.2K video quality in CinemaDNG.
For photography, you get to shoot stills at 20MP in both JPG and DNG formats. The camera's removable stabilizing gimbal won't let you down. It promises to keep all your footage crisp and clear during flight.
This drone comes with the very latest DJI Lightbridge technology. Its effective broadcast distance sets this UAV apart. It's a capable long-distance drone recording video in both 1080p/720p.
An effective FPV function is a must-have with such a long control range. DJI have your back on that front too. The outstanding First Person View ensures greater pilot and camera operator collaboration.
It's possible to improve signal stability by choosing between two control frequencies: 2.4GHz and 5.8GHz. Which you use depends on whether you're flying in urban terrain or clear open spaces.
I think this craft is as near to perfection as you can get for a flying camera drone. However, 100% flawlessness is an impossible achievement. The gripes are minor but worth noting all the same.
My first gripe is the limited camera compatibility. For most people the camera choices are more than enough. It would still be nice to have other options available, though.
My second gripe is the high cost of the available cameras. I'm not saying we should have cheap cameras on a costly drone of course. But more affordable choices would certainly be welcome.
On the whole, the DJI Inspire 2 is a quality piece of engineering. It's a flying camera that does exactly what it says on the box. This is one of those rare crafts that should meet every pilot's expectations.


Quadcopter Drones Under $1,300
You get what you pay for in most cases. Even so, don't let that discourage you. Although the camera drones over $1000 offer plenty, we still have some capable cheaper models to review.
There are only two in this category, the DJI Phantom 4 and GoPro Karma, both worthy of the top slots.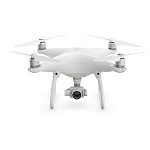 The Pros
94° angle-of-view lens
Up to 120 fps in full HD mode
+9 more
12 MP photography
DNG RAW and JPEG formats
Quality gimbal
Obstacle avoidance detection
Long flying time
Impressive 4K video
Long flying time
Long flight range
Smart flight modes
The Cons
Image quality suffers at the outer control range (5 km)
High price tag
+1 more
High cost of battery
DJI target their Phantom 4 camera drone at the prosumer level but anyone who's flown a quad before will get on well with this craft. It's not cheap but it's worth every penny if you've got the cash to spare.
New pilots will love auto take-off and landing and the intuitive beginner mode. Being able to restrict flight speed and range (distance from drone to controller) are handy features.
This drone offers a fast and stable 45 mph in Sports Mode. In optimal flying conditions, you get an impressive 28 minutes of flight time. That's a lot more than many other models out there.
Tech Specs
| | |
| --- | --- |
| Weight: | 1388g (3.1 lbs.) |
| Battery: | LiPo 5870 mAh |
| Charging time: | 210 minutes (3.5 hrs.) |
| Control range: | > 5000 meters (5 km) |
| Max flight time: | 28 minutes |
| Max speed: | 20.1 m/s (45 mph) |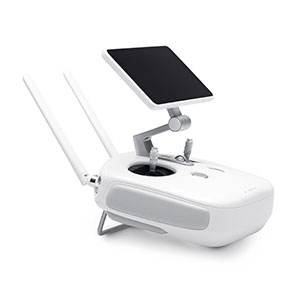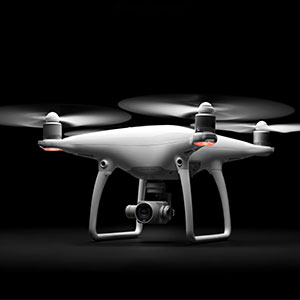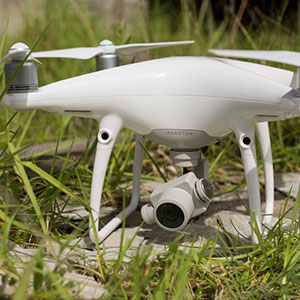 So we have a stable and reliable flyer with plenty of great modes to choose from. Now let's look at the camera and the shooting
capabilities of this popular DJI drone.
The lens offers a 94° angle-of-view (AOV). This angle is not as wide as a fisheye. That's a good thing by the way, as it means less distortion. But it's wide enough to capture plenty of amazing footage.
I like the fact that the propellers stay out of view for most situations, though not in Sports Mode. This is because it has to tilt somewhat to achieve its top speed, and that's why the blades become visible.
The Phantom 4 comes with a small mechanical gimbal. This does an amazing job of stabilizing the camera in flight, even in blustery conditions. This steady clear footage is one of its main selling points.
The camera has a resolution up to 4k (Ultra High Definition) and impressive 12MP stills. Photos are available in popular formats, i.e. DNG RAW and JPEG. There's also time-lapse and burst shooting.
The camera can't turn 360 degrees. Still, the craft flies so well it's not difficult to get the shots and angles you want by moving the drone into the desired position.
Whether you're a keen amateur or a serious videographer, the Phantom 4's video delivers on the cinematography front. You can capture DCI spec at 24/25fps and UHD 4K up to 30fps.
There's the full HD option too (1080 x 1920) that lets you record footage up to 120fps. This is useful if you want to create impressive slow motion special effects.
Because of the taller motors, the props are invisible from most video footage. In sports mode, however, they can show in the video because the Phantom 4 has to tilt to achieve its top speed.
You'll need First Person View (FPV) if you want to put yourself in the pilot's seat for the ultimate flying experience. This requires a pair of Phantom 4 FPV Goggles (not included).
The popular follow-me mode actively tracks you or any moving thing that has the receiver. It's a great feature for sports and action style photography in particular.
The Phantom 4 has an intuitive remote controller (RC). It's a high-quality wireless device, integrating a video downlink with an aircraft style RC system operating at 2.4GHz.
If you're familiar with the Phantom 3 Professional, the Phantom 4 is a decent upgrade. The Phantom 4 Pro has even more to offer, and there's a full review of that in one of my other guides.
Obstacle avoidance is a welcome extra feature. It's not something that's available on all drones just yet. Add to this the craft's list of impressive specifications and its ease of flying. There's a lot to like.
The initial setup time can be awkward for some, and the user guide is not the best help. You may want to consider the high cost of spare batteries in your decision making too.
Overall, though, this is an impressive flying camera. Anyone who has the budget for the DJI Phantom 4 should at least put it on their shortlist of options.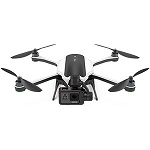 The Pros
Uses GoPro Hero4 & Hero5
Good image quality
+7 more
Quality gimbal
Foldable – easy to travel with
Stabilization package
Includes handheld grip
Excellent virtual tutorials for beginner pilots
Intuitive remote with LCD display
Automated flight features
The Cons
No obstacle avoidance
No follow me mode
+2 more
Short battery life (flight time)
RC prone to glare
The GoPro Karma Camera Drone goes for around $1,100. It's also easy to setup and fly this little beaut, making at great choice for serious beginners as well as more experienced flyers.
Newbies have the option to train on some practice routes in a virtual setting. The intuitive flight simulator steers you through the drone's basic operations. This is a major advantage for novice pilots.
The Karma's a very capable craft and a stable flyer (essential for shooting aerial footage). Locking onto GPS signals is fast and reliable. The top speed of 35 mph is pretty average and ok for a camera drone.
Tech Specs
| | |
| --- | --- |
| Weight: | 545g (1.2 lbs.) |
| Battery: | 5100mAh 14.8V |
| Charging time: | 60 minutes (1+ hr.) |
| Control range: | 1.9 miles (3 km) |
| Max flight time: | 20 minutes |
| Max speed: | 15.6 M/s (35 mph) |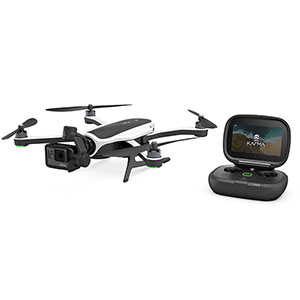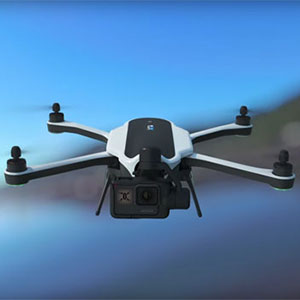 The 20 minute maximum flight time isn't bad, but it's not the best either. The good news is the battery charging time. It only takes about 1-hour, which is considerably less than much of the competition.
The remote control (RC) has a clamshell design and is about the same size of an average video games controller. It has all the usual functions with the addition of audio cues, which is a nice touch.
The controller contains a smart 5″ LCD FPV display with a resolution of 720p. Although it's bright, I did find it prone to glare in certain conditions. It's not a major fault as much as a minor distraction.
The Karma doesn't include a camera but has a harness to house GoPro Hero4 & Hero5. The Hero5 can shoot footage in 4k up to 30fps. The camera mounts on the drone's nose rather than under its belly.
The front position of the camera and its stabilizing gimbal makes this a very slim UAV. The GoPro foldable Karma actually closes down to the size of a water bottle making it a great travel companion.
You can remove the stabilizing gimbal and use it with the Karma Grip (included). This flexible pistol design grip is perfect for when you want to shoot ultra-steady (non-aerial) footage by hand.
The video and photographic quality, though, depends on the camera mounted to the Karma quadcopter. The entire karma drone kit fits neatly into a smart outdoor travel case (included).
I endorse this drone, but it won't suit everyone. The rather short flight time is one of the major setbacks for a camera quadcopter. Plus GoPro cameras are not the preferred optics for everyone.
All in all, there's more to like than dislike. The lugability factor is a major plus point for me. It's a nice flyer too and provides an enjoyable experience for any serious beginner or seasoned prosumer.
The table above should help you decide whether the GoPro Karma checks enough of your boxes.


Quadcopter Drones Under $1,000
There are some very capable crafts for under $1000. These are camera drones at the serious end of entry level. Many of you reading these reviews have most likely had some flying experience.
Are you enthusiastic about creating beautiful aerial photography and stunning video? You can certainly find something among these four quadcopters to meet your expectations.