5 Best Raspberry Pi Kits in 2019
3D Insider is ad supported and earns money from clicks, commissions from sales, and other ways.
Our old perception of robots – large, industrial-scale machines used to do automated tasks in manufacturing and other engineering firms – no longer holds true. Nowadays, robotics has become a much more prevalent element in our day-to-day lives. Robotics technology has even become simple enough for you to build your own robot with basic electronics and programming knowledge.
One technology that has made this possible is Raspberry Pi, a single circuit board that contains all the necessary elements of a fully functioning computer. Raspberry Pi technology has made it really easy to build and program your own robots. This capability is best experienced using any of the robot kits we have listed under the best Raspberry Pi robot kits available in 2019.
What is Raspberry Pi?
The Raspberry Pi is best described as an entire computer that fits in the palm of your hands. A single-board computer that is about the size of a credit card, a Raspberry Pi contains standard input/output pins for various electronic components, standard USB ports, a processor, RAM, and input and output ports for audio and video. Despite its size, you can do just about anything that you do with a standard computer using a Raspberry Pi computer.
Aside from its compact size, the simple design of Raspberry Pi boards makes it especially suited for customization. While it is capable of doing common tasks such as word processing or surfing the Internet, it was primarily created to serve as a learning tool for kids who wanted to learn how to code. While Raspberry Pi boards are compatible with common computer peripherals such as keyboards and monitors, they really show off their capability when they interface with more unusual accessories, like motors and electronic sensors.
This statistic may sound surprising, but Raspberry Pi boards are the third highest-selling computers worldwide, following only PCs and Mac's. Raspberry Pi boards have been used for DIY electronics and robot projects as well as in space rovers designed by NASA and commercial products such as digital media players and cameras.
What to look for in a Raspberry Pi robot kit
1. Fun
While Raspberry Pi boards have been used in more practical applications such as WiFi repeaters or automatic industrial machinery, a robot kit based on Raspberry Pi technology primarily has to be fun. From assembling the robot to programming it and watching it come to life, a robot has to be designed to entice users to play around with them, so they serve their purpose of being learning tools.
2. Easy to learn
Since these Raspberry Pi robots are made to appeal to beginners with little to no experience to electronics and robotics, a little handholding should be in order. The best Raspberry Pi robots come with detailed instruction manuals that guide the user on how the robot is built and how the programming interface works. Fortunately for Raspberry Pi users, there's already a huge global community of Raspberry Pi enthusiasts who will be more than eager to help you out should you get stuck.
3. Customizable
If you really want to get value for money, then you would want to get a Raspberry Pi robot that can do more than just a single function. There are kits available that can be used to create a variety of robots, with each one using its array of sensors in various creative ways. This also expands the horizon of learning that you can get out of a single robot kit.
The top 5 best Raspberry Pi robot kits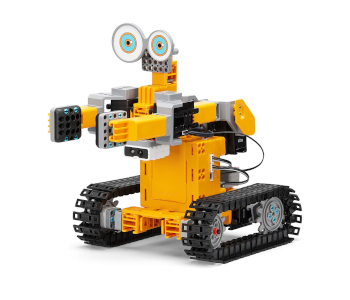 When it comes to affordability and a kid-friendly image, few Raspberry Pi robots can compete with the JIMU Robot from UBTECH. Featuring bright yellow bricks and a pair of googly eyes, your kid may get the impression that the JIMU Robot is just like any standard robot toy. However, the JIMU Robot offers a much better opportunity for your kid to build and control their very own robot.
First off, the JIMU Robot comes in a package containing a total of 190 parts. This robot is easy to build. It doesn't' require the use of any tools, all the parts snap together, and your kid can be guided at each step of the assembly process by UBTECH's series of 3D animated instructions. The movement of the robot is controlled by six servo motors, while an infrared sensor acts as its "eye."
Using just the single infrared sensor, the JIMU Robot can be programmed to avoid obstacles, race along a pre-defined course, or grab and lift objects. Programming is done via a very beginner-friendly visual interface that only requires dragging and dropping pre-coded programming blocks.
At less than $100, the JIMU Robot from UBITECH offers excellent value as a STEM learning tool for your kids. If you end up really liking this robot kit, you can expand its capabilities with add-on kits from JIMU or even pair it up with more advanced UBTECH robot kits.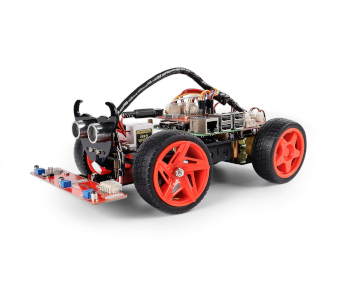 The Raspberry Pi kit looks just like any standard racecar toy, but it's considered by many to be one of the best learning platforms based on Raspberry Pi technology. With three sensors (an ultrasonic obstacle avoidance sensor, a line-following module, and a light detection module) controlled by a Raspberry Pi 3B+ board, and the ability to code on a PC or any mobile device, this robot car kit is versatile enough without being overwhelming for beginners.
To start off, this robot car kit from SunFounder is one of the best-looking DIY robot car kits available today. Since it's basically a car, it's bound to be a sure hit with kids of all ages. Since the Raspberry Pi board sits right at the top of the car, it's convenient to work with it and change the peripheral components every now and then.
For beginners, the Raspberry Pi board can be programmed using Dragit, a GUI-based programming platform where code blocks can be simply dragged and combined to form more complex functions. More experienced users may opt to program the board using the Python language. If you're tech-savvy enough, you can even write a mobile app for controlling the car using just your phone.
The SunFounder robot car kit may the flashiest entry in this list, but it does offer attractive learning opportunities for both beginners and experienced users. Neither is it the cheapest, but its price tag is easily justified by its quality.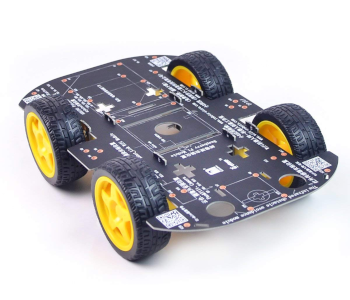 If you're looking for a budget option, then it doesn't get any bare bones than this car chassis that is compatible with either an Arduino or Raspberry Pi board. Note that it doesn't come with a board, so you'll have to supply your own. It's a great starting point for those who want to learn, but its overly simple design might not be for everyone.
Despite the simple appearance, this robot kit actually has just about everything to get you started, save for the Raspberry Pi board. The chassis is made of a light and thin PCB material and comes with four wheels and a DC motor. The chassis has pre-drilled holes for the Raspberry Pi plus a few other sensor modules. These sensors aren't included either – you'll have to buy them separately.
If anything, this type of robot kit will really challenge how creative you can be with your builds. It only provides a means of propulsion. The rest of the features, you'll have to come up with by yourself. It's a great little platform for coming up with your very own machine with any type of sensor or motor loadout that you'd like. The choice of PCB material for the chassis is something we really appreciate, as it provides a strong base for all the electronic components you'll likely be adding on to your robot car.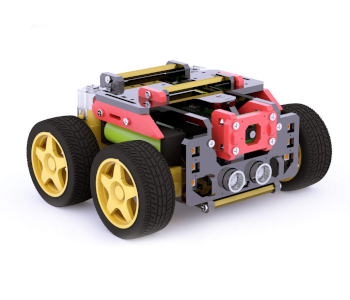 If you're going for something flashier, then look no further than this Smart Robot Car Kit from Adeept. Again, the Raspberry Pi board is not supplied with the kit but it is compatible with different Raspberry Pi models. Despite this oversight, this kit is one of the most scalable and customizable robot car kits we have reviewed.
The Adeept Robot Car Kit may not come with a microcontroller board but more than makes up for it with the sensors. It's capable of object recognition, motion tracking, and line tracking. It's even capable of real-time video transmission using the included Raspberry Pi camera. A 64-page manual will guide you through the assembly process, as well as through the use of a Raspberry Pi board.
Coding your Raspberry Pi is made easier with the GUI-enabled programming platform that comes with the robot kit. You can use any of the prepared Python codes to get your car moving right off the bat. Of course, you can edit these codes as you please if you're comfortable doing that.
For a robot car kit as capable as the Adeept Smart Robot, its surprisingly affordable. Raspberry Pi boards are pretty cheap, so not having it thrown in with the rest of the product isn't a great loss. This is the type of robot car kit that certainly won't make you feel short-changed.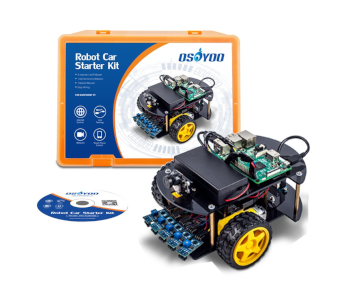 Rounding up this list is this deceptively simple robot car kit from OSOYOO. While it does not look so different on the surface as all the other robot car kits in this list, this product from OSOYOO was actually designed for more advanced robotics users. With some Python knowledge and a Linux OS, you can incorporate complex algorithms such as machine learning and computer vision in this seemingly basic robot car kit.
The robot car kit comes with an array of tracking sensors, a DC motor, wheels, a motor drive module, and a webcam. A detailed user manual provides instructions on how to put it together. Once fully assembled, you can control the car using a web browser app or a mobile app that is compatible with Android devices. You can also receive real-time video on the app while you control the car.
The robot kit comes with a prepared Python code for basic functions. You are free to edit this code for the robot to perform more advanced functions. If you work with a Linux OS, this robot car kit provides a unique opportunity to learn about more complex concepts such as machine learning. Thus, we have to give OSOYOO credit for designing a robot car kit that is both accessible to beginners and sufficiently challenging for those with more experience in robotics.
Final thoughts
It's quite impressive that in the space of a few decades, computers have been reduced from huge pieces of machinery to a single circuit board. The Raspberry Pi is the perfect example of this phenomenon of technology miniaturization. In a board that is about the size of a credit card, you can do just about anything that you normally do with a PC or a laptop.
The technology of Raspberry Pi offers a unique opportunity to come up with DIY electronics and robotics projects. Since a Raspberry Pi board can be programmed just like any other computer part, it can be used to automate a response from data received via sensors.
Beyond automation, Raspberry Pi boards can also integrate audio and video input devices as well as motor control modules. If you've ever wanted a remote-controlled racecar with an onboard camera but can't quite find one that suits your needs, then the solution is simple – just make one yourself!