15 Best RC Accessories for Cars and Trucks
3D Insider is ad supported and earns money from clicks and other ways.
Many radio control enthusiasts love to tinker with their models. This guide reviews some of the most sought after RC accessories for cars and trucks. Some add-ons only make a vehicle look more attractive. Most popular, though, are the things that help to protect or enhance the performance of a model in some way. This page looks at 15 favorite RC parts and accessories.
Compatibility Matters
The biggest mistake novice users make is to buy a part without checking compatibility. Some products give specific details and state the exact model(s) the part is compatible with. Others can be vague and name only the brand. The point is to make sure the RC part or accessory is consistent with your model. Contact the seller before deciding if you're in any doubt.
About My 'RC Accessories' Guide
The 15 RC accessories in this guide are the result of extensive research. I took the views of industry experts and user feedback into consideration as well as personal opinions. There's a variety of useful radio control extras here, so feel free to jump to those that interest you.
RC Accessories Comparison Table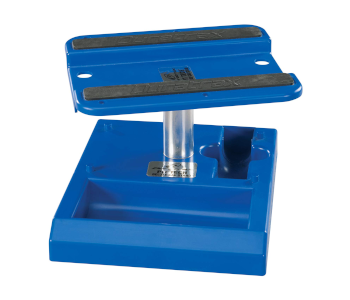 EDITOR'S RATING: 4.5/5
Having the right tools for the job can make all the difference. This sturdy RC work stand provides perfect support as you work on your model. It's made from high-impact polystyrene and has a handy rotating top plate. Rubber inserts grip the chassis of the vehicle firmly to avoid damage to the car. The center section drops down to accommodate different shaped RC models.
The stand's base has a useful tray to keep larger parts together. Another welcome feature is that you can disassemble the stand. That's helpful for when you want to store or transport it.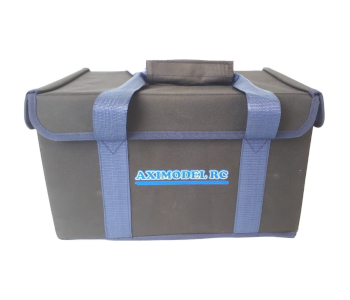 EDITOR'S RATING: 4.2/5
There's a place for everything, and everything in its place, as the saying goes. Aximodel RC designed this bag for small 1/16 and 1/18 scaled models and their accessories. The latter may include things like RC Tires, Transmitter, and chargers, etc. Organized RC'ers have much easier lives than those who aren't. There's also less chance of breaking things when they're stored correctly.
You can find kit bags for larger scale models too like this 1/10 storage bag from NJORA.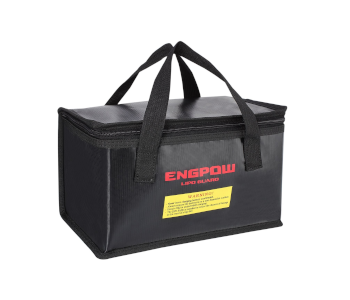 EDITOR'S RATING: 4.8/5
Another invaluable RC accessory is a protective container to store LiPo batteries. This flame retardant option safeguards LiPos while charging, when stored, or in transit. The silicon-coated fiberglass and heat-aluminum foil make the bag both explosion-proof and fireproof. There's space for 30 2200mAh batteries. It also functions as a multipurpose bag to accommodate other electronic devices.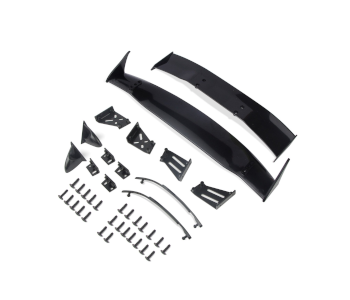 EDITOR'S RATING: 4.3/5
Sometimes we want to beautify the models we have. This elegant RC car body spoiler set comes with a couple of different size and style wings. It's suitable for 1:10 scale drift, race, and flat cars. Assembly is straightforward, thanks to the included screws and adjustable mounts. The pack also contains windshield wipers and sporty side mirrors. The only downside is that there aren't any instructions.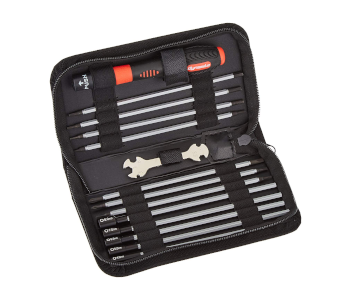 EDITOR'S RATING: 4.4/5
How many of us have broken something using the wrong instruments? The Dynamite tool kit is a useful tool bag that contains most of what you need to work on RC models. The tool pouch is small, durable, and well-organized with straps to hold everything in place. Here's what's inside:
HANDLES
NUT DRIVERS
HEX DRIVERS
PHILIPS
FLAT
BOX WRENCHES
Ratcheting
4mm
5mm
5.5mm
7mm
8mm
0.50"
5/64"
1.5mm
2mm
2.5mm
3mm
3.5mm
4mm
#0
#00
#1
2mm
3mm
4mm
3mm
4mm
5.5mm
6mm
7mm
It's inclusive little tool kit that you can use on a range of RC models, not only cars, and trucks.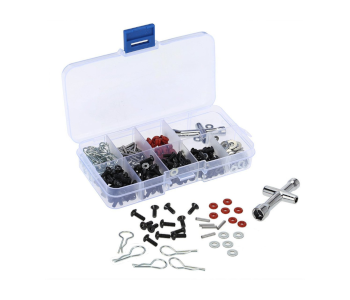 EDITOR'S RATING: 4.8/5
ShareGoo's repair tool & screws box contains 240 pieces for use with 1/10 scale RC cars. No more scratching around when you need a vital screw or an exact size washer. The durable box is neat, organized, and easy to carry. Here's what's inside:
WRENCH
SCREWS (VARIOUS)
WASHERS
BUCKLES
MISC.
Hexagon
15 x Round head 3 * 6
15 x Round head 3 * 8
15 x Round head 3 * 10
15 x Round head 3 * 12
15 x Flat head 3 * 6
15 x Flat head 3 * 8
15 x Flat head 3 * 10
15 x Flat head 3 * 12
30x N3 Flat
30 x Shell
30 x Pin
30 X O-circle
All the 240 essential pieces fit into a box not much bigger than a packet of cigarettes.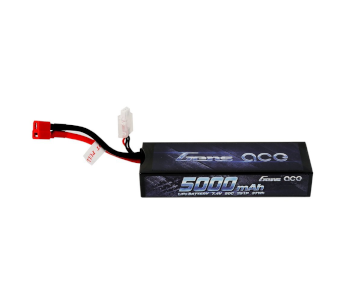 EDITOR'S RATING: 4.7/5
Batteries are fuel for electric RC cars and trucks, and they never last long enough. Most RC'ers like to buy spare and improved batteries to keep the fun going. This one is a 7.4V 5000mAh 50C 2S Hard Case LiPo with deans plug by Gens Ace. It uses superior Lithium Polymer raw materials from Japan and Korea. It's fast to recharge and has a long 150 minimum times cycle life.
This battery is suitable for 1/8 and 1/10 RC cars and 1/10 trucks and buggies. Always check compatibility with your model before buying any LiPo battery pack.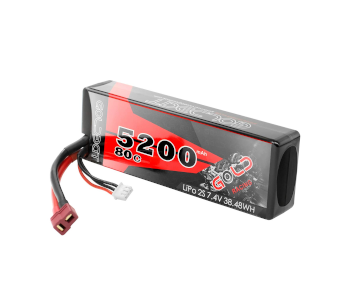 EDITOR'S RATING: 4.8/5
This RC battery is the 7.4V 5200mAh 80C 2S LiPo from GOLDBAT. It includes the best materials from South Korea and Japan and is authenticated by RoHS CE. The battery boasts a fast recharge time and long cycle life. GOLDBAT has designed it for use with 1/10 and 1/8 scale hobby-grade RC cars. Some examples include Losi, Traxxas Slash, Rustler, Bandit, and Emaxx, etc.
Always check compatibility with your model before buying any LiPo battery pack.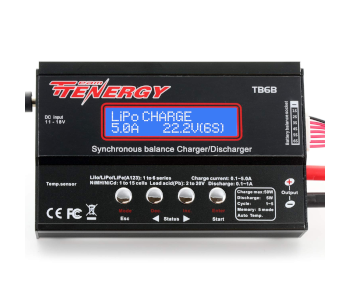 EDITOR'S RATING: 4.7/5
A decent battery charger is an invaluable tool in the RC arsenal of accessories. Many enthusiasts have a fleet of models all using different battery types. Consider the Tenergy's TB6B multifunctional battery pack balance charger if you're collection is growing. It can charge many battery types and voltages, so there's no need to have lots of different chargers. It's a fully comprehensive tool with lots of extras.
This all-in-1 package includes Tamiya, Mini Tamiya, JST, HiTec, EC3, and Deans connectors. You also get an octopus multi-charging harness and some alligator clips.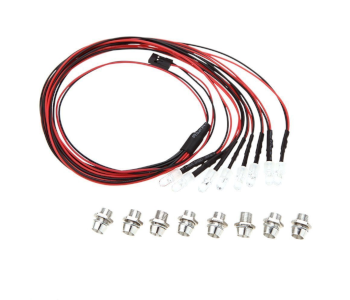 EDITOR'S RATING: 4.4/5
Adding colorful LEDs to an RC model is a cheap and fun way to liven things up. You may need a reamer tool and a bit of creative DIY to install them depending on the model. This 8 pieces LED kit is by Shaluoman and includes 5mm red and white lights. They're incredibly bright, easy to install, and come with plenty of wire. They only cost around 10 dollars (at the time of writing).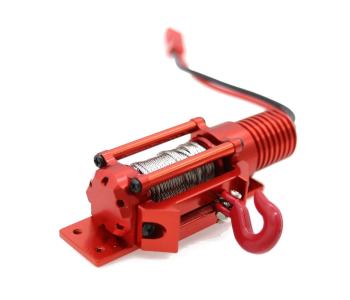 EDITOR'S RATING: 4.7/5
Adding an electric winch to your RC truck gives it a more realistic appeal. This hook winch has an aluminum alloy case, durable steel components, and a preinstalled synthetic rope. It looks fantastic when installed on any 1/10 scale rock crawler. Aside from good looks, it's also a compact, quiet, working winch tool for outdoor RC'ers on a mission.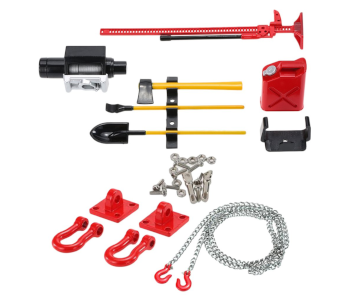 EDITOR'S RATING: 4.5/5
The MonkeyJack RC toolkit simulates real tools and adds a touch of realism to your model. It's lightweight and easy to install the durable tow hook chain trailer to any RC truck. The includes a spade, scoop, lifting jack, Capstan, and tank. Note that this a decorative kit only, so the winch and jack don't do anything. The kit adds a touch of authenticity of your RC vehicle for only a few dollars.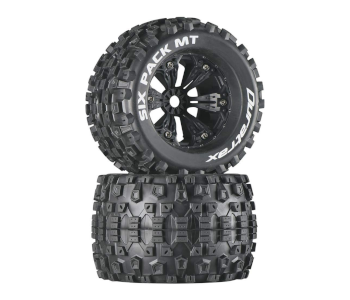 EDITOR'S RATING: 4.3/5
All RC cars and trucks need tires, but they're not equal, and they're not all good. Many enthusiasts like to swap the stock tires that come with a model for something a bit meatier. This RC monster truck front and rear tire set is the MT 3.8″ with foam inserts. They're for RC Traxxas E-Revo, RC, and RC T-Maxx models. They're general-purpose tires suitable for dry, wet, muddy, soft, and hard surfaces.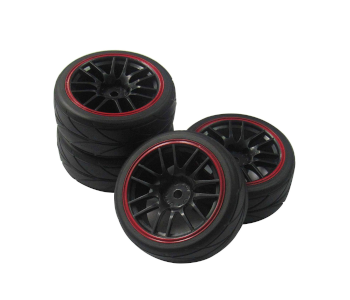 EDITOR'S RATING: 4.4/5
ShareGoo's 12mm hex wheel rims and rubber arrow-pattern tire set is for RC cars. These are the ones to consider if you own a hobby-grade 1/10 scale on-road drift vehicle. Examples of compatible models include HPI, Redcat, Exceed RC, Associated, and Tamiya, etc. These tires have excellent traction. They also give out a cool menacing squeal when drifting on hard surfaces like concrete and asphalt.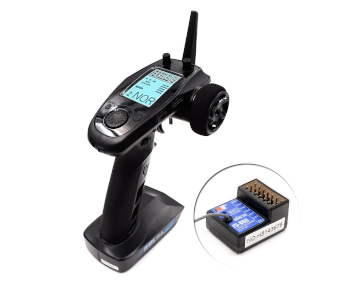 EDITOR'S RATING: 4.7/5
RC car and truck enthusiasts know a thing or two about transmitters and receivers. The Flysky FS-GT5 6CH RC transmitter/receiver is a popular choice. It's not at the highest end, but it's a significant upgrade to many of the stock options. This 6CH pistol grip controller is compatible with a wide range of RC models. It's a feature-packed product that offers excellent value for money.
The Flysky FS-GT5 has an effective anti-interference system and fail-safe protection. There's an ABS or Automatic Brake Function too. Others include a CRAWL function, SVC feature for smart car control, and gyro stability. The GT5 can also store up to 20 model memories—perfect for serious hobbyists.