Best RC Fishing Boats of 2019
3D Insider is ad supported and earns money from clicks and other ways.
This simple buyer's guide reviews the six most popular RC fishing boats around right now. The one that's right for you depends on your fishing needs and what you want the craft to do. For example, some fishing boats bait the water, others can locate fish, and some will even catch them.
Budget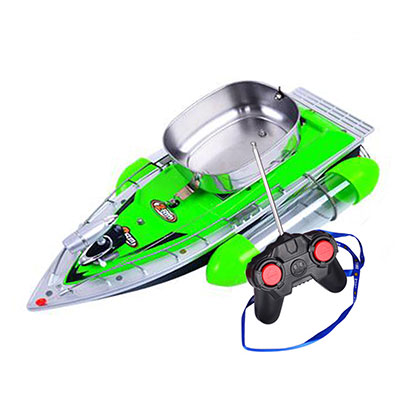 Mini RC Fishing Lure
4.4/5.0
1.8 lbs. (0.8 kg)
Range 262–984 feet
Can spread dry or wet bait. Robust build, good range.
Check Amazon
Best Value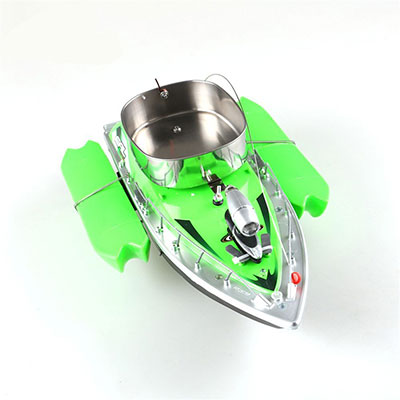 Bobing Intelligent RC
4.6/5.0
1.8 lbs. (0.8 kg)
Range 262–984 feet
Anti-grass stainless steel cover and effective pontoons.
Check Amazon
Top Pick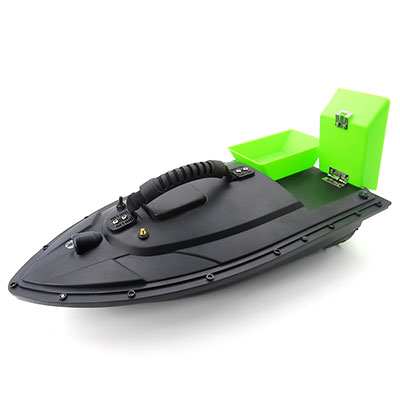 Flytec 5 Generation
4.7/5.0
3.3 lbs. (1.49kg)
Range 1640 feet
Two powerful motors and long working time.
Check Amazon
Remote Control Fishing — More than just Toys
The makers have created the RC boats in this guide specifically for fishing purposes. In theory, any RC boat can become a fishing vessel with a line, hook, and bait attached. Purpose fishing boats, though, need to be watertight up to a certain depth. It must also be operational when it resurfaces if a fish pulls it underwater. If it's not, then it's hardly fit for purpose.
These boats have to be visible from a distance, hence the bright colors. You need to be able to see it to retrieve it if the battery dies. Electric-powered RC fishing boats are preferred over fuel. Some people modify gas-powered vessels and then wonder why they don't help, and here's why.
There are five main reasons why a fishing boat works better with battery power:
Quieter on the water
Uses almost zero power in idle mode
Doesn't rely on oxygen to run
Simple to maintain
Better agility
How to Fish with RC Fishing Boats
Some anglers use their RC boats to bait the water. Others use them to bait the water and catch fish. There are underwater submarines too, also called underwater drones, used as fish spotters. Anglers use these to find areas where there is plenty of fish. This guide only looks at RC above water boats.
Hook, Line, and Sinker
There are a few ways to catch fish with RC boats. One is to attach a section of fishing line with a hook and bait. You then steer the craft to the preferred spot and wait for a bite. You can also use the same system for trolling. The downside of these fishing methods is when a large fish becomes the catch.
At best, it could pull the boat under and cause potential damage if submerged for too long. At worst, a big fish can swim off with the vessel and you never see it again. A better way is to choose a boat with a kind of line release mechanism. Now when a fish strikes, the line disconnects and leaves the angler free to real in his or her catch—whatever its size.
There are all kinds of ingenious ways to use RC fishing boats and line release mechanisms. Even skilled casting can be a bit hit and miss, especially in windy conditions. Using an RC fishing boat lets you dangle the bait, or bait the water, in the exact spot where you want to fish.
About My Buyer's Review Guide
This simple guide only highlights the essential features of an RC fishing boat. The simple tables at the end of each mini-review show the key tech specs along with the product's pros and cons. All the models in this short guide are here because of real user feedback and the opinions of experts.
The table below shows the products as they appear in this guide. All boats are suitable for kids under supervision. The first three are Editor's top choices based on the top pick, best budget, and best value. The others are in order of price with the least expensive first. Enjoy the reviews and happy fishing.
Best Catch in RC Fishing Boats Comparison Table
1. Flytec 5 Generation Fishing Bait RC Boat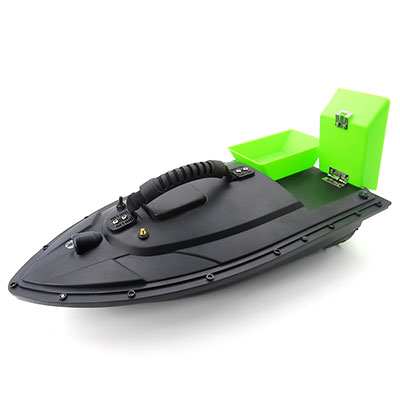 View on Amazon
Editor's Rating: 4.7/5
The Flytec 5 is a good-sized RC fishing boat with high load capacity. It can carry up to around 1.5kg (3.3 lbs.) of bait in its two rear bait rooms up to a distance of 500m.
Best feature 1: Two independent bait rooms
Best feature 2: Injection-molded ABS plastic
Plus points: Dual motors, centralized battery, long working time, bright blue night light
Minus points: Long charging time
You can control each of the bait compartments independently for extra flexible control. The remote controller has two simple switches either side to unlock left and right bait containers. The boat is always steady on the water in good fishing conditions. The injection-molded ABS plastic gives the craft a smart finish and protects it against rough waves and strong winds.
Your Boat, Your Rules
You're good to go once you've charged the battery and loaded the bait. The high-performance dual motors provide plenty of power with little noise—perfect for fishing. There's a useful cover to protect it from any foreign objects on the water. And the central waterproof battery helps to keep the boat balanced. The solid construction and reliable electronics let you concentrate on bating—not the boat.
The working time is decent for a powerful boat. How long you get depends on usage, weather, and the water. You can expect at least two hours on a fully charged battery. Night fishing is also doable thanks to the craft'sbright blue LED night light.
Remote Controller
The 2.4G remote controller (RC) is a standard design and hosts the following features:
Antenna
Power indicator
Burst flashing light
Keep light on
Left/right sticks
Unlock left/right container
Left/right motor accelerate/decelerate
The Not so Good
The Flytec 5 Generation is a great value fishing bait boat that checks all the right boxes. The only downside that I can see is overnight charging. The 12+ hours needed to recharge the battery is okay as long as you remember. It can disrupt all your plans for the day if you don't.

Tech Specs
Dimensions: 19.69 x 10.63 x 7.87″
Product Weight: 3.3 lbs. (1.49kg)
Range: 1640 feet (500 meters)
Battery (boat): 7.4V 5200mAh
Battery (transmitter): 4 x 1.5V AA (Not Included)
Working time: 2+ hours
Max speed: 3+ mph (5 km/h)
The Pros
Two large bait rooms (high load capacity)
Tough injection-molded ABS plastic build
Two powerful motors
Centralized battery for better stability
Long working time
Bright blue night light
The Cons
Long charging time
2. Mini RC Fishing Lure Bait Boat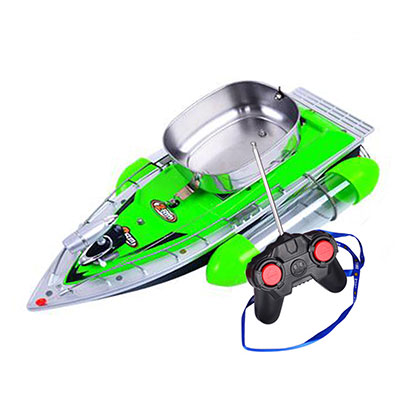 View on Amazon
Editor's Rating: 4.4/5
The previous vessel was quite big though not every angler needs a big boat and lots of bait. My second pick is a Mini-sized lure bait boat. The single bait container holds a maximum load of 2.6 lbs.
Best feature 1: Incredible outdoor battery life
Best feature 2: Large balance buoy to keep vessel stable
Plus points: Robust build,decent range, bait light, can use dry or wet bait
Minus points: RC controls not clearly marked, limited capacity
This little bait boat is sturdier than it looks and uses engineered plastics and stainless steel materials. The transmission range varies depending on conditions. You can expect at least 260 feet, but the maximum 984 feet seems to be wishful thinking. You wouldn't want to sail too far from base anyway, not with the slowish top speed of 2mph. The boat's electromagnetic switch disperses dry or wet bait.
A fully charged battery should give you a good 10 hours of continuous voyage time. That's impressive. It's a stable craft for a mini bait boat thanks to its two sizeable balance buoys. The buoys are invaluable for resisting strong winds and choppy waves.
Remote Controller
The RC is a basic design with simple controls, namely:
Forward/back
Left/right
Bait
Night fishing lights
The RC doesn't have any clear markings. Still, it's easy enough to figure out.
The Not so Good
The RC takes a 9V 300mAh dry battery (not included). If you buy this bait boat as a gift, then make sure you get the batteries in advance. Also, charge the boat's 3.7V 5200mAh lithium in advance. Another gripe is the boat's limited bait capacity. It's supposed to hold a maximum load of around 2.6 lbs., but that's stretching things a bit far. A more sensible load would be nearer to 1.7 lbs.

Tech Specs
Dimensions: 16.9″x5.3″x6.3″
Product Weight: 1.8 lbs. (0.8 kg)
Range: 262–984 feet (80-300 meters)
Battery (boat): 3.7V 5200mAh lithium
Battery (transmitter): 9V 300mAh dry (not included)
Working time: 10 hours
Max speed: 2 mph (2.5K km/h)
The Pros
Long battery life (voyage time)
Two stabilizing buoys
Robust build
Good range
Bait light
Can spread dry or wet bait
Affordable
The Cons
Limited capacity
Slightly exaggerated range
RC controls not clearly marked, small controller
3. Bobing Intelligent RC Fishing Boat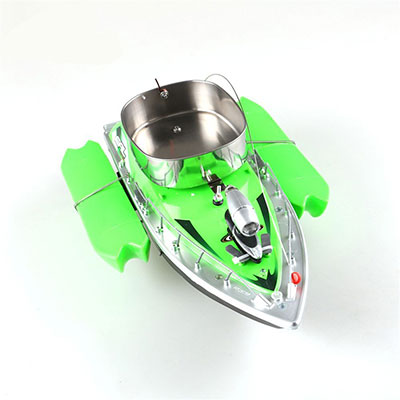 View on Amazon
Editor's Rating: 4.6/5
The Bobing Intelligent RC fishing boat takes its "intelligent" name for good reason. What we have here is a feature-packed lure boat that offers excellent value for money.
Best feature 1: Great value, affordable fishing boat
Best feature 2: Strong LED lighting for night fishing
Plus points: Robust build, pontoons, vent plug, anti-grass cover, three colors available
Minus points: Tiny remote controller
The Bobbing electric RC bait boat is very similar to the previous choice as a small bait vessel. It has a robust build and includes high-quality plastic, stainless steel, and rubber in its construction. The model comes with removable bright LED lights that illuminate the way for night fishing enthusiasts. The pontoons on either side ensure it stays afloat even in adverse weather.
Perfect Protection and Maintenance
The boat's vent plug is a handy feature that lets you dry out any water vapor that accumulates. Another maintenance feature is the stainless steel anti-grass cover. These small protective measures show attention to details and help to make cleaning easier.
Another nice feature of this boat is its multifunctional ability. It can drop baited fishlines in exact spots, drop fish lures, and work with the angler when casting. This small vessel can make a big difference to a person's catch. It's an ideal fishing companion whether it's big ponds, rivers, lakes, streams, or somewhere else. The 5-hour continuous navigation is ample for most keen anglers.
The RC for this model is akin to the previous pick and sports the following familiar functions:
Forward/backward
Turn left/turn right
Bait
The Not so Good
There's not much to fault considering the Bobing's features and price tag. The main gripe would have to be the tiny size of the remote controller. It doesn't sit well in larger hands, especially on colder fishing trips. Other than the RC, this is about as good as it gets for a fishing boat under 100 bucks.

Tech Specs
Dimensions: 17.7 x 8.4 x 6.1″
Product Weight: 1.8 lbs. (0.8 kg)
Range: 262–984 feet (80-300 meters)
Battery (boat): 5200mAh rechargeable
Battery (transmitter): 9V 300mAh dry (not included)
Working time: 5+ hours
Max speed: Not specified
The Pros
Affordable, feature-packed
Bright LED for night fishing
Robust build
Effective pontoons
Vent plug
Anti-grass stainless steel cover
Easy cleaning
Three available colors
The Cons
Size and design of RC is too small for larger hands
4. HuntGold Remote Control Bait Fishing Boat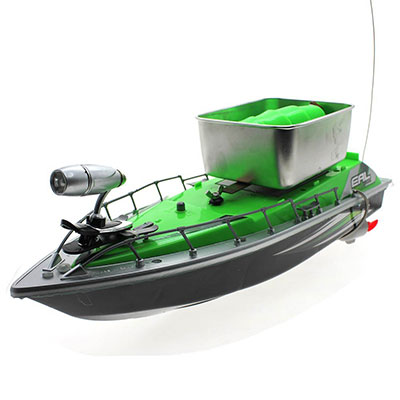 View on Amazon
Editor's Rating: 4.5/5
The HuntGold electric fishing bait boat has similar specs and the price tag of choices #2 and #3. Small details tend to differentiate these fish-luring boats, mostly range and navigation times.
Best feature 1: 8 hours continuous navigation
Best feature 2: Wind resistance level 5–6
Plus points: Big buoyancy pontoon, clip-on LED lights, decent range, all batteries included
Minus points: Small controller
The maximum navigation time of the HuntGoldfishing boat is eight hours. That's three hours more operational time than the Bobing RC fishing boat above. And it's two hours less than our Mini RC Fishing Lure Bait Boat. All these numbers are generous but check the charging times as well. If that last point is important—but not specified—send a quick message to the seller before deciding.
Stable—Up to a Point
HuntGold makes a point to mention the wind resistance levels their boat can withstand. The levels are 5–6 with this model, which is a strong breeze. That may not sound too ambitious, but any stronger and waters become too choppy to keep good visual on small models. The buoyancy pontoon does an adequate job at stabilizing the boat, and the front LED search light leads the way for night fishing.
The remote control has the same motor functions as the previous two picks. They are forward, back, turn right, turn left, and bait. Most fishing boats under $100 tend to use tiny Tornado controllers.
The Not so Good
The controller is the only drawback with the HuntGoldRC Bait Fishing Boat. It's a frustration for folks with larger hands. They're quite functional—it's just that big hands make hard work of simple tasks.

Tech Specs
Dimensions: 17.3 x 5.5 x 6.2″
Product Weight: Not specified but should be in the neighborhood of 1.8 lbs.
Range: 656 feet (200+ meters)
Battery (boat): 1 x 4.8V DC
Battery (transmitter): 9V (included)
Working time: 8 hours
Max speed: 2 mph (2.5K km/h)
The Pros
Impressive navigation time
Good transmission range
Wind-resistant
Large buoyancy pontoon
Clip-on/off LED lights
All batteries included in price (boat and transmitter)
The Cons
Small size of controller
5. Radio Ranger lll 34″ RC Fishing Boat (Upgraded)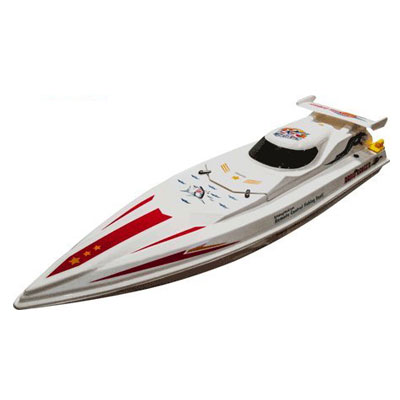 View on Amazon
Editor's Rating: 4.2/5
The design and function of the Ranger lll are different from the regular bait boats. It's a variable speed craft and an excellent choice for spinners, worm fishing, and just getting the bait to where you need it.
Best feature 1: 2.4gHz Variable Speed
Best feature 2: Big boat, great value
Plus points: Catch fish up to 5lbs., lots of extras included, excellent customer service
Minus points: Loud motor, short running time
The Radio Ranger lll upgraded is a lot of fun, but it's also a serious fishing tool. You have total speed control at your fingertips from slow, fast, and speeds between the two. It's a big boat as well. It has to be because it can bring in feisty fish as heavy as 5 lbs.
A Box of Fishing Goodies
The new Radio Ranger lllboats comes with a bunch of extras, which include:
RC Fishing Pole, fishing line, bobber, and hook
15 sets of reusable line release pads
Radio Transmitter (includes 8 AA batteries)
7.4 Volt 1500mah battery pack (included USB charger)
Extra set of propellers and nuts
Boat stand
Set of boat decals
Instructions
Fishing tips sheet
How the Radio Ranger lll Works
All fishing approaches take patience and practice to master. However, fishing with the Radio Ranger lll is a cinch if you get to where the fish are biting. All you do is attach bait to the hook, drive the boat to the preferred spot, and wait. The Radio Ranger caches the fish the moment the bobber goes down and brings it back to base. How cool is that.
What about catching fish over 5lbs., or aggressive fish that put up a good fight? Well, you can use the line release feature in these cases. You can still drive the baited hook out to the desired location. Once a fish is hooked, the line comes away from the boat, and you're free to reel it in. This method is a great fun way to fish, especially for families having a lovely day by the water.
Another thing worth a mention is the after-sales service. It's an area where many companies fall short. The news on the ground is that the service provided by Fish Fun Co. is exceptional.
The Not so Good
The disadvantages with the Radio Ranger lll are the noise of the motor and battery life. Still, it's a powerful and fast boat, so the two high performing, air-cooled 390 motors can hardly whisper. The noise does mean losing a few bites, though.
The 20-30-minute maximum running time is the biggest letdown. It's a good idea to get a couple of extra batteries to extend the fun. It's either that or prepare for short fishing trips.

Tech Specs
Dimensions: 34 x 8 x 10″
Product Weight: 10 lbs. (4.5 kg)
Range: 300 feet (91 meters)
Battery (boat): 7.4 Volt 1500mah
Battery (transmitter): 8 x AA (included)
Working time: 30 minutes max
Max speed: 20 mph (32 km/h)
The Pros
Versatile fishing boat
Variable speed control
Big size, reasonably robust
Two high-performance, air-cooled 390 motors
Catches fish up to 5 lbs.
Line release feature
Lots of extras included
Exceptional customer service
The Cons
Noisy motors
Short battery life (running time)
6. RC Bait Carrier Fishing Boat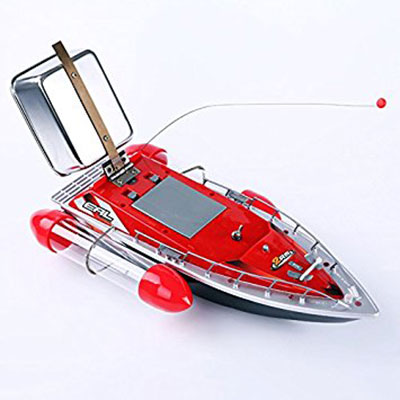 View on Amazon
Editor's Rating: 4.3/5
The final of these six RC fishing boats is the RC Bait Carrier. They've used a combination of quality materials to make this robust craft. These include plastic, PU, metal, and carbon fiber.
Best feature 1: Unique design, durable build
Best feature 2: Long-endurance submersible
Plus points: 4 channels, fast charging time, good distance, 3 available colors
Minus points: Vague details, small controller
The boat is wind resistant and keeps reasonably stable in a stiff breeze. Its long-endurance submersible capability is another of the main features. It means you can fish with more confidence knowing it can stand up to most underwater incidents. The boat comes in three bright colors: red, blue, and green. These colors make the vessel easy to spot as well as add to its stylish look.
This little 4-channel craft has a speedboat appeal. Its size, weight, and performance are on a par with other bait boats in this guide. The 853 feet (260m) range is decent although the actual running time remains a mystery (see below). The battery charging time is an impressive 2+ hours. Charging time is often a buying consideration for anglers.
The tiny controller has all the usual functions and only takes a few minutes to grasp. RC features include forward/backward, turn left/turn right, and bait.
The Not so Good
The main disadvantage with this bait carrier is the vague and missing details. It's important to know if things like the transmitter batteries are included or not, running times, and max speed, etc.

Tech Specs
Dimensions: 17.7 x 8.4 x 6.1″
Product Weight: Boat not specified but shipping weight is 3.44 lbs. (1.6 kg)
Range: 853 feet (260 meters)
Battery (boat): 5200mAh
Battery (transmitter): Not specified
Working time: Not specified but several hours quoted
Max speed: Not specified
The Pros
Cool 4-ch speedboat design
Available in three bright colors
Study build, includes carbon fiber
Long-endurance submersible
Fast 2-hour charging time
Decent transmission range
The Cons
Details vague
Small controller, not ideal for larger hands