12 Must-Have RC Plane Parts and Accessories
3D Insider is ad supported and earns money from clicks, commissions from sales, and other ways.
My guide reviews 12 must-have RC plane parts and accessories. Tweaking models and expanding an RC kit is half the fun. Radio controlled RC planes are more popular today than ever. Even the raw novice can take to the skies with the new range of easy-to-use trainer planes. That's all thanks to improvements in build quality, hardware, and software.
Improvements in RC software include autonomous flight modes, failsafe features, and aircraft simulators. RC pilots are always looking to the next level as skills develop. Parts and accessories exist to upgrade planes, replace broken parts, and make the hobby safer and more fun.
Compatibility Checks
Buyer beware! Buying incompatible parts is a typical newbie error. Always check the part or accessory for compatibility with your specific model. For example, a LiPo battery for Flyzone planes doesn't necessarily mean it's a fit for all Flyzone models. That's why you must always check the details, including scale size. I list the compatibility for the items in this guide at the top of each mini-review.
About My 'RC Plane Parts and Accessories' Guide
The RC parts and accessory reviews are short, easy-to-read, and highlight the product's main benefits. This shortlist is the result of extensive research to see what's selling well this year and why. I also used the opinions of industry experts and user feedback to help finalize the list.
The table below shows the products in the order they appear on the page.
EDITOR'S RATING: 4.8/5
Compatibility: Spectrum series DX transmitters, battery chargers HobbyKing Tenergy SkyRC, Atomik, GOOLRC, Venom, Hitec, Turnigy, Holy Stone, iMax, propellers, batteries, and hobby parts.
HOBBYCASE Product Highlights
HOBBYCASE's RC Plane and accessories case provides hard shell protection. The outer dense composite plastic material can resist drops, bangs, and blunt force. The interior has a Solid ELE tri-layer foam for the bottom layer. There's a dense layer of 3" pick & pluck foam for the middle section. And the lid uses a layer of convoluted egg-crate type foam.
The three-foam layer arrangement and tough exterior provide exceptional all-around protection. The pick & pluck core makes it super easy to customize the inside. You can shape the interior to accommodate any RC plane kit. Models and accessories fit snugly and remain safe while storing or transporting the precious gear. And the case's molded carrying handle is comfortable to hold.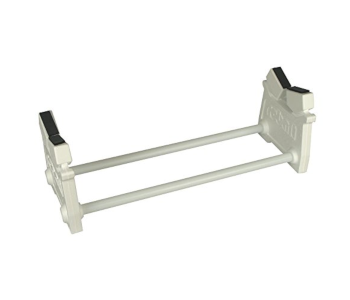 EDITOR'S RATING: 4.4/5
Compatibility: Any size RC aircraft, including giant-sized warbirds. Also accommodates model boats.
Robart Super Stand II Product Highlights
RC plane builders and tinkerers need a reliable stand as well as a worktop. The simple Robart Super Stand II is a superb support and building platform. It's durable, lightweight, and waterproof. It will last a lifetime with proper care. Nitro fans should know that it's unaffected by fluids, including glow fuel. The stand's soft rubberized pads prevent cosmetic damage to your models as you work on them.
Consider this stand if you want a reliable platform for maintenance, building, and transit.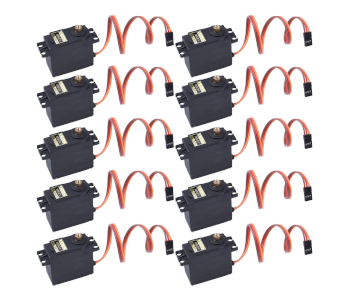 EDITOR'S RATING: 4.5/5
Compatibility: Remote control helis, RC planes, cars, boats, robots, and Arduino experiments, etc.
Servo Motor Kit Product Highlights
These little servos are perfect for light-duty products like micro RC planes. They are lightweight and quite fragile, though. Don't buy them for use with larger aircraft, especially ground launch models. They're excellent value for the right product and useful extras to have in a kit. It's surprising how powerful and smooth they are considering the size and affordable price.
Make sure the electrical, mechanical, and control specs meet your needs before deciding.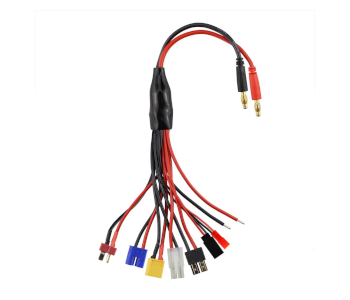 EDITOR'S RATING: 4.7/5
Compatibility: RC aircraft, multirotor, RC cars, trucks, boats, many brands.
8-in-1 Octopus Multi Cable Product Highlights
This multi-connector is a must-have accessory for RC hobbyists. It's for RC plane fans who have a fleet of craft with multiple batteries and different connectors. The multi arrangement has the most used connectors in a single product. There are protective caps to cover unused leads, so there's no accidental shorting. It provides RC'er with a clean and convenient way to stay organized.
The multi-cable includes the following 8 connector types:
T Plug
TRX
EC3
XT60
FUTABA
TAMIYA
JST
DIY Bare Wire
Point to note: This product works for most—but not all—battery brands/types. Contact the seller if you're unsure of its compatibility with your equipment.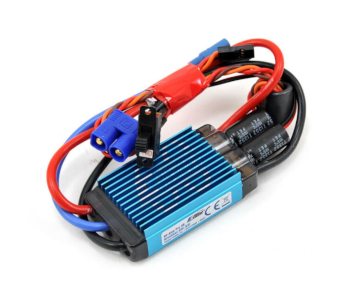 EDITOR'S RATING: 4.9/5
Compatibility: EFL10075, EFL10080, EFL10250, EFL10450, EFL10475, EFL10550, EFL10575, EFL12450, EFL12475, EFL1450, EFL1475, EFL2975, PKZ7075, PKZ7080, PKZ7150
60-Amp ESC (V2) Product Highlights
E-Flite is well-known for high-quality parts, and this sensor-less brushless ESC is no exception. The product is super-efficient and lightweight. Pilots welcome the integrated on/off switch too. It doesn't need a separate receiver battery to power receivers and servos either. That means less weight and a more straightforward configuration for RC airplanes.
Here's a rundown of the key specs:
Amperage: 40-60
Brakes: Yes (programmable)
Cells w/ BEC: 3-6S Li-Po / 9-18 Ni-MH/Ni-Cd
Input connector types: EC3
Input voltage: 10.8V–22.2V
Momentary peak cCurrent: 15 seconds @ 75A with correct cooling
Output Connector: 3.5mm Bullet
Wire Gauge: 13 AWG
This ESC is pricy compared to some, but positive feedback suggests it's worth the bit extra.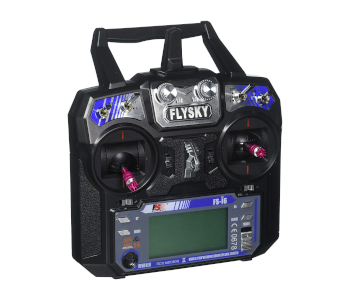 EDITOR'S RATING: 4.7/5
Compatibility: Multiple RC planes, gliders, multirotor drones, helis, cars, and RC boats.
GoolRC Flysky 6CH FS-i6 Product Highlights
This is the GoolRC Flysky, FS-i6 AFHDS 2A 2.4GHz 6-channel radio system. It may not be a high-end transmitter, but it offers a lot considering its price. It's also a significant step up from many of the stock radios that come with RC planes. This model is an excellent buy for newbies finding their feet in the world of RC. The smooth gimbals feel natural to the thumbs and take no time to master.
Other highlights include the bright, backlit LCD screen, intuitive interface, and easy binding. The radio only uses 4 AA batteries instead of the typical 6 with many models. It has a long battery life as well. There's shared criticism for its plasticky, toy-like feel and smallish size. These are not things that affect performance, though. Some are certain to welcome the smaller dimensions too.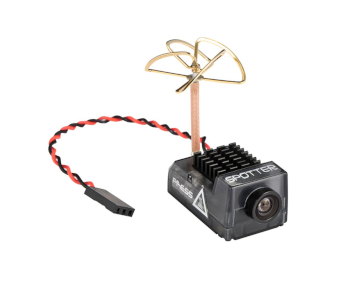 EDITOR'S RATING: 4.4/5
Compatibility: RC Planes, drones, cars, and boats.
Spotter V2 Product Highlights
Most RC planes don't come equipped with a camera, but that doesn't mean you can't add one. The Spotter V2 is a micro First Person View (FPV) 2-in-one camera and 700TVL video transmitter. It has a small body with multi-mode functions and weighs only 0.31 oz. (9g). You can capture everything in sight with the 170° super-wide angle lens. The Spotter V2 works with all displays and FPV goggles.
Below is a rundown of the Micro Spotter V2's main specs:
Camera: 700 TVL w/ built-in OSD and mic
170° Field of view (FOV)
Channel: 8/40 channel
5.8G transmission
Dimensions: 32 x 18.3 x 15mm, weight: 9g
Input power: 2S–4S (7.4V 14.8V)
Antenna: Cloverleaf
Frequency adjustment button
The Spotter V2 is an excellent FPV camera for the price and produces decent quality footage. The only gripe is that it can be fiddly navigating menus and changing settings using its button.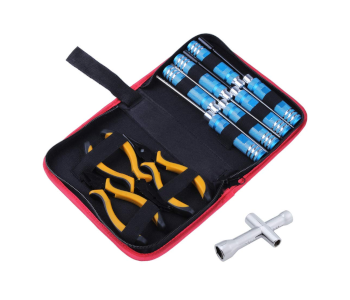 EDITOR'S RATING: 4.3
Compatibility: RC Airplanes, quadcopters, helicopters, hobby RC cars, and boats
Pro 11-in-1 Toolkit Product Highlights
The right tools for the job make working on RC planes so much easier, faster, and more enjoyable. This product is a perfect addition to any RC toolbox. The high-quality metal instruments are durable and long-lasting. And a handy storage case keeps the tools together and well organized.
Here's what's included in Hobbypark's RC toolkit:
WRENCH
PLIERS DRIVERS
SCREWDRIVERS
SPANNERS
Hexagon Sleeve
4mm,5mm/5.5mm/7mm
Needle-nose
Diagonal
Ball Link
1.5mm Hex
2.0mm Hex
2.5mm Hex
0#+ Phillips
1#- Slot
4.0mm Box
5.5mm Box
Consider this kit if you need tools for basic assembly, repairs, and RC aircraft maintenance.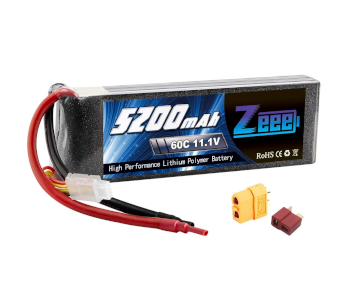 EDITOR'S RATING: 4.8/5
Compatibility: RC airplanes, helicopters, drones, boats, cars, and trucks, etc.
Zeee 3S LiPO Battery Product Highlights
This RC LiPo battery by Zeee is a lightweight, soft case design with a high-energy storage capacity. What all pilots want with any battery are fast charging times and quick, safe discharge. This one delivers on all the above. It also lasts longer than many rival products.
Here's a breakdown of the battery specs:
Capacity: 5200 mAh
Voltage: 11.1V
Continuous rate: 60C
Configuration: 3SIP
Make sure you can solder as the connectors are not attached.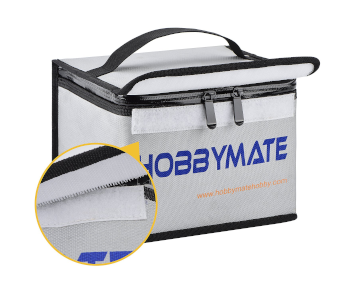 EDITOR'S RATING: 4.7/5
Compatibility: 15-20 pcs 2200mah 3S LiPo batteries.
HOBBYMATE Lipo Safe Bag Product Highlights
Nothing is more important than safe practices when it comes to LiPo batteries. This LiPo safe bag by HOBBYMATE is an excellent product for secure storage and charging. It's fireproof and explosion-proof with the flap correctly sealed. The material for this bag is an ultra-strong, fire-retardant fiberglass. It's a woven fabric that withstands extreme temperatures for extended periods.
LiPo safety bag specifications:
Dimensions 7.87 x 5.9 x 5.9"
Weight: 5.64 oz. (160g)
Materials: Textile Fiberglass w/ fire retardant coating
HOBBYMATE uses a fire-retardant yarn for the stitching. The lid seals firmly into place using high-quality Velcro® or hook and loop tape. This bag and others like it are a must-have accessory. It's vital for safe and responsible charging, storage, and transit of LiPo batteries.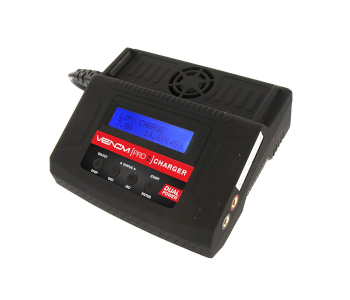 EDITOR'S RATING: 4.5/5
Compatibility: All popular batteries.
Venom Pro 2 Charger Highlights
A safe, reliable battery charger is an essential tool in an RC plane enthusiasts tool kit. And the more models and battery types you have, the more vital a decent charger becomes. The Venom Pro here is a fan-cooled multi-purpose tool that can handle the following:
Lithium lipo batteries: up to 6S
NiMH/NiCad batteries: 1–15 cells
Lead acid batteries: 1–10 cells (2V–20V)
High-end features
The device has recallable memory profiles, discharge profiles, and internal resistance testing. Venom's Pro2 comes with the 8 most used charging leads, namely:
Deans
EC3
EC5
Tamiya
Receiver pack
JST
Alligator clips
Glow plug adapter
The Venom Pro 2 has a tidy, ergonomic design, and user-friendly appeal. However, novice users may find the instructions lacking. My advice is to search YouTube for better guidance.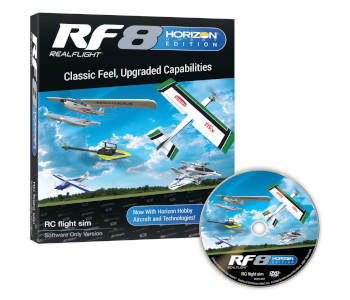 EDITOR'S RATING: 4.6/5
Compatibility: Over 150 model RC aircraft, compatible transmitters, gamepad/joystick controllers.
RealFlight RF8 Product Highlights
Some of today's ready-to-fly (RTF) RC airplanes practically fly themselves. Most enthusiasts, though, prefer to develop their piloting skills and take full control. A plane simulator or SIM like the RealFlight RF8 (Hobby Edition) can help. It helps to improve real-world flying skills for the flight field. Best of all is that you don't risk crashing and damaging your model as you train.
Just Like the Real Thing
RealFlight 8 is no video game even though it's entertaining. It's an incredible SIM, designed to give pilots proper training experience with their model. The software has 40+ incredible flying sites and a choice of over 150 stock planes. Its site editors offer limitless customization options that you can then save for later use. Below are some of the choices available.
Control surface preferences, engine sounds plus trim schemes
Add/remove components; alter locations.
Swap parts, change airfoils, re-scale physics
Modify, add, delete, move, rotate, and set characteristics
Adjust thermals, wind direction, and wind speeds
Customize electronics and radio controls
Pilots can put themselves in the virtual cockpit for a truly immersive VR encounter. You can also choose from several physical controller options (not included).