How to Choose RC Propellers (Best Models and Reviews)
3D Insider is ad supported and earns money from clicks, commissions from sales, and other ways.
Sometimes, buying a set of RC propellers is as simple as following the maker's suggestions. But not all props are equal, and the stock products that come with a model may not be the best. There are also those who scratch build or assemble planes from kits. These guys need to do a little homework. They must find out what propellers give their model the look and performance they need.
A Beginner's Guide to RC Props
You'll know all the basics on how to choose the ideal props by the end of this short introduction. The 5 points below are the ABCs of aircraft propeller knowhow.
The different types of RC propellers
How to choose the right size prop for your aircraft
Multi-blade propellers Vs. 2 blade
How to balance propellers
Installing your aircraft propellers
#1 RC Propeller Material Choices
Here are the 4 types of RC propeller materials:
Fiberglass-reinforced nylon
Pure nylon
Carbon fiber
Wood (various)
There are others, but we'll focus on the common types to keep things simple. So, the most asked question is, how do I choose? Well, there are three considerations. One is personal preference, and the other two are durability and efficiency. It can be a balancing act between two and three, depending on needs, flying style, and skill level. Novice pilots, though, should always go with durability first.
You can perform a visual test to check the effectiveness of any prop. All you do is watch the blades spin and monitor the flex under load. More flex means less efficiency during flight. OK, let's now look at how the materials can influence an RC pilot's decision.
Fiberglass-reinforced nylon propellers
Fiberglass-reinforced nylon props offer more flexibility than those made from other materials. They also have a large blade area, which means they're not the most efficient, so why bother? Well, these blades are more accident-resistant, and that alone makes them a reliable choice. Fiberglass-reinforced nylon is ideal for beginners, especially those who haven't mastered soft landings.
Pure nylon propellers
It can be tempting to opt for pure nylon props because they're the cheapest. But they have so much flexibility that they twist and change pitch. That, in turn, causes them to vibrate. These behaviors mean there's a lot of wasted energy. Some pilots used to boil nylon props after a crash to straighten them. Today's nylon props are better than they used to be, but savvy pilots still won't touch them.
Carbon fiber propellers
Propellers made from—or that contain—carbon fiber are more expensive than plastic alternatives. There are a few advantages to consider with these blades. They're stiff for one, and that means they don't vibrate as much as plastics. Carbon fiber props are also light and quiet compared to other types. And although they're not indestructible, they are durable and resistant to moderate hits.
Wooden propellers
These blades are typically made from beech, maple, or balsa, and are rigid and light. The lighter weight put less load on the engine, and that results in higher revolutions per minute (RPM). The downside is that wood is the most fragile material of all. I'd only suggest props made from wood to pilots who have perfected their landings. Seriously, these blades don't take much to break.
#2 How to Choose Propeller Size
We define a prop's size by two sets of numbers, i.e., diameter and pitch (pitch follows diameter). The diameter is 2x the distance measured from the hub's dead center to the tip of the prop blade. Pitch is the total distance a propeller moves in one full revolution (turn).
The best way to choose the correct propeller size for your plane is to follow the maker's suggestions. Ask on RC forums if the instructions are too vague or void of the necessary information. Scratch builders, though, need to determine the correct sized based on a few factors.
Here's a quick breakdown of the 7 considerations for determining RC prop size:
Manufacturer recommendations
Engine type and power
RPM range
Cruise speed
Ground clearance
Noise abatement issues
Personal preferences
The simplistic approach
Choosing the right propeller for any model aircraft deserves an entire page. We won't get into that here, though. You may want to learn about all the considerations if you're a builder or an enthusiast. The study areas include things such as:
Propeller types, i.e., fixed pitch, controllable
Material (see above)
Weight and balance
I encourage you to keep things simple by using a two-stepped approach:
Use an online propeller size chart
Confirm your findings with experienced pilots on an RC forum
RC propellers for drones
High-budget, mid-range, and top-end quadcopter props are the easiest of all to buy. That's unless you've scratch built a unique drone. The ideal choices are brand-name propellers. You can find quality third-party products too, but they're still drone-specific. All you do is check the products to the model to know they'll fit. Not all non-brand props are equal, so read user reviews before you buy anything.
I include a few RC drone propellers for popular models in the review section below.
Propeller size charts for RC aircraft
Propeller size charts are quick and easy to use. Simply match the engine size to find the ideal prop size and the propeller range. These charts come in various forms, but the results are the same.
Here's an example of the layout for a straightforward propeller size chart.
Engine Type: Gasoline
| Engine Size | Ideal Prop Size | Propeller Size Range | Ideal RPM Range |
| --- | --- | --- | --- |
| 50cc | 21 x 10 | 20 x 12, 21 x 10~12, 22 x 8~10 | 6000~7200rpm |
#3 Multi-Blade Propellers Vs. 2-Blade
Multi-blade propellers look great on certain types of aircraft, but does more mean better? Well, multi-blades are generally less efficient than the two-blade variety. The reasons for this are not difficult to grasp. The purpose of aircraft props is to create lift—like the wings. More blades result in less space between the spinning props. That reduces the "bite," so 3 and 4-bladed props become less efficient.
So, why do some pilots continue to use multi-blade propellers when two blades are better? The answer is more blades result in a smaller diameter. Some large-scale planes don't have enough ground clearance for the diameter of 2-blades. Fans of scale models also want their aircraft to look as authentic as possible. If the original is a multi-prop bird, then their replica should be too.
Why beginners prefer 3-bladed props
Three-blade propellers are an excellent choice for learner RC pilots. Less efficiency lets the aircraft fly at slower speeds, which is better for training. Novice pilots can switch to 2-bladed props once they have the confidence to exploit the engine's full power and performance.
#4 How to Balance RC Plane Propellers
Balancing RC plane propellers is vital because it reduces or eliminates vibration. Too much vibration is potentially harmful to the model. Over time it can damage the engine's bearings, motor, and even the airframe. The larger the model, the more critical prop balancing becomes. There's a simple instrument called a prop balancer that every RC pilot should have in his or her toolkit.
These simple devices are invaluable, and they last a long time with proper care. The best way to highlight their features and how they work is with a few examples.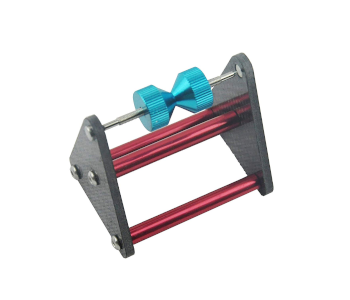 EDITOR'S RATING: 4.2/5
This precision prop balancer by ZJchao is for RC planes and quadcopters. It only costs a few bucks and offers excellent value. The tool has a neat compact design and uses magnetic stability. The build consists of metal and carbon fiber components, so it's well-made for the money. You must make sure the balancer sits on a stable level surface before you use it. It's fully assembled and has instructions.
Cons: It's cheap, and that means it's not going to be as good as a product at twice the price. Some complain that they must tweak and balance the prop balancer before they can balance the prop.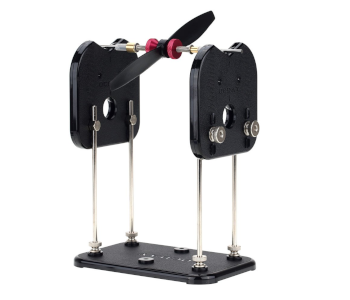 EDITOR'S RATING: 4.5/5
The Goolsky Tru-Spin Prop Balancer is manufactured using hardened material. The tool can balance many props of varying weights and sizes, including large-scale ones. It's also a multi-purpose tool that RC'ers can use to balance other things. They include jet fans, flywheels, boat props, and car wheels as well as plane props. The tool needs assembling though it's a straightforward process.
Cons: There are a few complaints about the 3mm shaft. Reviewers say it's an overly tight or impossible fit for the centering cones and brass bushings. Some suggest freezing the shaft first as a solution.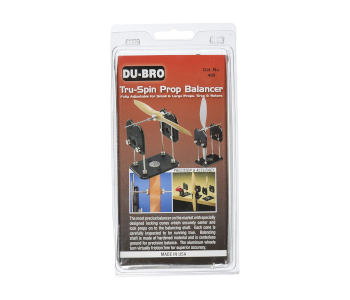 EDITOR'S RATING: 4.7/5
My Top Pick choice goes to the US Du-Bro 499 Tru-Spin Prop Balancer. It's a favorite among RC pilots and sells well. The tool has a quality feel and uses hardened material in its build. This product is a versatile, multi-purpose balancer that accommodates props of all weights and sizes. It's quick to assemble out of the box and has easy-to-follow propeller balancing instructions.
Cons: Some users say they had to rethread the support rods. Most buyers don't have issues, but there are enough complaints to make it a 'potential' concern. Check the latest user reviews for updates.
#5 Installing Airplane Propellers
You may have to enlarge the propeller's central hole if the engine shaft is bigger. Make sure the hole is 100% spot on if you need to widen it. It only needs to be slightly off center to cause excessive vibration. The way to ensure 100% accuracy is to use a prop reamer tool.
——————————————————————————————————————
Below are 10 RC propeller mini-reviews. You may or may not find a prop for your needs here, but that's not the point. Reading these short descriptions can help you to become more familiar with the type of blades on sale. You get to understand their uses, materials, and typical specs, etc.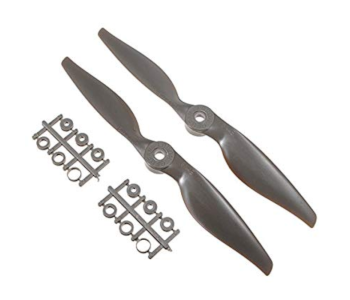 EDITOR'S RATING: 4.4/5
Prop compatibility: 8040 (8 x 4) propeller for various fixed-wing aircraft.
This is the Gemfan 8040 propeller. The prop sells as a pair and is for fixed-wing RC planes. It's a popular choice among pilots. The material is a high impact resistant APC. The propellers prove to be consistently efficient at generating decent thrust. Best of all is the affordable price tag.
Cons: May need balancing, but that's easy to fix with the right tool (see above).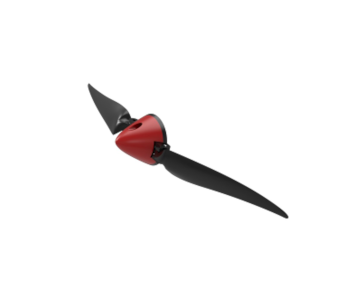 EDITOR'S RATING: 4.8/5
Prop compatibility: Volantex Phoenix V2 RC Airplane 759-2 w/ 2000mm Wingspan
This folding 1060 propeller and spinner set is brand specific for the popular aircraft above. The Volantex Phoenix V2 759-2 is a much-loved 2000mm Wingspan EPO Sport Glider.
Cons: It's brand/model specific, so only available in one shaft size.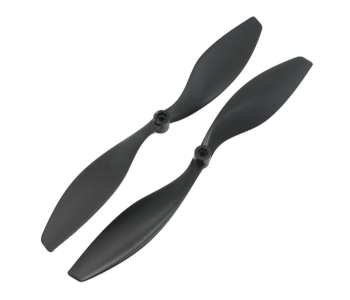 EDITOR'S RATING: 4.5/5
Prop compatibility: Replacement prop for various RC planes
The SODIAL RC model airplane propeller is a no-thrills extra prop. It's an affordable replacement product for RC models with a 0.12" (3mm) diameter shaft hole. The blade is 0.39" (10mm) thick and has an 8" rotating diameter.
Cons: It's a cheap plastic prop that does the job, but it's not going to be too impact resistant.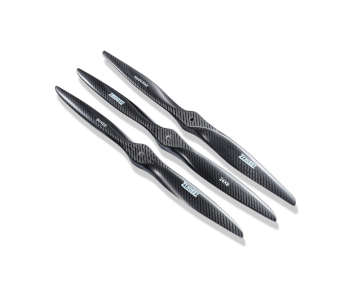 EDITOR'S RATING: 4.9/5
Prop compatibility: For RC fixed-wing gas-powered RC plane
This product is a super-strong 24 x 8" carbon fiber propeller for gas-powered aircraft. The ridged, durable material is also corrosion resistant and anti-aging. The prop performs consistently in harsh conditions, including humid environments. These are typical characteristics of carbon fiber blades.
This prop comes in the following sizes: 19×8", 19×10", 20×8", 22×10", 23×10", 24×10", and 27×10".
Cons: High price tag compared to alternative materials.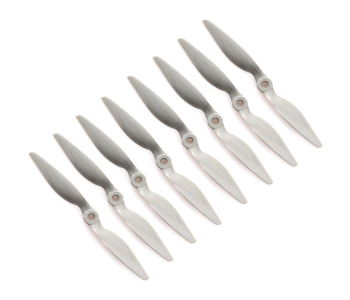 EDITOR'S RATING: 4.4/5
Prop compatibility: RC gliders, warbirds, delta wings, flying wings, and aerobatics RC planes
These glass fiber propellers are the Gemfan 9060 (9×6) by RAYCorp. The pack includes 8 CCW pieces and small rings that allow them to be used with different motor shafts. It's a popular product in its class. The reinforced nylon is highly-durable and offers maximum performance and balance. There are two packs of 4 props, and the package includes a bonus RAYCorp battery strap.
Cons: Glass fiber nylon can be quite brittle in cold weather.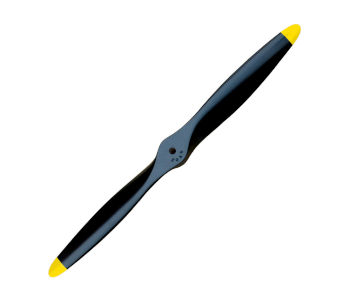 EDITOR'S RATING: 4.7/5
Prop compatibility: Giant Scale RC aircraft w/ 50cc–55cc gasoline engines: DA-50-R; DLE-55, DLE-55RA, 3W-50i, ZDZ 56RV-J, DL-50, and XYZ 50
This high-quality prop from Xoar is the PJWWII. It's a 23" (23×8) product made from top-grade German pollmeier black beech lumber. It's a purpose blade for giant-scale warbird gas-powered planes (see above). The propeller boasts minimal breakpoint, elongation, and distortion properties. It comes pre-balanced both vertically and horizontally to reduce vibration to a minimum.
Cons: High cost, but then quality is paramount when flying giant-sized warbirds.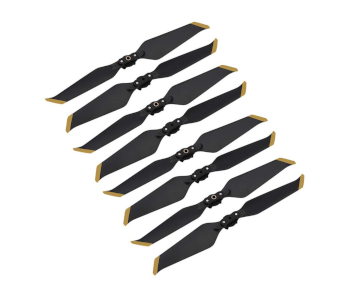 EDITOR'S RATING: 4.4
Prop compatibility: DJI Mavic 2 Pro/Mavic 2 Zoom camera quadcopter
These are quadcopter props for DJI's best-selling Mavic 2 Zoom and Mavic 2 Pro camera drones. The pack includes four pairs of black propellers with gold tips. These are quick-release ultra-lightweight blades with a foldable design. They're a perfect fit, easy to mount, well-balanced, and durable. They are also quiet, responsive, and smooth functioning.
Cons: Third-party props, so not quite to the same standard as OEM, but still quality for less money.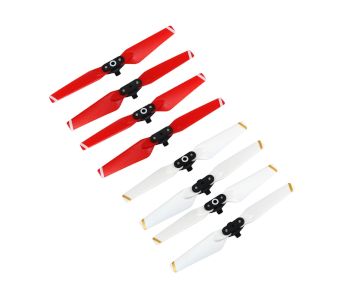 EDITOR'S RATING: 4.6/5
Prop compatibility: DJI Spark camera quadcopter
The Anbee Spark Propellers (4730F) include two sets of four red and white props for the DJI Spark. They are close to the OEM propellers in every respect aside from price. The savings are considerable considering they're equally durable, have strong resilience, and are well-balanced. The two-colored effects add a touch of bling to the quad too, and makes a change from the drab black.
Cons: The props are a tad thinner and flimsier than the originals, but not by much.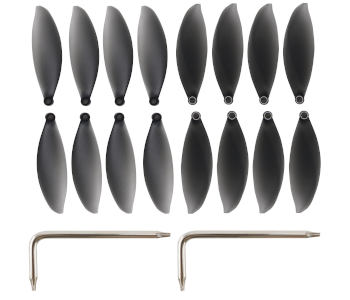 EDITOR'S RATING: 4.4/5
Prop compatibility: Parrot Anafi camera 4K camera drone
This product is the Helistar propeller pack for the Parrot Anafi 4K camera quadcopter. It's a 16 piece lightweight plastic set of secure, stable blades. They are super-easy to install (wrench tool included) and fold down when not in use. Fitting them to the Anafi is a single click with a 1/4-inch turn (no screws). The props boast low noise reduction properties and long endurance times.
Cons: These props are slightly louder than the OEM though not by much.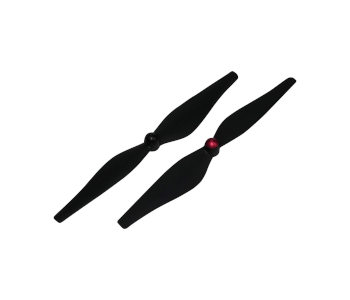 EDITOR'S RATING: 4.4/5
Prop compatibility: Autel Robotics EVO 4K camera quadcopter
These self-tightening props are by Autel Robotics for its popular Evo 4K camera drone. It's a set of 2 propellers, CW/CCW. They're a brand product made from durable, high-quality plastic. The black props have a quick release mechanism and secure locking feature.
Cons: No negatives to report.