Best Lens for Real Estate Photography
3D Insider is ad supported and earns money from clicks, commissions from sales, and other ways.
You have got to see it to believe it. These words are like gospel to any sales or marketing professional. Real estate is no different. The better a property looks in pictures, the more likely a client is to explore it further. Properties with high-quality images have a higher chance of selling faster than properties with mediocre images. After all, a seller would want the images to highlight the best features of a property. The beauty and aesthetics have to be visible in order to get any buyer excited.
In order to take excellent professional-looking images, one has to use a good quality lens. Not only that, the photographer also has to make sure that the right kind of lens (with the right specifications) is being used to take the pictures of any property. Performance metrics like low-light capability, an optimal focal length, optical stabilization, and minimal distortion levels are very important when it comes to real estate photography.
The focal length represents the field of view of the lens. It is denoted by a number in mm. The lower the number, the wider is the angle of view. Most real estate photographers prefer a focal length in the range of 15mm to 25mm.
The aperture represents the amount of light that passes through the lens opening. The aperture is represented by an f-number. The lower this number, the better is the low-light performance. However, low f-numbers also mean shallow depth of field. In real estate photography, a higher depth of field is preferred so that the background is sharp enough. Normally, lenses with f-numbers around 4 are used by most real estate photographers.
Let us look at some of the best lenses available in the market for real estate photography.
An indispensable real estate lens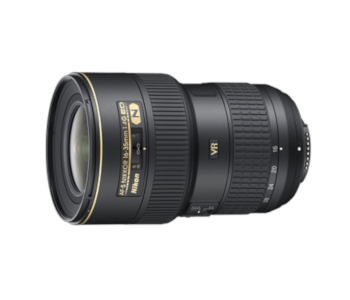 If there was only one lens that you could buy for all your real estate gigs, then this could be it. The Nikon 16-335mm f/4G ED VR has all the right features that real estate photography calls for. You get a nice 16mm to 35mm focal length. For a full frame DSLR, 16mm provides plenty of width. For a crop sensor, the 16mm low becomes 24mm, which is still quite good for most real estate shots. And yes, you can use this lens on full-frame and crop-frame Nikon DSLRs.
An f-stop number of 4 allows for a reasonably good low-light performance. Properties can have plenty of lighting within them or they can be light-deficient. A large enough aperture can compensate for lack of good lighting and f/4 is at a reasonably good level in that regard.
Being an "ED" lens, Nikon has used its extra-low dispersion glass to manufacture this lens. It means low chromatic aberrations. The "VR" in the lens name stands for Vibration Reduction, a useful image stabilization feature that any good real estate photography lens should have.
The only concern, if there was to be one, is the price. This lens will set you back $996. But, if you are interested in a serious all-round lens for your property-related shoots, then such an investment will be worth the money.
Canon's version of a staple lens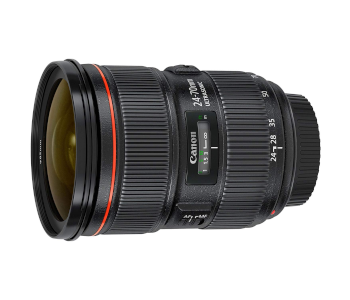 If you are a Canon user, then this lens is the Canon-version of a staple when it comes to real estate photography. This lens is compatible with a full-frame as well as a crop-frame Canon DSLR. An aperture of f/2.8 allows for a good low-light performance. Sometimes, not all parts of a house or a building have natural light flowing through. This lens will capture all such low-light spots.
A focal length of 16mm to 35mm is sufficiently wide-angle to allow for capturing the views of a large room, a living space, or a panoramic view outside the window. The lens has 2 ultra-low dispersion glass elements, 3 high-precision aspherical lens elements, and coatings that minimize barrel distortion and aberration. Both of these are commonly occurring issues when it comes to wide-angle lenses.
The Canon 16-35mm also has a zoom ring which makes it easy for the photographer to change the lens zoom levels when going from one room to another. Weather and dust protection enhances the life of this lens.
Overall, this is one of the best lenses for real estate photography. This piece of glass will cost you $999.
A top choice for the budget buyers and beginners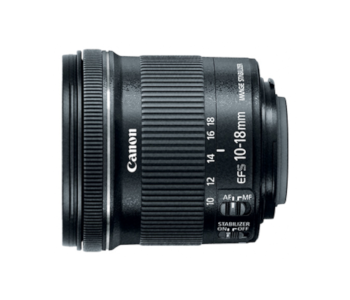 If you are not too enthused about spending close to a thousand dollars on a brand new lens, then we have a solution for you. The Canon EF-S 10-18mm f/4.5-5.6 lens is a great pairing with any Canon crop-sensor DSLR. It costs only $279, so budget buyers or APS-C camera users will have no problem affording this low-priced wide-angle lens. This lens will not work with a full-frame DSLR.
The focal length range is excellent at 10mm to 18mm. You can get some pretty good wide-angle shots with this lens. You will feel as if the smaller sensor on your DSLR is the limiting factor rather than the lens.
The f-number is a little bit disappointing. If you zoom completely to the 18mm focal length, then the f-number is 5.6 which can be pretty dark if you do not have sufficient lighting at the location of your photoshoot. Some lighting equipment can, perhaps, fix that issue. But, low-light photography won't be great with this lens. Some things have to be sacrificed for a low price.
This lens weighs only 0.53 lbs. So, carrying it around is not going to be an issue. Overall, the Canon EF-S 10-18mm f/4.5-5.6 does have its pluses and minuses. However, if you are looking to invest a relatively low amount and simply use the lens to learn your real estate photography, then this product is the right one for you.
A serious ultra-wide lens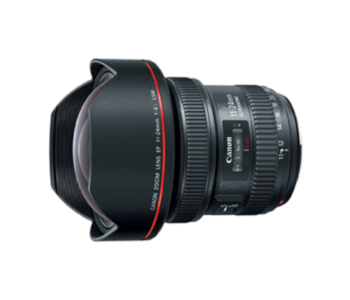 If the 15mm to 35mm focal length range isn't cutting it for you, and if you are on the lookout for an ultra-wide lens, then the Canon EF 11-24mm f/4L USM is a great option. This lens has some serious performance metrics to match its $2700 price tag.
Firstly, the 11mm to 24mm focal length gives you some of the widest angles that you can get. Taking pictures of small rooms with very limited space is no problem with this lens. A fixed aperture of f/4 does pretty well in a range of lighting conditions.
There is a special lens coating used on this lens to prevent image flares. The autofocus also receives some rave reviews for being fast and precise. The USM in the name denotes that this lens uses a silent motor for its autofocus function.
There are times in real estate photography when you want to cut out distracting elements like vents on a ceiling or something on the floor and focus exclusively on the view of interest. At the same time, you want a lens to not be so wide that the spaces feel distant and vast. You want the spaces that you shoot to look realistic and undistorted. Pairing a Canon EF 11-24mm f/4L USM with a good DSLR is sure to deliver on those qualities.
A budget ultra-wide option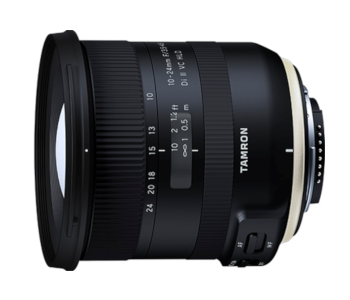 If you want an ultra-wide lens but do not have $2700 to spend, then the Tamron 10-24mm f/3.5-4.5 DI II VC HLD presents a more wallet-friendly option. For only $500, you can get a 10mm to 24mm focal length range. If you are using a crop-sensor camera, then you still get 15mm to 36m of focal length.
This Tamron lens has VC or vibration compensation to cancel out the effects of small movements and hand shaking. HLD stands for high/low torque-modulated drive, a feature that saves the power consumption of the focusing system.
The aperture range of f/3.5 to f/4.5 is also pretty good for low-lighting photography. Even with maximum zoom, you still get f/4.5 which is a pretty decent aperture level. You can buy this lens for a Nikon camera or a Canon camera.
6. Tokina AT-C 17-35mm f/4 PRO FX
Best architecture photography lens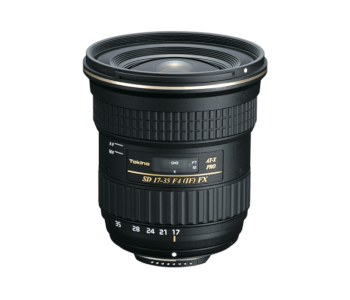 Most real estate photographers take pictures of property interiors. However, if your job involves focusing on the beautiful or artistic aspects of architecture, then this lens is highly recommended. Focusing your photography on architecture often requires working in tight spaces.
With a focal length range of 17mm to 35mm, you get a pretty good wide-angle with this lens. This quality is important because you sometimes need plenty of width to capture a facade or the entire width of a building.
An f/4 aperture is decent enough for good lighting conditions and low lighting conditions. This lens has two super-low dispersion glass elements and one aspheric glass element which minimize chromatic aberration as well as enhance the sharpness and contrast of your image.
What we also really like about this lens is that it is available for only $298. It has to be one of the cheapest lenses on this list.
A nicer lens for architecture photography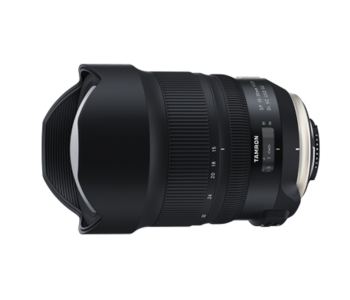 If you have a bigger budget for an architecture lens, then check out the Tamron 15-30mm f/2.8 DI VC USD. It costs more than $1000, but it has some pretty stellar features. The USD in the name of the lens stands for ultra-silent-motor. The motor is used for focusing and it is pretty fast. So, if you are shooting indoor architecture and have multiple subjects, then the fast focusing helps.
A lower f-number (2.8) is also better for low -light photography. A low f-number also allows for a shallower depth-of-field. If you want to create a bokeh effect for a certain portion of the property that showcases the architecture, then an f/2.8 lens allows you to do so.
A focal length range of 15mm to 30mm delivers plenty of wide-angle necessary for any real estate photo shoot. This Tamron lens also has vibration control which mitigates the effects of hand-shakes or slight movements which tend to ruin a good shot.
If you have enough money to spend, then this lens is a pretty good buy not just for architecture shots, but for all sorts of real estate photography applications.
8. Canon 17-40mm f/4 USM
A lens with good all-round qualities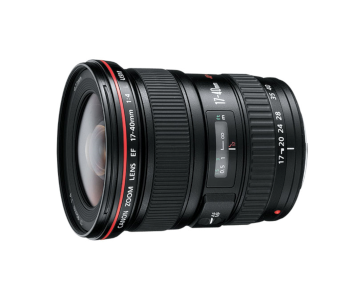 If you are a Canon user and want a wide-ranging yet affordable lens, then the Canon 17-40mm f/4 is a strong candidate. You get a nice 17mm to 40mm focal length range, which covers most real estate photography situations, except maybe the really tight spaces that need an ultra-wide lens.
An f-stop number of 4 is good enough for low-light photography. This lens costs less than $500. For that price, the optics of this lens is quite good with the use of three aspherical lens elements and a super ultra-low dispersion glass element.
A weather-resistant construction prevents the camera from dust and moisture. Chromatic aberrations are also at a reasonably low level. There is plenty to like about this camera. It offers performance at a good price.
Conclusion
Thus, you now have a good idea of the kind of lenses that you should be using when taking up real estate photography jobs. You also will have noted that simply spending more money is not the solution. It is all about the features that your work requires and finding a lens that delivers on those specifications.
Buying a lens is like an investment. It is a business decision and, hence, needs to be justified financially. You need to have enough income coming in from all of the real estate photography gigs to pay for not only the lens, but also the camera, the lighting equipment, the tripods, and any other supporting gear. So, we hope that this guide will allow you to choose your lenses wisely. Good luck!