6 Best Retro Gaming Consoles in 2021
3D Insider is ad supported and earns money from clicks, commissions from sales, and other ways.
Modern gaming is more advanced than ever, but it's not without its challenges and disappointments. Faced with delays, unfinished releases, and ethically questionable practices, more and more gamers turn back to simpler times. Unfortunately, old cartridges and consoles are either not available or prohibitively expensive since they're highly sought after by collectors.
You had to rely on emulations and morally gray means of acquiring & enjoying classic games for a long time. Manufacturers have finally realized there's money to be made from nostalgia. The result? More high-quality legal retro games than ever before! Whether you're an old–school arcade fan or a 90s kid, chances are you can play your favorite games on a modern TV with a single purchase.
These are the six best retro gaming consoles you can get today. Each represents an unforgettable slice of gaming's past and comes with at least 20 games to relive or try for the first time to see what all the fuss is about. Pick your favorite era and take a trip down memory lane without sacrificing modern creature comforts.
Budget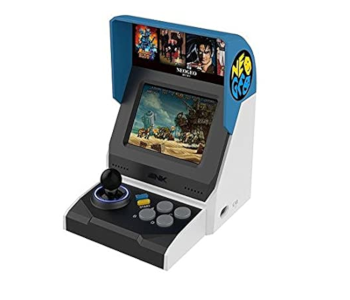 Neo Geo Mini
4.2/5.0
Weight: 13.8 lbs
No. of included games: 40
Doesn't need to connect to a TV.
Check Amazon
Best Value
Sega Genesis Mini
4.6/5.0
Weight: 1.9 lbs
No. of included games: 42
Built with attention to detail.
Check Amazon
Top Pick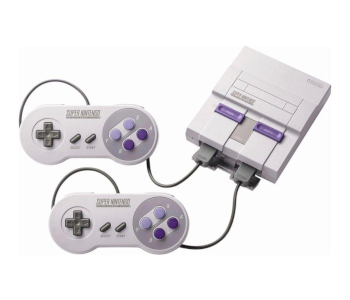 SNES Classic Mini
4.6/5.0
Weight: 10.6 oz
No. of included games: 21
Great selection of iconic games.
Check Newegg
Retro Gaming Consoles Comparison Table
1. Best Overall – SNES Classic Mini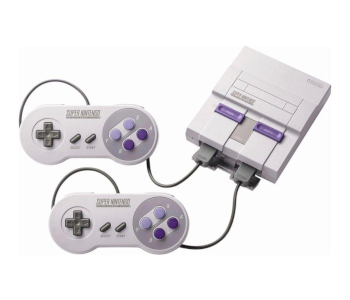 View on Newegg
Editor's Rating: 4.6/5
The 16-bit era was arguably one of the most iconic times in gaming, and SNES exclusives played a significant part in its success. Now you get to relive the greats in a way that faithfully reproduces the 90s experience today, thanks to the SNES Classic Mini. It's designed with Nintendo's customary excellence, features some of the best games ever made for consoles, and has just enough modern additions to make gameplay seamless but not spoil the fun.
Overview of Features
Nintendo did their best to recreate the look and feel of the console and controllers down to the slightest details. There's even an Eject button on the miniature console as an homage to its cartridge-based past. You can get the SNES Classic Mini in either of its original regional color variants. The differences are mainly seen on the controllers. The A, B, X, and Y buttons are either purple or each has a different color.
Purists will argue that the controller's feel isn't quite the same as the original's, but it's close. The face buttons are less clicky than those on the Nintendo Switch, while the D-pad handles flawlessly. You get two controllers for instant multiplayer fun and can even hook them up to your Wii remote to play games from its classics store.
The SNES Classic Mini comes with 21 games, most notably the never before released Starfox 2. You'll find titans like Final Fantasy 3, Super Mario World, or Super Metroid among them. Sadly, Chrono trigger didn't make the cut, but you can hack the console and add other games if you read up on how to do so online.
The game selection interface is sleek and easy to navigate. You can select games based on the release date, number of players, or other categories. They look and run immaculately, and you can even mimic the pixel smoothing present on old CRT screens. Modern conveniences like four save states per game and the ability to rewind time 45 seconds to correct fatal mistakes are welcome additions hardcore gamers need never touch.
What We Didn't Like
The SNES Classic Mini is the most expensive retro gaming console on review. Its controllers' cables are longer than those on the NES Classic, but they could benefit from a few extra inches. You can't access the game selection menu unless you hit the Reset button on the console itself.
Tech Specs
Dimensions: 6.5 x 8.9 x 3.1"
Weight: 10.6 oz
Console emulated: Super Nintendo Entertainment System
No. of included games: 21
Pros
Excellent build quality reminiscent of the original
Comes with two controllers
Great selection of iconic games
Save states and rewind are useful modern conveniences
Cons
Expensive
Hitting the Reset button is the only way to get to the selection menu once you're in-game
2. Best Value – Sega Genesis Mini
View on Amazon
Editor's Rating: 4.6/5
Sega was Nintendo's worthy adversary in the heated early 90s console wars, so it's fitting that the Genesis gets an equally awesome retro refresh. It comes with twice as many games as the SNES mini, costs much less, and is equally fun to play if your nostalgia lies in Sega's direction. You even get two games that never saw the light of day on the original, which is a nice touch.
Overview of Features
The Sega Genesis Mini stays true to the original console's design, albeit in a much smaller form factor. The cartridge flap works even though it's far too small to fit an actual cartridge, for example. There's even a volume knob that's there purely for aesthetics. Modern features include an HDMI cable for connecting to your TV and two USB ports for the controllers.
Speaking of controllers, the Sega Genesis Mini arrives with two replicas of the three-button variant that was initially released with the old console. They're large and replicate the feel of the 90s controllers well. However, you might find the three buttons limiting, especially if you're into fighting games like Street Fighter 2. We suggest you get at least one Retro-Bit controller for the complete experience.
Navigating the Sega Genesis Mini's menus is a delight thanks to an original action-packed melody and a choice of several themes. You can arrange the 42 games in various ways and watch as their boxes animatedly shift places. There's a sleeve option that arranges them on a virtual shelf. Save states are supported, as is a mode that simulates scan lines you'd see on old TVs. Best of all, you can get back to the menu by holding down Start on the controllers instead of pushing a button on the console.
Sega is more generous than Nintendo, offering a strong line up of 42 games that include Castlevania: Bloodlines, Sonic 1 & 2, or Earthworm Jim. Tetris and Darius are two particularly interesting games since they've never been officially released for the Genesis back in the day. Emulation is smooth and accurate for the most part. You'll see a couple of texture loading issues in some games, but it's nothing major.
What's Bad About It?
The controllers have sticky buttons and feel both light & cheap. There's also occasional input lag that could cost you a life at a crucial moment.
Tech Specs
Dimensions: 9.8 x 11.8 x 3.9"
Weight: 1.9 lbs
Console emulated: Sega Genesis
No. of included games: 42
Pros
Excellent value for the money
Large and varied game selection
Fantastic main menu
Built with attention to detail
Cons
The controllers it comes with only have three buttons and could be better
Suffers from occasional input lag
3. NES Classic Mini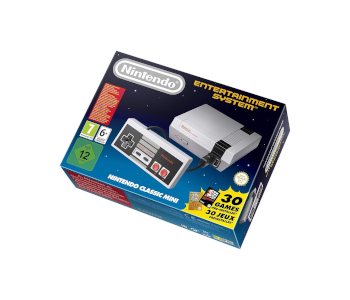 View on Amazon
Editor's Rating: 4.5/5
Retro games emulation has been around for more than a decade. However, the NES Classic Mini was the first serious attempt by an original publisher to restore an old system to its former glory. It's a dead ringer for the NES of old, comes with a simplistic but serviceable main menu, and emulates the generous library of games to look better than they ever did back in the 80s.
Overview of Features
Fans of the 8-bit NES will fawn over the NES Classic Mini's appearance. It's smaller, but that doesn't mean that every groove or contour isn't where it's supposed to be and proportional. The nostalgia hits especially hard once you press the Power button and experience its springy click as it locks into the on position. Ports are the console's only modern concession; two of them connect it to your TV for power and video output.
The controllers use Wii Remote accessory ports and could be easily mistaken for the ones you got with your first NES. Everything from their charming rectangular shape, dimensions, and button responsiveness is copied exactly and instantly recognizable to fans. We're particularly fond of the D-pad, which remains among Nintendo's best to this day.
The NES Classic Mini's interface is a template for what would become the menu on the SNES Classic Mini. You're presented with a list of games and can use the Select button to sort their order alphabetically, by how many times you've played a particular game, its year of publishing, etc. The NES Classic Mini was also the first Nintendo console to introduce save states. This makes it much easier to complete rage-inducing games like Ghosts & Goblins.
Nintendo did an excellent job with the NES Classic Mini's game selection. It's packed with 30 games, and there's not a dud among them. You can look forward to the Super Mario Bros trilogy, two Zelda games, the first Final fantasy, and favorites like Mike Tyson's Punch-Out and Metroid. The emulation is superb as each game is sharper, more defined, ad more colorful than what you get on the Wii and other sanctioned emulators.
Three emulation modes are supported. Pixel-perfect is the best-looking one and works well on modern TVs. 4:3 seeks to emulate the aspect ration the games were designed to work on without losing visual fidelity, while CRT employs several tricks to make the screen look impressively close to 80s and 90s TVs.
Are There Drawbacks?
There's one huge drawback, or rather a really short one – the controller cable. What was Nintendo thinking? The controllers come with wires that are only 225 feet long. That might have been fine back in the 80s when you'd huddle close to a small screen, but it's unsuitable for today's comparably huge sets. The same annoying press Reset to get back to the games menu issue we've talked about when reviewing the SNES Mini is present here as well.
Tech Specs
Dimensions: 6.4 x 8.9 x 3"
Weight: 1.4 lbs
Console emulated: Nintendo Entertainment System
No. of included games: 30
Pros
Outstanding emulation that makes NES games look better than ever
Controllers are on par with ones that came with the NES
Doesn't need an AC adapter to run but comes with one anyway
Thoughtful game selection conveniences
Cons
Controller cables are far too short
Hitting the Reset button is the only way to get to the selection menu once you're in-game
4. Atari Flashback X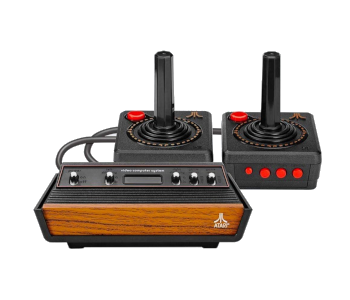 View on Amazon
Editor's Rating: 4.4/5
Released in 1977, the Atari 2600 is the most venerable emulated console on our list. It took AtGames ten tries to get it right, but we're glad to say that the Flashback X is everything you could hope for to do the granddaddy of consoles justice. It comes with a massive game library, a modern interface, and perfectly replicated feel that will take your dad back to his old gaming glory days.
Overview of Features
AtGames have outdone themselves in recreating the Atari 2600's many unmistakable details. Everything's there, from the real wood paneling to pleasantly heavy metal switches on the Flashback X's top face. These control difficulty settings for both players, along with powering and resetting the console. The only omission is the 2600's color toggle switch, which doesn't make sense today.
The Flashback X's interface is in stark contrast to the games you'll be playing. It's sleek, modern-looking, and wouldn't look out of place on a third-party emulator for your smartphone or Raspberry Pi. The interface is divided into two parts. You've got a navigation menu on the left and each game's detailed & colorful box art on the right. You get the standard smattering of sorting methods, plus a dedicated addle game section.
The Flashback X's game library is the most impressive one on review. You get a whopping 110 games, some of which have laid the groundwork for four decades of gaming. You'll get to revisit staples like Frogger, Space Invaders, Pitfall, Asteroids, and many more. A library as vast as this one is bound to contain some duds, but the selection is decisively in favor of the system's best games.
AtGames followed in Nintendo's footsteps when modern additions are concerned. You getsave states for each game and can rewind time to erase embarrassing deaths from existence. The first player's controller also has additional buttons, including a Mode button that brings you back to the main menu instantly without having to get up and walk towards the console.
What's Bad About It?
The Flashback X's controllers are well made and respond promptly to movement, but there's a slight delay between pressing the action button and its execution on screen.
Tech Specs
Dimensions: 8.6 x 12.2 x 3.9"
Weight: 1.4 lbs
Console emulated: Atari 2600
No. of included games: 110
Pros
Generous selection of game
Lovingly crafted console
Excellent menu system
Has save states and rewind
Cons
Action button registers with a delay
Some included games aren't that great
5. PlayStation Classic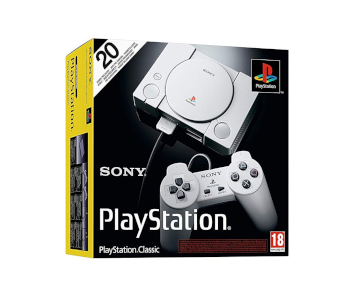 View on Amazon
Editor's Rating: 4.2/5
The PlayStation was released at a pivotal time in gaming's history as 3D graphics made its first steps into mainstream acceptance. The PSX era brought forth some of the all-time favorites, and you'll get to enjoy a handful of them on the PlayStation Classic. It's a fine replica of the original console made with love and dedication. Still, a lackluster library keeps it from achieving a better spot on our list.
Overview of Features
We have to commend Sony for making the PlayStation Classic as true to the PSX as modern standards permit. It's 45% smaller and retains everything that made the first console stand out, including a disk tray and associated Open button. You can connect it to any modern TV via HDMI, and the controllers slot into USB ports that look as though they're part of the design. You'll have to find an adapter yourself, though, since the console doesn't come with one.
The controllers replicate the originals' feel and build quality closely. You get two, both of which are from the pre-DualShock days. You might find navigating awkward in some games without the DualShock's analog sticks. On the bright side, their USB caps mean you can plug the controllers into a PC or a modern PlayStation console and enjoy retro games that way too.
Sony is playing it safe with the interface and a limited addition of modern conveniences. The PlayStation Classic has an internal memory card with a limited slot selection, just like in the old days. Every game can also be saved by exiting it and confirming a prompt. You may then resume play at any time, provided a sneaky family member doesn't do it first to ruin your otherwise unsaved progress.
Emulation of the PlayStation Classic is the purest we've seen, for better or worse. That's fine, even commendable on 16—bit systems whose graphics have aged well, especially given the recent resurgence in pixel art games. However, playing games from the dark ages of 3D on an HD or 4K TV leads to pixelation of a different, unwelcome sort. All the games run fine, but it's a shame that Sony didn't include HD remasters, especially since some are already available.
What's Bad About It?
A small, inexpertly chosen game library is the main reason the PlayStation Classic is so far down on the list. Some genre-defining games like Final Fantasy VII or Tekken 3 made the cut. Unfortunately, equally important titles like Crash Bandicoot, Vagrant Story, Spyro, or Soul Reaver have not. There's no way of adding more games to the lineup, so you're stuck with what you get.
Tech Specs
Dimensions: 9 x 9 x 4"
Weight: 2.2 lbs
Console emulated: Sony PlayStation
No. of included games: 20
Pros
Faithful replica of the PSX and its controllers
Intuitive interface
Emulation stays true to each game as it was released
Cons
Limited game selection with lots of sorely-missed omissions
No way of adding more games
6. Best Budget Option – Neo Geo Mini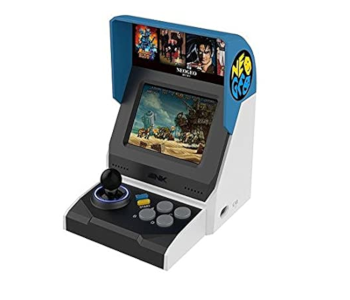 View on Amazon
Editor's Rating: 4.2/5
Even though consoles were finding their way into more and more kids' homes, the 90s still had a strong arcade presence. SNK's Neo Geo bridged that gap, offering jaw-dropping action and graphics for arcade and console gamers alike. The Neo Geo Mini caters to the former, emulating the hardware and the appearance and feel of a retro arcade machine scaled down to almost pocket size.
Overview of Features
The Neo Geo Mini is a unique entry on our list since it's the only retro gaming console that provides a means to play without connecting it to a TV. It looks like the miniature top half of a classic arcade machine, complete with a fully-functional screen, canopy, and arcade-style controls. Two USB ports are off to the side and used to connect Neo Geo Mini Pads for two-player showdowns, and a micro HDMI slot is in the back. This isn't a handheld console – you still have to plug it into a USB adapter to work.
Size limitations mean that the Neo Geo Mini's controls are more cramped than they'd be on a real arcade. Even so, they're well-made and responsive. The lollipop is surrounded by an LED that glows blue when the device is on and can pull off precise moves. The buttons execute any move combination you pit in immediately and are well suited for the fighting and shooting games that dominated the Neo Geo's lineup.
The game selection is among the better ones we've seen. The Neo Geo was a niche product catering to arcade enthusiasts, so the featured games are rarely complex. RPG lovers should look elsewhere, but everyone else can have a ton of fun with the likes of Metal Slug, Samurai Showdown, Garou, or The King of Fighters.
The Neo Geo Mini's screen is large enough for one person to pick out each sprite's details comfortably. It is bright enough for daytime play and protected from glare, thanks to the canopy. Hooking the Neo Geo Mini up to a TV upscales the games to 720p, making them look even better. You get save states and a Neo Geo memory card as well.
Are There Drawbacks?
The Neo Geo Mini's basic package is cheap but lacking in creature comforts. Some people might find the built-in controller too small, and you have to buy a micro HDMI to HDMI cable separately if you want to play on a TV. This can be resolved if you buy the Pro Player Pack, but that costs twice as much as the barebones version.
Tech Specs
Dimensions: 5.5 x 8.6 x 3.9"
Weight: 13.8 lbs
Console emulated: Neo Geo
No. of included games: 40
Pros
Doesn't need to connect to a TV
Great selection of games
Responsive controls
Cons
Cramped controls
Regular version doesn't come with HDMI cable