6 Best Ring Alternatives in 2019
3D Insider is ad supported and earns money from clicks and other ways.
You're in your upstairs bedroom with a cold one in one hand and a page-turner in the other and are suddenly brought back to the present by the familiar "ding-dong" of the doorbell. Wouldn't it be nice if you didn't need to put something presentable on, plod down the stairs, and walk all the way down to the door just to shoo away shady salesmen?
The answer – a smart doorbell! Not only will one beef up security by acting as another surveillance camera, but using it will allow you to interact with someone without leaving your bed, and even unlock the door for them if it's someone you know and want to let into the house. It's a necessary addition to any smart home that offers convenience and protection at minimal cost.
The Ring line of smart doorbells has become so wildly popular that Amazon themselves saw the potential and acquired the company that made them. But is ring the only viable option? If you check out the 6 alternative smart doorbells we've reviewed, you'll see that this is definitely not the case! Their resolutions, features, and prices vary considerably, so have a look at the smart doorbell buyer's guide as well to help you settle on the one that's perfect for you.
Budget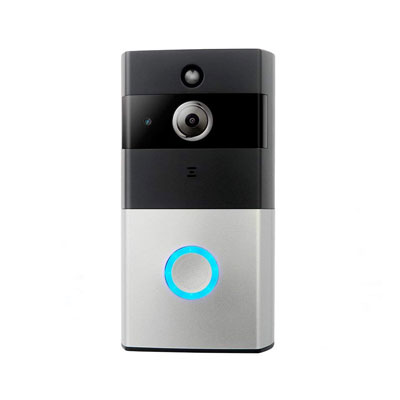 Geri WiFi Video Doorbell
4.3/5.0
Video resolution 720p
1 year Warranty
Runs on rechargeable batteries. Wide viewing angle.
Check Amazon
Best Value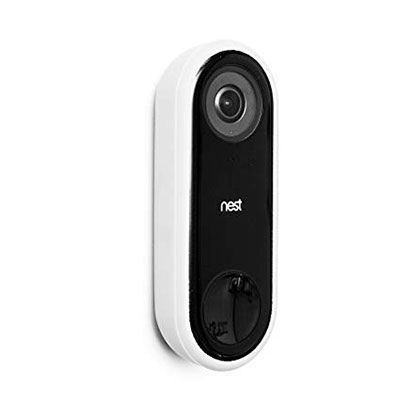 Nest Hello
4.5/5.0
Video resolution 1600×1200
2 years Warranty
Seamlessly integrates with Nest products. Facial recognition.
Check Best Buy
Top Pick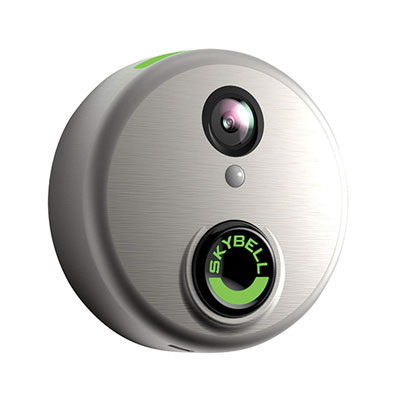 Skybell HD
4.7/5.0
Video resolution 1080p
1 year Warranty
Excellent video quality & night vision. Automation integration.
Check Amazon
Top 6 Ring Alternatives Comparison Table
1. Skybell HD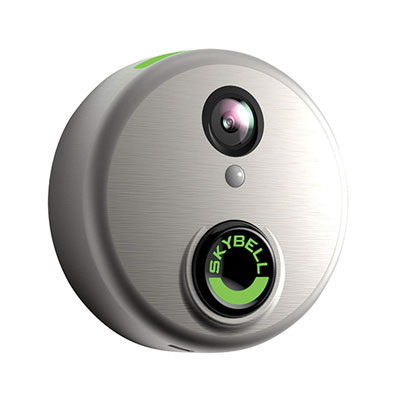 View on Amazon
Editor's Rating: 4.7/5
Skybell achieved some success with the Kickstarter campaign for their first smart doorbell, but the end product felt a little lacking in features. Luckily they've learned from the experience and have given us the new & improved Skybell HD. It's a 21st-century doorbell that both looks and acts the part. It sports brilliant 1080p video, a powerful night mode, and integrates with many major home automation systems. This makes it the best alternative to the Ring's pricier Pro version.
Stylish Home Security
We love how all these modern doorbells are one-upping each other in trying to look modern and sophisticated. With its simple round design and classy metal finish, the Skybell is definitely among the best-looking ones. Given its dimensions, it might not be a good fit for tighter door frames though, so be sure to measure yours before purchasing. Installing the Skybell is a matter of disconnecting the old doorbell and hooking it up to the existing wiring.
Setup is complete once you've downloaded the Skybell app and paired the device to your Wi-Fi. You can then immediately jump to a live feed of the camera's wide 180-degree lens, record footage, or take a picture. Everything is kept securely in cloud storage, and you don't even have to pay a monthly fee! The large viewing angle is perfect for encompassing the Skybell's surroundings and picking up on potential threats that may be hiding in the background. Capable infrared LEDs surround it, adding excellent nighttime performance to the camera's long list of features.
Apart from a better resolution, the HD version of Skybell supports Amazon Alexa, IFTTT, and Nest. If you've got some Nest cams in or around the house, you can set the doorbell up to turn its camera on when they detect something. Voice commands given through Alexa allow you to take pictures, capture video, or turn on quiet mode. Push notifications come as part of the app, and you can set IFTTT up to send messages when the Skybell is pushed too, just in case.
What We Didn't Like
The Skybell HD works best as a replacement for a mechanical doorbell. If you have a digital one, you'll need to also install a provided adapter, which may require the expertise of an electrician. This may not be the best doorbell for people with slower internet speeds or dodgy connections as the video requires a good bandwidth to stream without lagging and there's no option to lower its quality.

Tech Specs
Dimensions: 2.8 x 2.8 x 0.9 in.
Video resolution: 1080p
Field of view: 180°
Compatible with: Amazon Alexa, Google Assistant, Nest, IFTTT
Power: Wired
Warranty: 1 year
The Pros
Excellent video quality & night vision
Easy to set up
Good home automation integration
Free cloud storage
Looks nice
The Cons
Has potential installation issues
Requires good Wi-Fi connection to work properly
2. Nest Hello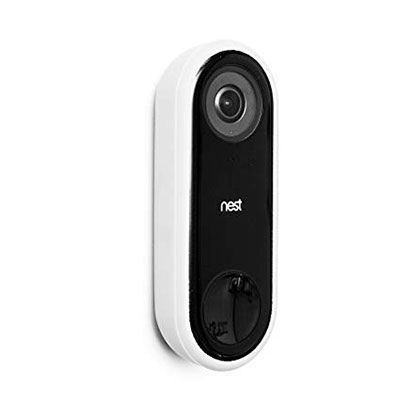 View on Best Buy
Editor's Rating: 4.5/5
Long satisfied with producing the leading smart thermostats in the world, Nest has upped their game considerably in recent years and added a host of interesting gadgets to its smart family. One of the newest and greatest is the Hello, a versatile doorbell with crisp video, facial recognition, accurate motion sensors, and more. You'll have to pay a pretty penny if you want to take full advantage of its premium features, but if you have a valuable home to protect, this shouldn't matter much.
A Comprehensive Package
The oblong Hello is a study in great design, featuring only the camera, a glowing button, and the Nest logo. It will need to be wired into your existing doorbell setup, which shouldn't be a problem for any DIY enthusiast. Nest offers the services of dedicated technicians who can also do the job for you.
Unlike other doorbells, the Hello has a 4:3 160-degreee camera which does a better job of capturing whatever is below it, preventing someone from ducking under and sneaking up on you. The footage is of good quality, and can even be downgraded to accommodate a slower internet connection. Night mode kicks in automatically once light levels go down enough and provides a clear view of the surroundings even in pitch black conditions.
To get the most out of your Hello, you'll want to sign up for Nest Aware. This online service costs from $5 – $30/month and lets you store as many days of video. Facial recognition is Aware's most interesting perk. The Hello can identify people's faces and add them to a database. Linking a name to the face and connecting the doorbell to other Nest devices / Google Home will even cause the Assistant to announce whoever is at the door by name. Neat!
What are the Drawbacks?
Not subscribing to Nest Aware limits you to only viewing the Hello's live stream and last 3 hours of footage, forcing you to spend money on top of an already steep purchase. The motion sensors the Hello is equipped with are very sensitive. At their highest setting, they're bound to go off and flood your phone with push notifications multiple times per hour. You'll want to tone the sensitivity down to get a more balanced experience.

Tech Specs
Dimensions: 4.6 x1.7x 1 in.
Video resolution: 1,600 x 1,200
Field of view: 180°
Compatible with: Amazon Alexa, Nest, Google Assistant, IFTTT
Power: Wired
Warranty: 2 years
The Pros
Great overview & video quality
Seamlessly integrates with other Nest products
Variable video quality
Facial recognition
The Cons
Stunted without subscription
Sensors need tweaking
3. August Doorbell Cam Pro 2nd Generation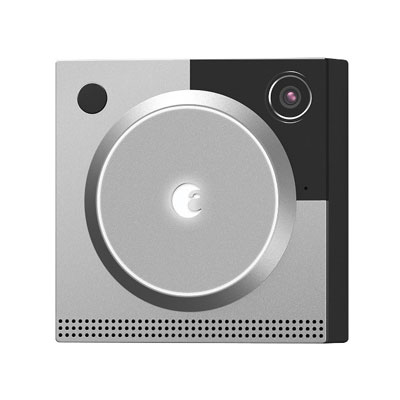 View on Amazon
Editor's Rating: 4.4/5
August is well-known for their smart lock, one of the best you can currently buy. It was only natural that they'd follow such a great product up with an equally functional doorbell, and for the most part, they've succeeded. While it lacks some of the connectivity features of the best smart doorbells, the 2nd gen August Doorbell is a solid choice for stepping your home's security up, especially if you've already purchased one of their locks.
A Doorbell with Hindsight… Literally
Closely following the modern doorbell aesthetic, August has made theirs a pleasant albeit large rectangular shape. It has a huge central button equipped with its own light and comes in a pleasant dark gray finish. Everything you'll need to install it successfully is laid out in August's app, and getting it to work with your existing wiring should be a snap.
The camera has an unusual resolution of 960 x 1,280 and has a 120-degree lens. This is so that when you're viewing the feed in portrait mode you're getting the image as is, without distortion. This perspective lacks inside coverage but should do nicely if the door is in a tight corridor. Instead of a dedicated night light, August's doorbell has an integrated floodlight that will illuminate anyone standing close enough to it and helps produce a nighttime feed with colors left intact.
Hindsight is the feature we liked best – thanks to Hindsight, the camera keeps recording 24/7 and storing the last 3 seconds of recorded footage internally. Whenever someone rings the bell, you're given an option to review the footage and see what they've been up to before ringing. As you'd imagine, the doorbell works especially well with August's smart lock. You can set it up so that the door unlocks with a voice command or through the app, and lock everything back up when someone leaves without physically interacting with either lock or doorbell.
What Should Be Improved?
The camera's exposure settings are worse than we'd like. Rapid changes in exposure are a particular problem, so if the doorbell is shaded by a porch and there's glaring light outside, you may not be able to recognize the face of someone who rings it. August's video storage service is basic – its free version covers only the last 24 hours. For more, you'll have to sign up for a subscription. The first month is free but you'll have to pay $5/month after that.

Tech Specs
Dimensions: 2.9 x 2.9x 1 in.
Video resolution: 960 x1280
Field of view: 180°
Compatible with: Amazon Alexa
Power: Wired
Warranty: 1 year
The Pros
Hindsight feature
Compatible with August smart lock
Night vision in color
Nuanced motion sensor calibration
Easy installation and detailed instructions
The Cons
Camera's exposure can be problematic
Cloud storage requires monthly fee
Small number of compatible partners
4. Zmodo Greet Pro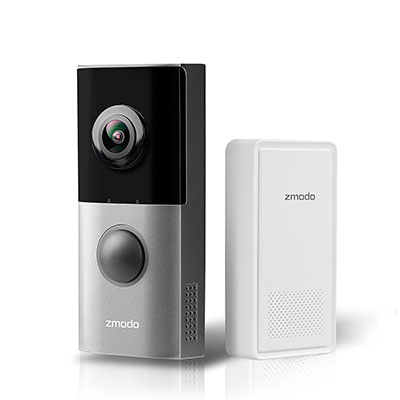 View on Amazon
Editor's Rating: 4.4/5
Next we have a somewhat odd doorbell by Zmodo. It's odd in the sense that on one hand it boasts some really high-end features like excellent quality 1080p video and a flexible subscription service. On the other, it lacks smart home and voice command integration completely. If you aren't hung up on these, the Greet Pro is one of the best doorbells you can currently buy.
A Step Away from Greatness
At first glance, Zmodo's doorbell looks like more than a complete package. There's the device itself which you set up like any of the other wired ones we've mentioned, but you also get a handy Wi-Fi extender that ought to stabilize and strengthen your connection.
A good connection is definitely a prerequisite as the 25 fps / 1080p video is of the best quality. The lens has a wide 180-degree viewing angle and curves slightly, but the barely perceptible barrel distortion doesn't take away from the feed's detail. Unlike many doorbell cameras of lesser quality, Zmodo's has 4x digital zoom. Four powerful infrared LEDs provide nighttime visibility up to 16 feet away, making this one of the best smart doorbells for nighttime surveillance.
The app you control all of its features with is fantastic too. It lets you view the live feed, record / take pictures and view a timeline of past events. It's also used to schedule alerts, talk with people, and to record voice messages that greet visitors when they press the doorbell.
Zmodo offers a generous 3-year warranty on the Greet Pro, and the cloud storage options are fair as well. You can store 36 hours of footage for free, or choose to pay $5/month to extend that to 7 days.
Where They Missed the Mark
This doorbell has everything… except smart home integration. It would have been hard for us to pick between it and the Skybell HD if at least voice commands were supported. Since communication doesn't extend past remote viewing and control via the app, the Greet Pro will never be able to achieve its full potential.

Tech Specs
Dimensions: 4.4 x 1.9 x 0.9 in.
Video resolution: 180p
Field of view: 180°
Compatible with: N/A
Power: Wired
Warranty: 3 years
The Pros
Fantastic video quality
Digital zoom
Fair subscription plan
Generous warranty
The Cons
No smart home integration
5. Remo+ RemoBell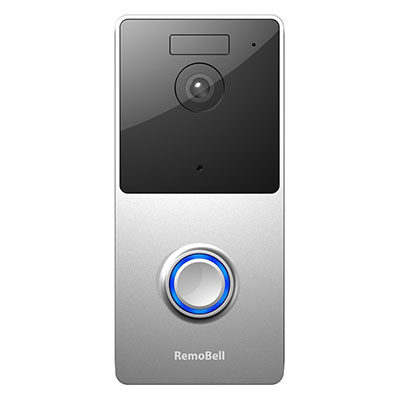 View on Amazon
Editor's Rating: 4.3/5
Having to fiddle around with wires when replacing your old doorbell with a smart one is annoying! Besides, you can't just make changes whenever you want if the property isn't yours. Remo+ has the ideal solution for renters and the electrically challenged – a smart doorbell that relies solely on garden-variety AA batteries to keep you and your home protected.
Ditch the Wires
The best thing about the RemoBell is its easy setup. You get a pair of mounting brackets which screw into the wall and hold the doorbell in place. You just slide the bell in, secure it with a screw, and are ready to go! It's powered by 6 included AA batteries and will notify you whenever they start to run low.
Video is shot in a reasonable 720p, and the lens has a viewing angle of 120 degrees. As the aspect ratio is a standard 16:9, it captures the sides better than August's doorbell. But most of the time you'll only be seeing visitors' faces and parts of their upper body once they get close. Night vision is a feature too and gets the job done.
Controlling the doorbell via the mobile app is straightforward. When someone rings, you get a brief live feed on your phone and can talk to them via 2-way speaker, or choose to let them in. Infrared sensors pick up on any & all movement in front of the doorbell and can trigger push notifications if you want to keep a close look on the activity in front of your door.
Reviewing old footage requires you to pay a reasonable subscription – a monthly payment of $3 lets you store and review 30 days of footage. Even without subscribing, you can view a detailed timeline of activity on your phone complete with dates, times, and snapshots.
What's Bad About It?
The RemoBell's live feed is limited to a brief time after someone has rung it. Not being able to have a look at what's currently happening outside any time you like limits the doorbell's usability. It isn't exactly the smartest doorbell around either – no modern home automation or voice activation systems are supported. The manufacturer claims that Alexa support is on the way though.

Tech Specs
Dimensions: 6 x 2.8 x 1.3 in.
Video resolution: 720p
Field of view: 120°
Compatible with: N/A
Power: AA batteries
Warranty: 1 year
The Pros
Doesn't require wires
Generous subscription plan
Customizable alerts & detailed timeline
Inexpensive
The Cons
No continuous live feed
No 3rd party partners
6. Geri WiFi Video Doorbell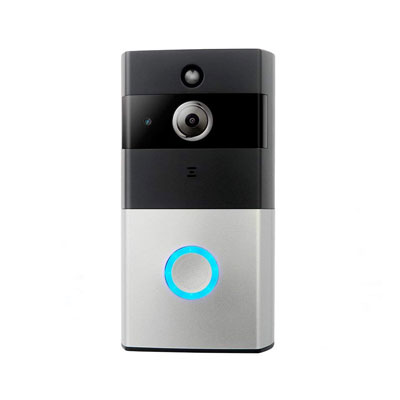 View on Amazon
Editor's Rating: 4.3/5
Want a capable video doorbell which is easy to install and doesn't rely on external services for video storage? Look no further than Geri's WiFi Video Doorbell! It comes in at an unbeatable price and manages to offer a lot for it. Don't expect the bells & whistles of more expensive models, but do look forward to it flawlessly making your home a safer place.
An Inexpensive Security Upgrade
Much like the RemoBell, Geri's device only needs a wall mount to be successfully installed. Its power requirements are handled in a better way since instead of wires or disposable batteries it uses rechargeable ones, saving you even more money. Standard usage will make them last about four months, while putting the doorbell into standby mode whenever you don't need to use its smart features will extend that up to a full year.
You can access a live feed of the camera's 720p footage at any time through its Android or IOS apps. Its IR motion sensors work like a charm, identifying movement and notifying you about it via text. Video clips and pictures are stored either on your phone or onto the doorbell's own 8 GB memory card to be reviewed later. The number of phones that can establish a connection with the doorbell is unlimited, so every family member can make full use of it.
Are There Drawbacks?
We're sad that Geri didn't include any 3rd party integration with their doorbell. Local storage is a great idea, but adding a cloud storage option as an alternative would eliminate the hassle of having to manually delete footage that's no longer relevant.

Tech Specs
Dimensions: 3 x 6 x 1.2 in.
Video resolution: 720p
Field of view: 166°
Compatible with: N/A
Power: Rechargeable battery
Warranty: 1 year
The Pros
Good balance of quality and price
Runs on rechargeable batteries
Can be accessed by unlimited number of phones
Internal storage
Wide viewing angle
The Cons
No support for 3rd party partners
No cloud storage
What to Look for in a Smart Doorbell?
Video Quality & Camera Angle
Night Vision
Two-way Communication
Storage Options & Subscription-based Security
Smart Home Integration