Ring Doorbell Cyber Monday 2018 Deals
Ring is continuing their Black Friday sale most likely through Cyber Monday. You can save up to 33% on a video doorbell during the sale. Cyber Monday will be the last chance you'll be able to grab their doorbells at these ridiculously low prices.
Ring is a leader in home security products that combines motion based cameras and doorbells. They have come a long way since appearing on ABC's Shark Tank in 2013. The quality of their products has attracted Amazon, which acquired the company early this year.
This year's Cyber Monday deals are the lowest prices Ring has had and there has never been a better time to buy one, especially if you're keen about your safety at home.
Ring Video Doorbell 2
Cyber Monday Price: $139 Retail Price: $199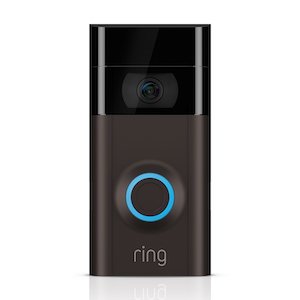 The Ring Video Doorbell is a dramatic improvement on the first version. The main problem with the original Ring is that it's prone to false alarms. For instance, cars driving by are sometimes mistaken for people at your door and you receive false notifications.
Version 2 significantly reduces false alarms because of the improved 1080p camera and a more accurate motion sensor. The two-way communication features is also upgraded and is now less buggy.
Unlike the original, the Ring Video Doorbell 2 also has customizable face plates so you can find one that matches your home.
Batteries have always been a concern for customers and Ring has made sure to make it easy for you to change the battery. For the Ring Video Doorbell 2, you don't need to dismantle the whole unit just to change the battery. You also get double the battery life so you don't have to worry about changing the battery in the first place.
The Ring Video Doorbell 2 is perfect for those looking to upgrade their home security to a more robust and dependable system.
Ring Video Doorbell Pro
Cyber Monday Price: $199 Retail Price: $249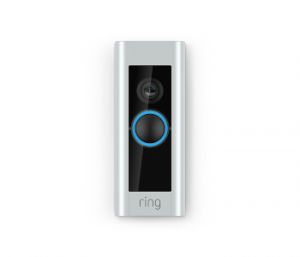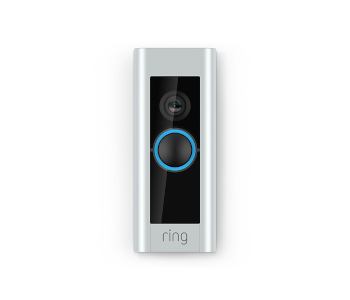 The Ring Video Doorbell Pro takes home security to the next level. First of all, it's a reliable piece of home security equipment because you'll need to use a wire for power. There is no battery option for this model. You might think that it's a hassle but it actually makes your whole system more robust. No more down time and you won't need to change the batteries.
Just like the Ring Video Doorbell 2 it's equipped with 1080p high definition resolution and infrared night vision so you can identify anyone even at night.
The main difference between the Ring Video Doorbell Pro and the Video Doorbell 2 is that the Pro comes equipped with an advanced motion detector that enables you to customize your alarms notifications. You can select a certain field of vision from your camera that triggers the alarm.
Additionally, the Video Doorbell Pro supports 2.4 GHz and 5 GHz Wi-Fi channels allowing you to use the less crowded 5 GHz where you'll run into fewer connection problems making your home security setup more robust than ever before.
Note: So far, Amazon has not reduced the prices of the following models but it's possible they will do so on Cyber Monday. These are just estimates of possible sales and they provide you background info so you know Ring's entire range of video doorbells.
Ring Video Doorbell
Cyber Monday Price Estimate: $79 Retail Price: $99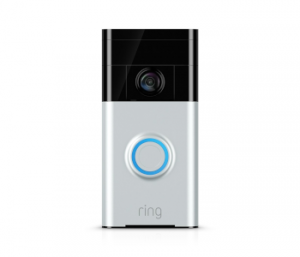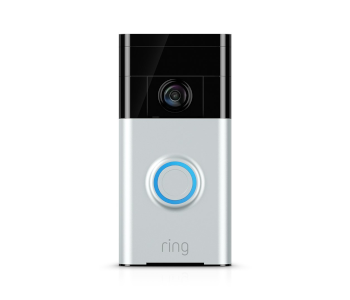 The Ring Video Doorbell is the company's claim to fame. Remember the viral YouTube videos of strangers grabbing packages from people's porches? That's the Ring Video Doorbell.
It is tremendously simple to use. You can connect it to your smartphone and watch the live feed even if you're away from home. You can even talk to people at your door wherever you are in the world. They don't even need to ring you up because the Ring Video Doorbell is equipped with a motion activated alarm that alerts you when someone comes knocking.
You can view guests, wanted or unwanted, in high definition at 720p resolution. That means you'll know exactly who's knocking. You can even see them clearly at night because of the infrared night vision technology that's built-in.
It comes with a lifetime theft replacement guarantee so you get a brand new unit if it gets stolen.
Installation takes just 5 minutes and you have two options: battery powered or hardwired. If you're looking for a budget-friendly option or you're looking to start investing in home security then the Ring Video Doorbell is worth considering.
Ring Video Doorbell Elite
Cyber Monday Price Estimate: $399 Retail Price: $499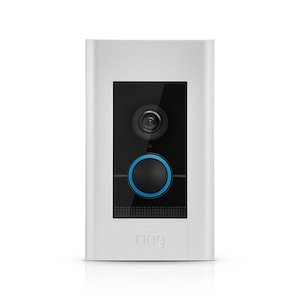 The Ring Video Doorbell Elite lets you connect to the internet using a wired Ethernet connection and that means a more reliable connection. Ethernet will provide both power and Internet, so you only need to plug in one cord.
Because the Elite uses an Ethernet connection, signal jammers can't be used to block the video feed. This works perfectly for commercial businesses looking to upgrade their security.
You can still connect to Wi-Fi with the 2.4 GHz and 5 GHz channel options. If you're concerned about connection reliability then you'll opt to connect using the Ethernet cable.
The Ring Video Doorbell Elite also has all the bells and whistles of the Pro such as advanced motion detection and a 1080p high definition resolution camera.
Ring has some great deals for Cyber Monday. Ring is known as a premium brand and don't do sales often. Cyber Monday is one of the last chances for you to get a Video Doorbell and save up to 33%.