Ring vs. August vs. Nest: The Search for the Best Video Doorbell
3D Insider is ad supported and earns money from clicks and other ways.
The home security systems nowadays are a far cry from those that were available a decade ago. More than just alarm systems that can detect if a door gets opened, you can now buy an all-around doorbell device that offers alarm, motion detection, and video recording capabilities. In the field of video-capable doorbells, three names have risen to the top: Ring, August, and Nest.
While each of these brands has become popular due to valid merits, you inevitably need to pick one if you're planning to install a security system for your home. To help you out, we've compiled a list of the best features that each brand offers, as well as their areas of improvement.
Picking the best candidate from each brand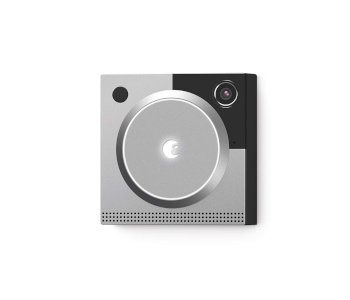 Both August and Nest only have on video doorbell model for sale, which makes this comparison simpler. Respectively, we'll be considering the August Doorbell Cam Pro and the Nest Hello Doorbell.
The Ring brand is a bit more complicated since they have a whole product line of video doorbells. To represent all the features that the Ring brand has to offer, we are going to consider three models in this review: the budget-friendly Ring Video Doorbell, the best-seller Ring Video Doorbell 2, and one of their premium offerings, the Ring Video Doorbell Pro.
What they all offer
Before we discuss what sets these video doorbells apart from each other, let's get their common features out of the way first.
Doorbell – All the video doorbells work just as traditional doorbells do
Two-way audio – The video doorbells allow you to have a conversation with the person ringing your doorbell. With the video capabilities, you can also see who is at your front door.
Video recording – You can set up the video doorbells to start recording videos continuously or after a specified trigger.
Motion detection – The most common trigger to start recording a video is if the camera detects motion within its field of view. You can also set up the doorbell to send a notification to your phone if it detects motion. The sensitivity of motion detection can be adjusted, so you don't end up receiving notifications for the smallest movements.
Night vision – All of them can record videos at night using standard night vision technology. The quality of night vision, however, does vary from model to model.
Cloud-based storage – All video doorbells store the videos they have recorded on cloud storage. This makes it possible to store videos that can be several hours long. It also eliminates any risk that critical moments are not recorded due to a lack of storage. Take note that you'll need to pay a subscription fee on top of the price of the product to take advantage of cloud-based services.
Wi-Fi access – All these video doorbells make use of your home Wi-Fi connection to store videos to the cloud server, stream videos to your device, or to send you notifications. Most devices use that standard 2.4GHz band, but there are a few others that support 5.0 GHz communication. Either way, you'll need to have a fast and stable Wi-Fi connection to make the most out of these video doorbells.
Price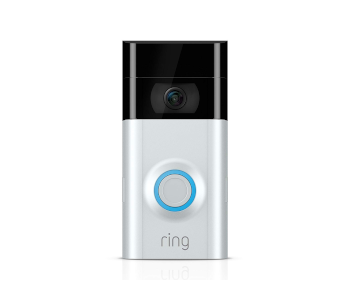 Right off the bat, it's worth comparing the price tags for each of these products. This provides context on the next features we shall discuss. Of course, you can expect better features on doorbells that cost more than twice as much as budget options.
It's also worth noting that you'll have to spend more on these doorbells beyond just their retail prices. Since these doorbells work using an online cloud-based service, you will have to pay for a subscription fee. While it's still possible to use these doorbells for two-way communication, the fees are necessary for video recording since the videos are stored directly to a cloud server.
The relevant prices for these products are summarized below. For simplification, the premium plans for each brand were selected for this summary table. Take note that the prices
Product
August Doorbell
Cam Pro
Nest Hello
Doorbell
Ring Video
Doorbell
Ring Video
Doorbell 2
Ring Video
Doorbell Pro
Retail price
$199
$199
$99
$199
$249
Subscription Plan
August Video
Recording
Nest Aware
Ring Protect
Ring Protect
Ring Protect
Subscription
Price (Annual)
$60
$269
$100
$100
$100
Both the August and Nest subscription plans offer enough cloud-based storage for 30 days of videos, recorded 24/7. The Ring Protect plan takes this up a notch by extending storage to 60 days and by providing coverage for all Ring products in a household.
August and Nest also offer cheaper subscription plans which offer between 5 to 15 days of video storage. Ring also has a $3-per-month subscription plan that also stores videos up to 60 days but can only be used for one Ring device.
From the retail price of the devices, it's easy to see that there's a level playing field for three products in particular: the August Doorbell Cam Pro, the Nest Hello Doorbell, and the Ring Video Doorbell 2. Ring does offer a more affordable option, the original Ring Video Doorbell, which should appeal to more budget-conscious buyers. Rings also offers a premium option, the Ring Video Doorbell Pro, that is only about $50 more expensive than the standard video doorbells.
Video quality and field of view
While all of these video doorbells offer 24/7 video recording and live streaming, you will still need a high-resolution video to capture the smallest details of what's happening right outside your door. A wide field of view will also be advantageous for detecting potential threats or for reviewing the video feed that the doorbell has recorded while you weren't paying attention.
In the summary table below, we have also included any smart features that have been incorporated into the video recording capabilities of these doorbells.
Product
August Doorbell
Cam Pro
Nest Hello
Doorbell
Ring Video
Doorbell
Ring Video
Doorbell 2
Ring Video
Doorbell Pro
Video resolution
1920x1440p HD
1600x1200p
720p HD
1080p HD
1080p HD
Field of view
120°
160°
diagonal
180°
180°
horizontal,
90° vertical
160°
Night vision?
Built-in
floodlight for
full-color video
recording at
night
Yes
Yes
Yes
Yes
Other features
-HindSense captures videos before the alarm is triggered
– Adjustable motion detectors
– Facial recognition
– Custom motion zones
– Custom motion zones
– Adjustable motion detectors
– Custom motion zones
1. Resolution
All the video doorbells under consideration offer at least 1080p resolution, with the Ring Video Doorbell as the sole exception. Still, a 720p video isn't too bad, especially if you are recording nearby subjects anyway. If your budget is a bit tight, then the downgrade in video resolution of the Ring Video Doorbell really shouldn't be much of an issue.
2. Field of view
This time, it's Augusts turn to be the glaring exception. All the Nest and Ring video doorbells offer a field of view of at least 160°, which is just about enough for you to see who's at your door from head to toe. This might not be the case for the August Doorbell Cam Pro.
3. Night vision
While the Nest and Ring video doorbells all have built-in night vision using IR illumination, this feature is noticeably absent from the August Doorbell Cam Pro. Instead, August opts for a built-in floodlight that illuminates its immediate surroundings.
This departure allows the August doorbell to capture videos in full color even at night, but it also has its limitations. If anything happens outside the area being illuminated by the floodlights, or if the lights themselves become compromised, then the video recording capabilities of the August Doorbell Cam Pro is all but rendered useless.
4. Smart features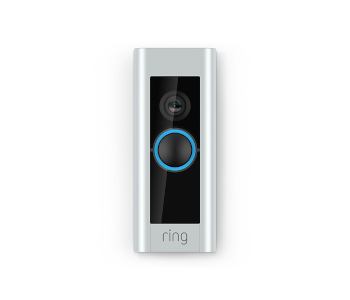 This is probably what best sets these video doorbells from each other. Each brand offers a different set of smart features that aim to improve the reliability of these doorbells while also enhancing their usability. Adjustable motion detectors are quite common across all three brands and help you filter out insignificant movements from triggering alarms.
Both Ring and Nest offer the ability to set custom motion zones within the camera's field of view. This allows you to set areas where you want your motion alarms to go off when they detect movement, such as in your front yard or on the steps leading up to your door. If you have a busy highway or if there's a lot of foot traffic in front of your house, this feature will reduce the unnecessary alarms and notifications that you will end up receiving. Curiously, this is another feature that the August Doorbell Cam Pro does not offer.
Instead, August has a feature that is quite unique to them. HindSense (or HindSight in older models) provides a few seconds of video recording just before an alarm is triggered. This is possible because the August doorbell implements continuous, and not event-based, video recording. Some people might consider this overkill, but some people might also appreciate the additional security that this provides. Your measures may vary.
Nest also has a unique feature – facial recognition. This feature is undoubtedly aided by the Google heritage of the Nest brand, allowing them to make use of Google's facial recognition technology that has undergone several years of research and development. With a Nest doorbell, you can actually know who's at your door even without looking at the camera feed.
Connectivity
All video doorbells connect to your home Wi-Fi network for cloud storage access and to send notifications when an alarm is triggered. The models do vary in terms of the frequency band that they can access. Depending on the brand of video doorbell you get, you can also link it up with other smart home devices for added convenience and home automation capabilities.
Product
August Doorbell
Cam Pro
Nest Hello
Doorbell
Ring Video
Doorbell
Ring Video
Doorbell 2
Ring Video
Doorbell Pro
Wi-Fi
2.4 GHz
2.4 GHz and
5.0 GHz
2.4 GHz
2.4 GHz
2.4 GHz and
5.0 GHz
Amazon Alexa?
Yes
Yes
Yes
Yes
Yes
Google Assistant?
Yes
Yes
Yes
Yes
Yes
Other devices
August Smart Lock
Google Smart Home devices
Other Ring products (indoor/outdoor cameras, sensors, home lighting, etc.)
Other Ring products (indoor/outdoor cameras, sensors, home lighting, etc.)
Other Ring products (indoor/outdoor cameras, sensors, home lighting, etc.)
Out of all video doorbells, only the Nest Hello and the Ring Video Doorbell Pro can access the 5.0 GHz frequency on top of the standard 2.4 GHz. This can be useful if you want to receive a low-latency real-time video feed from the doorbell's camera.
While all the doorbells can interface with the Alexa virtual assistant, it's worth noting that Ring is owned by Amazon. As such, the process of pairing the Ring products with Alexa is much more seamless. Following the same line of reasoning, the Nest Hello also works much more smoothly with the Google Assistant.
The Amazon and Google associations of Ring and Nest, respectively, also give them a leg up over August in terms of home automation. Ring has a whole ecosystem of smart home products, including indoor and outdoor security cameras, thermostats, and automatic home lighting, which can work with the Ring video doorbells. Nest also enjoys this benefit through the Google Smart Home line of products. With a Nest Hello, you'll be one step closer to the home of the future.
August may not be backed by tech giants, but they do have a history in manufacturing smart door locks. A combination of the August Smart Lock and the August Doorbell Cam Pro allows you to check who's at your door and to let them in – even without having to physically open the door yourself. This scope of automation may not be as wide as what Google or Ring can offer, but it is still pretty cool to be able to open a locked door even if you aren't home.
Power
Product
August Doorbell
Cam Pro
Nest Hello
Doorbell
Ring Video
Doorbell
Ring Video
Doorbell 2
Ring Video
Doorbell Pro
Power supply
Hardwired
Hardwired
Hardwired or
battery
Rechargeable,
removable
battery
(Optional
hardwired)
Hardwired
Out of all the video doorbell offerings, only the Ring Video Doorbell 2 features a rechargeable battery that can be removed from the unit. This makes it possible to install the Ring Doorbell 2 in places where it's not possible to provide a hardwired electrical supply, such as beside your pool or in your backyard. Since the battery is removable, you have the option of buying two batteries and swapping them out when needed.
The original Ring Video Doorbell offered the option for battery power, but the battery was not removable. This meant that charging the battery required you to remove the camera itself. Having to decommission your doorbell just to charge its battery kind of defeats the purpose of having an outdoor surveillance system.
The verdict
Best budget: Ring Video Doorbell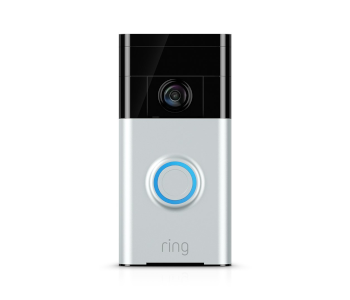 The original Video Doorbell from Ring may be a bit dated but still performs pretty well. Considering a price tag that is about half as cheap as most other video doorbells in the market, the Ring Video Doorbell offers excellent value.
The Ring Video Doorbell shows its age in terms of video resolution – it is easily the lowest between the five models we have reviewed here. However, it still has the same level of compatibility with all the other smart home devices within the Ring ecosystem. You can even set up Alexa to send you a notification or to launch the real-time video feed whenever someone shows up at your door. Best of all, you can sign up for the Ring Protect plan, which provides 60 days of video recording, for only as low as $3 per month.
If you're working with a tight budget, then we could think of no better video-capable doorbell system than the original Ring Video Doorbell. It's small, reliable, easy to use, and works well with a host of other smart home devices.
Best overall: Nest Hello Doorbell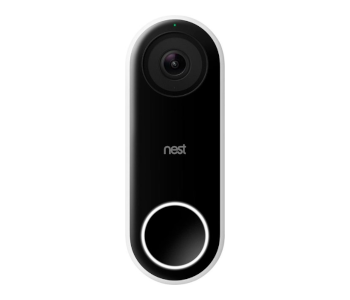 In terms of overall features, we'll have to give the title of the best video-capable doorbell to the Nest Hello. With the technology of Google behind Nest, it can offer features that no other home security system can: facial recognition and compatibility with other Google Smart Home devices. Its video resolution, field of view, and night vision specs are among the best in the field.
The Nest Hello is considered one of the smartest camera doorbells available today. With the capability to set custom motion zones and to adjust motion detector sensitivity, you can receive just the right amount of notifications without getting yourself overwhelmed.
The premium subscription plan for the Nest Aware may seem a bit expensive at around $27 per month, but Nest also offers a more basic subscription plan for only $4.50 per month. The basic plan, a relatively new offering from Nest, only retains five days of recorded video. The 5-day video history of the basic plan is more than enough for most people. Aside from the reduced video history, the basic plan still retains all other benefits of the other Nest Aware plans such as 24/7 continuous recording, intelligent alerts, and custom motion zones.