6 Best Robot Lawn Mowers of 2019
3D Insider is ad supported and earns money from clicks, commissions from sales, and other ways.
Having a lush, well-kept garden is a matter of personal pride but also a time-consuming chore. Wouldn't you rather spend time with your family or have fun with friends on the patio while someone else is doing the work? You could always hire a gardener… Better yet, you can now invest in a robot lawn mower that takes on the tedium of lawn care and makes your yard look professionally maintained all on its own!
Robot lawn mowers are programmable machines that automatically maintain your lawn on a schedule. They're exceptional time savers since you can set the schedule up once and be at peace for the entire season! They make sure that the grass is cut evenly, go to their charging stations when their batteries are low, and cost much less to run than their gas-guzzling counterparts. Some models even come with apps which let you do all the programming remotely!
Budget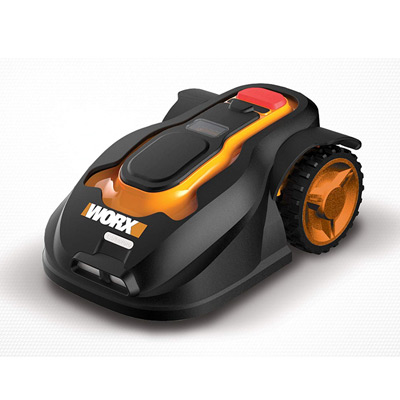 Worx WG794 Landroid
3.8/5.0
Weight: 20 lbs.
Area covered: 0.25 acres
Battery life: 60 minutes
Charging time: 90 minutes
Affordable yet packed with features, grass size adjustment knob is protected by latch.
Check Amazon
Best Value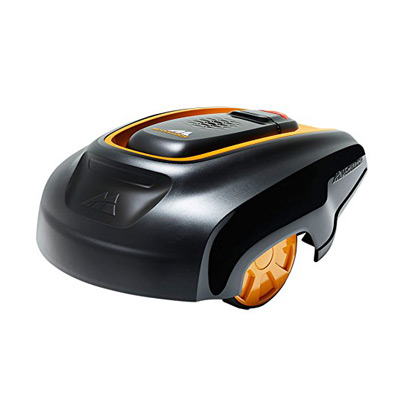 McCulloch ROB 1000
4.6/5.0
Weight: 15.4 lbs.
Area covered: 0.25 acres
Battery life: 60 minutes
Charging time: 50 minutes
Covers large area, quick battery recharging and lots of safety features.
Check Amazon
Top Pick
Husqvarna AUTOMOWER 315X
4.8/5.0
Weight: 39 lbs.
Area covered: 0.4 acres
Battery life: 70 minutes
Charging time: 60 minutes
Fast and quiet operation, services large area, comprehensive anti-theft measures.
Check Amazon
Here are the six best robot lawn mowers you can buy today. Each model has been reviewed impartially and is accompanied by detailed technical specs to make your choice easier. Our top picks differ by price, the area they cover, and additional features like AI assistant support or multiple zones. Whichever one you get, there's no doubt that the grass will become greener on your side of the fence!
6 Best Robot Lawn Mowers Comparison Table
View on Amazon
Editor's Rating: 4.8/5.0
Husqvarna is the world's leading manufacturer of lawn mowers, so it's no surprise that their Automower is the best there is. This versatile albeit expensive lawn mower is remarkable for its abundance of features, including detailed cutting options, smart weather sensors, and even support for Amazon Alexa! It's quiet and can work in rainy weather as well. The mower is also equipped with safety measures that make it hard to steal and useless to the thieves if they do succeed.
Overview of Features
The Automower 315X is one of Husqvarna's line of robotic lawn mowers. The models differ by their coverage, the 315X being able to cover 0.4 acres or five tennis court's worth. It does so in 70 minutes intervals and takes ten minutes less to become fully charged on it's docking station. Before you can use the mower, Husqvarna's technicians need to install the charger as well as guiding wires which define the 315X's perimeter. After that, a streamlined setup process is all it takes to make the mower self-sufficient.
You set the 315X up by defining its schedule and cutting length either on the mower itself or through its app. The idea is to cut only a few millimeters off frequently so that the grass stays even. This also means there are no bags to fill since the cuttings fall to the ground and turn into mulch, nourishing the field in the process. You can also turn on spot mode which concentrates on a smaller area and cuts in a spiral pattern until the grass is brought down to size. The 315X does all of this quietly, at just 58 decibels.
An expensive machine like this needs excellent theft protection, and Husqvarna delivers once more. The 315X is equipped with sensors that register when someone picks it up and moves it from the designated area. The mower then shuts itself off and starts beeping loudly while you get a notification on your phone along with the mower's GPS coordinates! Even if he gets away with it, the thief will find the 315X useless anyway since the anti-theft shutdown can be reverted only by entering a passcode into the 315X's keypad.
The Automower Connect app is nothing special, but it lays out control options and data in a way that's easy to understand. Through it, you can set the schedule up, activate spot mode, and set the cutting height. You can also check the area the mower has covered in its current run or tell it to go back and recharge. For ultimate convenience, you can control the mower with your voice using Alexa! She can start, stop, or pause the mower, tell you what it is currently doing, and set the 315X to work for a defined number of hours.
What We Didn't Like
The 315X is already an expensive machine, and it is disappointing that you have to pay extra for its installation. This model doesn't have a rain sensor. It can keep working the rain without issue but won't know when it is too wet to continue cutting. It's best to order it to return to the charging station manually to avoid muddying the yard and getting wet grass stuck to the blades.


Tech Specs
Dimensions: 24.8 x 20.1 x 9.8 in.
Weight: 39 lbs.
Area covered: 0.4 acres
Battery life: 70 minutes
Charging time: 60 minutes
Loudness: 58dB
Maximum slope angle: 22°
Rain Sensor: No
The Pros
Fast and quiet operation
Services large area
Comprehensive anti-theft measures
Supports Alexa
The Cons
Installation costs extra
Lacks rain sensor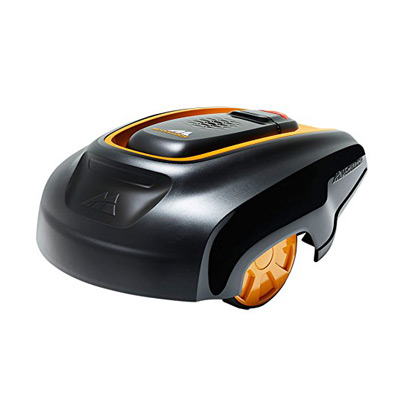 View on Amazon
Editor's Rating: 4.6/5.0
Rob 1000 delivers excellent bang for your buck as it covers an area twice as large as competitors in the same price range. The 1000 in its name stands for 1,000 m2, which equals to a quarter of an acre, making Rob ideal for most yard owners. It costs considerably less than Husqvarna's model, has an excellent battery that recharges in no time, and is safe to use around children or pets. If you don't care about the absence of an app, Rob is hands down the best robot lawn mower you can buy.
Overview of Features
Rob is a mower designed to cover a mid-sized area, so it is smaller and lighter than other models on review. Like them, it needs guiding wires that define the perimeter and lead it to the charging station. These aren't hard to install and can even be placed an inch under the ground. It has an excellent charging station which fills the battery up in just 50 minutes! The charge lasts ten more.
You control how Rob behaves with the numerical keypad and LCD screen. A PIN code needs to be entered before you can alter anything, and Rob is equipped with a blaring alarm to scare off thieves. Programming the mower involves choosing active hours and weekdays as well as the desired grass length. Once Rob has the information, it will perform its task quickly and quietly. The patterns it takes are random, and Rob won't always use the same way to get back to the charging station and leave tracks.
This is a mower with a lot of safety features. Rob's proximity sensors detect large objects and ensure that it won't run over your pets and children. Small objects won't be so lucky though, so make sure your kids put away their toys before it starts mowing. Lifting Rob up shuts it off as well and prevents injuries from its blades.
What's Bad About It?
You get barely enough guiding wire with Rob to cover its maximum area. That's fine if you need a simple rectangle, but erecting a perimeter around vegetable gardens, flower beds, etc. requires more wire which is hard to come by and can't be ordered separately. This is another model which doesn't have a rain sensor. Rain has no effect on Rob's performance, but you'll need to ensure it doesn't mow during heavy downpours.


Tech Specs
Dimensions: 23 x 16.7 x 10.1 in.
Weight: 15.4 lbs.
Area covered: 0.25 acres
Battery life: 60 minutes
Charging time: 50 minutes
Loudness: 59dB
Maximum slope angle: 14°
Rain Sensor: No
The Pros
Great value for the money
Covers large area
Quick battery recharging
Lots of safety features
The Cons
No rain sensor
Comes with limited length of guiding wire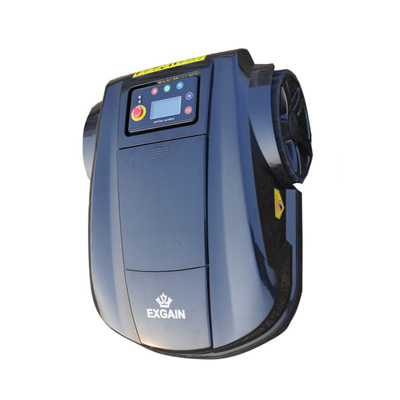 View on Amazon
Editor's Rating: 4.5/5.0
Robot lawn mowers aren't very good at handling steep inclines. They either perform poorly on hilly terrain altogether or need a small incline when turning. Kohstar's S520 has large back wheels which let it stand its grounds and tackle 30-degree slopes! This is one of the most versatile and cost-effective mowers on the market. It can cover a large area, has an exceptionally long battery life, and a slew of sensors that make it impossible to injure you or a loved one.
Overview of Features
The S520 takes the cake in terms of aesthetics. It looks like someone chopped off the front part of a car and set it to work on your grass. Graceful as it is, the S520 is also functional with an LCD display and grass height adjustment knob in the back which are easy to operate. The best thing about its design is the battery, however. It does take 3 hours to charge but lasts two or even 3 hours on flat terrain!
You can choose between two cutting patterns – random and spiral. Random never takes the same path twice while spiral covers the yard in ever-expanding circles until every blade of grass is between 1 and 2.5 inches high. Hilly terrain presents no problem to the S520 since it is heavy and has enough traction to keep holding on. Since going uphill could cause it to lose its bearing, the S520 has an electronic compass that acts as a course correction tool and makes sure the mower is going in a straight line.
This is one of the safest robot lawn mowers we've seen, and no expense has been spared to make it child and pet-proof. The S520 will start to back up if it bumps into something and stops working if lifted up, but also if someone touches it from behind or applies pressure on it. This means that curious pets or kids who were hoping for a joyride will be safe around the mower.
Sub-areas are another of the S520's useful features. These come in handy if you have a large yard or want to maintain areas of it more frequently. They work by setting up area points around which the S520 will cut. If no points are selected, the mower will cover the entire area you walled off with its guiding wire. If there are 2 or 3, it will cut around them according to the schedule you set for each area.
Are There Drawbacks?
Kohstar isn't an established brand in the US, so getting hold of replacement parts when something breaks might be an issue. This could become a concern since the mower has four thin blades that will need to be replaced after two cutting seasons.


Tech Specs
Dimensions: 23.8 x 18.3 x 11 in.
Weight: 42 lbs.
Area covered: 0.64 acres
Battery life: 120 – 180 minutes
Charging time: 180 minutes
Loudness: 60dB
Maximum slope angle: 30°
Rain Sensor: Yes
The Pros
Ideal for sloped yards
Safe around children and pets
Has sub-zone feature
Makes straight lines in random mode thanks to compass
The Cons
Replacement parts are hard to come by
Cutting blades are flimsy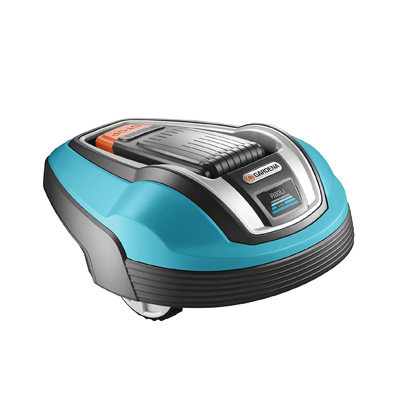 View on Amazon
Editor's Rating: 4.2/5.0
Do you like the idea of a robot mower taking care of your lawn but want to be able to control it manually too? The Robomow 622 lets you revisit your childhood days of playing with RC cars with a finely-cut lawn as a result! The mower also features an excellent rain sensor, an app that simplifies zoning & scheduling, and makes quick work of even the largest yards.
Overview of Features
The RS622 is Robomow's second most expensive model and able to cover half an acre of land in an afternoon. Its green outer shell is made out of robust and weather-resistant plastic, meaning it can work in the rain without issue. The built-in rain sensor won't react to a drizzle but will cause the RS622 to return to its station if the rain's intensity is high. A charge of its Li-ion battery lasts for an hour, and it takes an hour and a half to get back to mowing.
This mower runs on a schedule which might be confusing at first. Instead of specifying active hours, you need to put in the times the RS622 should remain inactive, so nights and a few days a week you don't want it to run. You put in the size of the area and height of the grass you want to cut as well as the frequency that ranges from twice weekly to once every two weeks. The RS622 then figures out how to space its work out during allowed hours to be as efficient as possible.
You can change its schedules, check the battery level, or start the mower up manually through a set of onboard controls and an LCD screen. This can also be done using the app. You'll need to be close to the mower when changing its settings or steering it through the app since its Bluetooth range is only five feet. Even so, the RS622 responds instantly to commands and is fun to control. The app is also used to set up zones. These are useful if your yard is segmented into smaller sections with footpaths or other breaks in continuity.
The anti-theft options aren't as varied as Husqvarna's, but they'll dissuade thieves from taking your mower. Picking the RS622 up shuts the motors off and removing it from the designated area triggers a loud alarm.
Are There Drawbacks?
You'll have to install the RS622's guiding wires and charging station manually, which may amount to an afternoon of exhausting work since it covers a large area. The 400W blade motors are prone to giving out after the second cutting season. You will get replacement parts if this happens while the RS622 is still under warranty. The cost is more than $100 per motor if it isn't.


Tech Specs
Dimensions: 28 x 12 x 25 in.
Weight: 44 lbs.
Area covered: 0.5 acres
Battery life: 60 minutes
Charging time: 90 minutes
Loudness: 66dB
Maximum slope angle: 20°
Rain Sensor: Yes
The Pros
Weather-resistant build
Good rain sensor
Can be controlled manually
Mows large lawns in little time
The Cons
Blade motors are prone to malfunction
Installation is labor intensive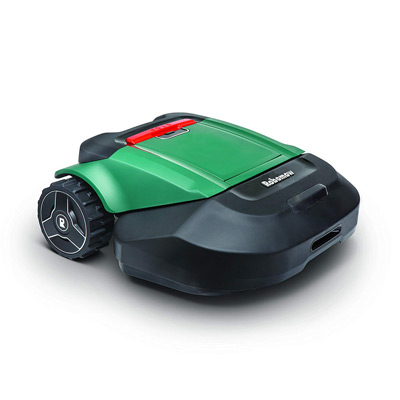 View on Amazon
Editor's Rating: 4.0/5.0
The R80Li is another robot lawn mower for use in mid-sized yards. At 58 decibels, it is one of the quietest models on the market and can be in use during any time of day without disturbing the neighbors. Setting the mower up is straightforward, as are its keypad controls. It's an overall solid model with a slew of security & anti-theft measures. The pros of getting the R80Li far outweigh any negatives, so get it if you're looking for a methodical and reliable model with excellent cutting results.
Overview of Features
The R80Li is almost as light as Rob and has a similar oval shape. The most significant outward difference is its prominent stop button. Pressing it will cause the R80Li to shut down, as will lifting the hood up if you need to check the motors or clean the blades. The mower has both lifting and tilting sensors so it will stop working if it encounters ground that's too steep. Its battery life and recharge times are both average at 60 and 70 minutes respectively.
You control all of the R80Li's actions via an adjustment knob and a keypad. The knob lets you determine the grass length and can be set between 1 and 2.5 inches. The passcode-protected keypad is where you set the mower's schedule and cutting frequency. It is backlit by strong blue light and visible even in direct sunlight.
The mower uses a set of three blades. These blades are fitted loosely to a rotor which ensures they'll cut grass with ease but not get damaged if they hit something harder. There's also a skid plate in place that prevents the blades from becoming cluttered. The R80Li uses a random pattern when cutting. This leaves your lawn looking healthy and even while also preventing tire marks from marring it.
Safety features include PIN activation, an alarm, and an array of sensors that tell when the mower is being tampered with. You can register the mower on Gardena's website, and they'll send you a replacement pin if you forget it.
What We Didn't Like
The R80Li does a fine job, but it takes a long time. A yard that's at its coverage limit takes a full 14 hours to complete. You'll need to factor this in when planning the mower's schedule, so it doesn't interfere with your family's outdoor activities. This mower doesn't have a rain sensor either.


Tech Specs
Dimensions: 22.8 x 18.1 x 10 in.
Weight: 16.5 lbs.
Area covered: 0.2 acres
Battery life: 60 minutes
Charging time: 70 minutes
Loudness: 58dB
Maximum slope angle: 14°
Rain Sensor: No
The Pros
Cuts grass uniformly without leaving tire tracks
Quiet operation
Easy to program and maintain
Has an assortment of safety features
The Cons
Blade motors are prone to malfunction
Installation is labor intensive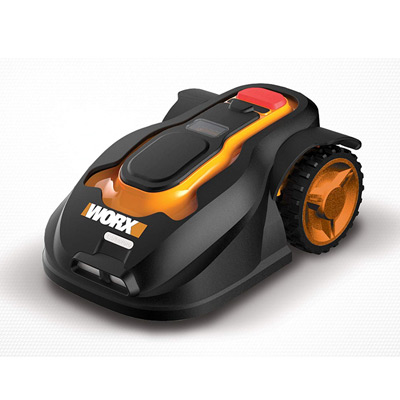 View on Amazon
Editor's Rating: 3.8/5.0
Our last robot mower comes from Worx and excels at maintaining small yards. The Landroid doesn't have an app or some of its pricier competitors' other fancy features, but its cutting precision is outstanding! This small yet powerful mower has an innovative rain sensor, can cut grass in four zones, and comes with a generous assortment of accessories. Best of all, it's cost less than $1,000, making it the obvious choice for frugal lawn lovers.
Overview of Features
The Landroid was developed to manicure lawns up to a quarter acre in size. A smaller coverage area means that its three-bladed motor doesn't need to be as powerful and the mower is lighter. It requires a standard guide wire setup and its charging station to work, and there needs to be room around the station so it can dock adequately. An hour and a half of charging gives it 60 minutes of working time.
This model has advanced rain sensor configuration options. Other mowers get back at it as soon as there's no more moisture in the sensor. This may lead them to go out into the rain and return again needlessly. You can set the Landroid to start working with a time delay. This will make it resume its work 3 hours after the sensor is dry or earlier, ensuring that cutting conditions are dry enough.
This is the second loudest mower we've tested, clocking in at 63dB. That's still quiet enough to use it whenever you want though. Grass length can be set between 2.5 and 4 inches and the knob used to adjust it is buried inside a hatch so children don't play with it. Other safety features include a big red stop button you can press in an emergency, proximity & lift sensors, as well as a passcode-protected keyboard.
Even though there's no app, the Landroid can be programmed in different ways. It has a fully automatic mode which takes your lawn's size into account and sets up a schedule accordingly. Of course, there's a manual scheduling option too. The mower supports four sub-zones with separate schedules.
Are There Drawbacks?
The Landroid's alarm is quiet. Its loudness is just 70dB which you may not hear from inside your house, especially during the day. This model has a low maximum slope angle and isn't suited for hilly terrain.


Tech Specs
Dimensions: 22 x 15 x 9.5in.
Weight: 20 lbs.
Area covered: 0.25 acres
Battery life: 60 minutes
Charging time: 90 minutes
Loudness: 63dB
Maximum slope angle: 7°
Rain Sensor: Yes
The Pros
Affordable yet packed with features
Rain sensor has time delay
Automatic and custom schedules
Grass size adjustment knob is protected by latch
The Cons
Quiet anti-theft alarm
Only usable on flat terrain