Roku Black Friday 2018 Deals
3D Insider is ad supported and earns money from clicks and other ways.
Roku has announced their Black Friday deals for 2018 where you can save up to 40% on their TV streaming sticks.
Roku is considered an underdog in a video streaming world dominated by Netflix, Amazon, Google, and Apple. Black Friday is a good time to look for a good deal if you're on the market for a video streaming device.
This year's Black Friday deals are the lowest Roku has ever had with their devices. These are the perfect gifts of endless entertainment that will please everyone on your shopping list.
Roku Ultra
Black Friday Price: $49 Retail Price: $89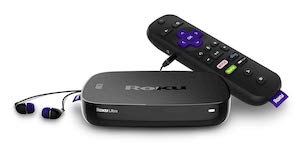 The Roku Ultra is the company's top-of-the-line video streaming media player. It features 4K and HDR compatibility making it one of the more powerful media device in the market. This allows for brighter and crisper images on TVs that support these features.
The Ultra uses physical USB, HDMI, and Ethernet ports for connectivity. The USB and Ethernet ports are the two biggest advantages over the more affordable Roku Streaming Stick. The wired network connection ensures that you watch your favorite movies and shows at the best streaming quality. The USB port allows you to play content from your own thumb drive giving you more entertainment choices.
The Ultra also comes with a remote fully loaded with features. The remote features dedicated buttons for HBO Now, Hulu, Netflix, and Sling TV so your favorite shows are literally at your fingertips. Roku has equipped it with motion sensors that allow you to turn it sideways and use it as a gamepad for games available on the Roku Channel Store.
One of the biggest features of the Ultra's remote is the headphone jack located on the left side of the remote. This enables you to listen to your favorite shows privately without disturbing those around you. Plug in a headphone and the Ultra will automatically mute the audio from the TV and redirects it to the remote straight to your ears.
The remote also comes with a microphone that enables you to do voice search. It currently only allows you to look up content and apps through Roku but it's there when you need it.
The Roku Ultra is a full-featured media hub and with the 50% discount that the company is offering for Black Friday, it is one of the best times to buy it.
Roku Streaming Stick
Black Friday Price: $29 Retail Price: $49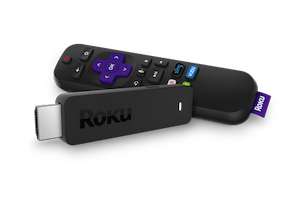 This deal is live right now on Walmart (see the link above).
The Roku Streaming Stick is mid-level video streaming dongle. One of the main features of this device is that you can carry it around with you as it's lightweight and very mobile. You simply need to plug it into an HDMI, find a power source, and that's it. You can plug it into a USB port for power and it also has a cord and comes with a power adapter if your TV has no USB port.
The main difference between the Streaming Stick and the Ultra is that the Streaming Stick only allows you to watch your favorite shows in 1080p. It's not as powerful as the Ultra, but should be enough for your streaming needs for its price point.
The Streaming Stick also comes with a remote. It's thin and sleek similar to the Ultra. It also has dedicated buttons for Netflix, Hulu, Sling TV, and DirecTV. The main difference between the remotes is that the Streaming Stick's remote does not have an audio jack for private listening. You can use the Roku smartphone app to mimic this feature.
Since it's a dongle, there are no physical ports for connectivity and relies on your home Wi-Fi for streaming.
The Roku Streaming Stick is priced at $29.99 for Black Friday. That means 40% savings when you get it for yourself or as a gift.