Best Roku Black Friday 2019 Deals on Streaming Sticks
3D Insider is ad supported and earns money from clicks, commissions from sales, and other ways.
More and more Americans are ditching cable in favor of streaming services like Hulu and Netflix. While you can enjoy these on a computer or tablet out of the box, you'll need a streaming device to do the same on a TV. Roku has started the craze ten years ago and is still one of the leading manufacturers of streaming set-top boxes and USB sticks. Get one of their devices for Black Friday and cut the cord once and for all.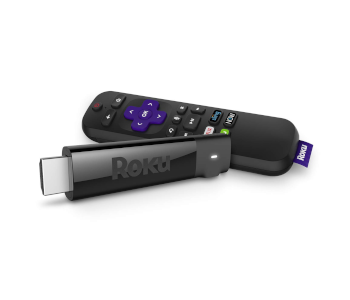 Roku Streaming Stick+
Original Price: $49.99
Black Friday Price: $29.99
If there's no space next to your TV or you don't find Roku Ultra appealing, there's still a way to enjoy 4K. Consider the Ultra's compact cousin, the Streaming Stick+. It's the size of an elongated USB drive, yet competently streams 4K HDR10 footage to your TV. It does so thanks to a unique antenna that's located in its power cable. While that does make replacements harder to come by, it reduces the Streaming Stick+'s footprint.
Roku's specialty is including the remote with all of its products. This version isn't as sophisticated as Ultra's, but it does have dedicated buttons for four popular streaming services. The remote is indispensable for quick channel surfing. It can even adjust the volume of multiple devices thanks to IR Blaster and HDMI CEC support.
The streaming experience is on par with Ultra's and powered by the Roku OS 8. Apart from lots of paid & free video streaming services, you get to enjoy audio through Spotify, Pandora, Deezer, and more. Roku has created its own channel, too, called Roku TV. It offers a rotating list of movies and TV series for free, letting you experience how most paid services behave without having to invest in one.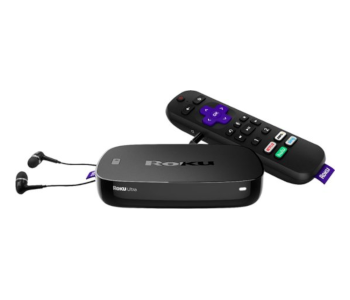 Roku Ultra Streaming Media Player
Original Price: $99
Black Friday Price: $48
Ultra is Roku's most sophisticated media player. It streams video in crisp 4k HDR10, and the player's 2019 version opens channels 17 percent more quickly than previous year's iteration. Roku is among the best streaming media players out there, and it's unquestionably the easiest to use thanks to a handy remote.
The package you get holds only the streaming device, its remote, and some batteries. Roku is a small box you set next to your TV and then connect to their internet wirelessly or via the newly-included Ethernet port. It has a MicroSD slot if you need to expand the channel memory and a USB port for playing digital media. Speaking of which, Roku supports a wide array of audio and video formats for your listening and viewing pleasure.
The remote has undergone significant changes. It now has two customizable buttons you can assign to different functions like a specific channel or a search you type in frequently. It also has a built-in chime that sounds if you press a button on the Roku itself. That comes in handy whenever you can't find the remote and is a life-saver for some of us. Finally, the remote has a headphone jack that allows you to listen to the TV without disturbing others. You even get a pair of JBL headphones as a bonus.
Roku has a sleek and well-organized interface. It gives you access to thousands of channels. That includes paid fan favorites like HBO, Hulu, and Netflix, but there's a lot of free content to explore as well. Boot-up is noticeably quicker, and Roku now has a voice assistant. It's not as smart as Alexa but will tell you the time and recognize voice searches. Roku isn't able to control your smart home, but it can become part of it if you have a compatible smart speaker.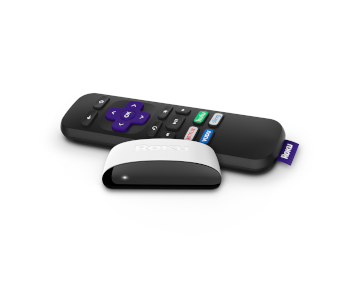 Roku SE Streaming Media Player
Lastly, there's the SE. It's one of Roku's older models and lacks many of the other two's fancier features. Still, it might turn out that the SE is exactly what you need. It's the perfect solution for TVs in your bedroom or guest room, and it's also great for older TVs that don't have HDMI.
The best thing about the SE is its backward compatibility. It has three RCA connectors for video & audio input that used to be standard for every TV. If you still haven't bought a new one or have aging relatives, Roku SE is a cheap yet substantial upgrade.
This model comes with a remote, but its functionality is limited. The button layout is the same as with the Stream stick+, but there are no voice commands. You can always use the Roku app if you need them. Roku SE streams content in 1080p in either 4:3 or 16:9. Its interface is intuitive and has access to the same services present on Roku's advanced models.