Roku Plus vs. Amazon Fire Stick
If you are in the market for a reliable, no-nonsense, 4k streaming stick that is reasonably priced, your choice will more than likely boil down to Roku Plus vs. Amazon Fire. Streaming sticks are an elegant and simple solution to streaming online content directly from your TV.
These streaming dongles can be used to upgrade an older TV, so you do not have to fork out big bucks for a new smart model. They can be just as useful on smart TVs as well, as you can stop using built-in streaming apps that can be slow or complicated to use.
Both the Amazon Fire and Roku Streaming sticks are small, brimming with features, intuitive and easy to use. They also both come with dedicated remotes and have options for HDR as well as ultra-high-definition (4K) content.
Both have their merits and drawbacks, and are similarly priced. This begs the question: which one should you get? We have conducted a head to head comparison of these two products to help you decide which one is best for you.
Editor's Rating: 4/5
Tech Specs
Product Dimensions: 5 x 1 x 0.6 inch
Item weight: 0.9lbs
Picture quality: 4K Ultra HD, HDR, HDR 10, Dolby Vision, HLG, HDR10+
Internet connectivity: Dual-band, dual-antenna Wi-Fi supports 2×2 MIMO 802.11a/b/g/n/ac
Supported Audio: Dolby ATMOS
Memory: 8GB internal storage, 1GB memory
The Pros
Great value for money
Large app selection
Has valuable features for Amazon Prime subscribers
Quick plug and play feature
You can side load apps
Works with Alexa and other Amazon products
Comes with HDMI extension cable
The Cons
Laggy search feature
Navigation feels choppy
Relatively bulky
Glossy remote attracts fingerprints
Requires Amazon account
No YouTube app
Tech Specs
Product Dimensions: 3.7 x 1 x 1 inches
Item weight: 0.6lbs
Picture quality: 1080p HD, 4K UHD, HDR10, HLG
Internet connectivity: 802.11ac dual-band MIMO
Supported Audio: DTS, Dolby Audio and ATMOS pass through over HDMI, Digital stereo over HDMI
Memory: 256MB internal storage, 512MB memory
The Pros
Ultra compact design
Simple menus
Optimized for Netflix
Full of big name apps preinstalled
Remote controls power and volume
Inexpensive
Unit and remote look sleek and modern
Reliable interface
The Cons
Voice search control not great
User interface feels a bit dated
First setup is complicated
You cannot side load apps
Intermittent connectivity issues
Tech specs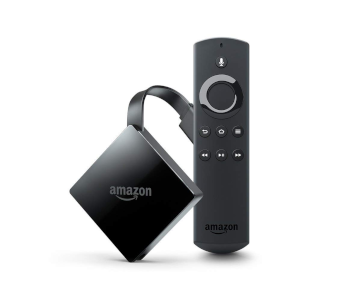 In our first category, let's take a look under the hood of our two competing streaming sticks. The Roku Plus Streaming stick and Amazon Fire TV Stick seem to be quite similar at first glance, but the technical specifications tell a different story.
Both models use a HDMI connector to plug into your TV, are powered via a micro USB cable, and support the latest Wi-Fi standard. That's about all they have in common, so let's dive into where they differ.
Memory may or may not be a key factor in your decision, depending on weather you need to download a lot of content or plan to use your stick just for streaming. The Fire Stick has a lot more memory than the Roku Plus: 8GB of internal storage and 1GB of memory, compared to Roku's 256MB of internal storage and 512MB of memory.
The two models are pretty evenly matched when it comes to processor speed and performance. Startup times are similar, as is the general speed and interface fluidity. That being said, several customer reviews mentioned intermittent connectivity failures with the Roku stick.
Amazon wins this round because the significantly larger memory is useful even if you don't think you will need it, as your streaming and downloading needs and habits might change over time.
Content
For streaming video, both models are equally matched in the content they provide. However, the Fire stick has better games and can be integrated with Alexa and other Amazon products, so this gives it a definite edge over the Roku Plus. In addition, the Fire stick enables side loading apps, so you can download almost any app you want.
The Fire Stick, as an Amazon product, understandably gives priority to Amazon products. Roku is the complete opposite: as it doesn't focus on any one content provider, there are over 5000 channels to choose from. The Roku is therefore better suited to users looking for both mainstream and niche broadcasting.
If you will be playing a lot of games on your TV, the Fire Stick is a bit more versatile and can use a ton of Alexa skills, as Alexa voice commands are built right into the remote. The games on both sticks are a far cry from console or PC games, but can be perfect for kids or the casual gamer.
Something most people will notice is the lack of a YouTube app on the Amazon Fire Stick. Due to a heated conflict between Google and Apple, Google has pulled official support for YouTube from Amazon devices. There is a workaround for this; you can access YouTube from a browser, or through an external downloader. The Roku fully supports YouTube, and even has a YouTube button on the controller, which is quite convenient.
A great feature on both models is the private listening mode. With this enabled, your TV will be muted while you listen to the content via your phone, ideal when you want to enjoy your content without disturbing anyone around you.
Search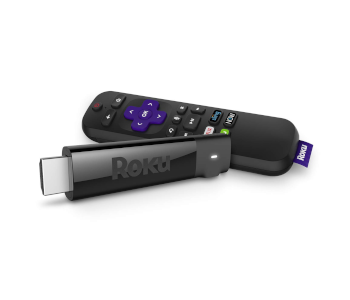 Finding what content to watch or which game to play is the first step in any streaming experience. A complicated search system can put a damper on your viewing experience, and remote controls are not known for their ease of searching. It usually consists of repetitively pounding arrow keys to find letters on an onscreen keyboard.
These streaming sticks put an end to that agony, with voice search features. There is also an option to use a mobile app, which lets you type your search criteria on your smartphone, just like you would a text message. The Fire Stick lets you give advanced commands to Alexa, such as "fast forward fifteen minutes".
That being said, the Fire Stick forces you to use voice search, with no text option available. This can be an inconvenience for some users, especially non English speakers. Roku provides a more in depth search, while Amazons searches seem to be vague and not as detailed or targeted.
User Interface
When it comes to user interface, beauty is in the eye of the beholder, and tastes do vary. It all boils down to if you prefer a more techy or organic approach to software design. Both interfaces have the distinct Netflix-esque feel, with large icons and simplified navigation. That being said, the Fire Stick's interface is a bit more cumbersome to navigate and can feel more clunky than the Roku Stick.
The Fire Stick interface is noticably more "grown up" than Roku's fun and colorful approach. This might make the Roku more inviting and appealing for a younger or less tech-savvy crowd. Media geeks will probably enjoy the Fire Stick's plain interface, but it does come off as a bit cold and clinical, and this can put a damper on overall user experience and feel.
Ease of installation
Both models plug into your TV's HDMI port. The sticks can additionally be hooked up to an outlet via a micro USB charger. This option cuts down on loading time, as you do not have to wait for your TV to power up your streaming stick. It is important to note that some older TVs might not have the necessary power to operate the streaming stick on their own.
When it comes to installing the software on your TV, the Fire Stick is easier and quicker to set up, provided you already have an Amazon account. If you do not, the best thing to do is set on up from your computer or laptop to avoid doing it via remote and onscreen keyboard.
Once you are logged in with your Amazon account, the Fire Stick is truly plug and play, you have everything you need from the get go.
The Roku stick takes a while longer to configure and set up when you first plug it in. That being said, all of the instructions are straightforward and easy to follow, it just takes more time.
Setup is something you usually do just once, so it should not sway your decision one way or another. One exeption to this is if you plan to travel with it, and use it in hotels, for example. If you want to use your stick on multiple TV's, the Fire Stick is the better choice due to the quick setup.
The Remote
Although you can control both devices via an app on your mobile phone, nothing can quite get the job done like a remote. A remote cannot be interrupted by an incoming call, for example, and the battery lasts significantly longer.
Both Amazon and Roku have produced sleek and practical remotes for their TV stick devices, but they do differ in both form and function. The design of the respective remote controllers does mirror the interface aesthetics of each model; playful for Roku and no-frills for the Fire Stick.
Roku provides a remote that is ergonomically rounded, and generally fun looking with a quirky black and purple color scheme. There is a power button on top, channel specific buttons at the bottom (Netflix, Amazon, rdio and sling), navigation controls in the middle and convenient volume controls at the side. The remote also has Roku's signature "Remote" tag on the bottom edge, which will make it stand out from any other remotes you have. All in all, it is looks friendly and extremely easy to use.
Amazon's remote is the complete opposite. The corners are barely rounded, and it has a very modern, sleek, and industrial feel to it. There are no designated buttons on it, which gives it an uncluttered look but can be unpractical for the average user. There is a prominent power and microphone button on top, a circular navigation ring with an ok button in the middle, and navigation and volume buttons at the bottom. The shiny surfaces do attract fingerprints, which can be a downside for the more fussy user.
The Fire Stick's remote is definitely less quirky and possibly less inviting than Roku's one. That being said, it is the better choice if you already have Alexa enabled accessories. The built in microphone can interact with Amazons smart assistant, so you can communicate with Alexa directly from your Fire Stick Remote.
The Stick Design
The Roku stick is quite a bit more compact than Amazon's Fire Stick, which gives it a marginal advantage when it comes to mobility, i.e. it is easier to stick in your pocket and carry around from place to place. The smaller size can also be an advantage in as much as it takes up a lot less of the valuable real-estate on the back of your TV.
The Fire Stick is wide enough to block an adjacent HDMI port if they are close together, which they are on most TVs. This fact is not lost on Amazon, so they provide a HDMI extension cable with their Fire Stick. Although this is a valid and functional workaround, it can be a source of irritation for the more pedantic tech connoisseur.
The Verdict
So, which stick is better? It is an extremely close call, and ultimately depends on what tech you already own and use. If you have Amazon products around your home, integration with Alexa is definitely the Fire Stick's biggest selling point. For the more tech-inclined Amazon fan out there, the Fire Stick is definitely the right choice.
Roku's simpler, more user friendly remote and interface makes it perfect for less technically inclined people, including kids and a more mature demographic. All in all, there is no true winner here. If Alexa is already an important part of your media experience, go with the Fire Stick. If not, either model get you where you need to go.