6 Best Roomba Alternatives for a Spotless Home
3D Insider is ad supported and earns money from clicks, commissions from sales, and other ways.
When asked to name a few robot vacuum brands, most people will start off with the Roomba and then draw a blank. This isn't surprising since the original Roomba was the first commercially successful robovac, and iRobot continually improves upon it with each new line. Dirt detection, navigation, and connectivity have only been getting better, so choosing a current Roomba model over others is still a smart thing to do.
iRobot may have had a monopoly on robot vacuums in the past, but today's landscape is starkly different. Established vacuum manufacturers like Bissel, Samsung, and Shark have introduced their own models, blending the latest tech with long-lasting traditions of cleaning excellence. New companies like Neato Robotics have emerged too and are putting out smarter, better integrated models at a brisk pace.
So, which robot vacuum to choose if Roomba doesn't quite fit your style or budget? We've narrowed your choices down to six models that give iRobot a run for its money. Whether you want a model that can do everything a Roomba 980 / 960 can but arguably better, or one that cleans as thoroughly as the 650 at a lower price, you will find a worthwhile alternative among our top picks.
Budget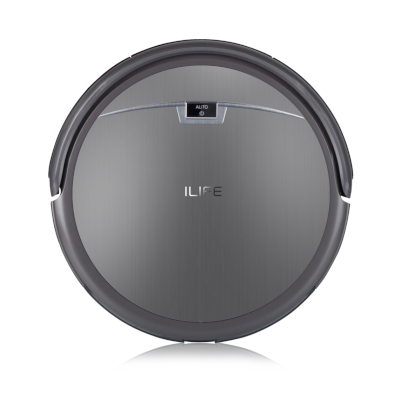 ILIFE A4s
4.5/5.0
Bin capacity (gallons): 0.12
Virtual wall: No
Excellent value for the money.
Check Walmart
Best Value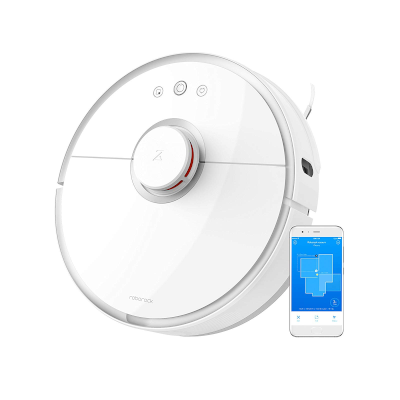 Roborock Mi S501
4.6/5.0
Bin capacity (gallons): 0.13
Virtual wall: Yes
Cleans different surfaces well.
Check Amazon
Top Pick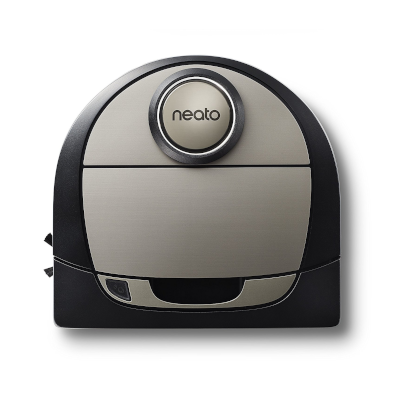 Neato Robotics Botvac D7
4.8/5.0
Bin capacity (gallons): 0.19
Virtual wall: Yes
Excellent cleaning capabilities.
Check Amazon
Comparison Table of The Top 6 Roomba Alternatives for a Spotless Home
#1 Best Overall – Neato Robotics Botvac D7 Connected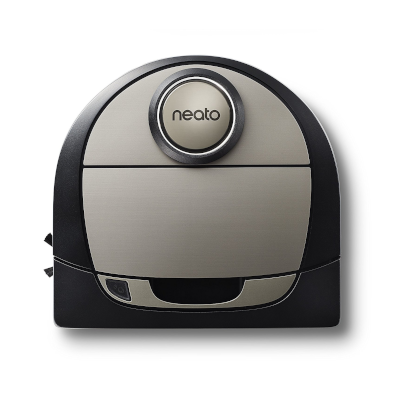 View on Amazon
Editor's Rating: 4.8/5.0
Neato Robotics must have really been studying the most successful Roomba models in detail. The company has managed to include and improve upon almost everything iRobot offers and cram it into the D7 Connected. Everything from suction power and room mapping technology to seamless smart home integration and intuitive app design in one powerful, if expensive unit? We'd say that the king of robovacs has a real reason to be worried.
A Worthy Adversary
Most robovacs are round, and a bit stale in design at this point. The D7 mixes things up both aesthetically and functionally with its titular D shape and prominent sensor tower. On one hand, the straight lines in its back allow the D7 to rub up close against walls and clean corners much more thoroughly than rounded competitors. On the other, the sensor tower makes this one of the tallest robovacs we've reviewed and may pose a problem when cleaning under lower-set furniture.
Apart from a better reach, the D7 has bigger tools to deal with all the grime your house can throw at it. Neato Robotics claims that their brushes are up to 70 percent larger than others' and we're inclined to believe them. The side brush tears through anything from hair to flour and scoops it towards the central rollers. These propel the dirt up towards the vacuum. There's no difference in its thoroughness regardless of the surface –carpets with high piles, tiled floors, and any surfaces that fall in-between the two are rendered spotless.
The D7's towering sensor array serves to map out the surroundings and avoid bumping into furniture. The mapping process results in an accurate floor plan of you house that's displayed on the D7's app. You don't get a virtual wall with this model, other than magnetic tape for specific smaller portions of a room. What you do get is the ability to cordon off any area of the map from within the app by designating it as a no-go zone. Super practical!
All high-end robovacs support smart home integration, but the D7 goes a step further by introducing IFTTT into the mix. Options this gives you like starting the vacuum up when your smart lock has been armed or shutting it off if someone's at the door really make using the D7 more enjoyable. The app allows you to control the unit manually, track cleaning history, and set up schedules. It's also one of the better-designed and more straightforward support apps we've seen.
What Should Be Improved?
Even though we're certain that it's worth every penny, the D7 is one of the most expensive robovacs out there along with the Roomba 980 and Dyson's Eye. It's also one of the loudest models, which isn't surprising considering the motor's power.

Tech Specs
Dimensions: 13.2 x 13.2 x 4 in.
Weight: 7.7 lb.
Bin capacity: 0.19 gallons
Virtual wall: Yes (from within the app)
Remote control: Yes, within app
App: Yes
Integrates with: Amazon Alexa, Google Assistant, IFTTT
The Pros
Superior room mapping and sensors
Excellent cleaning capabilities
Virtual no-go zones
Supports many home automation options
The Cons
Higher and louder than most other models
Expensive
#2 Best Value – Roborock Mi S501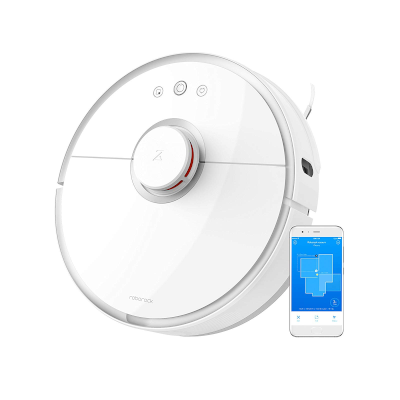 View on Amazon
Editor's Rating: 4.6/5.0
Xiaomi's first robovac was a great mid-range model, but issues like poor surface transition and lackluster support outside of China made it unappealing to the world in general. Some serious R&D and a rebrand later most of the kinks are gone, and we're happy to say that the Mi S501 now offers considerably more value. Mop integration, a smart approach to cleaning, and reasonable pricing Xiaomi is known for make picking it over some of iRobot's offerings a sound idea.
Clean Your Home the Mi Way
It's hard to tell this and the original Mi robovac apart as the simple white design remains the same. There are noteworthy changes under the hood however – room has been made for a water compartment and mop, and the motor's power has been increased. Mobility is better too as the Mi can now climb onto carpets up to an inch thick, and has a much easier time getting around the house thanks to better sensors.
Lesser quality robot vacuums clean along set diagonal or zigzag patterns. The Mi uses 12 sensors to establish a virtual grid of your home, and then cleans each sector by going back & forth over it in a straight line. This allows it to first pick dust and hair up with its powerful brushes, and then turn on the mop for a thorough cleaning. It also has carpet detection that gives the motor a boost on carpeted surfaces. You can manually set the vacuum strength from the economical "quiet" mode all the way to the loudest and most potent "max".
Although you don't need the Mi Home app to fully use the vacuum, it has some interesting features and statistics. Through it you can browse past cleaning logs, view how the Mi has mapped your home, and even set up a beacon that the vacuum will move to for a finer degree of control. Xiaomi claims that the battery lasts a whopping 150 minutes. Testing clocks it closer to two hours, which is still a lot and enough for several cleanings.
What We Didn't Like
The Mi maintains a 0.3-inch distance from obstacles and walls so they don't get damaged. This means that some areas of your home might not receive a proper cleaning, corners in particular. The app has been prone to connection issues ever since Xiaomi set up a US-based server. While this may be a temporary problem, it's currently a very annoying one.

Tech Specs
Dimensions: 13.7 x 13.7 x 3.8 in.
Weight: 7.7 lb.
Bin capacity: 0.13 gallons
Virtual wall: Yes
Remote control: Yes, within app
App: Yes
Integrates with: Amazon Alexa
The Pros
Has built-in mop
Thoroughly cleans different surfaces
Excellent collision detection
Intuitive and useful app
The Cons
Can miss spots in corners and along walls
App has connection issues
#3 SharkNinja Shark Ion 750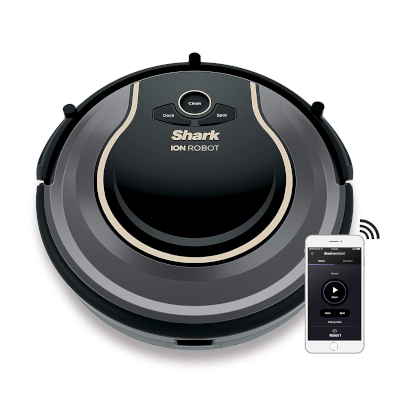 View on Amazon
Editor's Rating: 4.5/5.0
Shark may be a latecomer to the robovac market, but its considerable experience in producing reliable vacuums of the normal kind has helped start things off right. The Ion 750 is a fine first entry, boasting solid cleaning capabilities, great smart home integration, and an app that's jam-packed with info. It has its quirks, but the Ion 750 also shows how bright the future of robot vacuums is sure to be.
A Promising Start
The Ion doesn't depart from the now standard robovac look, but it does give it a touch of elegance. The black-gray exterior and brass trim give it class most other models lack. It's also a bit smaller in diameter and a whole lot shorter than Roomba models, effortlessly gliding under furniture the competition can't get under to clean. The tradeoff is an easily-removable, yet very small dust container you'll more likely than not have to empty out during most cleaning sessions.
In true Shark fashion, the Ion's motor is a real powerhouse! The vacuum does a great job of picking up larger debris like bread crumbs or snack bits, gobbling them up with relish on both hard and carpeted surfaces. It's not as effective at sucking up fine dust or flour, but a couple of passes over the same area should remedy that.
Obstacle detection is superb – it recognizes toys, slippers, and even discarded clothes immediately and avoids them. Expect it to run for an hour when full, and to return to the charger before running out of juice. Cleanup is also very quiet, so remaining in the same room while it's doing its thing is totally viable.
Voice commands through Alexa work like a charm! You can tell the assistant to start / pause cleaning, check the status, or return the Ion to the dock with minimal delay. The Shark app has standard features like scheduling and battery life. History is its most advanced feature though. In this tab you can look up detailed daily reports of the Ion's activity over the last month. They show how many times it cleaned and had to recharge, whether it encountered any problems, and list the commands you gave it.
What's Bad About It?
The Ion's biggest flaw is lack of consistency. It will pick up the remains of your sandwich in an instant, but struggle to remove more than half the pet hair on linoleum flooring. There's also this weird tendency to focus on one patch of ground without moving on. You'll occasionally have to check up on the Ion and relocate it for this to stop.

Tech Specs
Dimensions: 12.6 x 12.6 x 2.6 in.
Weight: 7.7 lb.
Bin capacity: 0.1 gallon
Virtual wall: Yes
Remote control: No
App: Yes
Integrates with: Amazon Alexa
The Pros
Gets under most sofas and beds
Great for cleaning larger debris and crumbs
Excellent collision detection
Works well with Alexa
Detailed history reports
The Cons
Small capacity
Has trouble with hair and fine particles
May clean same spot over and over again
#4 bObsweep bObi Pet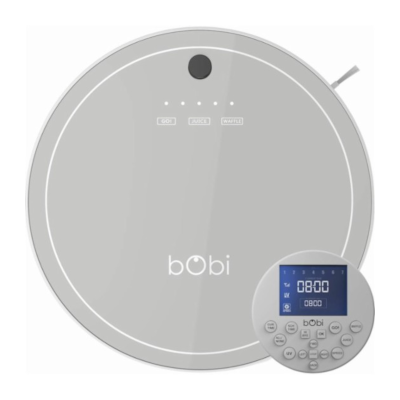 View on Amazon
Editor's Rating: 4.3/5.0
Pet-related cleanup can present a challenge to even the most sophisticated robovacs. While there are a good many models that will do away with hair and dander, few can disinfect the floor that's come into contact with these and other forms of pet waste. The bObi pet is an inexpensive vacuum that tackles this problem with an array of different cleaning methods including a UV light, leaving behind only clean & sterile floors.
Pet Cleanup Made Easy
The bObi Pet is a silver disc that zooms around your home collecting pet hair and other garbage into its spacious 0.2-gallon dirt container. It has a simple interface consisting of three weirdly-named buttons. "Go" gets the ball rolling and is self-explanatory, while "Juice" and "Waffle" may confuse you at first. The former directs the bObi Pet back to its charging station. The latter is a replacement for other models' spot cleaning buttons, and named waffle because the unit will concentrate on one spot in a waffle-like pattern when pressed.
The accompanying virtual wall is among the bigger ones we've encountered and can cordon a 6-foot wide area off while the robovac is in use. You also get a remote control with a directional pad that responds nicely to commands. Scheduling a cleaning routine is done via the remote too. One charge can get you 90 minutes' worth of cleaning at a reasonably quiet 65 decibels.
Pet hair is dealt with swiftly, as are large particles like cereal. There's a dry mop attachment as well for even better coverage on hardwood and other solid floors. Along with cleaning, the bObi Pet can direct a UV light down onto the floor to get rid of a wide variety of bacteria and other harmful microorganisms.
Are There Drawbacks?
The bObi Pet could really benefit from a better sensor array. It has a hard time getting around obstacles and will bump into chairs, tables, etc. frequently. There's also a lack of force behind its vacuum – ingrained dirt won't always get sucked up after just one pass.

Tech Specs
Dimensions: 12.6 x 12.6 x 3.4 in.
Weight: 9.9 lb.
Bin capacity: 0.23 gallons
Virtual wall: Yes
Remote control: Yes
App: No
Integrates with: N/A
The Pros
Good at picking up pet hair
Has UV light
Responsive remote
Good virtual wall
The Cons
Collision detection issues
Not powerful enough of handle the toughest jobs
#5 Eufy Robovac 11S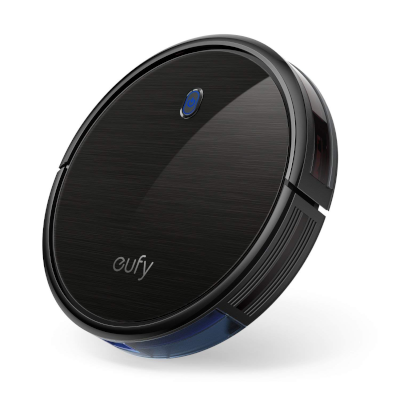 View on Amazon
Editor's Rating: 4.2/5.0
Price continues to be the greatest barrier to more widespread robovac acceptance. Most people wonder why they should spend up to 7-8 times as much on one as they did on a regular vacuum, and they do have a valid point. Eufy's Robovac 11S seeks to bridge the price gap while providing the core advantages more expensive models have over classic vacuum cleaners. It may not be feature-rich, but the Robovac 11S can give almost anyone the taste of a true futuristic home.
Stylishly Simple
Every once in a while a robovac model manages to pleasantly surprise us with its design. This time it was due to chic minimalism. There's nothing on the 11S's glossy black body other than the logo and a giant power switch. It's a robovac you'd love to show your friends, and its relatively quiet operation won't even make discussing how cool it looks difficult.
Coolness would be nothing without capability though. On that front, the 11S is solid for its entry-level price. Suction strength is good overall and can be enhanced by Eufy's BoostIQ technology. Whenever the 11S encounters a carpet, it will engage BoostIQ to give it a thorough cleaning. Tests show the 11S has little trouble dealing with dust buildup and food bits, even on mid-to high-piled carpets.
It's incredibly easy to use the 11S – just press the power button and watch it start cleaning around you! If you're more of the hands-on type, the remote offers plenty of ways to get involved. Manual control is the most direct method, and it can be augmented by turning on spot cleaning, or edge cleaning mode for better results along walls.
What Should Be Improved?
The remote adds scheduling options, but these can't be set so that the 11S cleans during different times on different days. Generally its navigation is fine, but there is a tendency to get stuck between furniture or wedged under beds. You'll want to keep an eye out on the 11S, and step in if necessary.

Tech Specs
Dimensions: 13 x 13 x 3.1 in.
Weight: 6.6 lb.
Bin capacity: 0.16 gallons
Virtual wall: No
Remote control: Yes
App: No
Integrates with: N/A
The Pros
Inexpensive
Performs well on different surfaces
Looks nice
BoostIQ feature
The Cons
Limited scheduling options
Gets stuck a lot
#6 Best Budget Option – ILIFE A4s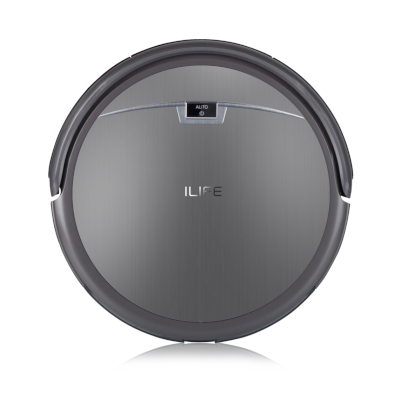 View on Amazon
Editor's Rating: 4.5/5.0
Are smart home integration and advanced app features really all that important? As long as the robovac picks up dirt like it's supposed to, we trust that for many the answer is no. ILIFE's A4s is a budget-oriented model whose designers definitely did not skimp out on performance! It keeps the house tidy, runs forever, and is smart enough to avoid most obstacles. Best of all, with its sub-$200 price tag the A4s practically a steal!
The Budget-Friendly Robovac
For a model that won't clean your account out, the A4s is surprisingly robust and capable. With a diameter of 12.2 inches and weighing just south of 5 pounds, it can be easily moved around if you've got a two-story home or want to periodically clean your offices. It packs a large dustbin for its size too and will likely be able to complete a full sweep before needing to be emptied.
You'd think that such a small robovac would have trouble with floor transitions, but even raised thresholds don't require you to give it a hand. Suction strength on carpets is adequate – dust bunnies get sucked up as easily as stray fruit loops, albeit in a random pattern. The battery lasts for a whole two hours, outshining much more expensive competitors.
The A4s comes with one of the better remote controls on the market. Apart from manually steering the vacuum, it allows you to set the time and cleaning schedule. The unit's behavior can be changed with a button press too. There's a "max" button that kicks the motor into overdrive when you're faced with particularly stubborn patches, as well as buttons that enable spot or edge cleaning, and toggle from freeform to small rooms mode.
What We Didn't Like
The A4s will sometimes forget that its battery is low and won't have enough time to make it to the charging station. Only infrared sensors are used for cliff detection, so this robovac might have problems identifying and going over dark floors.

Tech Specs
Dimensions: 12.2 x 12.2 x 3 in.
Weight: 4.9 lb.
Bin capacity: 0.12 gallons
Virtual wall: No
Remote control: Yes
App: No
Integrates with: N/A
The Pros
Excellent value for the money
Comparatively large dustbin
Good surface transition
Versatile remote control
Long-lasting battery
The Cons
May not always make it to the charging station
Has trouble with dark floors