3 Best Drones for RTK Mapping Surveys
3D Insider is ad supported and earns money from clicks and other ways.
Drone mapping is considered one of the up-and-coming markets for drone technology, especially as industrial firms and real estate companies start to recognize the cost, speed, and benefits of using drones. The thing about drone mapping is that not just every drone pilot can do it. Even when using a basic photogrammetry technique, drone mapping has a high technical barrier to entry.
Even within drone mapping, there are several tiers of technical expertise. Doing LiDAR surveys requires more specialized knowledge compare to photogrammetry. The same can also be said for RTK or PPK-based surveys, which are much more technical and require more equipment than a GPS survey. In this article, we take a detailed look at RTK technology. What is it, and what are its benefits? What drones available today can do RTK surveys?
A background on drone mapping without RTK
Just about any drone equipped with a GPS module and a camera (or other sensors) can be used for drone mapping. The idea behind it is simple. An onboard GPS module receives signals from GPS satellite on the Earth's orbit. Using a triangulation process, the location of the drone can then be accurately determined using a standard geodetic reference system.
In the case of photogrammetry, the GPS location of the drone allows each photo the camera takes to be "geotagged." This means that each photo becomes associated with a geographical area based on the drone's GPS location. It doesn't stop there, though. By using the data derived from the drone's inertial measurement unit (IMU) and gimbal, the mapping software can determine how the tilt of the drone and the camera angle affects the location of every single pixel in each photo.
The thing about GPS technology is that it's far from perfect. Any signal dropouts or drifting of the drone due to the wind can cause errors in GPS location reading, which could get as high as 5 to 10 meters. Mapping professionals reduce this error within the range of 1 to 3 meters by establishing ground control points (GCPs), pre-determined points on the ground, which will be captured in the aerial photos for the map.
The locations of these GCPs in the same geodetic reference system are determined using much more accurate methods. Using this information, GCPs act as "anchor" points in the aerial map, or references by which all points in the map are measured from to reduce the overall error. In common survey practice, a minimum of four GCPs needs to be established – one for each of the four corners of the survey area.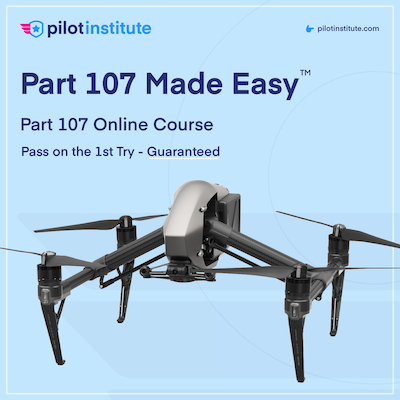 While GCPs are a great aid in improving survey accuracy, they also take a lot of time and effort, and subject field personnel to unnecessary hazards. Creating GCPs involves physically accessing the areas in which they are to be sited, which may not be practical or even realistic across all settings. Thus, while traditional mapping methods using GCPs have been reliable, they are also limited.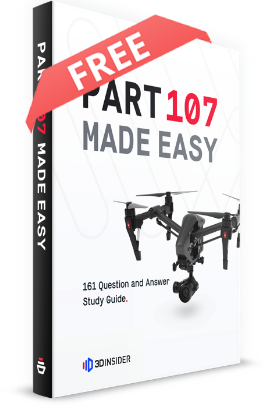 PART 107 Made Easy
161 Question and Answer Study Guide
105 pages of illustrated content
Covers all parts of the Part 107 test
$97 of value for free
What is RTK?
Real-Time Kinematic (RTK) technology improves GPS accuracy by using a method of differential measurements. An RTK system consists of a module mounted on the drone and a base or ground station located somewhere within the survey area. You can think of the ground station as a single, continuously operating GCP. Each GPS measurement made by the drone is measured against its distance from the ground station. Should there be a discrepancy, real-time error correction is made.
What are the benefits of using RTK?
1. Better survey accessory
The single most significant benefit of using RTK in drone surveys is the increased accuracy. Most RTK technologies boast of being able to achieve centimeter-level accuracy. Repeated trials have confirmed this claim, with most RTK-enabled surveys able to attain errors only in the 2 to 3-centimeter range.
2. Helps in marketing
For many industrial clients, the massive accuracy boost of RTK technology is considered priceless. Massive construction plans or real estate contracts can be heavily affected by a few meters error in measurement. Drone mapping professionals who have RTK technology also gain a massive marketing boost. As you can probably tell by now, RTK equipment is quite expensive, so not many companies who offer aerial mapping have them. This technological advantage can easily make a company stand out from the rest of the competition.
Does RTK have any limitations?
1. Not always reliable
The RTK workflow requires the onboard RTK module and the ground station to be in constant communication with each other. Unfortunately, this isn't always possible. Some survey areas have skyscrapers, apartment complexes, trees, hills, and cliffs. These large obstacles tend to get in the way of signal reception. When the communications between the two objects get severed, the RTK module will either take standalone location measurements or create RTK-float data. Either way, not having a reliable connection invalidates the accuracy of RTK.
2. Cost
It's safe to say that getting a high-quality RTK setup will cost you much more than a typical camera drone. A complete RTK package, including a drone with a mounted RTK module and a ground station, will cost at least $6500. There are also high-end options that can cost up to $14,000. Considering that you can get a good camera drone for less than $2000, upgrading your survey capabilities to RTK technology will require some serious cash. Not only is there a technical barrier for entry to RTK-based surveys, but it's apparent that it's also financially challenging.
What drones are capable of RTK-based mapping surveys?
Another issue you may encounter if you're looking to break into the RTK-based aerial survey market is that there aren't many turn-key RTK drones available right now. As we've said, the market is very specialized, so big name drone manufacturers aren't exactly eager to introduce a product for this particular segment. Depending on your budget and your technical expertise, there are a couple of options for you to choose from so you can make that upgrade to RTK.
1. Upgrade your existing DJI drones with RTK/PPK capabilities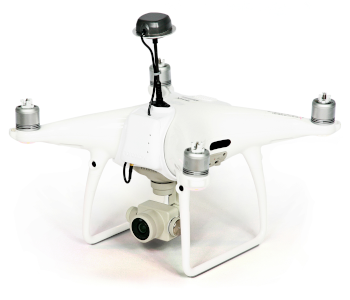 Topodrone offers a service which allows you to upgrade your existing drones with RTK technology. This is possibly one of the cheapest ways for you to augment your drone capabilities for more accurate mapping surveys. The best thing about this service is that it is offered across a variety of DJI drones from the ultra-portable Mavic Pro to the industry-standard Phantom 4 Pro and the super high-end Matrice 200 and Matrice 600.
All RTK modules have been well-tested by Topodrone's team of mapping experts. The finished upgrade is ready-to-fly and comes with the software needed for post-processing of RTK data. Topodrone even offers multispectral sensors on top of the RTK modules. This is a one-two punch that will certainly help you make a name in the field of precision agriculture.
Depending on the model of your drone, a full package of RTK upgrades could cost anything between $3000 to $14000. Upgrading more expensive drones, such as those from Matrice line, will cost you more. This is an excellent option for professional drone pilots who already have well-functioning drones and don't want to spend unnecessarily on a brand new one.
2. Buy a customizable mapping drone with RTK add-ons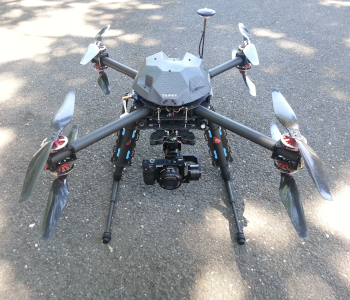 The X8 RTK Mapping Quadcopter is a turn-key drone for RTK-aided mapping surveys. What sets this product apart is the option to buy add-on features, the prices of which will be tacked on to the base price of the drone. The add-ons include excellent hardware and features such as remote camera controls, auto geo-tagging, LiDAR sensors, telemetry modules, upgraded flight controllers, and extra batteries.
The customization options of the X8 RTK make it an excellent choice for mapping professionals who already have their own survey equipment and would like to get a better "vehicle" to mount them on. Just about any accessory or upgrade you could ever want for a mapping drone is being offered by the team behind the X8 RTK.
Even without the extras, the X8 RTK is a fully-functional mapping drone. Survey planning is facilitated with six flight modes and an easy-to-use software for assigning flight paths, waypoints, and survey areas. Everything comes fully configured and ready to fly out of the box. The drone even comes with an amazing four-motor failsafe that allows you to safely land your drone even when four motors stop working.
The biggest downside of this product is the price. At around $14000, the X8 RTK is one of the more expensive drone-based RTK mapping options. The fact that it's NOT a mass-produced device likely plays a role in its pricing scheme. This is something we would recommend for highly experienced drone professionals or those who have already achieved some success in the field. The price sounds steep, but anyone an experienced mapper knows that it only takes a few high-profile jobs to earn that amount.
3. Buy a turn-key RTK-equipped drone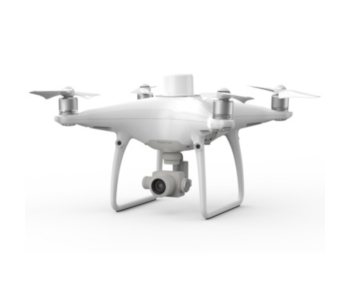 One of the more popular options to attain RTK capabilities is to simply buy a drone that offers a turnkey, no-hassle solution. This is what the DJI Phantom 4 RTK offers. With just a single product, you can start offering RTK-aided mapping services to potential clients.
The RTK version of the popular Phantom 4 drone comes with everything you'll ever need. It is equipped with a camera with a 1" CMOS sensor, an onboard RTK module, the GS RTK app for survey planning and data quality monitoring, OcuSync and TimeSync technology for data integrity, and the D-RTK2 GNSS Mobile Station. Communication between the RTK Module and D-RTK2 Mobile Station can be done either by a 4G connection or a WiFi hotspot, depending on the extent of your survey area.
One of the biggest advantages of the Phantom 4 RTK is its simplicity. Drone pilots who have had any experience flying a DJI drone should feel right at home using the Phantom 4 RTK. Everything feels user-friendly despite the array of advanced features on the drone.
At more than $6000, it's a bit unrealistic to say that the DJI Phantom 4 RTK is cheap. It costs four times more than the Phantom 4 Pro, an excellent camera drone that has been considered an industry standard model. However, the value of an easy-to-use and seamless process is hard to ignore. As complex as RTK mapping already is, DJI's design that makes it easier even for relative amateurs was a great move to tap into a market that might be too intimidated to commit to the upgrade.
Final thoughts
For drone pilots with little mapping experience, the prospect of having to upgrade to a more expensive RTK-enabled drone can seem overwhelming. After all, even the very concept behind RTK is difficult to grasp and even harder to master. This may not remain the status quo for long. Drone manufacturers always stand to benefit from making technology easier to access, and RTK mapping is no exception. We've already seen the earliest manifestation of this in the form of the DJI Phantom 4 RTK mapping drone.
If you're a mapping professional who is still reluctant to make the upgrade to RTK systems, we recommend that you strongly consider it. Is RTK the future of aerial mapping? We certainly think so. In much the same way that drone-based mapping was virtually unheard of until a few years ago, RTK technology may just be the next big revolutionary change in the field of aerial mapping. The adaption curve is already on the rise – wouldn't you want to be on the right side of it?