RTX 2070 vs 2080: The Best 4K Graphics Card in 2020
3D Insider is ad supported and earns money from clicks, commissions from sales, and other ways.
One of the biggest trends in gaming in 2020 is 4K. It used to break the bank, but it has since become more affordable. Now, 4K-ready displays are reasonable enough that anyone can get it. There are even gaming-centric monitors that come with high refresh rates and low response times to highlight your skills and maximize performance.
This trend is also translated to graphics cards where the latest generation is geared towards running games in 4K at high frame rates on the highest graphics settings. Nvidia's RTX 20 series proves just that, since apart from the latest Turing architecture with RTX capabilities, their higher-end cards come with the raw power to run even the most demanding games in 4K smoothly.
Aiming for 4K-ready gaming rigs is still expensive. However, with graphics cards like the RTX 2070, 2080, and their Super variants, you now have a lot of options.
What RTX Brings
Nvidia's latest Turing cards, the RTX 20 series, comes with brand new features never seen before in GPUs. Apart from the usual shader or CUDA cores, they also packed these latest generation cards with RT and Tensor cores.
The main draw of the RTX cards is ray tracing performed by the RT cores. This feature renders light differently. It allows the graphics card to produce realistic lighting effects, including reflections and shadows, giving you a more immersive gaming experience. Light effects become more striking, subtle, and crisp showing a different dimension on your favorite games.
Another essential feature of these latest Turing cards is its deep learning technology. Using the Tensor cores, this leverages the power of AI to simulate rendering at higher resolutions giving you more available processing power. The card can use fewer resources to render at lower resolutions and upscales it without using more. This gives you leftover power that translates to additional frames for a smoother overall gaming experience.
Performance Comparison
RTX 2080 Ti
RTX 2080
Super
RTX 2080
RTX 2070
Super
RTX 2070
GPU
TU102
TU104
TU104
TU104
TU106
CUDA Cores
4,352
3,072
2,944
2,560
2,304
Tensor Cores
544
384
368
320
288
RT Cores
68
48
46
40
36
Base Clock
1,350 MHz
1,650 MHz
1,515 MHz
1,605 MHz
1,410 MHz
Boost Clock
1,545 MHz
1,815 MHz
1,710 MHz
1,770 MHz
1,620 MHz
Memory
11GB GDDR6
8GB GDDR6
8GB GDDR6
8GB GDDR6
8GB GDDR6
RTX 2070 vs 2080
These graphics cards are two of Nvidia's latest generation high-performance hardware. The RTX 2080 is a beast of a GPU with 2,944 CUDA cores and, most importantly, the presence of RT and Tensor cores that enables the latest RTX features. The RTX 2070 is no slouch, either. As expected with Nvidia's product line, the 2070 comes with slightly less performance than the 2080.
Both these cards are in the high-performance category and are meant to run games in 1440p or 4K resolution at high frame rates.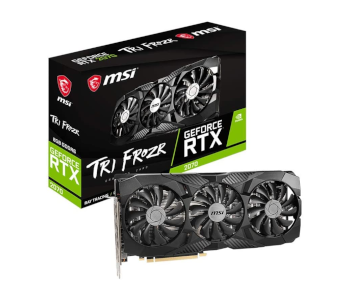 Retail Price: $439
The RTX 2070 is undoubtedly an impressive graphics card that sports the latest technologies supported by Nvidia's latest Turing architecture. It is a powerful midrange card that comes with the capability to play games in 4K. It is not as smooth as its more powerful sibling, the RTX 2080, but you will definitely be able to play some of your favorite games in 4K.
There are some games though, like Assassin's Creed Odyssey, where it is barely just playable. Still, overall, you will be able to play at a consistent 60 frames per second. However, where this card truly shines is in 1440p gaming. A resolution step below 4K, although not as detailed, but definitely a much smoother experience.
It is definitely more powerful than its predecessor, the GTX 1070, enjoying a 20% boost in performance. However, its RTX features, especially ray tracing, needs a bit more fine-tuning and games support. The RTX 2080 definitely packs more power, and its refined ray tracing is definitely a plus.
The RTX 2070 is right on the edge of high-performance cards, and without turning on ray tracing, it can offer you a silky-smooth gaming experience on all your favorite games. It may not be the best choice for 4K gaming, but if you are on a budget and want to occasionally play titles in 4K while taking a hit in graphics quality, this is the card for you.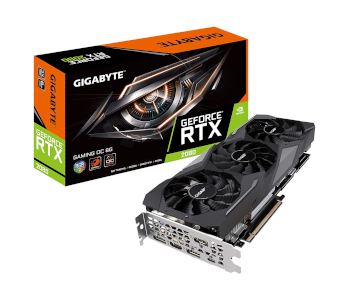 Retail Price: $789
The RTX 2080 is a high-end Turing graphics card that hits the sweet spot in terms of performance and price. Yes, it is on the pricier side of things, but it fully justifies it with how it handles games in 4K, especially with the RTX features turned on.
If you are looking for a card that can handle 4K gaming without spending more for the RTX 2080 Ti, this is an excellent alternative. It is undoubtedly not the most affordable out there, but looking at the specs, this GPU is a significant step up from the previous generation and its lower tiers.
The RTX 2080 is a card that is capable of delivering 60 frames per second at 4K resolutions on the latest Triple-A games. Although you will not get the silky-smooth experience on several games, especially on graphically intensive ones.
The RTX 2080 is an impressive piece of hardware that allows you to enjoy your favorite games. If you are prepared to spend a bit more, you will surely not be disappointed. Other than the RTX 2080 Ti and the latest RTX 2080 Super, no other card comes close to the 2080 in terms of performance. There are games where you really will not be able to push it with the highest settings, a little compromise should do the trick. It is still an excellent card to get, especially since it strikes a good balance between performance and price.
RTX 2070
RTX 2080
CUDA Cores
2,304
2,944
Base Clock
1,410 Mhz
1,515 Mhz
Boost Clock
1,620 Mhz
1,710 Mhz
Memory Size
8 GB
8 GB
Memory Type
GDDR6
GDDR6
Memory Speed
14 Gbps
14 Gbps
Memory
Bandwidth
448 GB/s
448 GB/s
Bus Width
256-bit
256-bit
GPU Power
(TDP)
185 W
215 W
Ray Tracing Rays
per Second
6 Billion
8 Billion
RTX Operations
per Second
42 Trillion
57 Trillion
Retail Price
$529
CHECK PRICE
$739
CHECK PRICE
RTX 2070 Super vs 2080 Super
Nvidia upgraded their original lineup with a Super version of each of their RTX cards. The RTX 2070 Super and the 2080 Super are two cards that need some attention because they provide significant performance improvements from their vanilla counterparts.
The most notable thing here is that the prices of these two are not drastically different than their vanilla versions. In fact, they are more or less the same with better performance ultimately, the Super cards offer far better value. So, if you are planning to get a graphics card and are choosing between a 2070 or 2080, consider the Super versions.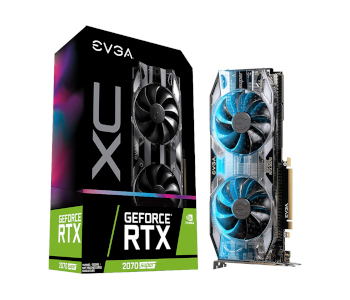 Retail Price: $529
Part of the Super line of graphics cards, the RTX 2070 Super is the latest mid-tier option that packs a really good punch. When it comes to pricing, it costs similar to the vanilla RTX 2070, but with a performance that comes relatively close to the RTX 2080. Comparing it to last generation cards, it is slightly faster than the GTX 1080 Ti, the most potent mainstream GPU of its generation.
The performance bump from the original RTX 2070 is due to the added computing cores with better clock speeds that come with the new chip. A definite performance upgrade at the same price means the RTX 2070 Super comes in with additional value than its vanilla version.
If the RTX 2070 is capable of running Triple-A games at 4K with slightly lower graphics settings, this takes it a step up. The card can effortlessly push more than 60 frames per second on most games at 4K resolution giving you an ultra-smooth and immersive gameplay experience. Pair it up with a high refresh rate monitor and turn the resolution down a notch. You will have an entirely different gaming experience.
At its price and the added power on top of the vanilla 2070, the Super version is an impressive piece of hardware. It surely has a spot as one of the best value graphics cards in the market that is capable of running games smoothly in 4K.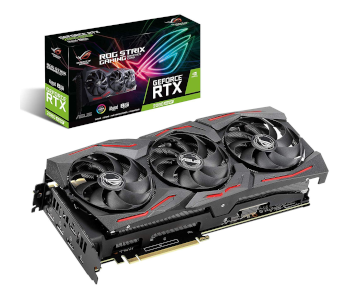 Retail Price: $769
The RTX 2080 Super may not get the crown of being the fastest mainstream graphics card in the market, but it does come at a close second. You will get top-notch performance with this card with only the RTX 2080 Ti beating it in all aspects. You also save a lot of cash if you choose to get this card rather than the more expensive 2080 Ti. There is really not much difference between the two since you still get the same ray tracing and deep learning features. However, you do sacrifice quite a bit in core count and memory.
Compared with the original RTX 2080, though, it comes with more power and better performance giving you a consistent 60 frames or more in 4K with your favorite game titles. If you are looking for superior performance without spending an insane amount of money for the 2080 Ti, this is the card for you.
There are times when you will need to tweak some settings down to get the full 60 frames per second experience with ray tracing, like Metro Exodus, but for the most part, the RTX 2080 Super should be enough for your triple-A gaming needs. Dialing your resolution down to 1440p will definitely give you the best experience with graphics settings pumped up to maximum, but 4K should not be a problem for the RTX 2080 Super.
If you are willing to spend a little bit extra so you can ensure a smooth 4K gaming experience on every game, you get your hands on for the next two or three years. Getting the RTX 2080 Super is undoubtedly a worthy investment.
RTX 2070 Super
RTX 2080 Super
CUDA Cores
2,560
3,072
Base Clock
1,605 Mhz
1,650 Mhz
Boost Clock
1,770 Mhz
1,815 Mhz
Memory Size
8 GB
8 GB
Memory Type
GDDR6
GDDR6
Memory Speed
14 Gbps
15.5 Gbps
Memory
Bandwidth
448 GB/s
496 GB/s
Bus Width
256-bit
256-bit
GPU Power
(TDP)
215 W
250 W
Ray Tracing Rays
per Second
7 Billion
8 Billion
RTX Operations
per Second
52 Trillion
63 Trillion
Retail Price
$549
CHECK PRICE
$749
CHECK PRICE
RTX 2080 Ti vs Others
The RTX 2080 Ti is the most powerful consumer-grade graphics card out there. So, there really is no comparison between this card and the rest of the RTX line, including the Super versions. Although the RTX 2080 Super closed the gap, it is still significant that if you are looking to play your favorite games at 4K at high frame rates, this is the only card that will give you that experience.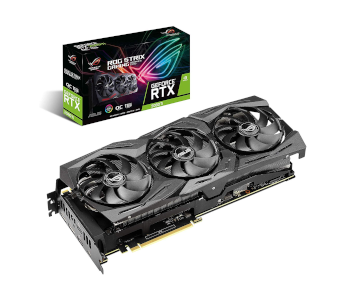 Retail Price: $1,299
The RTX 2080 Ti is the graphics card to get if the budget is not really an issue for you. It is the latest and most powerful mainstream GPU available in the market. What makes it so powerful over its previous generation counterpart is its larger chip able to cram in more CUDA, RT, and Tensor cores.
This is the card to get if you are looking to play your favorite games in 4K 144Hz with HDR and G-Sync enabled. It is the fastest out there that will be able to effortlessly handle all of these intense processes. If one is not enough, you can add a second one and use an NVLink connector to improve the insane performance and take it to even new heights.
There is a drawback with getting the RTX 2080 Ti, though, and that is support for the RTX's ray tracing and deep learning features. However, this is going to be changing soon, and more games will definitely take advantage of these new features and include them.
So, as long as the budget is not an issue, and you are willing to spend upwards of $1,000 for the best graphics cards out there, the RTX 2080 Ti is the one for you. You will be able to easily hit 144 frames per second, allowing you to utilize your high refresh rate 4K monitor for buttery smooth gaming performance.
RTX 2080 Ti
CUDA Cores
4,352
Base Clock
1,350 Mhz
Boost Clock
1,545 Mhz
Memory Size
11 GB
Memory Type
GDDR6
Memory Speed
14 Gbps
Memory
Bandwidth
616 GB/s
Bus Width
352-bit
GPU Power
(TDP)
250 W
Ray Tracing Rays
per Second
10 Billion
RTX Operations
per Second
76 Trillion
Retail Price
$1,299
CHECK PRICE
Game Performance Benchmarks
RTX 2080 Ti
RTX 2080
Super
RTX 2080
RTX 2070
Super
RTX 2070
Fortnite
1080p Epic<
230 FPS
202 FPS
170 FPS
197 FPS
131 FPS
1440p Epic
208 FPS
138 FPS
129 FPS
123 FPS
84 FPS
4K Epic
105 FPS
76 FPS
76 FPS
72 FPS
70 FPS
Battlefield V
1080p Ultra
143 FPS
128 FPS
136 FPS
121 FPS
113 FPS
1440p Ultra
117 FPS
102 FPS
105 FPS
95 FPS
76 FPS
4K Ultra
74 FPS
62 FPS
63 FPS
56 FPS
60 FPS
Civilization VI
1080p Ultra
198 FPS
177 FPS
174 FPS
170 FPS
132 FPS
1440p Ultra
175 FPS
159 FPS
152 FPS
142 FPS
112 FPS
4K Ultra
128 FPS
109 FPS
104 FPS
95 FPS
85 FPS
Assassin's Creed
Odyssey
1080p Ultra
82 FPS
78 FPS
78 FPS
70 FPS
65 FPS
1440p Ultra
73 FPS
64 FPS
64 FPS
62 FPS
53 FPS
4K Ultra
53 FPS
44 FPS
41 FPS
40 FPS
35 FPS
Call of Duty
Modern Warfare
1080p Ultra
213 FPS
184 FPS
170 FPS
156 FPS
145 FPS
1440p Ultra
153 FPS
132 FPS
122 FPS
112 FPS
104 FPS
4K Ultra
91 FPS
79 FPS
73 FPS
67 FPS
62 FPS
Apex Legends
1080p Ultra
192 FPS
162 FPS
153 FPS
126 FPS
139 FPS
1440p Ultra
143 FPS
121 FPS
114 FPS
94 FPS
104 FPS
4K Ultra
86 FPS
72 FPS
68 FPS
62 FPS
56 FPS
The Perfect Graphics Card for Your Needs
The Best 4K Graphics Card
GeForce RTX 2080 Ti
✔ Fastest consumer-grade graphics card
✔ Can effortlessly do 4K at high or ultra settings at 60 fps or more
✔ Overclocked models available for added power
If you are keen on playing your favorite Triple-A and e-sports titles at 4K at the highest graphical settings and ultra-smooth movements, then the RTX 2080 Ti is the best card for this job. Other than the RTX Titan, which is more of a professional-level GPU, this is the fastest that you can get in the market.
The card can easily handle just about any game, even the most graphically-intensive ones. Getting this card will also future-proof your system, ensuring that you will not have to buy a new one each time a new generation is released.
With prices over $1,000, it surely is not the card to pick up if you want to maximize price to performance. However, as long as the budget is not an issue for you, then this is definitely one of those luxury purchases that are worth it. If you are a big fan of gaming and do a lot of graphics-intensive productivity tasks like 3D modeling and rendering, this is the card for you.
Alternative Hardware: GeForce RTX 2080 Super
The Best 1440p Graphics Card
GeForce RTX 2070 Super
✔ Performance close to the vanilla RTX 2080 at a lower price
✔ Price is similar to the vanilla RTX 2070
✔ All the Turing RTX features like ray tracing and deep learning without the excessive premium
Even though the RTX 2070 Super can handle 4K gaming effortlessly by simply taking a tiny hit in terms of quality, it is best suited for 1440p. Lowering your resolution by just a notch will enable you to enjoy the power and RTX features of the 2070 Super.
The Super variant does come with a lot of advantages over the original RTX 2070, and it shows in the performance for 4K and 1440p gaming. One thing to note about the RTX 2070 Super is that its power levels are much improved without affecting its price. Offering you more value since it can go toe to toe with the RTX 2080.
As a graphics card at a reasonable price point with solid performance, the RTX 2070 Super is definitely an excellent choice. You also get to enjoy all the RTX features without sacrificing frame rates, especially in 1440p resolution.
Best Value High Performance Graphics Card
GEFORCE RTX 2070 SUPER
Both the RTX 2080 and the 2070 are high-performance cards, which means they are capable of providing you 4K gaming experience. However, the price of both the RTX 2080 Ti and the 2080 Super is a bit on the expensive side. The good news is that the RTX 2070 Super is on the more reasonable side and offers excellent performance for its price. This makes it a card that will provide you with the best value.
It is a graphics card that is on the edge with power similar to the vanilla RTX 2080 for optimum 4K performance. Where it excels, though, is in 1440p as it can give you insane frame rates even at the highest possible graphics settings. You can then pair it up with a high refresh rate monitor for an immersive gaming experience.
Wrap Up
With the options at your fingertips, 4K gaming is not as expensive as it was a couple of years ago. Now, you do not need to get the most powerful graphics card to satisfy your 4K gaming itch.
The RTX 2080 Ti, is an absolute beast and is a great card overall. However, you do not necessarily need to get it to enjoy a high resolution gaming experience. There are a couple of choices like the RTX 2080 Super and the 2070 Super, which can offer you a taste of 4K gaming.
The high performance RTX family is definitely an impressive line of graphics cards. They can provide you unbridled power and even value so you can enjoy your favorite games even when you have a budget to stick to or not.