Safest Hoverboards of 2019
3D Insider is ad supported and earns money from clicks, commissions from sales, and other ways.
Hoverboards or self-balancing scooters have had a lot of bad reputation in the past. In the early days, when such boards were becoming more popular there have been a lot of reports about them unexpectedly blowing up and catching on fire. After those incidents, there has been a major push to resolve all these safety issues and manufacture safer and reliable hoverboards.
Now that the technology has greatly improved there are no more untoward incidents that have happened in the industry. The boards are now more dependable, robust, and a 100% safe. Groups such as Underwriters Laboratories (UL) have come up with strict guidelines to ensure that all hoverboards are safe to ride on for children and adults.
Some may have concerns about other brands that are not made in the US. Hoverboards have become so popular that even manufacturers from other countries, namely China, has stepped up to the plate and developed their own boards. Let us ease your anxiety right now and tell you that all hoverboards that are sold in the US need to pass strict safety regulations including the UL2272 for them to be sold.
What makes a hoverboard safe?
Apart from exploding batteries and the boards catching on fire, there are other safety concerns that you should be wary about. One important market segment of the hoverboards are children and concerned parents. A factor that makes a board safe if children can easily balance themselves while riding one. Parents want to make sure that their children are safe before buying one.
A safe hoverboard is one that does not spontaneously catch fire or blow up and one that minimizes falls especially when you're out on public roads. For adults, with their developed sense of balance, the chance of falls are minimized. For kids, however, it may be a bit difficult that's why boards with learning mode are the best option when choosing one for your kid.
With this in mind, we looked at hoverboard manufacturers and models and determined safe hoverboards for everyone to enjoy. We have done the research and compiled a thorough list of the safest ones you can get today.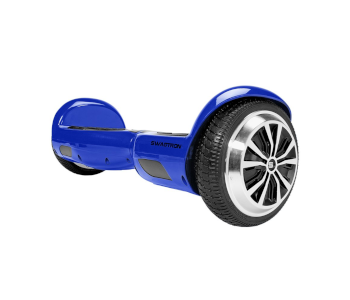 Retail Price: $249
The Swagtron Swagboard T1 Pro is the first UL2272 certified hoverboard on the market and that's why it is here. It was the first product to pass strict independent safety requirements and get a certification.
The T1 is a solid and versatile product. It has a lot of power and its gyroscopic sensors are accurate and responsive that they pick up your movements with ease.
Let's look at more of the safety features of this board. It has safe stop technology, which basically is a system that minimizes falls due to the battery dying suddenly. It warns you that the battery levels are low and automatically limits your top speed so you can slow down safely and stop. This is a great safety feature for adults and kids alike so the sudden stop doesn't catch anyone off guard.
It also comes with Swagtron's SentryShield technology, which is an all-aluminum case that surrounds the battery so thatit won't catch on fire in the event that it fails or overcharges. This is a great feature for that extra peace of mind especially if you're letting your kids ride the hoverboard.
The T1 has excellent handling and that adds to the safety factor since you minimize the twitchiness and the jerkiness that could result in accidental falls. The board is rated for a rider up to 220 lbs. On top of that, it comes with learning mode that is safer and slower. You can practice your skills in learning mode and slowly progress to the standard mode to unleash the full potential of the T1.
When it comes to performance the T1 does not shy away. It is built for speed which maxes out at 8 miles per hour powered by two 300W motors. It also gives you a range of 12 miles on a single charge.
As an added safety feature, it is equipped with LED headlights that illuminate your journeys at night and alerts other motorists of your presence. The Swagtron Swagboard T1 Pro is focused on your safety and it does not skimp on performance either giving you confidence at all times.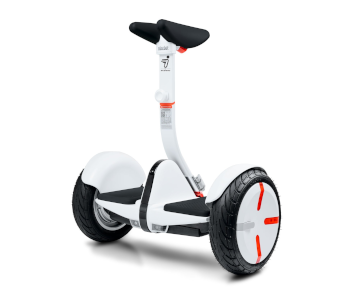 Retail Price: $599
One of the first few hoverboards that got the UL2272 certification after the Swagtron T1 is the Segway miniPRO. First of all, it is eye-catching since its has an unusual design. It has a pole that protrudes from the middle of the board up to where your knee should be. The pole is actually a control shaft and adds to the overall safety of the device.
The main purpose of the control shaft is for steering. Unlike other boards where you need to do some gymnastics with the foot pads to turn, with the miniPRO all you need to do is to lean on the pole to where you want the whole board to go. If you're used to the controls of other hoverboards it will initially feel clumsy but after a few minutes, it will become easy and natural.
The miniPRO comes with a companion app that will help you get started. It will start you off with lower top speed to get you acclimated to it and then it will make the remaining power available to you. The board also accelerates and decelerates smoothly so as not to knock you out of balance. Some more features of the app include the ability to remotely control the board and displaying rider stats such as total miles and remaining battery life. There is also an anti-theft lock function that will sound an alarm when someone moves it.
A major difference between the miniPRO and other hoverboards is its balancing mechanism. Other boards' gyroscopes only work as a self-balancer and they do not help with the rider's balance. The miniPRO, on the other hand, has the gyroscopic technology similar to that of the full-sized Segway and helps keep you and the board balanced.
As for the hoverboard's performance, it comes with two powerful 800W motors that enable you to travel at a maximum speed of 10 miles per hour. The motors also allow you to climb angles of up to 15 degrees while maintaining your speed. It is clear that the motors have been limited but it does make up for when you ask for more power when climbing up steep inclines.
The Segway miniPRO has a higher build quality compared with other hoverboards and coupled with it comes excellent safety features that ensure you get to your destination without a hitch.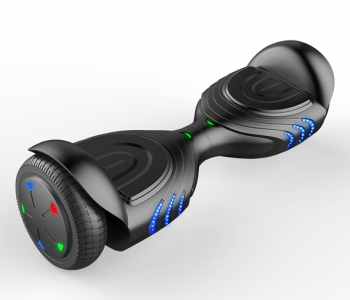 Retail Price: $229
The Tomoloo Fire Kylin Q2 is a budget-friendly and safety-focused hoverboard with excellent quality. Tomoloo is a Chinese brand so you might think that it's subpar quality, but it may surprise you when you get your hands on it.
The Q2 has been subjected to the strictest hoverboard safety tests and it has passed them all without a hitch. What makes this board unique is that it comes with an app that will allow you to inspect it in real time as you ride it to ensure that it is safe.
The companion app is the center of its safety since you can adjust the riding mode, maximum speed limit, and steering sensitivity. It also displays the current battery status with its Smart Battery Management System which monitors overheating, short circuits, overcharging, and overcurrent, which means that you know everything about your battery health at any given time.
One of its safety features is that it is waterproof to keep the internal electronics dry at all times. You can easily use this in the rain and drive through puddles and you can be sure that it won't short circuit and catch fire or blow up suddenly. The waterproofing also guarantees that the power socket remains dry so you can plug it in right away.
It uses Samsung batteries which are safety certified by Underwriters Laboratories (UL). The batteries are also housed inside a fire-retardant shell so if ever the batteries malfunction it will prevent it from blowing up the entire board.
The Q2 is not the fastest hoverboard in the market but it carries decent speed with a top speed of 7.5 miles per hour with a range of up to 12 miles. This board makes climbing 15 degree hills easy thanks to its 300W motor. One thing to note though that unlike other boards, the Q2 only has a single motor and performance is affected when putting it through its paces.
Overall the Tomoloo Fire Kylin Q2 is a quality hoverboard that's affordable and safe. It's smooth, easy to set up and ride and its safety features are top notch so you won't have to worry about letting your kids ride it.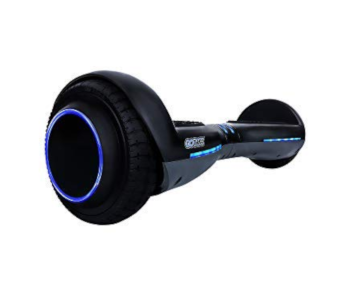 Retail Price: $149
Let's look at a hoverboard that is designed for beginners, especially kids. If you're new to riding hoverboards and you want a safe one then the GoTrax Hoverfly Ion is for you. It is an affordable choice where they put a premium on safety.
As a board that's great for newcomers to the hoverboard riding scene, it comes with a self-balancing mode that helps level and steady the board as you ride. It not only balances itself but instead keeps the rider stable at all times.
As with a lot of other hoverboards, it is UL certified to make sure that the electronics, battery, and charger are tested to strict safety standards so that you don't have to worry about it blowing up unexpectedly.
The Hoverfly Ion comes with bright LED lights at the front and back of the body to ensure that everyone can see you during low light conditions especially when you're traveling on public roads. They are not bright enough to act as headlights though, but they do the job of telling everyone your position in the dark.
It is an entry level board which means it is not the most powerful out there, however, this feature makes it more stable and friendly for beginners. They can get right on it and take off without much practice. The board has a maximum speed of 6 miles per hour, which is ideal if this is your first one. The battery packs a decent range of up to 9 miles depending on your usage. Charging takes a while though, as to get from zero to full takes 3 to 4 hours.
The GoTrax Hoverfly Ion is an excellent and safe hoverboard for inexperienced riders especially kids. It's durable, built well and powerful enough to satisfy the need for speed of newcomers. Sure, you can get better speed and faster charging with other brands but that's not the primary concern of those learning the ropes of riding hoverboards. This makes the perfect gift to kids as it is proven safe and has the necessary performance to provide you a lot of fun.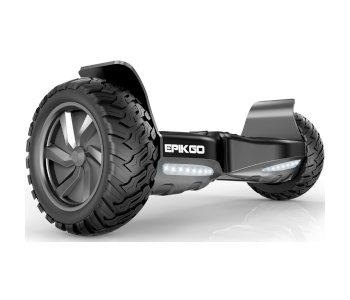 Retail: $599
The Epikgo Classic, branded by the company as the indestructible self-balancing scooter, is a large off-road hoverboard that's surprisingly agile for its size. What's instantly noticeable is its size, it is 30% larger and wider than your average board, which means there is more foot space for a more stable ride. There is also more surface to help you control the board and this is particularly helpful in off-road situations where the ride can get bumpy.
This is a sturdy board built using hard fireproof plastic and wheel covers made from steel. It will not be easily broken in most crashes. This ensures that there are no sharp edges after accidents which can cause secondary injuries to the rider. The entire hoverboard is also water-resistant with IP54 certification and can submerge in deep puddles without a problem.
The Epikgo is an off-road beast that provides excellent grip levels on gravel, sand, grass, or pavement. If you're likely to encounter such surfaces on your routes then this board is the safe choice as it has unparalleled performance in off-road situations. You can virtually travel anywhere with this hoverboard. This is possible due to the large solid rubber all-terrain tires that come with the board.
As with essentially all hoverboards that are sold in the US, the Epikgo comes with the UL2272 certification that ensures a safe ride always. This means that the risks of overheating and short circuits are drastically reduced. It also uses a UL2271 certified LG battery that ensures that it won't blow itself up when temperatures run high or current flows unexpectedly increase.
It comes with LED headlights that will keep you safe at night by making you visible to other commuters and pedestrians while lighting the way in front of you.
The Epikgo sports two powerful 400W motors that propel you up to 10 miles per hour with a range of up to 10 miles. The large motors also allow you to climb uphill up to 15 degrees while maintaining your speed. It has an impressive charging time of 1-2 hours so you can go to your destination 10 miles away and do a quick charge before turning back home.
The Epikgo Classic makes for an excellent transporter on your daily commute as it can travel on just about any surface without problems. This is especially useful if your route goes through parks where the surface is not always paved.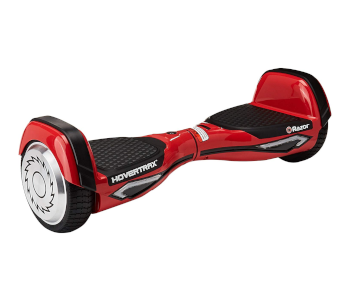 Retail Price: $299
The Razor Hovertrax 2.0 is the hoverboard based on the original patent proposal of Shane Chen. After acquiring the rights to the patent, Razor started work on the Hovertrax. It is still one of the nicest looking hoverboards around, it's sleek and the elegant curves make it look quick and agile compared to other models.
The Hovertrax 2.0 is equipped with self-balancing capabilities able to align and level itself as soon as you turn it on. It also provides that extra balance whenever you step on it to start riding it. It has an edge to edge anti-slip traction pads on each of the platforms to make sure that you're always in control of the hoverboard. A shatter-resistant frame makes sure that it won't simply break with even the slightest of crashes so there are no exposed jagged parts sticking around for another accident.
Safe hoverboards are also beginner-friendly and the Hovertrax 2.0 is exactly that since it comes with training mode. This mode relaxes the response time and speed so you can learn how to ride it easily. It is perfect for kids and newcomers learning to ride on hoverboards for the first time. Then you can slowly work your way until you can handle normal mode where the performance is unleashed.
The board also comes with directional LED lighting that not only make you look cool but also provides you with some illumination and make you visible when you're using it from dusk to evening. It is bright enough to show you where you're going but especially useful to signal to commuters and pedestrians that you're there.
As with other hoverboards, the Hovertrax 2.0 meets UL2272 safety standards so the battery won't blow up or catch fire and that it is contained if it does. A great feature of this board is that it has batteries that can be easily removed without taking the entire device apart. This is helpful when you know you're traveling to a destination that's out of the Hovertrax's range.
The Hovertrax 2.0 comes with motors that have dual power modes for cruising, training mode, and peak power. These motors have a maximum output of 350W at peak power which translates to a top speed of 8 miles per hour. Not the fastest, but definitely decent enough to enjoy the board. The range is also decent at 8 miles or a good 60 minutes of runtime.
The Razor Hovertrax 2.0 is an excellent hoverboard couple that with training and normal modes make it safe for both beginners and experts alike. The removable battery sets this apart from other similar boards in the market as you can conveniently carry a spare with you and swap batteries when you run out of power.
Final Thoughts
Safety is not just about batteries not exploding but the entire package. Most of the hoverboards sold in the US are now UL certified and it's difficult to find one that's not so we can be sure that all boards that are being advertised are safe. However, there are other factors like ride quality and how beginner-friendly it is that makes a hoverboard truly safe.
That's what we have here on our list. All of these boards have certain safety features that make them stand out and have smooth ride quality so as not to put beginners in danger with sudden acceleration and deceleration that will throw them off balance.
These hoverboards are also safe for kids to ride in as they have learning or training mode to allow kids and newcomers to get a feel for riding one and get them acquainted with the needed balance and dexterity to control these boards. These are not only safe boards but have an equally excellent performance so you have the best of both worlds – a safe and fun hoverboard for transportation or play.