Samsung Gear VR Black Friday 2018 Deals
3D Insider is ad supported and earns money from clicks and other ways.
The Samsung Gear VR was first released in 2015 as a collaborative effort of Samsung Electronics and Oculus. It was designed to be used with a compatible Samsung device, augmenting the display and processor the device by acting as its controller and inertial measurement unit (IMU). The Samsung Gear VR also gives you access to the huge library of 3D content via the Oculus app.
The latest version of the Samsung Gear VR, the SM-R325, usually retails at $129.99 in Amazon. This Black Friday, it is available at a 33% discount, resulting in a retail price of only $97. This is a very low price to pay considering the excellent quality, interactivity, and content access that the Samsung Gear VR.
Samsung Gear Features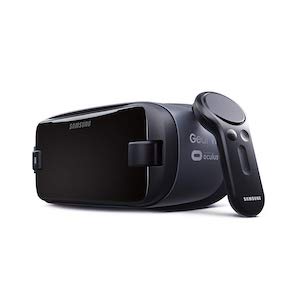 The latest release of the Samsung Gear VR SM-R325, is compatible with practically all the Samsung flagship mobile devices including the Note 8, Galaxy S8, Galaxy S7, Galaxy S7 Edge, Galaxy S6, Galaxy S6 Edge, and the Note 5. The more recent Galaxy Note 9 can also be used with the latest Samsung Gear VR with the aid of an adapter that Samsung can provide for free. The SM-R325 version also comes with a hand-held controller that you can flick, shake, and drag for enhanced mobile interaction.
The Samsung Gear VR not only delivers superior VR quality but was also designed with comfort and ergonomics in mind. It has a lightweight build, adjustable straps, and a foam cushioning that makes wearing it comfortable even for long periods. Its secure and customized fit can help you really get lost in the VR environment by keeping out any outside light.
If the discounted price of the latest Samsung Gear VR SM-R325 is still a little above your budget, then you may opt to buy an older version at a much lower cost. The SM-322 version, which was released late 2015, is available in Amazon for only $27.00, a huge 73% discount from its original $99.99 retail price. This model is compatible with older Samsung devices such as the S7, S7 Edge, S6, S6 Edge, and the Note 5. This older model does not come with a hand-held controller but instead has a touchpad on the side of the headset for simple controls.
If you are the owner of any of the Samsung flagship devices, then this is Black Friday is the best time for you to buy a Samsung Gear VR. This inexpensive headset turns your Samsung device into a top-of-the-line VR display, augmenting it with intuitive controls and accurate sensors.