Samsung Gear vs Oculus VR: Headset Comparison
3D Insider is ad supported and earns money from clicks, commissions from sales, and other ways.
Oculus has become one of the most established brands in the VR space, with the company producing a variety of headsets to fulfill a number of different use cases. One of the more recent additions to Oculus' lineup has been the Go, which is a standalone headset designed to provide an alternative to mobile headsets, such as the Samsung Gear.
Another more expensive, high-powered headset has also been released in the form of the Oculus Quest. This headset is able to offer the best of both worlds when it comes to VR tech, thanks to its ability to run as a standalone headset or via a PC-tether.
So, How do these headsets compare to the likes of the Samsung Gear? And how do Oculus' PC-based products also stack up, now that VR appears to be moving towards a more independent form? We've put together this comparison guide to find out.
Display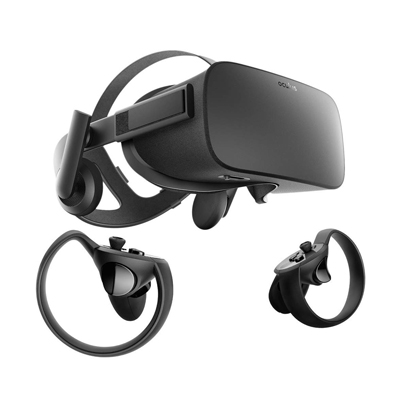 The display inside a VR headset is one of the most crucial components of the product, as it plays a major role in the level of immersion you are able to receive. For this reason, it is imperative that a headset includes a high-quality display, as without one, you can be subjected to a number of issues such as "screen-door" and tunnel-vision.
The screen-door effect occurs when the resolution of a display isn't high enough to prevent visible pixels when inside the headset. This can create the impression that you are looking at the display through a mesh, similar to looking through a doorway that is covered by a mosquito net.
Tunnel-vision occurs when the field-of-view (FOV) of a headset is too narrow to provide a decent peripheral view of the virtual world you are interacting with. This creates the illusion that you are viewing the world from inside a tunnel, which can impact how immersive a headset can be.
The main aspects of a display can be broken down into three parts, including the type of panel it is using, its resolution, and its field of view (FOV). Generally speaking, if a headset delivers in each of these areas, it is likely to provide a good experience for the user.
| Model | Panel Type | Resolution | Field of View |
| --- | --- | --- | --- |
| Rift + Touch | Pentile AMOLED | 1080 x 1200 per eye | 110 degrees |
| Rift S | LCD | 1280 x 1440 per eye | 110 degrees |
| Quest | Pentile OLED | 1440 x 1600 per eye | 100 degrees |
| Go | LCD | 1280 x 1440 per eye | 101 degrees |
| Samsung Gear | Varies by smartphone | Varies by smartphone | 96 degrees |
As you can see, Oculus' headsets use either an OLED or LCD panel. Both of these technologies come with a variety of different pros and cons, but the main difference we are going to focus on is how the two of them work.
OLED panels rely on individual LEDs to illuminate each pixel. This allows them to offer an excellent contrast ratio, as well as provide more stable images due to their low-persistence when it comes to switching from on to off.
LCD panels, on the other hand, use a liquid crystal material that is housed between two pieces of polarized glass. A backlight is then shone through the glass and blocked by the liquid crystal in specific areas to create an image.
Generally, OLED panels are preferred for VR headsets. However, LCD panels have seen some significant improvements in recent years, and the difference between the two technologies from a visual perspective is now harder to distinguish.
When it comes to the Samsung Gear headset, the display will depend entirely on the smartphone you use with the device. Most Samsung flagship smartphones use OLED displays these days. However, when it comes to using a smartphone as a VR display, you also need to consider a few other factors such as scratches on the screen, as well as dirt and dust.
Oculus Rift S: +1
Oculus Quest: + 1
Oculus Go: +1
Controllers
Controllers also play an essential role in determining the quality of a headset, as they are responsible for how well you can interact with the virtual world. High-end headsets such as those that require a PC-tether usually come with fairly advanced controllers designed for more intense gameplay. In contrast, more budget-friendly options are sometimes equipped with a simplified remote controller instead.
Oculus' Touch controllers are the cream of the crop in this lineup, offering precise control and plenty of functionality in a small compact package. If you plan to do any intense gaming with your headset, these controllers are a must-have, as both the Go remote and Samsung's Gear controller can't offer the same level of performance.
| Model | Controllers |
| --- | --- |
| Rift + Touch | Touch controllers |
| Rift S | Touch controllers |
| Quest | Touch controllers |
| Go | Go remote |
| Samsung Gear | Gear controller |
As you can see, each of Oculus' high-end headsets comes equipped with the Touch controllers. For this reason, these headsets are the clear winners in this category, and by some margin.
Oculus Rift + Touch: +1
Oculus Rift S: +1
Oculus Quest: +1
Tracking Technology
Tracking technology refers to the part of a VR product that is tasked with tracking your position in the virtual world while wearing the headset. Currently, there are two main tracking technologies used by VR headsets, including 3DoF tracking, which tracks only the direction you are facing, and 6DoF tracking, which tracks both your direction and position within a virtual space.
6DoF tracking can be further split into two categories, including inside-out tracking and outside-in tracking. With inside-out tracking, a camera is placed inside or on the headset, which then tracks the user's position based on the placement of sensors in a space, such as a room. Outside-in tracking is essentially the opposite. Instead, cameras are placed around the room, and the sensors are housed inside of the headset.
Model
Tracking
Rift + Touch
6DoF outside-in IR LED Constellation tracking
Rift S
Integrated room-scale 6DoF inside-out Oculus
Insight, 5-camera sensor internal tracking
Quest
Integrated room-scale 6DoF inside-out Oculus
Insight, 5-camera sensor internal tracking
Go
3DoF rotational tracking
Samsung Gear
3DoF rotational tracking
6DoF tracking is the preferred option due to its more advanced capabilities. However, this technology is currently reserved for high-end headsets such as the Oculus Rift S and the Quest. Cheaper headsets such as the Oculus Go and Samsung Gear use 3DoF tracking instead, which limits their overall performance, making them less suitable for games and tasks that require more complicated movement.
Oculus Rift + Touch: +1
Oculus Rift S: +1
Oculus Quest: +1
Minimum Requirements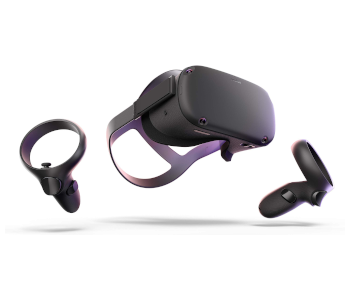 To run a VR headset via a PC, you will need to make sure your hardware meets a set of minimum requirements. Otherwise, you are likely to run into issues, such as low frame rates and poor resolution. In some cases, it can also cause the VR headset not to run at all.
Headsets such as the Quest and the Go don't suffer from this issue, as they can be used independently. However, in the case of the Quest, you might prefer to link it to a PC to increase its performance. The Samsung Gear simply requires a compatible smartphone, with many of Samsung's recent flagships among its recommended devices.
It is also worth mentioning that running a PC-dependent headset on its minimum requirements won't necessarily provide a smooth experience, but it will at least make the headset usable. For a truly seamless experience, however, we recommend using hardware that exceeds a headset's minimum requirements. This will not only eliminate certain issues but also add a degree of future-proofing to your PC for future investments in this space.
Model
CPU
Graphics
Memory
Video Output
Ports
Rift + Touch
Intel Core i3-6100/AMD
Ryzen 3 1200, FX4350,
or greater
NVIDIA GTX 1050Ti/AMD
Radeon RX 470, or
greater
8GB+ RAM
HDMI port
1 x USB 3.0 port
1 x DisplayPort
Rift S
Intel Core i3-6100/AMD
Ryzen 3 1200, FX4350,
or greater
NVIDIA GTX 1050Ti/AMD
Radeon RX 470, or
greater
8GB+ RAM
DisplayPortTM 1.2/Mini
DisplayPort
1 x USB 3.0 port
1 x DisplayPort
Quest
N/A
N/A
N/A
N/A
N/A
Go
N/A
N/A
N/A
N/A
N/A
Samsung Gear
N/A
N/A
N/A
N/A
N/A
Due to their ability to run independently, the winners in this category are, of course, the Quest and the Go. However, the Samsung Gear also gets a point here, since more people are likely to own a compatible smartphone, rather than a VR-ready PC.
Oculus Quest: +1
Oculus Go: +1
Samsung Gear: +1
Price
For the price category, we are judging each product not only on their individual costs but also on the total investment required, should you also need to purchase a gaming PC or compatible smartphone. This means the Oculus Quest, for example, is considered better value for money than the likes of the Oculus Rift S, despite it having a higher approximate price in our table.
When it comes to price, the cost of a headset usually gives a good indication of its performance. One exception to this rule, however, is the original Oculus Rift. This product is no longer being produced by Oculus, which means picking one up brand new can set you back an unnecessary amount of money. For this reason, we recommend avoiding this headset if you care about value for money unless you can find a good second-hand deal.
Oculus Quest: +1
Oculus Go: +1
Samsung Gear: +1
Total Score
Now that we have compared each headset across each category, let's tally up the total scores.
| Model | Score |
| --- | --- |
| Rift + Touch | 2 |
| Rift S | 3 |
| Quest | 5 |
| Go | 2 |
| Samsung Gear | 2 |
1st: Oculus Quest
2nd: Oculus Rift S
3rd: Oculus Go
Our Verdict
Based on the results of our comparison, the clear winner is the Oculus Quest. It might not be the best in terms of value for money, but it acts as the perfect bridge between the more budget-friendly Samsung Gear, and the PC-powered Oculus Rift S. The Quest can also be linked to a PC, giving it comparable levels of performance to the Rift S, provided your PC meets the specifications that are required.
If the Quest is outside of your price range, however, the Oculus Go is an excellent alternative. This headset is not only well priced, but it also comes with the bonus of not requiring a smartphone for power. This means you essentially get all of the benefits of the Samsung Gear without any of the drawbacks.