Samsung POWERbot R9350 vs. Roomba i7+ – Which Is Better?
3D Insider is ad supported and earns money from clicks, commissions from sales, and other ways.
Are you in the market for a high-end robot vacuum cleaner? These futuristic devices automate one of the most tedious chores and grant you extra time to spend on more important and pleasurable things. The latest models are also part of your smart home, taking their cues from AI assistants or other smart devices you own.
Roomba is the first name people associate with robovacs, but the competition is both numerous and healthy. Today, we're pitting the Roomba i7+ against the Samsung POWERbot R6350. Both are highly capable models, each sporting unique features and excellent performance. Check out their side-by-side comparison in the detailed table below and find out how each model fares across multiple categories in the review section.
Samsung POWERbot
R9250
iRobot Roomba i7+
Dimensions
14.9 x 14.3 x 5.3 in.
13.3 x 13.3 x 3.4 in.
Weight
10.8 lb.
7.4 lb.
Capacity
23.7 oz.
13.6 oz.
Power
(cubic feet
per minute)
60
17
Battery life
90 minutes
90 minutes
Recharge
time
240 minutes
180 minutes
Cleaning
path width
12.2 in.
7 in.
Height
clearance
5.3 in.
3.4 in.
Washable
filter
Yes
No
Dirt sensor
No
Yes
Cleans pet
hair
Yes
Yes
Self-
cleaning
No
Yes
Edge
cleaning
mode
Yes
No
Carpet
height
adjustment
No
Yes
Stores
multiple
floor plans
No
Yes
Boundary
markers
Magnetic
Beacon
Spot
cleaning
Yes
Yes
Adjustable
suction
strength
Yes
Yes
Voice
control
No
Yes
Remote
control
Yes
No
Has app
Yes
Yes
Supports
Alexa and
Google
Assistant
Yes
Yes
Supports
IFTTT
Yes
Yes
Price
$797.99
$999
Design
iRobot and Samsung have entirely different approaches to their robovac designs. The R9350 has a distinct D-shape that lets it hug edges and clean them better. The model is big enough to house a 1-foot wide roller brush and a responsive touchscreen. You can use the screen to schedule cleanings, send the robot home, or adjust suction strength.
The Roomba has a more refined look that keeps in line with the traditional robovac puck shape. Its top part is dominated by a camera lens and a single Clean button while you'll see its unique v-shaped rollers and a large rotating brush if you turn the unit over.
The POWERbot R9350 is bulkier yet offers more in-depth control options while the Roomba i7+ is more elegant. Each has strengths & weaknesses, so we're calling it a draw.
Draw
Height clearance
Although it falls under design, the height clearance between the two models is substantial enough to be mentioned separately. Roomba's sleek profile lets it easily slip under most beds, armchairs, and sofas since it is only 3.4 inches high. Samsung's vacuum is almost two full inches taller and won't be able to fit under nearly as much furniture.
+1 for Roomba i7+
General cleaning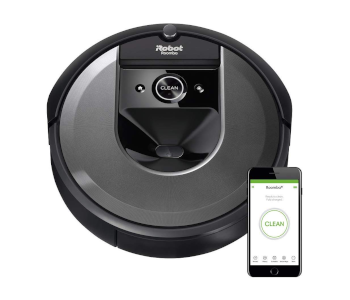 Samsung touts the R9350's CycloneForce feature. They claim that its suction power is 70 times more potent than that of the competition. While these claims are exaggerated, the R9350 indeed achieves remarkable results in little time. A powerful motor and a large combo brush are crucial to its effectiveness.
The R9350's motor has three speed settings attuned for quiet, standard, and efficient operation. It has an air watt output of 40, meaning it produces enough suction to clean all manner of surfaces efficiently. The POWERbot's combo brush is also five inches wider than Roomba's rollers. Combined, this leads to the R9350 ability to clean an entire floor in an hour.
Stacked up against any other opponent, the i7+ would likely come out on top. Its distinct rollers effectively pick up dirt particles and convey them to the dustbin opening. It also has a cleaning mode designed especially for carpets. Switching to carpet mode lets you clean medium-piled rugs with a single pass.
+1 for Roomba i7+
+2 for POWERbot R9250
Edge cleaning
Many robot vacuums struggle when it's time to clean the corners and pile dirt up alongside moldings instead of getting rid of it. That's where the R9350 shines. It has a dedicated edge cleaning mode, which lowers a plank when activated that scoops up debris while causing no harm to the walls.
The i7+ is at a disadvantage because of its shape. Being cylindrical means it can't hug walls as the R9350 can. There's a rotating brush with large rotating bristles to compensate, but it isn't as thorough.
+1 for POWERbot R9250
Filters
Allergy sufferers should get the Roomba i7+ as it has a HEPA filter that traps micro particles, dust, and other allergens. It needs to be replaced every six months, though. The filter on Samsung's robovac isn't HEPA-certified, but you may wash and reuse it.
+1 for Roomba i7+
Sensors
Both models have a complex array of sensors along with cameras for visual orientation. These help them avoid obstacles as well as detect shifts in elevation so they don't drop down stairs. Robovac navigation technology hasn't developed a way to overcome small obstacles like socks or toys yet, so you'll need to keep the floor free from them for cleaning to proceed smoothly.
The i7+ has an edge in two respects. On the one hand, it is better at navigating on black carpets and detecting stairs even on dark surfaces. On the other, it has a unique dirt sensor. This sensor hones in on concentrated dirt & debris and causes the i7+ to spend more time cleaning the affected area. You get uniformly and thoroughly cleaned floors as a result.
+1 for Roomba i7+
Navigation & mapping
The R9350 takes advantage of a FullView Sensor array to get around your home quickly and painlessly. The range consists of nine sensors and a camera. These work in tandem to give the vacuum ample time to detect and react to obstacles. Unlike the Roomba, which gently bumps into things, it will avoid obstacles altogether while cleaning around them. Finally, this model has EasyPass wheels that help it transition from flat surfaces to carpets and vice versa smoother.
The i7+ excels at getting its bearings faster and maps floor space out more accurately than the R9350. You can have it perform a trial run, and the I7+ will map out an entire floor without cleaning it. This is especially useful for larger homes where cleaning & mapping at the same time would result in incomplete data. The R9350 needs more time to do the same. Once it does, though, it won't get lost or neglect parts of the floor.
Draw
Path restriction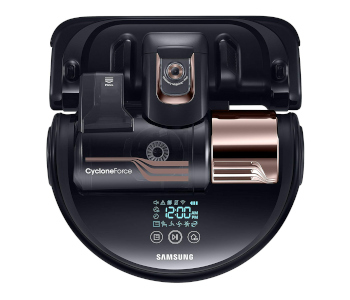 The Roomba is much better-equipped when it comes to placing boundaries on its movement. It comes with a virtual barrier that has two modes. One mode creates a linear 10-foot barrier the i7+ won't cross. This is useful when you want to cordon off entrances to other rooms or larger sections of a single room. The other emits a field around the barrier. It has a 4-foot diameter and is perfect for keeping the device away from pet beds, sensitive furniture, and other items.
The R9350 relies on a supplied roll of magnetic tape instead. Placing the tape on the floor creates a barrier the robot should turn away from and restricts its movement. Should is the keyword here since this method isn't always reliable.
+1 for Roomba i7+
Capacity
Samsung's robovac is noticeably bigger than Roomba's, so it stands to reason that it has a larger dustbin. At 23 ounces, it is almost two times larger than that of the i7+. That means you can clean more space or tackle a neglected home without having to empty the bin often.
However, the i7+ has a base that holds thirty times its dustbin capacity, dwarfing the R9350. It will even automatically return to the base and empty itself once full, making the self-cleaning process autonomous. Keep in mind that the base has a bag that will need replacing every three months. While doing so isn't complicated or messy, you'll need to buy a new bag each time.
+1 for Roomba i7+
Battery life & charging
Charging either tested model is automatic and easy. They'll both signal when the battery is low and return to their charging stations before that happens. Once charging is complete, they'll resume the cleaning schedule from where they left off.
You can expect either robovac to clean for 90 minutes under standard conditions. The R9350 will get significantly less out of a charge if you turn on its maximum suction power. Likewise, the i7+ kicks things into high gear once it senses carpets. The real deal-breaker here is recharge time. Roomba's model is ready to resume its duties in three hours while it takes an hour extra to recharge the R9350's battery.
+1 for Roomba i7+
Remote control
The R9350 comes with a remote. It's useful when you want to take matters into your own hands and clean parts of your home manually. You can steer the vacuum with directional keys or perform spot cleaning. You do the latter by pointing at a spot and pressing the corresponding button, which will make the R9350 concentrate on a small area and clean it thoroughly. Other controls on the remote include an on/off button, a home button, suction strength adjustment, and a mute button for adjusting the sounds the robot makes.
Roomba's model doesn't have a remote.
+1 for POWERbot R9250
App
You control the R9350 either through Samsung's SmartThings or Smart Home apps. Both apps have a clean layout and are easy to navigate. They let you control the vacuum remotely, turn on spot cleaning, and check the battery's status. Scheduling is available as well, either one-time or weekly. The SmartThings app also adds smart home integration and room-by-room cleaning. There are issues, however. Samsung's apps frequently lose connection to the robovac, especially on iOS.
iRobot has created a dedicated app for their robovacs, which is reflected in its design and versatility. The best thing about the iRobot HOME app is its detailed map management. It's able to save ten floorplans, allowing you to seamlessly switch from downstairs to upstairs or remember the layout of multiple clients' homes. Each map is divided into rooms that are labeled and cleaned individually. You can exclude rooms from a scheduled cleaning and even block parts of them from within the app that the i7+ won't clean.
Stat lovers will appreciate iRobot HOME's History section. It breaks down the last thirty cleanings by how much space was covered and the time it took the i7+ to complete its job. You may view charging history & duration as well as an overview of each cleaning, complete with a floorplan of the event.
+1 for Roomba i7+
Smart home integration
Premium-quality robot vacuums integrate seamlessly into the modern smart home thanks to Amazon Alexa and the Google assistant. You need to download the required add-on and can then order either model around with voice commands.
You can ask your assistant of choice to start or stop both and send them to their recharge stations. The only additional command for the POWERbot is to engage Max mode for best suction. Roomba has more to offer – there are different expressions for each command, and you can tell it to clean specific rooms. The i7+ will start playing a tune if you ask Alexa to locate it. Cleaning and mapping schedules may be activated by voice too.
Both vacuums support IFTTT recipes. The selection for Samsung's model is limited. You can start, stop, and schedule cleanings, or have it start automatically when your Awair air quality sensor picks up elevated dust particles.
Roomba's IFTTT integration is much more robust. Samsung has partnered up with the likes of Nest, Sonos, and Uber to offer in-depth behavior customization via IFTTT recipes. For example, you can turn your Sonos speaker up once the i7+ starts working, or let it clean when your Uber arrives. There are more general commands to choose as well, like turning the Roomba on when no one is home, activating it via tweet, or cleaning a single room with a button press.
+1 for Roomba i7+
Price
Samsung's model is the clear winner when pricing is concerned since it costs $200 less than the i7+. It's worth noting that there's a version of the Roomba called i7 that doesn't come with the clean base. This version is priced the same as the R9350 and can be had for less when it goes on sale. However, its smaller dustbin makes cleaning the i7 more of a hassle.
+1 for POWERbot R9250
Conclusion
Why choose:
Samsung POWERbot R9250
(5 points)

iRobot Roomba i7+ (9 points)

Exceptional overall cleaning performance
Excellent edge cleaning
Handy remote
Great value for money

A low profile lets it clean under furniture
Very good general cleaning capabilities
HEPA filter
Dirt sensor
Pathing is more easily controlled
Huge capacity
Reasonable recharge time
Excellent app
Works well with AI assistants and IFTTT
iRobot's Roomba i7+ is our overall winner with an impressive 9 points. Its superior mobility & pathfinding help it reach places the R9350 can't. You need to maintain the Roomba only once every few months and can automate it further via its excellent app & smart home integration options.
However, the POWERbot R9350 shouldn't be discounted. It has a leg up over the Roomba when it comes to two crucial metrics – cleaning efficiency and suction power. This model will clean your home quicker and more thoroughly, which might be all the reason you'll need to choose it over our winner. It costs considerably less too, which makes the offer all the more tempting.
Both models are at the top of their manufacturers' robot vacuum lineups, so whichever you choose won't end up to be a disappointment. Even so, allergy sufferers, automation lovers, and everyone who dreads cleaning their vacuum shouldn't hesitate to spend extra on the Roomba i7+.