Samsung Soundbar Black Friday 2019 Deals Are Live
3D Insider is ad supported and earns money from clicks and other ways.
Samsung's Black Friday deals are more than just their smartphones and TVs. One of the most anticipated products that get a lot of attention during this season is their soundbars. Getting a great quality one is the simplest way to take your TV experience to the next level.
Supplementing your built-in TV speakers with a soundbar can make all the difference. Your audio becomes more vibrant and more precise. If you love to spend time in front of the tv watching shows and movies or playing games on your console, a soundbar is undoubtedly a welcome addition to your entertainment system.
It is a vital part of your home theater system, so you want to make sure that you are buying the best. The best soundbars can get a little on the expensive side, but the great thing is that this Black Friday, there are a lot of deals that slash prices significantly.
These deals are live right now.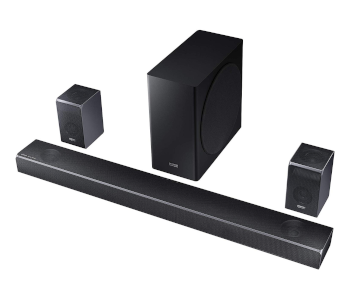 SAMSUNG HW-Q90R 7.1.4 CHANNEL 512W SOUNDBAR SYSTEM
Original Price: $1,699
Black Friday Price: $1,399
The Samsung HW-Q90R is widely considered the best soundbar of 2019, and this Black Friday they have slashed its price by $300. That's definitely a significant amount if you are keeping an eye on this to upgrade your home theater setup.
This soundbar elevates itself from the competition with wireless rear speakers, and four drivers directed upwards to fill the room with sound. It also comes with a side-firing 8-inch subwoofer that provides the entire system the bass that you need for a totally immersive experience.
The key feature of the HW-Q90R is its support for both Dolby Atmos and DTS:X. This means that it will produce the best audio on virtually any currently-produced film. Another feature that elevates this from the rest is its genuine 7.1.4 channel setup when other soundbars achieve this via acoustic beaming.
Best of the Rest Deals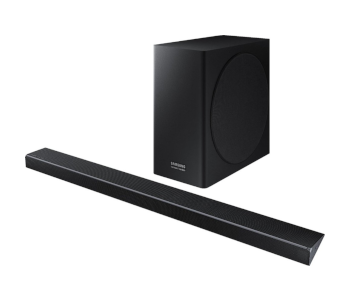 SAMSUNG HARMAN KARDON HW-Q70R 3.1.2 CHANNEL 330W SOUNDBAR
Original Price: $799
Black Friday Price: $479
Another Samsung soundbar that is $300 off is the HW-Q70R. Boasting Harman-Kardon designed audio, you can consider this the little brother of the HW-Q90R. The main difference between the two is that the HW-Q70R only comes with three dedicated drivers compared to the Q90R's seven.
This soundbar also supports both Dolby Atmos and DTS:X, so your movies can still be as immersive as you want them whenever you watch them on your home theater system. It is capable of producing a rich, detailed sound so you can enjoy every moment of the film you are viewing.
If you do not have the budget to get the HW-Q90R, then this is an option that you can consider. You will still be able to enjoy a sizeable $300 discount, but a much lower price point.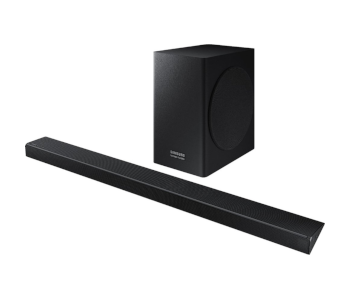 SAMSUNG HW-Q60R 5.1 CHANNEL 360W SOUNDBAR
Original Price: $499
Black Friday Price: $279
A Samsung soundbar to consider that will give you decent performance without breaking the bank is the HW-Q60R. It is undoubtedly a solid soundbar, but without both Dolby Atmos and DTS:X, its performance may fall short.
However, thanks to Harman Kardon technology, it is a soundbar that performs well with music, TV shows, and movies. It can even provide you with quality audio for your games, but do not expect too much from it.
The HW-Q60R is a solid pick, and the $220 discount is absolutely welcome. It is not the soundbar for you, though, if you are looking for premium features. However, if you are on a budget and looking to save a couple of hundred bucks more, then this is one that you should consider.
Notable Mentions
Here are the rest of the Black Friday deals that you can get for Samsung soundbars. These are definitely excellent additions to your home theater.
SAMSUNG HW-M435 2.1 CHANNEL SOUNDBAR
Original Price: $279
Black Friday Price: $139
SAMSUNG HW-R650 3.1 CHANNEL 340W SOUNDBAR SYSTEM
Original Price: $399
Black Friday Price: $209