Know Your SD Cards: SanDisk Ultra vs. Extreme vs. Extreme Pro
3D Insider is ad supported and earns money from clicks, commissions from sales, and other ways.
SanDisk may be one of the most recognizable names in the field of digital storage, but they don't exactly make it easy for customers to determine which one of their products they should buy. Case in point is their line of SD cards, ambiguously labeled as "Ultra," "Extreme," and "Extreme Pro."
If you've always wanted to buy a SanDisk SD card but was turned off by the prospect of not knowing exactly which one to buy, then we have prepared this easy-to-follow guide just for you.
Overview
Let's start the comparison with the basics. The table below summarizes the technical specs of each of the SD cards as provided by SanDisk. Take note that these specs do not consider the real-world performance of each product. Slight differences can be expected, especially in the read speed and write speed categories.
| Parameter | Ultra | Extreme | Extreme Pro |
| --- | --- | --- | --- |
| Capacity | Up to 256 GB | Up to 256 GB | Up to 1 TB |
| Read speed | 80 MB/s | 150 MB/s | 170 MB/s |
| Write speed | 10 MB/s | 70 MB/s | 90 MB/s |
| Card type | SDXC | SDXC | SDXC |
| Bus type | UHS-I | UHS-I | UHS-I |
| Speed rating | U1 | U3 | U3/V30 |
| Video class | 1080p (recommended) | 1080p (recommended) | 4K (recommended) |
| Price | $ | $$ | $$$ |
Just from this table alone, it's easy to glean the difference between the three SD card types. Based on read and write speeds alone, the Extreme Pro is the most appropriate for highly demanding use. Photography and filmmaking are two of the most obvious examples of these, especially if you tend to capture 4K videos or use the burst photography feature of your camera.
The extra capacity that an Extreme Pro card also gives it an extra boost if you store media in large formats. Again, 4K videos are good examples. This can also be useful if you save in RAW format, which stores a greater amount of information that can be useful in post-processing and color grading.
The difference in write speeds is also apparent in the speed rating of each SD card. The Ultra has a U1 (UHS Class 1) speed rating, pertaining to the 10 MB/s write speed. The Extreme and Extreme Pro both have U3 (UHS Class 3) and the additional V30 (UHS Video speed class 30) rating, which means that it can sustain a video capture rate of 30 MB/s.
What do they have in common?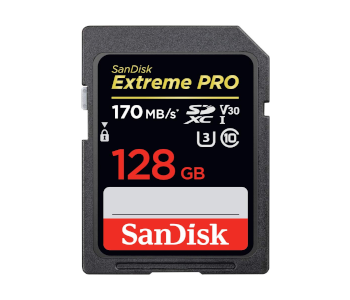 We've already highlighted the differences in the specs of the SD cards, but how are they similar? You may notice that all of them are classified as type SDXC cards, which is just a roundabout way of expressing their range of capacities. The SDXC class spans 32 GB to 2 TB, which includes all the three SD cards being compared here.
All three SD cards use the UHS-I bus type, which indicates the type of interface between the card and the device. This also has implications on the maximum read and write speeds that can be supported through the interface. The read and write speeds of all three cards are well below the maximum value. Most devices still use the UHS-I bus type primarily because UHS-II SD cards are still prohibitively expensive.
Robustness
Although the "Extreme" branding may make you think that the SanDisk Extreme and Extreme Pro are more appropriate for rugged conditions, the truth is that all three cards being compared here are pretty robust. All three are waterproof, shockproof, magnet-proof, X-ray-proof, and temperature-proof. These cards can withstand just about anything you throw at them short of deliberately destroying them.
Which one should you get?
As with any decision worth making, choosing between the three SD cards requires careful consideration of many factors. However, there's one aspect that we have not considered yet – the price. As one would expect, the Extreme Pro is the most expensive of the three. To have a concrete basis, let's look at the approximate prices for the 128 GB variant of each SD Cards
| Parameter | Ultra | Extreme | Extreme Pro |
| --- | --- | --- | --- |
| Price (128 GB) | ~ $22 | ~ $29 | ~ $37 |
As you can see, the jump from one model to the next best one is minimal at around 7 to 8 dollars. This is a fairly small difference unless you're looking to buy five to ten SD cards at the same time.
Looking at their relative specs, the cost of an Extreme Pro SD card is quite easy to justify. It's at least 20% faster than the Extreme and around twice as fast as the Ultra. If you plan to use these SD cards for professional photography and filmmaking, then the Extreme Pro is tough to beat. The Extreme Pro is considered by many to be one of the best SD cards for high-level photography work whether it's by DSLR cameras, drones, handheld gimbals, or 360 cameras.
The fact that Extreme Pro SD cards can go up to 1 TB capacity is a nice bonus as well, as it means that you wouldn't have to buy as many spare SD cards. This might even turn out cheaper if you're buying in bulk.
Just keep in mind that the pricing for SD cards isn't linear with capacity. For instance, the 512 GB version of the Extreme Pro is about 4.3 times more expensive than the 128 GB version while the 1 TB version is almost 9 times more expensive.
The Extreme is an excellent middle-ground option, especially because of the large price drop from the Extreme Pro. While its read and write speeds are impressive, its glaring shortcoming is that it's just a little too slow for 4K video recording. Still, it provides the best value for money considering relative cost and speed rating.
The Ultra is the basic SanDisk card. With its paltry write speed, it's certainly not the type of SD card you would want to use for professional gigs. It's very cheap, though, so having a handful of them for long-term storage and transfer of files isn't going to put much of a dent in your pocket.
One thing to be wary of is buying an SD card rated for read and write speeds that are not supported by your device. For instance, mid-range DSLR cameras typically have write speeds in the range of 100 to 110 MB/s. If you had this type of camera, then getting a UHS-II SD card that supports write speeds of up to 150 MB/s would be unnecessary and ultimately a waste of money.
Final thoughts
SD cards have been around for a long time and it doesn't seem like they're going to be outdated soon. Even modern devices like drones and handheld gimbal cameras still use SD cards, mostly because of how wonderfully compact and lightweight they are. They're also hot-swappable, which means you don't need to be limited by some built-in storage system.
In terms of reliability in the SD card market, SanDisk is certainly one of the top brands. We've chosen to highlight three of their SD cards in this article – the Ultra, Extreme, and Extreme Pro – but their full range is a little wider. Each one of these SD cards is excellent in its own right. The choice of the best SD card for you depends on what you need it for.