5 Best Security Cameras with SD Cards
3D Insider is ad supported and earns money from clicks and other ways.
Building a working security system for your home nowadays may be more affordable than ever, but it's still a sizable investment for many. While security cameras with cloud storage access and real-time streaming capabilities are all the rage right now, there's nothing wrong with dialing it back a little bit and relying on technology that's a bit more old-fashioned.
Security cameras that store footage locally on SD cards are a good middle-ground for building a security system without having to go all out with modern technology. Why should you be getting a security camera with an SD card? What are the best models available in the market today?
Pros and cons of security cameras with SD cards
Security cameras with SD cards may feel ancient, but there are still a couple of good reasons to stick with this technology in 2019.
1. Cheaper
With no built-in transmission or communication modules, security cameras that store footage on SD cards are so much cheaper compared to those that rely on cloud storage. If you're looking for a high-quality security camera that costs less than $50, then a model that stores on an SD camera is probably your best bet.
Most security cameras also treat cloud storage as a service which you'll need to pay for regularly. In contrast, a security camera that saves footage on an SD card is just a one-time expense. At worst, you might need a couple of extra SD cards, which are also really cheap.
2. Works in areas without a Wi-Fi connection
You may want to install a security camera in a remote or isolated area, such as around a large farmland or at a cabin in the forest. These are the kind of places where you just need to drop in every now and then and quickly check the saved footage for anything suspicious. If you're not expecting a lot of activity, then you probably also won't need a real-time streaming feature. For these types of places, having a security camera with cloud storage features is impractical and just a waste of money.
3. No data privacy issues
In this age where the security and privacy of our digital data have become genuine points of concern, it's understandable how people could be worried about the possibility of footage captured by their security cameras falling into the wrong hands. If transmitting videos taken from your property wirelessly and storing them in the cloud feels like it would be an issue, then you're much better off saving them on an SD card which you only need to secure physically.
Of course, there are also very good issues for the rise of cloud-based storage of security footage. A security camera with an SD card just isn't for everyone, and there are certain applications where one is certainly not suitable.
1. Limited storage
As you can imagine, cloud storage provides nearly unlimited capacity. Should you need more space, you only need to upgrade your plan with your service provider. When you store on SD cards, your storage limitation is more physical in nature – one that can only be solved by buying a more expensive SD card or replacing them frequently.
Thus, if you need a security camera that records footage 24/7 or has the ability to stream its footage real-time to your mobile device, then a security camera with an SD card probably isn't for you. However, if all you need is a camera that records snippets of footage when it detects any motion, then the limited capacity of an SD card shouldn't be as much of an issue.
2. Footage can be stolen or damaged
The main selling point of cloud storage is that your data can never be physically lost unless you decide to delete it. When you settle for a security camera with an SD card, it will always be under the risk of the camera itself getting stolen. If the camera gets damaged by water or fire, then you almost certainly will also lose the footage of the incident that the camera has recorded. There's no working around this limitation – you'll just have to deal with the risk.
The 5 best security cameras with SD cards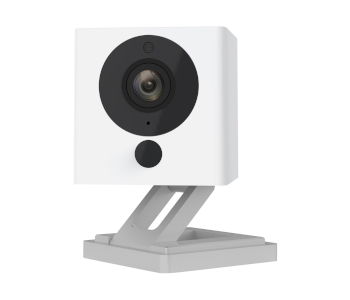 With a price tag of only around $25, this wireless home camera from Wyze Labs is a great deal no matter how you look at it. The camera can record videos at 1080p HD resolution and even has night vision capabilities up to 30 feet away. Its motion detection technology also has a tagging feature which will help detect and outline moving objects in the videos that it records.
The Wyze Cam supports local storage to a microSD card. Whenever the motion detector senses any movement, the camera automatically records a 12-second Event Video. You can then take out the microSD card and play the videos on your phone through the Wyze app, which offers more advanced playback capabilities.
What makes the Wyze Cam such an excellent value-for-money product is that it doesn't just work exclusively by local storage – it also has Wi-Fi capabilities! When connected to a Wi-Fi connection, the Wyze Cam can stream real-time footage to your smartphone via the Wyze app. This also enables push notifications should your camera detect or alarms (such as your smoke or carbon monoxide alarm.)
On top of storing the videos directly on a microSD card, the Wyze Cam can also store footage on the cloud with a Wi-Fi connection. The best thing about the cloud storage service that Wyze offers is that it's free – there are no subscription or monthly fees required. Cloud storage is limited to 14 days, though, but that should be enough unless you're going on an extra-long vacation.
For a security camera that offers both cloud and local storage, the Wyze Cam is a surprisingly affordable option. You simply cannot go wrong with this one.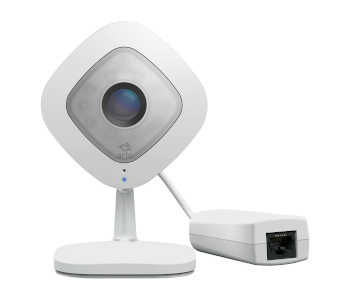 If you're willing to spend a bit more (okay, a lot more) for a camera with smarter features, then this wired security camera system from Arlo should fit the bill. In fact, this security camera is loaded with just about any feature you could possibly want.
Like the Wyze Cam, the Arlo Q offers both local storage on an SD card or cloud storage via WiFi connection. The Arlo Q also has an Ethernet port, giving you another option of how to hook it up to your local network. Arlo offers free cloud storage service as well, although this one is only limited to 7 days.
The camera quality of the Arlo Q is excellent. The 1080p HD resolution is fully complemented by a 130° wide-angle lens and an enhanced night vision capability. The camera can be set up to start recording with either or both of motion and sound triggers.
One of the things that set the Arlo Q apart is its two-way communication feature that allows you to talk to or listen to someone at the other end of the security camera through the mobile app. If you have kids at home, then this is a good way to check up on them every now and then while you are away. The Arlo Q can also be paired with an Alexa device to maximize its smart capabilities.
With a feature that allows you to view up to five video streams on the Arlo mobile app, the Arlo Q is an excellent choice for building a network of security cameras for your home. However, this can be a pretty expensive proposition – each Arlo Q costs nearly $200. If you have the cash to spare, then we recommend going for this model.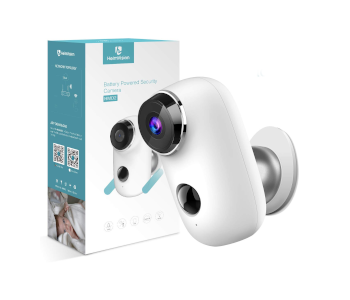 Despite the Wi-Fi capabilities of most security cameras, they often still need to be powered by a wired connection to enhance their reliability. Not only is this make installation of the security camera a bit more complicated, but it can also limit the areas where you could mount the camera. If you have no power outlet nearby, then you'll have to lay down a long power cable, which doesn't exactly help keep your security camera discreet.
With this rechargeable security camera from HeimVision, you no longer need to worry about where you're going to mount it. Since the camera is completely wireless, you can install it practically anywhere. The HeimVision camera is best used in applications where the camera doesn't have to operate at full power all the time, and its extremely efficient PIR sensor helps extend its battery cycle.
Aside from the battery provision, the HeimVision camera offers just about all the features of the very best security cameras in this list. It supports real-time streaming through the companion mobile app, local storage to an SD card, and limited-time cloud storage. It also has a two-way communication feature, push notifications, and an option to connect to a solar panel.
There's a glaring downside, though: HeimVision offers no free cloud storage service. The plans are pretty affordable, though, so don't let that put you off completely. While the HeimVision rechargeable camera isn't exactly the budget option, the convenience of being able to install it anywhere you want is more than enough to justify the price.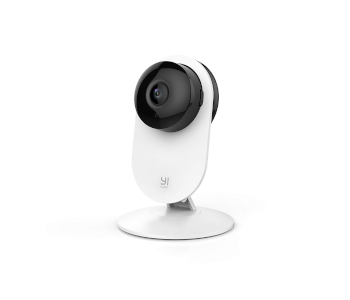 YI has a whole product line of excellent security cameras, but we chose to highlight their most basic offering on this list. This indoor camera is excellent for watching over your kids, checking for activity at night, or monitoring your nanny. Not only does it start recording when it detects motion, but you can also set it to record if it hears a baby crying.
The camera supports both local storage on an SD card, real-time video streaming of up to four cameras on the Yi Home app, and storage on the Yi Cloud. Some customers have expressed concerns over Yi's data privacy policy with claims that the camera transmits footage over the Web even without subscribing to a Yi Cloud plan. Since data privacy is a pretty big deal for us, we'll have to dock a few points from Yi for this choice.
That aside, the Yi Home Camera has all the features you could possible need for indoor home security. It even offers an option to activate 24/7 emergency response that will prompt the dispatch of fire, police, or medical response personnel to your home should the situation call for it.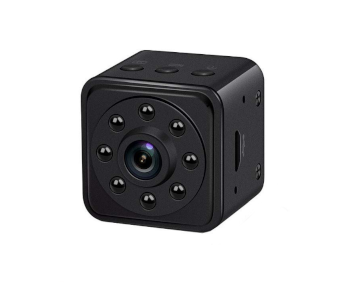 This camera is the ultimate in portability. Measuring just a little over an inch on this side, this small cubic camera is perfect for those situations where you need to record footage inside your home without anyone else knowing. If you suspect that something is going wrong somewhere, then this is the best solution to catch the unknowing parties red-handed.
Despite its humble size, the SOOSPY hidden camera can record an impressive 1080p resolution at 30 fps, has a 140-degree field of view, and even has limited night vision capabilities. It supports storage to a micro SD card but has no Wi-Fi capability.
The biggest limitation of the SOOSPY hidden camera is inherent to its size. The 4200 mAh Li-ion battery only supports up to 2 to 3 hours of HD video recording, which makes the SOOSPY very ineffective for recording videos 24/7. You can, however, extend its battery life up to a week by activating its motion detection mode.
The SOOSPY hidden camera is far from being the best security camera available today, but it fulfills a unique need. If you're looking for a camera to "spy" on people you suspect are up to unsavory things, then this is a viable go-to solution. Just don't use it for anything illegal!
Final thoughts
Having security cameras with all those fancy live-streaming and cloud storage features is nice in most cases, but there are still situations that call for more old-fashioned solutions. Security cameras that store videos locally on SD cards can still serve a purpose. They are also remarkably cheap. Who says that only modern problems require only modern solutions?