Security Cameras Black Friday Deals 2019 from Arlo, Blink, Ring and Nest
3D Insider is ad supported and earns money from clicks, commissions from sales, and other ways.
You might have plans on taking a trip somewhere over the coming holiday season, but how comfortable do you feel leaving your home for a week or longer? Nowadays, it's no longer practical to have someone watch over your home. Why not use the cash you were going to spend for a house-sitter and buy discounted security cameras this Black Friday?
Almost all the major retailers have already published their Black Friday deals. This is the perfect time to get a security camera for cheap, as almost all of the major brands have discounted products. Check out the best deals on security cameras that we've managed to round up below: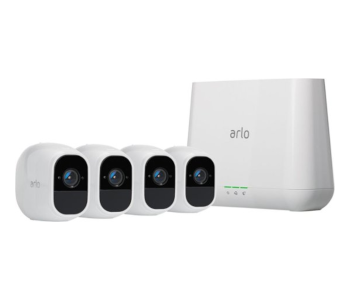 Arlo Pro 2 4-Camera Indoor/Outdoor 1080p Security Camera System
Original Price: $649.99
Black Friday Price: $399.99
If you're looking for a security camera system that can cover your entire house and its surroundings, then you probably can't get a better deal than the Arlo Pro. This four-camera starter set is being offered by Best Buy this Black Friday for only $399.99 – a massive $250 discount from its regular retail price. This deal is LIVE right now.
The Arlo Pro isn't just your standard security camera kit. Each of the four cameras communicates wirelessly with the base station, which allows for cloud-based video storage and remote monitoring. The cameras have an IP65 rating suitable for outdoor use, have a two-way audio feature, can record videos at 1080p resolution, and can be set up to emit a 100-dB siren when they detect any motion.
Another huge advantage of the Arlo Pro 2 cameras is that they are battery-powered. This makes them a lot easier to set up, and even allows installation in areas that may be hard to run a wire to.
The Arlo Pro 2 has always been one of the more expensive security camera systems, so we're very glad to see it heavily discounted for this year's Black Friday. This is simply a chance that you cannot pass up if you find yourself constantly worried about the security of your home or family.
Other deals on Arlo security cameras
If the Arlo Pro 2 4-camera kit feels a bit too much for you, then you can still grab any of these deals on Arlo security cameras from other retailers.
Product
Regular price
Discounted Price
Available from
Arlo Pro 2 Wireless
Home Security Camera
System 3-Camera Kit
$679.99
$419.70
Amazon
Arlo Pro 2 Wireless
Home Security Camera
System 2-Camera Kit
$479.99
$311.00
Amazon
Arlo – Pro 2 2-Camera
Indoor/Outdoor
Wireless 1080p
Security Camera
System – Black
$399.99
$279.99
Best Buy
Arlo Pro 2 Add-on
Camera
$219.99
$138.00
Amazon
Arlo 720p 3-Camera HD
Security Camera
System
$249.00
$179.00
Walmart
Black Friday deals on other security camera brands
Arlo may be one of the most well-known brands of security cameras, but they certainly don't have a monopoly on quality. This Black Friday, you can also grab deals on these similarly great security cameras.
Product
Regular price
Discounted Price
Available from
Blink XT2 Security
Cameras (various
models)
$89.99 to $379.99
Save up to 26%
Best Buy
Blink XT2 Outdoor/
Indoor Security Camera
$249.99
$184.99
Amazon
Ring Indoor HD
Security Camera –
2-Pack
$119.98
$99.99
Amazon
Google Nest Cam
Indoor Security Camera
3-Pack
$397.00
$367.00
Amazon
Google Nest Cam
Indoor Security Camera
1-Pack
$199
$159
Target
Canary Indoor 1080p
Home Security Camera
$79.99
$49.99
Best Buy
Canary Flex Indoor/
Outdoor Wire-Free
Security Camera
$199.99
$139.99
Best Buy
TP-Link Security
Cameras
$49.99 to $99.99
15% to 20% savings
Best Buy
Final thoughts
A high-quality security camera system is certainly one of the wisest investments you can make this coming Black Friday. For a fraction of their original retail prices, you can get the peace of mind that only a security camera system can provide. For us, being able to watch over your home or your family wherever you are is simply priceless.
As Black Friday draws closer, we expect even more deals on security cameras to be announced by various retailers. Security cameras are some of the most popular products during the Black Friday season, and this year probably won't be any different. Make sure to grab these discounts before they disappear!