6 Best Security Lights of 2019
3D Insider is ad supported and earns money from clicks and other ways.
Efficient security systems catch thieves in the act, but why even give criminals a chance when you can scare them off? The majority of burglars will think twice about attempting to rob you with a blinding light going off as soon as they come within range, which is why security lights are your first and often times best line of defense against theft!
Security lights are equipped with infrared motion sensors that turn them on whenever they notice movement. Some security lights are designed for indoor use while others feature a larger detection area and will protect your yard. There are also models with built-in security cameras that provide condemning eye witness evidence if the thieves are stupid enough to try something.
These are six of the best security lights for your piece of mind. We've thoroughly reviewed each and rated it based on overall performance along with factors like the quality of its sensors and bang for your buck. Check them all out and choose the security light that has the assortment of features you'll benefit from the most.
Budget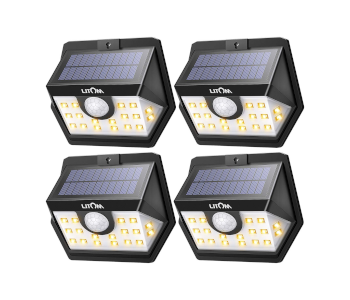 LITOM Enhanced Solar Lights
4.1/5.0
Sensors: 3.9
Additional features: 3.8
It has four lights for a fantastic price.
Check Amazon
Best Value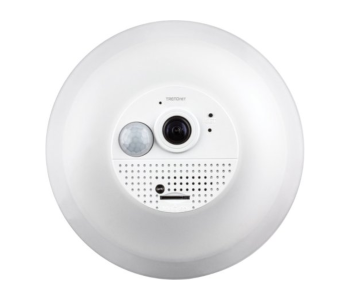 TRENDnet TWC-L10 Light Bulb Surveillance Camera
4.5/5.0
Sensors: 4.6
Additional features: 4.4
Inconspicuous camera and light in one.
Check WalMart
Top Pick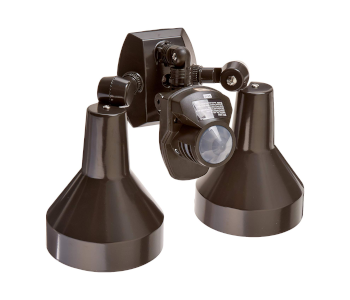 RAB Lighting STL360H Super Stealth 360
4.7/5.0
Sensors: 4.9
Additional features: 4.5
Covers a 360-degree radius around itself.
Check Amazon
Security Lights Comparison Table
1. Best Overall – RAB Lighting STL360H Super Stealth 360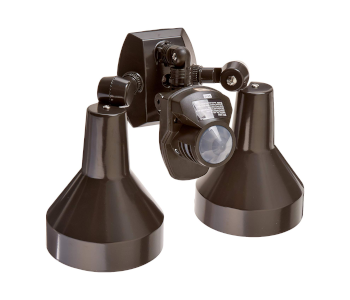 View on Amazon
Editor's Rating: 4.7/5
Outdoor security lights need to be installed at an elevated location to provide maximum coverage. While this illuminates a sizable area in front of the lights, it leaves them vulnerable to approaches from the sides and below. RAB Lighting's Super Stealth 360 eliminates this security exploit by including a second sensor that covers the area beneath and behind the light. It is well-built and stylish as outdoor lights go, easy to install, and features immaculate motion sensor detection.
Overview of Features
One look at the Super Stealth tells you it's built to last. Its body is made out of die-cast bronze which ensures protection against rust and prolonged exposure to the elements. The sensors and other electronics are environmentally sealed and waterproof so you can install the light without having to rely on a roof for protection. It works with incandescent, CFL, and LED bulbs, so you get to determine the brightness as well.
The Super Stealth 360 gets its name from the total coverage provided by its two sensors. The main one covers a 180-degree arc 60 feet in front of the light while the secondary sensor's range is 15 feet. It makes up for the range difference by covering the area beneath the light, making a covert approach to it impossible. You can lower the primary sensor's sensitivity and detection range if you find it gives off too many false alarms. Alternately, you can disable the sensor altogether and program the light to shine for a fixed duration.
The light is also tamper-proof and reliable regardless of the weather. It comes with surge protection and is immune to interference caused by radio waves. The usual slower response times motion sensors experience in cold weather is mitigated by a temperature compensation system, so there's no drop-off in performance.
You should let a professional install the Super Stealth 360 if you don't have DIY electrical experience. Whichever way you go about installing it, the light has detailed instructions as well as an S-hook that holds it up during wiring which speeds up the process.
What We Didn't Like
The motion sensors are sensitive almost to a fault. They are set off by wind or cars passing in the distance. Toning the sensitivity down help but isn't a definitive solution. The light timer might stop working after a while. This leaves you with motion detection as the only means of activating the Super Stealth.

Tech Specs
Dimensions: 6,4 x 13.2 x 10.2 in
Motion sensor range: 60 feet for main sensor, 15 feet for secondary sensor
Has camera: No
The Pros
Covers a 360-degree radius around itself
Straightforward installation guided by thorough manual
Works well regardless of weather or temperature
Tamper-proof
The Cons
Sensors prone to false positives
Program mode can fail after long use
2. Best Value – TRENDnet TWC-L10 Light Bulb Surveillance Camera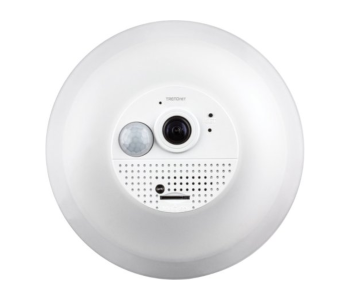 WalMart
Editor's Rating: 4.5/5
What better way to secure your home than to have video evidence on top of a light that will expose a thief's shady practices? That's the idea behind TRENDnet's TWC-L10 – it is a bulb you install into light fixtures and has a built-in security camera for 24/7 monitoring. The bulb connects to your Wi-Fi so you can check up on the room it guards from anywhere. Installation and pairing are effortless, the app is simple to use, and the light bulb camera combo goes for an amazing price!
Overview of Features
The TWC-L10 is larger than ordinary bulbs since it also needs to accommodate a camera, a two-way speaker, and an SD card slot. That's why it's meant to be installed into ceiling fixtures or arcing lamps and records activities with a bird's eye view. The light has a brightness of 360 lumens and is equivalent to a 40-watt incandescent bulb. Its temperature is a warm 3,000 Kelvin. The light's placement makes camera detection impossible while it shines and improbable when it's off since it's unlikely that a burglar would look up at it.
The camera captures footage in 720p at 30fps. It can stream a live feed to the ReadyView app or stores it locally onto an SD card. The maximum supported memory capacity is 64GB. The camera has a wide Field of view of 185 degrees which lets it cover an entire room from a central position. Detail levels are sufficient to recognize people at the edge of the room and can be further enhanced with 1.85x optical zoom.
The app has a basic design, but it lets you control everything about the TWC-L10. This includes turning the light or motion detection on and off, communicating with someone through the two-way speaker, and saving a clip or picture. Getting the app to work with the TWC-L10 is quick and painless – you need to screw the bulb in, connect the app to your home's Wi-Fi network, and that's it.
What's Bad About It?
The camera's field of view leads to heavy barrel distortion. This means that objects at the edges of its view are warped and lack small details. There's no distortion at the center, but people who are standing directly under the TWC-L10 are hard to identify because only their heads are visible. TWC-L10 is a smart light bulb, but it isn't a connected one. There's no support for either IFTTT or AI assistants like the Google Assistant or Amazon Alexa.

Tech Specs
Dimensions: 5.1 x 5.1 x 5.5 in
Motion sensor range: 15
Has camera: Yes
Resolution: 720p
Field of view: 185°
The Pros
Inconspicuous camera and light in one
Excellent value for the money
Simple companion app
Easy to install and pair
The Cons
Significant barrel distortion on edges
No home automation support
3. Maximus Video Security Camera & Outdoor Light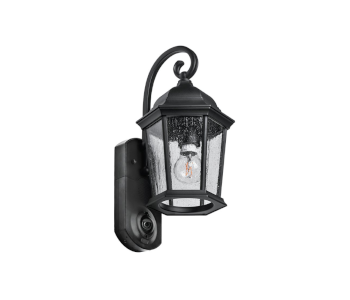 View on Amazon
Editor's Rating: 4.4/5
False alarms are a security light's biggest drawback. No one wants to wake to the light's glow just to discover that a squirrel or a flag waving in the wind are to blame. That's why Kuna's Maximus line features in-depth sensors that are able to distinguish between people, cars, and other moving objects. The lights come in a variety of styles, have a feature-rich app, and the camera works well during the day.
Overview of Features
The Maximus security light line consists of porch lights in four different styles ranging from coach to contemporary. Each design is tasteful and has a black finish. You don't need to buy two smart models if you need a pair either since there are standard lights available for each design. These sync with the smart light through Bluetooth and turn on or off alongside it. The lights are waterproof and weather-resistant, and they'll work with any kind of bulb. Expert installation takes 20 minutes or less, or you can consult the handy manual & video guide and speed things up if you're doing it yourself.
Intelligent motion sensors are this light's greatest asset, and there are several ways you can set them up. In normal mode, the PIR sensors are triggered by anything that passes into their 10-foot range. People and vehicles each have a detection and an area of interest mode. The detection modes will trigger alerts only when a person or car passes. Area of influence lets you choose what parts of a grid to monitor and triggers notifications only if something passes through the designated area. This is great if you want to ignore passing cars until one pulls up in your driveway for example.
The camera has a 115-degree field of view and records good-quality 720p footage. The colors are washed out compared to leading security cameras made by Ring or Arlo, but people are captured in detail, and 5x digital zoom allows you to read license plates.
The Kuna app is packed with features! It shows a live feed of the camera, lets you talk to people through the loudspeaker, and is used to configure motion detection settings. You can set the light to shine during certain hours or to go on at sunset and off at sunrise. There are also greetings that play once someone approaches the light. These range from chimes and automated responses through your own voice messages to special seasonal greetings.
Are There Drawbacks?
The advanced motion detection settings and cloud video storage aren't free. There is an unpaid option, but this limits you to basic motion detection and viewing only two hours' worth of footage. The basic plan isn't too expensive though – it costs $5/month if you pay for a year in advance and includes 7 days of storage. The other more concerning reason why this light isn't higher on the list is the lack of night vision. The camera is useless at night even when the light is on.

Tech Specs
Dimensions: 5.1 x 5.1 x 5.5 in
Motion sensor range: 10 feet
Has camera: Yes
Resolution: 720p
Field of view: 115°
The Pros
Excellent motion sensors
Comes in wide variety of beautiful designs
Good daytime camera performance
Intuitive and feature-rich companion app
The Cons
Advanced features locked behind monthly subscription
No night vision
4. Seahon 1080P Night Light Camera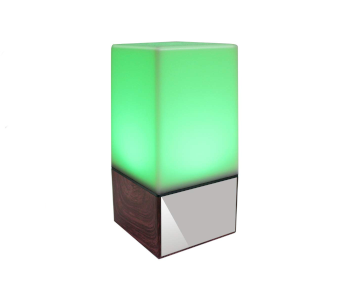 View on Amazon
Editor's Rating: 4.2/5
Continuing the trend of inconspicuous security lights is the night light and video camera combo by Seahon. You can place this innocuous-looking night light in a hallway and capture any movement. Or, it can act as a nannycam and entertain your child with dozens of colors. It's a versatile system that lets you monitor your home without arousing suspicion or fearing that the light will be affected if someone wants to disable your security system.
Overview of Features
At first glance, the Seahon is a modern-looking rectangular night light with a stout base. Its front panel has a mirror finish to better conceal the camera, while the on/off controls along with USB and SD card ports are on the back. It runs on a 3,500mAh Li-ion battery that can record 4 hours of footage before needing a recharge. Better yet, the light plugs into a standard outlet and can record while charging.
You connect the lamp to Wi-Fi by installing the app and then scanning a QR code. Then you can watch the live feed, adjust the light's brightness and color, or scare off thieves by using the two-way communication system. The motion sensors flawlessly pick up movement and prompt the app to send you push notifications without delay.
The best thing about this security light is its camera's night vision. 10 infrared LEDs surround the lens and give off enough light to illuminate someone standing 25 feet away in complete darkness! The camera is among the better ones that come with security lights as it features 1080p resolution, good color balance, and decent contrast.
What We Didn't Like
The Seahon's audio quality is terrible. It's hard to understand what people close to it are saying, and your voice comes out muffled. It will do when you need to give someone a scare but is useless for anything else. Starting the live feed causes the light to dim for a second. This keeps happening until you turn the live feed off.

Tech Specs
Dimensions: 3.1 x 3.1 x 6.3 in.
Motion sensor range: 15 feet
Has camera: Yes
Resolution: 1080p
Field of view: 120 degrees
The Pros
Excellent night vision
Cleverly disguised security camera
Runs on rechargeable battery but works while plugged in
Lots of colors to choose from
The Cons
Bad sound quality
Periodically loses brightness when live feed is on
5. First Alert PIR725 Motion Activated Light Socket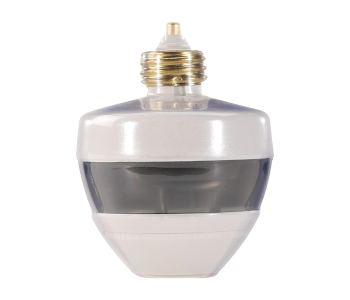 View on Amazon
Editor's Rating: 4/5
Splurging on a sophisticated security light is an excellent idea if you need just one, but what if you want to secure multiple rooms in your house along with surrounding buildings? That's when you get First Alert's motion-activated light socket! This simple upgrade brings accurate motion detection to any light fixture. It's as easy to install as screwing in a light bulb, works with a wide variety of bulb types, and is cheap enough that you can buy as many as you need and not break the bank.
Overview of Features
The PIR725 is an extension which screws into any fixture or lamp as long as it holds standard bulbs and has access to a 100V power source. It has a socket you screw a lightbulb into, which is then activated whenever someone enters its 12-foot detection range. It's best to place the PIR725 at a height of 8 feet and in the middle of a room since its sensor has a 360-degree angle.
There's no need to replace your existing bulbs either – LED, CFL, and incandescent light bulbs all work without issue as long as they draw 100 watts of power or less for incandescent and 50W for CFL models. The sensors turn the light on as soon as someone is in range, and the lights turn off automatically four minutes after no motion is detected.
The PIR725 is cheap at $20 apiece. This makes it easy to buy multiple units and install one in the garage, on the porch, or inside a barn. There's no danger of light bulbs staying on longer than they should, which means you'll improve your home's energy efficiency along with its security.
What's Bad About It?
The motion sensors work in a cone that expands downwards and away from the socket. This means that standing under it won't trigger them. While this isn't a problem in most cases, it makes the PIR725 unusable for walk-in closets or in places where the light fixture is directly above a door. Motion detection is also inconsistent – the PIR725 will detect far-away traffic yet fail to turn on until you're 2 feet away from it seconds after that.

Tech Specs
Dimensions: 8.1 x 6.2 x 2.5 in.
Motion sensor range: 12 feet
Has camera: No
The Pros
Works with existing bulbs
Installs like any light bulb
Works with any light fixture
Appealing price
The Cons
Sensors behave inconsistently
Doesn't detect motion directly underneath itself
6. Best Budget Option – LITOM Enhanced Solar Lights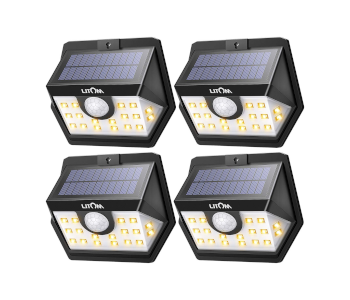 View on Amazon
Editor's Rating: 4.1/5
Do you have a large yard you need to protect from intruders or wild animals? Not even the best security light is enough to cover a vast area, so why not invest in a four-pack of great security lights instead? LITOM's lights are solar-powered, have three distinct operating modes, and take seconds to install. They have amazing value for the money, and it's worth buying multiple packs for even greater coverage.
Overview of Features
This pack contains four solar-powered lights, each with 130 lumens of brightness and a beam angle of 270 degrees. They're ideal as porch or garage lights since the wide angle covers a 200-square foot area underneath a light while illuminating both sides as well. Mounting LITOM's lights involves drilling a hole in a suitable spot and fixing them to supplied mounting brackets. Access to plenty of sunlight is the lights' only placement restriction since they are waterproof.
LITOM's lights have superb solar panels which charge them up during the day, even when the weather is overcast. You can also plug the lights in if you live in a place with dreary weather and during the winter since the decreased exposure means they'll be dimmer and stop glowing sooner than in summer.
There are three operation modes to choose from and all kick in once night falls. The first one keeps the lights on full brightness from sunset to sunrise. In the second mode, LITOM's lights are dim throughout the night but flare up when the motion sensors are triggered. The third mode works much like the second, except that the lights are off while on standby.
Are There Drawbacks?
The motion sensors respond to every detected activity by adding another 30 seconds to a light's on time. This is great if you're doing something in the yard and want constant light without having to change the settings but could be a problem if there's lots of traffic the sensor can detect. While the lights do technically shine all night long, they don't hold enough charge to last until sunrise in continuous lighting mode.

Tech Specs
Dimensions: 4.9 x 4 x 1.9 in
Motion sensor range: 20 feet
Has camera: No
The Pros
Four lights for a fantastic price
Wide beam angle covers big area
Diverse glow settings
Easy to set up
The Cons
Decreased efficiency in winter
May not last the night in continuous mode
Repeated traffic quickly depletes battery