6 Best Self-Monitored Home Security Systems
3D Insider is ad supported and earns money from clicks, commissions from sales, and other ways.
Not too long ago, investing in a home security system involved paying a lot of money to professional contractors who'd make the house unbearable to live in until they were done. If you decided to move after a while, the system would have to stay. Luckily, we're living in an age where DIY home security has become viable, affordable, and non-invasive.
Self-monitored home security systems use sophisticated sensors and deafening sirens to scare off intruders and prevent theft. They're always connected to your smartphone and can notify you of suspicious activity moments after it happens. They also fit neatly into a smart home environment and serve as hubs which bring all manner of smart devices together.
We've rigorously researched the most popular self-monitored home security systems on the market and showcase the six best ones in this in-depth review. The Arlo 2 Pro is another worthy alternative we've already reviewed at length in our article on the best home security cameras, so be sure to check it out as well.
Budget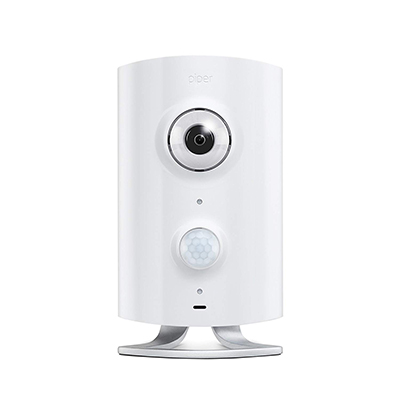 Piper Classic
4.0/5.0
1080p camera
No monthly fees
Has lots of sensitive and useful sensors. Free cloud video storage.
Check Amazon
Best Value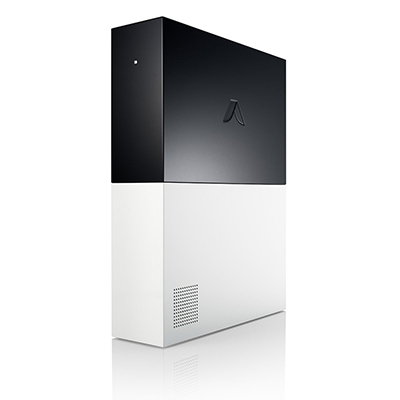 Abode Essentials Starter
4.6/5.0
Works with IFTTT
Monthly fee $10 or $30/month
Acts as smart home hub and supports AI assistants and IFTTT.
Check Amazon
Top Pick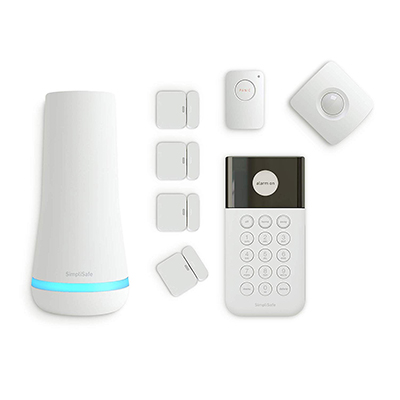 SimpliSafe Wireless System
4.8/5.0
4 contact sensors, motion sensor
Monthly fee $15 or $25/month
Can easily be customized with an array of different sensors.
Check Amazon
What to Look for in a Self-monitored Security System
Backup Options
Sensors & Sensor Control
Professional Support & Monthly Fees
Smart Home Integration
6 Best Self-Monitored Home Security Systems Comparison Table
| Make and Model | What's included (apart from base unit) | IFTTT support | Price |
| --- | --- | --- | --- |
| SimpliSafe Wireless Home Security System | 4 contact sensors, panic button, motion sensor, keypad | No | Check Price |
| Abode Essentials Starter Kit | Motion sensor, contact sensor,key fob | Yes | Check Price |
| Nest Secure | 3 motion sensors (two of them double as contact sensors), 2 key fobs, keypad | No | Check Price |
| Wink Lookout Smart Security Starter Kit | 2 contact sensors, motion sensor, siren | Yes | Check Price |
| Ring Alarm Home Security System | Motion sensor, contact sensor, keypad, Z-wave extender | No | Check Price |
| Piper Classic | 1080p camera, contact sensor, smart switch | No | Check Price |
1. SimpliSafe Wireless Home Security System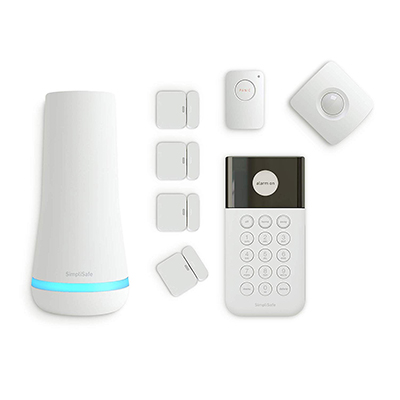 View on Amazon
Editor's Rating: 4.8/5.0
Installing a self-monitored security system is a DIY project, so it makes sense that you should be able to customize how many and what types of sensors the system will have. SimpliSafe is unmatched when it comes to the versatility of gear and the variety of security measures it provides. The system has an updated look, its professional monitoring option is among the most fairly priced in the industry, and its value as a whole is amazing.
The Comprehensive DIY Alarm System
The best thing about SimpliSafe is the mix & match approach to alarm system building. The stylish hub and keypad are essential, but everything after that depends on your needs and budget. The kit we're reviewing contains a motion sensor, a panic button, and four contact sensors which attach to any kind of door or window. You can upgrade this setup by purchasing more contact and motion sensors or add leak, temperature, and smoke sensors as well as a security camera.
Installation boils down to plugging the base unit in and placing the other items wherever you like as they come with adhesive tape that doesn't damage surfaces. The system can be turned off, left in Home mode where only the contact sensors are active, or armed completely. An ear-piercing 95dB siren sounds if the alarm is tripped, and since it is located inside the hub, burglars can do whatever they want to the keypad and still get caught red-handed.
SimpliSafe's alarm has a few tricks up its sleeve that will save you even if the situation seems hopeless. There's a special code you can put into the keypad which seemingly deactivates the alarm but sends word to the authorities anyway. You can work out a safe word as well so when an alarm does go off and you're speaking to an operator they'll dispatch someone if you don't use the word whatever else you say. Professional monitoring costs a reasonable $15/month.
The SimpliSafe app lets you customize the sensitivity of each sensor as well as the time it takes for the alarm to sound once a sensor is activated. Here you can set up the emergency PIN, grant temporary access to other users, and more. SimpliSafe works with Nest, so you can pair the Learning Thermostat with it to automatically arm the alarm once the thermostat's Away mode is triggered.
Are There Drawbacks?
Bizarrely, SimpliSafe charges you an additional $10 per month if you want to use their app which is something no other manufacturer does. IFTTT and AI assistants aren't supported yet but will be available soon.

Tech Specs
What's included: 4 contact sensors, panic button, motion sensor, keypad
Phone call notifications: Yes
Works with IFTTT: No
Monthly fees: $10/month to use the app, $15/month for professional monitoring. $25/month for both.
AI Assistant compatibility: N/A
The Pros
Can easily be customized with an array of different sensors
Effortless setup
False PINs and the safe word system
Minutely customizable sensor and alarm settings
The Cons
Paid app
Limited 3rd-party support
2. Abode Essentials Starter Kit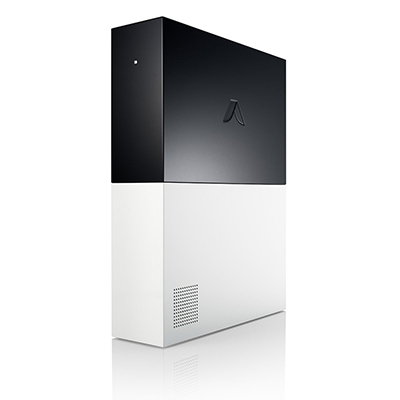 View on Amazon
Editor's Rating: 4.6/5.0
Is a self-monitored alarm system your first smart home purchase? In that case, we can't recommend the Abode Essentials starter kit enough! It's an excellent security system in its own right, but the integration of a smart home hub is what gives Abode outstanding value. With it, you can automate numerous smart home gadgets and create a home environment that's as pleasant as it is secure.
The Smartest Security System Around
The starter kit's package contains a hub, single motion & contact sensors, and a key fob. A bit bare-bones, but additional sensors and key fobs can be purchased and integrated later. The hub is the only piece in the kit with limited placement as it needs to be plugged in and connected to your router via Ethernet cable. It houses a backup battery good for 10 hours as well as a cellular radio so your home remains secure even if both the power and Wi-Fi are cut. It also houses a 9dB siren which can clearly be heard outside.
The sensors are unobtrusive and can be placed on doors or windows with adhesive tape. Entering a PIN into the app and then pairing each sensor by scanning its QR code is all it takes to activate them. The key fob has four buttons – one for deactivating all alarms and three for cycling between standard, unarmed, home, & away modes.
Abode offers a generous and customizable protection plan. You can get two user accounts, 3 days of activity log storage, and email support for free! $10 per month gets you professional surveillance courtesy of COPS Monitoring, unlimited user accounts, and cellular backup. The most expensive option costs $30 per month and adds 90 days of log data plus premium 24/7 support to lower tier benefits.
The hub communicates with other smart devices through Zigbee, Z-wave, and IFTTT. The selection is huge and includes smart plugs, lights, security cameras. Automation rules can be set through Abode's web portal. This lets you enable geofencing and arm the alarm whenever you leave home, set lights to turn on if the alarm is triggered, and much more. Amazon Alexa and Google assistant are supported too and will inform you of the alarm's status or let you change it with voice commands.
What's Bad About It?
3rd-party support is extensive, but there are some smart devices which may not work with Abode's security system. You'll need to look at the list of compatible devices before purchasing other gadgets if you want to set up automation rules for them through the hub. Detecting other smart devices and setting their behavior can only be done through Abode's web portal, which is unnecessary and outdated.

Tech Specs
What's included: Motion sensor, contact sensor, key fob
Phone call notifications: Yes
Works with IFTTT: Yes
Monthly fees: $10 or $30/month for professional monitoring
AI Assistant compatibility: Amazon Alexa, Google Assistant
The Pros
Excellent value for the money
Acts as smart home hub
Supports AI assistants and IFTTT
Diverse payment plans
The Cons
Some smart devices other hubs have no trouble with may not be supported
3rd-party devices are only configured through web portal
3. Nest Secure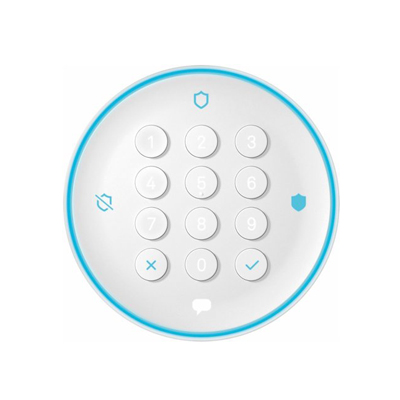 View on Walmart
Editor's Rating: 4.4/5.0
If you're already regulating your home's temperature with the excellent Learning Thermostat and keeping an eye on things with Nest's security cameras, rounding off your Nest experience with a competent security system is the next logical step. Nest Secure consists of a hub, two window & motion sensors, two key fobs, and a separate app. It is among the easiest systems to install and set up, integrates flawlessly into the Nest product family, and offers professional monitoring for a monthly fee.
Another Welcome Addition to the Nest Home
Getting Nest Secure to work is a breeze. The puck-like hub called Nest Guard needs to be plugged into a standard outlet. Then you can pair it with the Nest app, set the two portable sensors up, and you're good to go! The Guard's cord can be screwed into place and it also has a backup battery in case an intruder tampers with your home's power. Both it and the window sensors have built-in night lights which trigger when someone walks past.
The System can be armed in three ways. You either enter an 8-digit code into the Guard's keypad, press a key fob onto it, or use the app. When off, Nest Secure will still emit a beep informing you that a door or window has been opened. Home & Guard engages the sensors and will prompt the app to send you notifications, but won't trigger the alarm. Away & Guard arms the system completely. Detected movement is met by a warning beep. If the Secure isn't disabled in the next 10 seconds, the alarm is triggered.
Secure's app is beautifully designed and allows you to micromanage alarm settings. Guests can be given temporary access codes and the key fobs can be set to work only during certain times of the day. If you've got a Nest security camera or the Hello video doorbell, the Secure can trigger them to record short clips to let you know what caused the alarm. However, Nest cameras will not trigger the alarm.
What We Didn't Like
You can choose to let Moni handle security professionally and send dispatchers to your home, but this will cost $29/month, $10 less if you commit to a 3-year contract. Add the Secure's high initial price and another $5/month for a separate Nest Aware Subscription, and you've got a very expensive security system with high maintenance fees that isn't much better than drastically cheaper alternatives. While the Secure works great with Nest's other products, the lack of IFTTT support limits its use as a smart home hub.
Tech Specs
What's included: 3 motion sensors (two of them double as contact sensors), 2 key fobs, keypad
Phone call notifications: No
Works with IFTTT: No
Monthly fees: $19 or $29/month for professional monitoring
AI Assistant compatibility: Google Assistant
The Pros
Excellent window sensors that double as motion sensors too
Easy setup
Well-designed and intuitive app
3 ways of arming the system
The Cons
Very expensive
Doesn't have 3rd-party smart device support
4. Wink Lookout Smart Security Starter Kit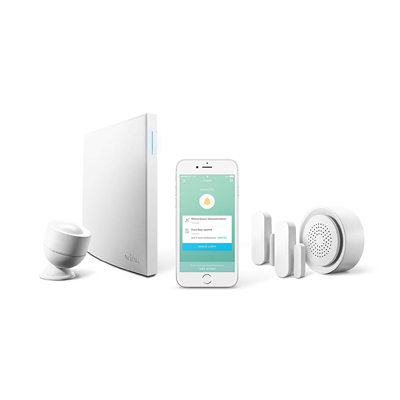 View on Amazon
Editor's Rating: 4.2/5.0
The Wink Hub 2 is among the best home automation hubs, offering support for almost all home automation gadgets regardless of their connection protocol. Add a siren, two contact sensors, and a motion sensor to the hub, and you get the Wink Lookout. It's worth investing in if you're looking for a capable DIY security system as well as a strong foundation for your growing smart home. It's a better hub than Abode, but a slightly worse security system, which is why it is ranked lower on our list.
Your Secure Gateway to a Smarter Home
The Wink Hub 2 is at the core of the Lookout experience. It can be connected to your router wirelessly or through the supplied Ethernet cable and doesn't have a backup battery. Since it is wireless and slim, it can be placed anywhere without taking up much space. The contact sensors stick to flat surfaces while the motion sensor also has a magnet. All sensors come with sets of screws for permanent installation.
The Lookout sports a sensitive array of sensors which can be individually tweaked to suit your preferences. Each sensor has five sensitivity levels and an LED that turns on when they're triggered. Sirens that come as part of other systems usually have a fixed loudness and sound. You can set the lookout's siren to any of 10 sounds and 3 loudness settings, the loudest of which is a deafening 110dB. The sound can also be changed based on the trigger, so you can set a quiet gentle chime to play if a smart doorbell is triggered and still rely on its booming sound if someone attempts to break in.
Wink has a fantastic app with ease of use at the forefront. When the app detects them, each of the Lookout's components is placed in its own category. Any of them can interact with each other or a slew of 3rd-party gadgets that connect to the Wink hub 2. This is done through Robots, an intuitive scheduling system anyone can pick up quickly. Using a robot involves specifying a trigger event like the time of day or sensor activation and pairing that with the action of another device. This lets you put numerous useful commands into place like activating a smart plug when motion is detected, setting the alarm to home mode when the garage door is activated etc.
Are There Drawbacks?
Wink Lookout lacks some fundamental features other security system manufacturers take for granted. There's no support from a professional security firm, so if a true emergency arises you're on your own. On the bright side, there are no additional monthly fees. The lack of a backup battery may be a bigger problem though as a power outage or deliberate tampering will make the security system useless.

Tech Specs
What's included: 2 contact sensors,motion sensor, siren
Phone call notifications: No
Works with IFTTT: Yes
Monthly fees: N/A
AI Assistant compatibility: Amazon Alexa
The Pros
Supports wide array of 3rd-party devices
Easy to use automation through Robots
Versatile siren
The Cons
No backup battery
No professional support
5. Ring Alarm Home Security System
View on Amazon
Editor's Rating: 4.2/5.0
Ring is highly regarded for creating reliable smart doorbells and outdoor security cameras. The Ring Alarm is the newest addition to this growing family and shares the positive traits of other Ring products. It is fairly-priced, has an appealing look, and is a breeze to use from initial setup to in-depth rule configuration. It's a fine system as is, and likely to only get better with updates that are sure to follow.
Simplistic Design Meets No-nonsense Security
The Ring Alarm is among the best-looking modern security systems and will enrich your home as much as protect it. Both the hub and the keypad can either be placed on a stand or permanently mounted onto a wall using brackets. Each has a built-in 104dB siren and both of them sound when a sensor goes off, making for a deafening but effective burglar deterrent.
Setting this security system up is a pleasure! You first need to install the iOS or Android app and pair it with the hub. Sensors are then individually recognized through a straightforward series of prompts. Finally, you assign each to a room, set its sensitivity, and you're done. The individual parts are connected to the hub through Z-wave, and Ring provides a Z-wave extender to make sure that their communication is fast and uninterrupted.
Home and Away are the two default modes you can toggle between through the app or by entering a code into the keypad. When Home mode is active, individual sensors can be disabled. Turning Away mode on gives you a minute before arming the system. Ring's free plan doesn't include professional security support, but $10/month gets you continuous access to a call center which calls to check up on you when the alarm sounds. They use a password system similar to SimpliSafe's and will send help your way if the password isn't mentioned in the conversation.
The alarm integrates into Ring's existing app so you don't need to create a new account if you're already using other Ring products. The app has a comprehensive overview of activities and is used to change or issue passcodes, set up alarm schedules etc. Neighborhood is a unique feature that connects you to other Ring users. If their devices detect a disturbance and the two of you are connected, the notification will appear in your app too.
What's Bad About It?
This is another recently released security system that's still getting its bearings. Currently, there's support for neither IFTTT nor AI assistants, and only motion or contact sensors can be added. Ring claims that the Alarm's 3rd-party support will become better in the future.

Tech Specs
What's included: Motion sensor, contact sensor, keypad, Z-wave extender
Phone call notifications: Yes
Works with IFTTT: No
Monthly fees: $10/month for professional monitoring
AI Assistant compatibility: N/A
The Pros
Hub and keypad both have sirens
Good integration with Ring's other devices
Affordable professional support
The Cons
No IFTTT or AI assistant support yet
6. Piper Classic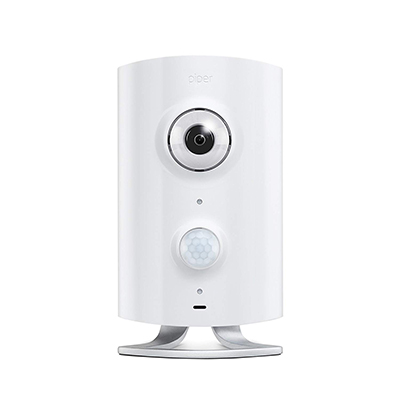 View on Amazon
Editor's Rating: 4.0/5.0
All the security systems we've mentioned so far are compatible with cameras, but none of them come with one as part of the starter package. Piper classic is a FullHD security camera with a 180-degree field of view. It also comes with a plethora of sensors, a powerful siren, and a Z-wave hub. Considering all of this won't even set you back $150, this system is both viable and practically a steal!
The Affordable yet Comprehensive Security Package
Piper Classic is a well-designed security camera you can either mount or set up on a stand. At 9 ounces, it isn't too light to topple over, yet it can easily be moved. The camera plugs into a standard outlet and comes with a backup battery just in case. It records crisp video at 1080p and the 180-degree angle is good at capturing an entire room at the cost of some barrel distortion. Best of all, the 25-second clips it records are saved to the cloud for free!
A host of sensors make their home alongside the camera. They measure ambient light & sound, humidity, temperature, and motion! A remote Z-wave contact sensor and smart switch are included as part of the package and can be set up on doors or windows and used to control any "dumb" appliance respectively. The onboard sensors are both accurate and sensitive, so much so that you'll want to turn the sensitivity down to avoid triggering false alarms.
Piper's app is similar to Winks in the sense that everything is easy to grasp and neatly organized. Its home screen welcomes you with the current indoor & outdoor temperature, missed alerts, and current rules. Activity picked up by all of Piper's sensors is logged and can be reviewed in graph form. The app also lets you control connected Z-wave devices and set rules which determine how the alarm behaves in each of its four modes. You can set a target threshold for each sensor and will be promptly notified via text message or push notification when it is exceeded.
What We Didn't Like
This security system supports only Z-wave devices. There's no IFTTT support nor a partnership with a security firm. Lastly, only the contact sensor can be repositioned, so you'll need to rely on other devices if you want to keep track of the environment and activity in other rooms.

Tech Specs
What's included: 1080p camera, contact sensor, smart switch
Phone call notifications: No
Works with IFTTT: No
Monthly fees: N/A
AI Assistant compatibility: N/A
The Pros
Comes with quality security camera
Has lots of sensitive and useful sensors
Free cloud video storage
Organized and intuitive app
Outstanding value for the money
The Cons
No IFTTT support
No security firm support
Sensors are tied to the camera