10 Best Selfie Drones of 2020
3D Insider is ad supported and earns money from clicks, commissions from sales, and other ways.
Interested in purchasing a selfie drone, but aren't sure which one to buy? Then you've come to the right place because in this guide you'll find the top options in the marketplace. You will also learn about what you must consider before pulling the trigger on a purchase.
We have organized this guide into three price ranges so that you can find a drone that matches your budget. Let's take a look at what's out there.
Budget
UPair Two
4.4/5.0
Control range: 1 mile
Flight time: 24 minutes
This is easy to use at the entry-level.
Check Amazon
Best Value
DJI Spark
4.5/5.0
Control range: 1,900 meters
Flight time: 16 minutes
Stable flight performance and decent top speed.
Check Amazon
Top Pick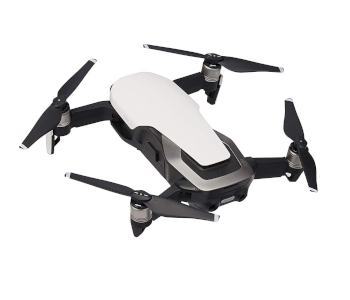 DJI Mavic Air
4.7/5.0
Control range: 4,000 meters
Flight time: 21 minutes
12MP 4K gimbal-stabilized camera, intelligent Flight Modes.
Check DJI.com
Portability, camera quality, intelligent flight features, battery life, control range, and obstacle avoidance are all important features for selfie drones. These combine to create a drone that's going to take high-quality videos and photos you'll love to share.
The great thing about selfie drones is that they are accessible to beginners. Most are easy to fly so you do not have to be an experienced pilot in order to make the most of them.
Also, the relatively small design of selfie drones means the price isn't too high either. However, if you're willing to make a bigger investment, then drones like the DJI Mavic Air offer an impressive experience.
Reasons to Get a Selfie Drone
Perfect for travelers
Professional content creators
Newcomers to drones
Buying factors to consider
In the next section, you'll learn about the different buying factors that must be considered when choosing a selfie drone. You'll improve your chances of ending up with a drone that matches exactly what you need by paying attention to these factors.
For example, if you do not need a high-resolution camera, then don't choose one that offers 4K and you'll save money. Also if you require GPS based intelligent flight features, then look for a drone that offers that.
Portability
Camera
Intelligent flight features
Battery life
Obstacle avoidance
Items by price:
Selfie Drones Comparison Table
Top Selfie Drones Under $300
Are you in the market for a budget selfie drone that is packed full of excellent features? Then this category is the one to make a selection from as you'll find the most competitively priced selfie drones on the market. You'll even find a few models with 4K cameras and intelligent flight features.
It's important to know that these products have real limitations. They are not for professional vloggers. The image quality is not on par with more expensive drones and you will likely be frustrated by the flight time.
View on Amazon
Editor's Rating: 4.4/5
The UPair Two is has a DJI Phantom 3 look about it, but this quad has a personality of its own. It's great fun to fly and easy for new users to grasp. It has 1-key takeoff and landing, and that always gets new pilots off to a confident start. Other novice-friendly features include Flight Route Planning, a headless mode, and 3 return to home (RTH) functions (see below).
A newly designed 3-eye camera has a 4K UHD lens and a couple of assisted 2K FHD lenses. The 3-axis stabilizing gimbal supports the camera, which has an adjustable angle of 90°. And the 16MP photos result in colorful aerial stills that are as impressive as the smooth quality video. Consider the UPair Two if you want a selfie-style drone that can tell your story in a captivating way.
This drone comes packed with simple controls, flight stability, and a bunch of failsafe features. The latter is due to the GPS assisted Intelligent Flight. The UPair Two automatically returns to home (RTH) if the battery gets low or when it loses the signal. There's even a 'Switch off the Transmitter' auto-return. Or, pilots can simply call the bird back at any time using the one-key (RTH).
There's a hands-free Follow Me mode too that keeps you in the frame whatever you're doing. The drone flies to about 33ft (10m) and tracks its subject with ultra-precision. It also has the popular Circle Mode. That's where the camera locks onto the subject as it flies overhead filming in a perfect loop.
Powerful brushless motors and an extended 24 minute flight time are other highlights. So is the First Person View (FPV) that lets you see as the camera sees on a regular smartphone. On the negatives, this drone has an exaggerated range. Also, the included manual is vague and unhelpful to novice pilots. I advise new buyers to download the full instructions from the company's website.
The Conclusion
The UPair Two 4K Camera quadcopter is a cost-effective alternative to some of the more prominent players. It looks fantastic, has a beautiful finish, and—most important of all—is super-easy to use at any level. It's a significant upgrade to the older UPair One with its improved camera and features.


Tech Specs
Weight: 2.98 lbs.
Battery: Lithium, 5100 mAh
Max control range: 1 mile
Flight time: 24 minutes
Camera: 4K, 16MP
Gimbal: 3-axis
The Pros
Classic design with a nice finish
Easy to use at the entry-level
Ideal selfie camera quadcopter
1-key takeoff/landing
Follow Me mode
High-quality video and stills
First Person View (FPV)
Flight Path
GPS auto Return to Home (RTH)
The Cons
Exaggerated control range
Vague Quick Start Guide
View on Amazon
Editor's Rating: 4.5/5
The WINGSLAND S6 is priced at around $250 and for the price, you're getting some great features. This is a great buy for individuals looking to take quick selfies on the go. It's small enough to fit in your pocket when folded and only weighs 1.21 pounds.
The drone comes with a 6-axis gyro to stabilize the camera during fast movements. This improves the quality of photos and video footage. The camera is capable of capturing video at 4K with 30fps or 1080p with 60fps. The drone is a great deal for the budget price. Also, you can take photos at a resolution of 13MP.
The intelligent flight features are excellent and they include outdoor auto hovering, follow me, orbit, and lock mode. All of these can combine to provide an automated selfie-taking experience. You will end up taking selfies where you can focus on the pose rather than worrying about the piloting of the drone.
The control range is only 100 meters, which is a big limitation of the drone. However, if you only need it for taking selfies then that won't be much of a problem. Also, the flight time is a mere 10 minutes. This is short but more than enough to capture some selfie footage.
Another feature to note is the obstacle avoidance. This reduces the chances of a collision greatly and that improves the longevity of your drone. It's impressive that obstacle avoidance is included in the product given the price.
The Conclusion
The WINGSLAND S6 is an excellent drone for selfie users that want something affordable. The mix of intelligent flight features, a great camera, and the portable design give you good value for money with this drone.


Tech Specs
Weight: 1.21 pounds
Battery: Lithium polymer
Charging Time: 60 minutes
Control range: 100 meters
Flight time: 10 minutes
The Pros
Great camera
Competitive price
portable
The Cons
Short flight time
Short control range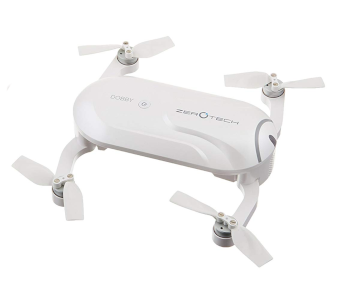 View on Amazon
Editor's Rating: 4.4/5
An excellent selfie drone due to the small size is the ZeroTech DOBBY Pocket Drone. It's white and can be folded down to fit in your pocket. However, the small size doesn't mean that there is a lack of features. You'll be impressed by what is offered for the small size.
The product dimensions are 13.5 x 6.6 x 3.6 cm and the weight is only 200g. The different rotors of the ZeroTech DOBBY can be folded up into the body of the drone. This means the amount of space it takes up is drastically reduced.
The camera is excellent on this drone for the price you pay. You can capture video at the 4K or 1080p resolutions. You can use the 13-megapixel f/2.2 CMOS sensor to take photos. It has the ability to take very clear photos you'll be happy to share with social media contacts.
It comes with VR goggles and even gesture mode. This means you can control the drone via a few gestures. This is excellent if you want a hands-free experience when operating the selfie drone. You can also use your smartphone to control the drone. Therefore, you do not need to carry around a dedicated controller. This adds to the portability of the selfie drone.
The Conclusion
The ZeroTech DOBBY Pocket Drone is a productive selfie drone that will not put a huge dent in your wallet. The mix of a good quality camera, small size, and automated flight features mean you are getting a good product. The only downside is the flight time of 9 minutes. You'll need to make use of additional batteries in order to get more flight time per trip.


Tech Specs
Weight: 7.02 0z
Battery: Lithium metal
Charging Time: 45 minutes
Control range: 100 meters
Flight time: 9 minutes
The Pros
4K video capture
Portable
GPS features
Competitive price
The Cons
Short control distance
Short battery life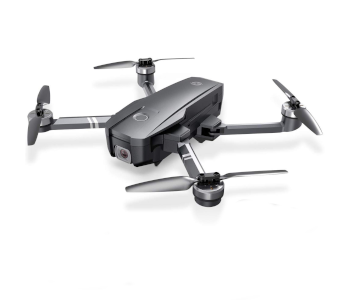 View on Amazon
Editor's Rating: 4.8/5
Got a story to tell? Meet the foldable, travel-friendly Holy Stone HS720. It's a 2K FHD camera drone with built-in shock abortion, Follow Me, and Custom Flight. The video camera tilts a full 90°, which means it can shoot unique birds-eye views. Many rival drones only offer fixed position cameras. And the Optical Flow Positioning makes this bird super stable too, and suitable for shooting indoors.
This is also a beginner-friendly drone despite its pro-level characteristics. New pilots can tap into the Intelligent Control Program for an effortless launch into flying and aerial filming. One-click obit mode produces the ultimate selfie as the camera captures you with your surroundings. And this bird follows like a shadow, no matter where you are or what you're doing.
The controller's clamp lets you enjoy real-time video transmission from a smartphone screen. Flight time is an impressive 26 minutes on a fully-charged battery. There are 3 Return-to-Home or RTH protection features. They include Failsafe RTH, Low-battery RTH, and Smart RTH.
Holy Stone's HS720 has a few shortcomings. The range is on the low side of average for one. However, distance is not so critical if you want a drone primarily to tell your story. After all, it needs to fly mostly within close proximity to the subject. A more frustrating gripe is the long 5–7 hours charging time. That leaves most pilots with no choice but to invest in spare batteries.
The Conclusion
The HS720 is a well-built, crash-resistant take-it-anywhere drone. It has a fuselage made from high-grade steel that feels as good as it looks. The quad fits easily into a small bag or large pocket. Best of all, this portable, feature-packed selfie-friendly drone is stable, easy to fly, and super reliable.


Tech Specs
Weight: 1.01 lbs.
Dimensions: 14.4 x 13.2 x 2.4"
Battery: Intelligent Flight
Charging Time: 320+ minutes (5+ hrs.)
Max FPV Range: 1200ft (366m)
Flight time: 26 minutes
Camera: 2k built-in adjustable
The Pros
Foldable, travel-friendly design
Crash-resistant, steel build
Powerful brushless motors
Easy to fly, beginner-friendly
90-degree tiltable camera
Quality footage for its class
Follow Me mode
Tap to Fly
Custom Flight Path
Return to Home (RTH)
Orbit Mode
Real-time video transmission
The Cons
Average range
Long charging time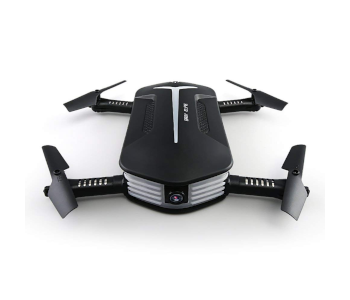 View on Amazon
Editor's Rating: 4/5
An excellent selfie drone that comes at a highly competitive price is the JJRC H37 Mini BABY ELFIE. It is for the budget buyer that is interested in learning how to use selfie drones before investing in a more premium product.
It comes with a 720p camera, which is not competitive with other entries on this list. However, for the purchase price of about $50 you are getting a decent deal here. The camera can record video and also capture videos. For amateur selfie drone users, this is more than enough.
The altitude hold mode is a feature that keeps the drone at a specific altitude. You can then execute manual flight moves like flips and rolls at that altitude. This is a great feature for the inexperienced pilot that wants to maintain the drone at a specific height.
The headless mode allows the drone to respond to your controls regardless of what way it is facing. It will always be controlled from your perspective. This makes the drone easier to fly. Therefore, you can concentrate on getting your selfie footage right.
The controller is unique as you only need one hand to operate it. It has a joystick with 4 buttons that can be used to pilot the drone. You'll instantly feel that the controls are intuitive to use. However, the gravity sensor remote control mode allows the drone to be combined with your smartphone via an app, which is an advantage.
The Conclusion
The JJRC H37 Mini BABY ELFIE is an excellent budget drone at around $50. It is small in size and has a serviceable 720p camera. It's not an amazing camera by today's standards, but for the price, you cannot expect much more. You can also use your smartphone to control the drone – an excellent feature.


Tech Specs
Weight: 2.08 0z
Battery: Lithium metal
Charging Time: 60 minutes
Control range: 80-100 meters
Flight time: 6-7 minutes
The Pros
Budget price
Portable
Can be combined with smartphone
The Cons
Camera only 720p
Short battery life
Top Selfie Drones Under $600
If you're looking for a selfie drone that's got better quality implementation than the budget versions, then this category is for you. Here you'll find practical selfie drones. That's because of their foldable design and variety of great automated flight features. The price isn't at the premium level, yet you're getting a bunch of features that are suitable for selfie fanatics.
View on Amazon
Editor's Rating: 4.5/5
The DJI Spark is a portable selfie drone that has great and easy to use software. This drone is priced at around $600 and is packed full of selfie user-friendly features. It's ideal for those buyers that want a drone with advanced features that are not offered at the budget end of the scale.
The drone offers 1080p video and the camera is stabilized via a 2-axis gimbal design. Furthermore, you can capture photos at a resolution of 12MP. This camera is by no means industry leading in the selfie drone marketplace, but it can be perfect for amateurs looking to take family photos. The UltraSmooth technology of the 2-axis gimbal ensures the camera is kept stable during flight.
ActiveTrack is a feature that recognizes objects automatically and tracks them. It understands how fast the objects are moving and what direction they are moving. Therefore, the drone can follow the target at a constant distance.
Also, selfies can be taken with simple hand gestures. Using hand motions, you can instruct the drone to take a selfie, which means there is no need to do it via a controller. This is a useful feature for selfie fanatics. However, Palm Control mode must be activated for this to work.
The drone has a simple take-off design. You can hold it out in front of you and it will take off instantly hovering in front of your face. Then you can quickly proceed to take selfies. Therefore, this drone is great for when you want to take selfies at short notice.
A downside of the drone is the short battery life of 16 minutes. However, if you only need to use the drone for taking selfies then this amount of time might be enough. Also, the range is at 1,900 meters, which for the price of around $600 it is competitive.
The Conclusion
The DJI Spark is an affordable drone that comes packed full of great features. The intelligent flight modes, portability, and good camera mean you'll end up with the selfie photos you want.


Tech Specs
Weight: 6.1 pounds
Battery: Lithium polymer
Charging Time: 52 minutes
Control range: 1,900 meters
Flight time: 16 minutes
The Pros
Portable
Decent top speed
Competitive price
Stable flight performance
The Cons
Short battery life
No 3 axis gimbal for the camera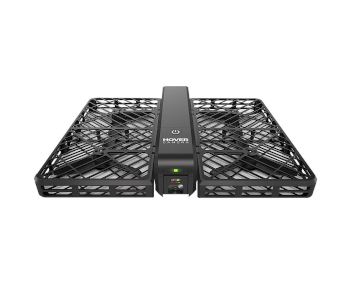 View on Amazon
Editor's Rating: 4.4/5
The cover camera drone has an interesting visual design that's unique in the marketplace. It has a carbon fiber cage, which makes it light and durable at the same time. It weighs less than 1 pound and can be folded down to take up a very small space.
Face and body detection can be used to follow you automatically. This is great for capturing selfie pictures in a hands-free manner. This allows selfies to be taken while you are riding a bike, hand-gliding, and surfing. When using these features there is no limit to how much imagination you can use.
The camera allows for 13MP stills to be taken. This is excellent quality and means your photos are going to be very clear. Alternatively, you can use the 4K camera to record video. This is excellent for content creators that are doing it for professional use.
Orbit and 360 spin features can be used to get the Hover Camera to circle around you. This means content capture can take place in selfie mode at all angles automatically. This leads to versatile content that captures footage from all angles.
An impressive feature of the camera is the gesture mode, which can be used to automatically recognize the gesture and take selfie photos. You'll find this feature useful when you need a hands-free experience.
The Conclusion
The Hover Camera is an excellent choice for average users at under $500. There are excellent automated features for professionals. However, the price is friendly enough to be affordable for amateurs. Finally, the portability of the camera means you can take it with you on your travels.


Tech Specs
Weight: 1 pound
Battery: Lithium polymer
Charging Time: 50 minutes
Control range: 20 meters
Flight time: 9 minutes
The Pros
Great camera
Competitive price
portable
The Cons
Short flight time
Short control range
Top Selfie Drones Under $1,000
This is where professional vloggers will find the most value. The image and video quality is phenomenal in this category and you'll be able to fly for up to 30 minutes on a single battery. You can also fly up to 7KM with these drones too.
Also, the intelligent flight features implemented here such as "Follow Me" are very impressive. They allow the drone user to concentrate on the content creation rather than focusing on the piloting of the drone. Automated flight features are in particular useful for individuals that have trouble executing advanced flight maneuvers.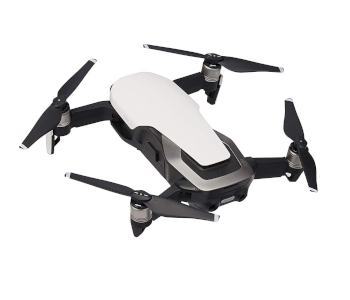 View on Amazon
Editor's Rating: 4.7/5.0
What makes the DJI Mavic Air a phenomenal selfie drone? Well, it's cute, foldable, ultra-portable, and simple to fly at any skill level. The Mavic Air boasts a bunch of straightforward flight features and easy functions for folks on the go. Best of all is its hand gesture controls. Hand gestures let you get the bird airborne and ready to shoot at a moment's notice.
Mavic Air Standout Characteristics
Pilots can achieve a lot with minimal effort with the Mavic Air and that's the appeal. Its 4K camera has a 3-axis gimbal to help keep footage steady. Gimbal stabilization results in blur-free 12MP photos and shake-free UHD quality video. And the drone's FlightAutonomy 2.0 is something else. It provides precise hovering and enhanced flight performance with effective obstacle avoidance.
The Air's behind-the-scenes technology makes it hassle-free to operate and fun to use. It lets pilots focus more on the camera and less on the flying. And the 21-minute flights on a single charge allow plenty of time and scope to compose and capture those special memories.
DJI's Intelligent SmartCapture
SmartCapture is at the heart of the Mavic Air's gesture controls. It's how you fly and film using only hand signals (no remote or app needed). It's perfect for close-range flights and the best way to take people shots and shoot video. SmartCapture modes include Takeoff/Landing, Direction Control, and Proximity Control. Others are Follow Mode, Selfie, Group Selfie, Record Video, and Switch Pilots.
The Conclusion
I've only touched on the Mavic Air's potential here as an outstanding selfie tool. You can also access DJI's Intelligent Flight Modes and QuickShots with this little quad. Consider the Mavic Air if you want a high-quality pocket-sized selfie drone. Likewise, also explore its full potential if you need even more from a travel-friendly camera quad.


Tech Specs
Weight: 4.7 x 7.6 x 9.6″
Battery: High-density lithium (DJI Intelligent Flight Battery)
Charging Time: 55+ minutes
Control range: 4000 meters w/ RC
Flight time: 21 minutes
The Pros
Ultra-portable, foldable design
Easy to use at beginner level
12MP 4K gimbal-stabilized camera
8GB onboard storage
SmartCapture (gesture controls), includes Selfie and Group Selfie
QuickShots
Intelligent Flight Modes
Decent flight time
The Cons
Noisy for a small camera quad
Difficult access to MicroSD slot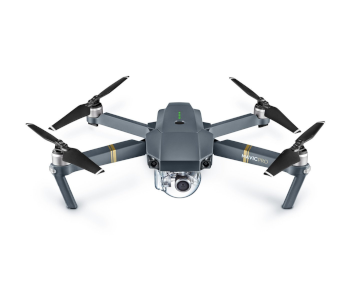 View on Amazon
Editor's Rating: 4.7/5
One of the best selfie drones on the market today is the DJI Mavic Pro. You're getting a bunch of amazing features for the small portable size that shows how great the DJI brand is. This drone is ideal for selfie users who want a premium product packed with all the features.
The smart features are implemented very well here and can be used to execute a number of selfie photos. The follow me mode instructs the drone to follow you while you are on the move. Alternatively, you can use the orbit mode, which allows the drone to be fixated on an object and it will orbit it.
If you're using the drone for selfie photos then you can get pictures from all angles. Also, the drone can be used to fly in FOV mode. This allows the drone to be flown by using the first person view of the drone. It's a fun way to fly the drone that combined with a VR headset makes for an immersive experience.
The flight time of the drone is 27 minutes, which is competitive in the drone marketplace. Furthermore, you can fly it up to a range of 7km, which for selfie users might not be required. You can use the long range to scout the local area in order to find locations where great selfie footage can be captured.
The Mavic Pro only weighs 1.64 pounds and the product dimensions are 11.4 x 7.1 x 9.4 inches. This is highly portable and allows it can be carried with you anywhere. Also, the drone has a durable build, which means you are unlikely to need repairs from wear and tear.
Another highly useful feature for selfie users is the obstacle avoidance that's included here. When using automated flight features you can rely on the drone to stay safely in the air without colliding with surrounding objects.
The camera offers 4K resolutions and is secured via a 3 axis gimbal. Also, 1080p video streaming is available. As a streamer who does it for a living or a hobby, this feature is highly desirable. Also, the camera has a 12MP resolution, which makes for highly detailed images.
The Conclusion
The DJI Mavic Pro is an industry leading selfie drone that offers a whole bunch of features for the price. You get advanced obstacle avoidance, a high-grade camera, automated flight features, and a portable design. You'll struggle to find a better portable selfie drone that is out right now.


Tech Specs
Weight: 1.64 pounds
Battery: Lithium metal
Charging Time: 60 minutes
Control range: 7,000 meters
Flight time: 27 minutes
The Pros
4K video capture
Portable
Long range
Automated flight features
Competitive price
The Cons
Motor not powerful
Images not perfect in low light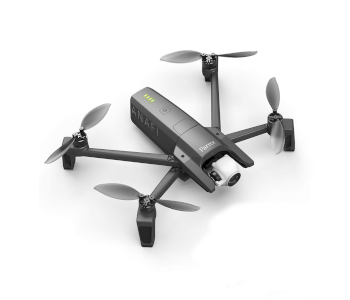 View on Amazon
Editor's Rating: 4.5/5
Parrot's Anafi is a cute, foldable drone that makes an ideal travel companion. Its high-quality 4K camera guarantees to help capture your life story from a new perspective. The SmartDronies, Dolly Zoom effect, Visual Tracking, and Lossless Zoom make this the ideal aerial selfie quad. It comes with an equally compact and intuitive Skycontroller 3 foldable remote control.
This drone—like many in its class—caters to novice pilots as well as expert flyers. The autonomous modes mean anyone—at any level—can take to the skies and begin filming. They include Point of Interest (POI), Flight Plan, and failsafe Return to Home (RTH). Battery life is also worth mention, giving around 25 minutes of flight in calm conditions. And the control range is about 2.5 miles.
The way to stand out is to film from unique angles, and the Anafi provides that. It has an f/2.4 wide-angle gimbal camera that tilts a full 180° and offers 2.8X digital zoom. You can shoot in stunning 4K or 2.7K video, and take breathtaking 21MP aerial stills. Creative types also get to exploit Wizards for pro setting adjustments, a timer, and a 10 photos per second burst mode.
This drone is not without a few downsides, though. The cost of spare batteries is a significant minus. Long charging times mean at least one spare is a must-have accessory. Charging times depend on the power source. They can range from 105–320+ minutes. The fastest is the USB-PD standard, with the longest being via regular USB ports. Another minus is that the Anafi doesn't have obstacle avoidance.
The Conclusion
Negatives aside, the super-smart 4K Parrot Anafi is an exceptional selfie camera quadcopter. Its compact, lightweight, and foldable design gives it a small footprint. Anyone can fly this drone in no time, even the raw beginner. The 180° gimbal camera and lossless zoom offer storytellers unique perspectives. It's also quiet when compared to some rivals—a welcome feature for close-up work.