Things You Can Make with Your 3D Printer and Sell
3D Insider is ad supported and earns money from clicks, commissions from sales, and other ways.
There's no doubt that 3D printing is a great hobby that can really capture your imagination, but wouldn't it be better if you could use it to earn some extra cash on the side? Despite a recent boost in their popularity, 3D printers are still a rare commodity and its novelty hasn't faded yet. If you can create high-quality 3D prints of useful or quirky models, then you can certainly find a market out there.
With thousands of new 3D models being created and published every day, it's important to be updated with what's hip or trendy if you want to appeal to many buyers. Check out our list of ten projects that you can work on using your 3D printer and sell for a quick buck.
A word about licenses: Is it fine to sell 3D prints made from published models?
Since the goal is to earn money from items that you'll be making using your 3D printer, you'll need to be wary of copyright issues. While you shouldn't have any issues with licenses if you print using models you made yourself, you'll have to tread a bit more carefully if you intend to use 3D models published online, such as in Thingiverse.
Here's a quick rundown on licenses. Almost all of the 3D models that you'll see published online fall under a Creative Commons (CC) license. A CC license allows the author of any creative work to freely distribute their project that would have otherwise been copyrighted. The author has complete control over how their work will be shared. For instance, some authors may specify that their work cannot be altered in any way. Others will also prohibit any commercial use of their works.
In any case, attribution is a common characteristic of all type of CC licenses. This applies to the direct use of any creative work or any work derived from the original work of the author.
The type of CC license should to in all 3D models published online. To be able to sell 3D prints made from these models, you need to make sure that they are published under a CC license that allows for commercial use.
With that settled, let's look at ten wicked cool designs that you can print and sell.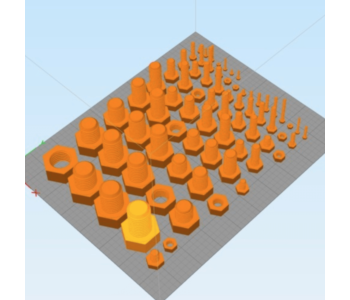 Nothing's worse than working on a long DIY project or making repairs around the house just to find out that you're one nut or bolt short. If you're like us, then you probably have a pile of spare nuts and bolts just lying around the workshop, none of which are useful when it really counts.
This collection of hex bolts and nuts should cover just about any size or shape you need. All of them are designed according to SI standards and even comes with many standard lengths of bolts. The model is a whole board that contains all the nuts and bolts – you can just cut away the section you need for printing. Printing a whole bolt should only take a few minutes, which is useful when you're in a pinch. You'll want to print with a rigid and durable filament, such as ABS or Nylon.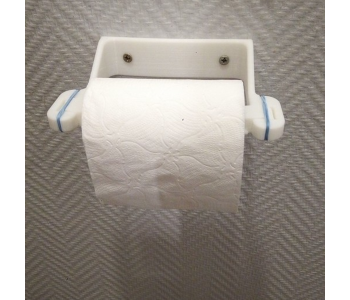 You may not give a lot of thought to how long you spend replacing a toilet paper roll, but what if there was a way to do it in less than two seconds? That is exactly what this quirky and innovative design for a toilet paper dispenser offers. Instead of having to detach a central rod, insert it into the toilet paper, and attach it again, this toilet paper just swings up and into the toilet paper roll. It's clean, fuss-free, and the design looks great in any toilet.
A moderately flexible filament, such as PLA or PETG, would be suitable for this project. Although the model prints in one piece, you may need to play around with the moving parts to deburr their surfaces. It's nothing complex, and you'll be replacing your toilet papers lightning-quick in no time. Can you imagine all the things you can do with the time that you can save?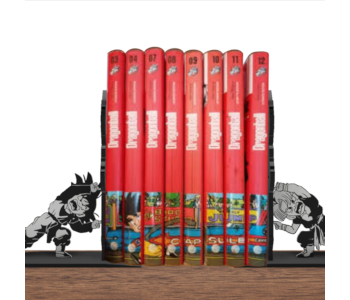 There aren't many Japanese cartoons that can compare to the cultural significance of Dragon Ball, so we can imagine a lot of people getting excited over this set of book holders. Featuring the pair of Goten and Trunks in the classic "Fusion" pose, these book holders will be the perfect accent to your shelf or desktop If you're all about highlighting the geek lifestyle, then these are absolutely perfect.
You don't need to worry about durability for this print, as the bookends themselves will not carry any weight. Your priority should be how good the features of the characters will look after printing, so we recommend going for a filament with good dimensional stability. Either PLA or PETG is worth considering.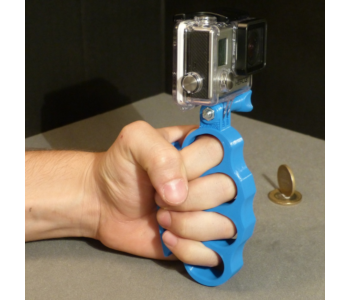 A GoPro camera certainly is not in shortage of cool mounts and accessories, but you can bet that 3D designers can still make something cooler. This custom GoPro mount in the shape knuckles certainly fits the bill. With these knuckles, you'll never find yourself carrying some lame monopod again.
The knuckles are designed to fit practically all hand and fist sizes. It comes with the standard three-pronged GoPro mount, so your action camera should slide right in with no extra accessories needed. You might want to sand the surface of the mount a bit before use, so you don't end up with scratches on your GoPro case.
The knuckles need to be durable enough to hold a GoPro and withstand all the rugged adventures you're going to bring it to. We recommend using a very strong filament like Nylon or PETG with 100% infill. No matter which filament or printer settings you use, we don't recommend using these knuckles for self-defense – it's still made of plastic.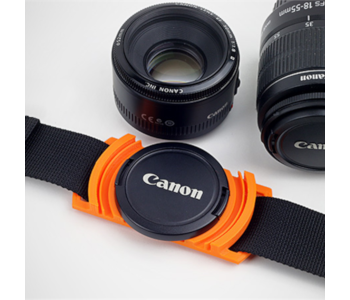 Any experienced photographer has probably experienced having a mini-heart attack when they realized that they might have lost their lens cap. The lens cap is, by far, the easiest piece of photography accessories to lose. And despite being such a small item, it is the one thing that stands between your lens and the dust and smog of the outside world.
This lens cap holder slides right into the strap of your camera and provides a convenient spot to stash your lens cap. No longer do you need to reach into your bag and fumble around when you need to do a quick lens change. Your lens cap will always be within reach because it's conveniently attached to your camera strap.
This is a very thin and small model, so we suggest printing it at 100% infill. You would want it to be durable, especially if you carry your camera around with you a lot. If you do a lot of outdoor photography, you will also want a filament that is resistant to UV degradation. Either ASA or Nylon filament should serve these purposes.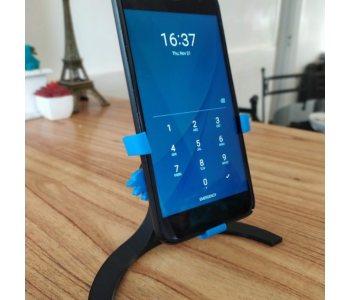 Phone stands are a dime a dozen in the world of 3D printing. There are a lot of basic phone stands out there – simply designed, easy to print, and compatible with only a few types of phones. This mechanical phone stand, on the other hand, is a game-changer. It doesn't just support the phone, but actually "grabs" on to it. When you lift the phone, the stand automatically lets go. The grabbing mechanism will even work across different phone sizes, making it one of a few phone stand designs that are truly versatile.
Just one look at the design and you know that its printing process will be a little more involved. It doesn't print in one piece. Instead, you'll have to print several pieces and put them together using a single rubber band. The engineering that went behind this design is impressive. We're sure that you're going to get a lot of interested buyers once you put this phone stand up for sale.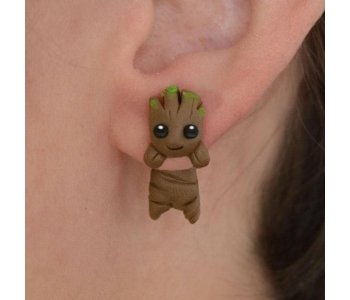 You'd think that people would be tired of Baby Groot by now, but you're underestimating the longevity of the popularity of something so incredibly cute. This earring design seems to capitalize on making the Baby Groot design as small as possible for maximum cuteness. It's also one of the more unique earrings you'll see, owing to a design that makes it seem like Baby Groot is hanging on to your earlobes.
The challenge of printing something so small is that you can't afford to make any mistakes. For best results, you'll want to set the layer thickness to as low as possible. Printing slow also improves your chances of preserving the features of the original model.
Of course, there's no point in printing this pair of earrings if you're not going to finish and paint them. Since they're so small, you'll need to have precision tools and a great deal of dexterity. The effort should all be worth it – few things sell as well as cute stuff.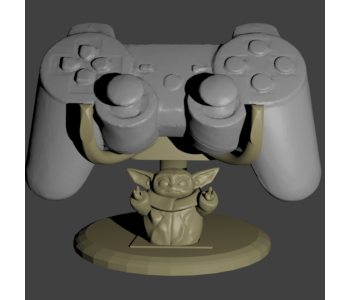 Geeks are a weird bunch. They will buy things that cater to their interests, even those that are impractical or useless. This cradle for the DualShock 4 controller for the PlayStation 4 is a good example. It's not just a normal cradle, though. Right below the controller is the likeness of Baby Yoda, more accurately known as "The Child."
Other than being nice to look at and a cool addition to your den of geekdom, the cradle doesn't serve much of purpose. We suppose that you can run a cable along the central pillar and use it as a charging dock. It looks really good, though, especially if you take the time to polish and paint it. We bet none of your friends have a controller dock that is simultaneously as cool and cute as this.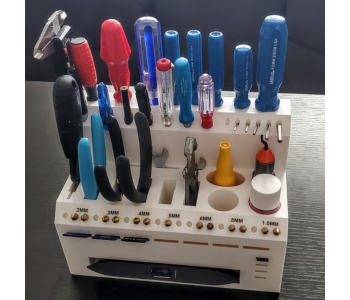 Going back to more useful things, this all-around tool holder solves two problems at the same time. Not only does it provide a systematic method of organization for your tools, but it also makes all of them visible for easy access. This will be a brilliant addition to any garage workshop. It's also compact enough to carry around if you're working on any projects outside the house.
What we like about this customized tool holder is that it was designed for those who do a lot of 3D printing. It contains slots for tools that aren't the usual ones used for DIY projects, including SD cards, microSD cards, and printer nozzles. In fact, you can print this tool holder, fill it with all the recommended tools, and sell it as a starter kit for those who are just getting into 3D printing. How's that for a business idea?
While this tool holder isn't going to go through a lot of punishment, we suggest printing it with something that's heat-stable and chemically stable. ABS would be a perfect choice.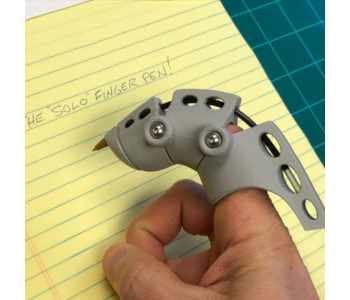 One thing that we love about 3D printing is that it has opened up a lot of possibilities for those who are differently-abled. There has been a lot of news coverage on custom prosthetics created for those who are missing limbs. At a much smaller scale, even the humble desktop 3D printer can be used to make this simple prosthesis – a writing pen that fits into a single finger.
One of the more unique models we've seen around, this solo finger pen fits all sizes and works with a standard flexible pen insert. It prints in several pieces for articulation and needs to be assembled with four screws and washers. Although the primary intention of the design is to let people with missing thumbs write using a pen, it can also make a great novelty item for just about anyone.
The project doesn't require a lot of durability but benefits from being lightweight, so the designer recommends printing at only 25% infill. We suggest using a non-toxic filament like PLA since the finger pen will be in constant contact with human skin.
Final thoughts
Getting inspiration from 3D models published online and creating things to sell is one of the easiest ways to make money with your 3D printer. Just make sure that you're allowed to use these models for commercial purposes. The thing about models with CC licenses is that anyone can reproduce them, so go on and grab that first-mover advantage and start selling these useful, cute, and quirky projects.
Warning; 3D printers should never be left unattended. They can pose a firesafety hazard.