Sennheiser HD 558 vs HD 598: The Midrange Headphone for You
3D Insider is ad supported and earns money from clicks, commissions from sales, and other ways.
Sennheiser is known for producing specialized premium audio equipment. Headphones like the HD 558 and HD 598 are definitely one of those products. They have been constant innovators in the scene introducing technologies that continue to shape the high-end audio industry.
If you ask audiophiles, what is their brand of choice, there is a good chance that most of them are going to mention Sennheiser. They do make a lot of different types of headphones, and one of the more popular products is their HD range. This is where we find the HD 558 and HD 598, a couple of mid-range, mid-priced favorites that continue to be in demand even today.
Sennheiser HD 558 vs HD 598 Comparison
Let's take a close look at these two popular open-back models, the Sennheiser HD 558 and HD 598. There are a lot of similarities between these two, and most importantly, there are also a ton of differences that can help you decide which one to get.
Even though their model numbers might seem close together, from the outside, they look alike, but once you wear them, you will hear a world of difference.
Here are some of the features and characteristics that you need to know between these two to help you make that decision on which one to get. Check out our review and comparison.
Sennheiser HD 558
Sennheiser HD 598
Style
Headband
Headband
Fit
Over-ear
Over-ear
Sound Output
Stereo
Stereo
Frequency Response
15 – 28000 Hz
12 – 38500 Hz
Sound Pressure Level
112 dB
112 dB
Total Harmonic
Distortion
0.2%
0.1%
Impedance
50 Ohm
50 Ohm
Driver Magnet
Neodymium
Neodymium
Connection Type
Wired
Wired
Microphone
NO
YES
Jack Plug
6.35 mm (with 3.5mm adapter)
6.35 mm (with 3.5mm adapter)
Weight
260 g
270 g
In-Depth Headphone Comparison
Design and Build Quality
There are not a lot of differences that you will be able to notice right away between the Sennheiser HD 558 and HD 598. Their design and build quality look tremendously similar, which is not really a bad thing since both look awesome. They are made of high-quality plastic that is sturdy and has a beautiful finish. It may be an unconventional material choice for Sennheiser, but it does keep the headphones lightweight.
Even with the plastic build, both the HD 558 and HD 598 have no problems when it comes to durability. Accidentally dropping them will not cause you a lot of issues as they will be able to handle a good amount of stress. One of the things that you will instantly notice the moment you get a hold of them is their premium feel. So, surely, the choice of the material is not really a factor.
The earpads of both headphones are lined with soft, velour that makes it extremely comfortable to wear. The material definitely comes in handy if you use them whenever you watch movies or play a lot of games where you have to wear for a long time. Although they do attract dust and dirt, that will give you a hard time cleaning. However, as long as you are using them in a relatively clean environment, you should not encounter this problem.
An exciting feature of the design of these two headphones is the pads are removable and replaceable. You can get rubber or velour pads, so you should have no problem with getting them dirty or using them as much as you like since you can quickly replace them.
These two headphones look alike, but there are some minor differences. The wood and leather trims of the HD 598 is clearly absent on the HD 558. However, when it comes to comfort, you might think that you are wearing the same device.
When it comes to the build quality, both the Sennheiser HD 558 and HD 598 are close. The materials used are similar to the body to the earpads. The HD 598 does have some wood and leather accents, so if you are into that, this is certainly the headphone to get.
Our Pick: Sennheiser HD 598 by just a bit for its stylized design accents
Comfort
One of the most notable experiences of both these headphones is their comfort. They are incredibly comfortable to use that sometimes, you might even forget you have them on. This is mainly due to the velour padding that is on both models that make them easy to wear on the head and ears. You can even use them for 8 hours straight and not feel any strain.
Their design lends to their comfort as well since they are over-ear headphones. It simply means that they do not press on your ears. Instead, they rest on them and not clamp down. Wearing glasses will not be a problem either due to this design. Some headphones might make wearing one a bit cumbersome, but for both the Sennheiser HD 558 and HD 598, you can keep them on just beautiful.
Both these headphones come with a headband that can be adjusted manually, it clicks into place at specified intervals, so it might perfectly fit your head. However, the headband locks are close enough that you that even if it's a bit loose, it will not bother you much.
These Sennheiser headphones are tremendously comfortable. It does give you a relaxed vibe whenever you wear them, allowing you to fully enjoy the music you are listening to. Overall, you can never go wrong with any of these models as they are going to provide you with the highest levels of comfort even when you use them for long periods.
Our Pick: It's a Tie between the two as they have similar designs and comfort levels
Durability
Having a durable pair of headphones mean that you will be able to enjoy them for a long time. The great news is that both the Sennheiser HD 558 and HD 598 are reliable devices thanks to their build quality.
These headphones come with removable cables that improve their durability. This feature is especially useful whenever you pack them in your bag since you will be able to separate the headphones from the cables minimizing damage. Tangled wires are going to be a thing of the past since you can store them separately and tie it securely.
The durable plastic material also helps in the durability department as it will not easily break. Even with extended daily use, the material is not prone to scratching, so you will not have to worry about ruining the looks of your headphones for a long time.
If there's a part that you want to look out for, it's the padding since it can easily get dirty and can quickly break when used in not ideal conditions. However, these are replaceable, so you should be okay with using it without worrying about breaking it.
Both the Sennheiser HD 558 and HD 598 are durable headphones that will last you a long time as long as you treat them well. They can handle some light banging here and there and should hold up well during travel. The replaceable parts and definitely welcome to even increase its lifespan.
Our Pick: It's a Tie between the two as they are durable and can handle some stress
Sound Quality
Of course, the most crucial element in all of this is the sound quality of these headphones. It's one of the main reasons why you are looking to buy one to get the best audio experience at a particular price point.
Looking at most of their features, the Sennheiser HD 558 and HD 598 are very much alike from build quality, comfort, to durability. However, things start to differ when it comes to sound quality.
Let's take a look at how these two headphones are similar. One of their more notable design elements that can affect your audio experience is their open-back design. It means that sound can trickle either in or out of the ear cups.
It is certainly not the best headphone to use if you intend to use this in areas with lots of noise as it can change the quality of what you are listening to. These headphones are meant for use at home, listening to your favorite music, watching movies, or playing games. The general rule for both of these is to use them in a relatively quiet place.
Both the HD 558 and HD 598 are really high quality headphones, Sennheiser is definitely known for it, and these display it. If you are not used to it, you will surely hear audio elements that are missing when you are listening with headphones that are not up to par. You will be able to enjoy detailed and smooth audio that is a pleasure to listen to.
One advantage of an open-back design is that you will be able to listen to both these headphones high volumes since they bleed out some of the sounds. Even at loud volumes, they will still produce a clear and crisp sound that you will surely enjoy.
These headphones are not entirely similar since there are some aspects with the audio where they differ. For one, the HD 558 is a bit more bass-friendly compared to the HD 598. So, if you are looking for a headphone to watch movies with, the HD 558 is a better choice. The HD 598 is more treble-forward, making it the ideal device to listen to music to. If you listen to a lot of instrumental music where high tones are prominent, the HD 598 will absolutely deliver.
The HD 598 does come out a bit more balanced than the HD 558, as it will be able to provide you with neutral, low, and mid tones, and great highs. These are the headphones to use if you like listening to classical, jazz, or rock music. Still, watching movies with these is not bad, but it does suffer a bit since it does not have a lot of bass response.
The soundstage on the HD 598 is excellent. It also offers three-dimensional sound allowing you to hear instruments in the right direction where they are meant to be heard. The audio experience is a bit clearer and crisper than the HD 558.
Overall, both are excellent and will give you the audio experience that you expect from a Sennheiser device. The HD 598 is definitely the more complete headphone as it will improve the audio on just about any listening activity you are doing. The HD 558, on the other hand, shines with those that require a bit more bass like playing games and watching movies.
Our Pick: Sennheiser HD 598 for a more balanced audio experience
Portability
Storage and portability are certainly one of the things to look out for in devices such as headphones. In the case of the Sennheiser HD 558 and HD 598, you can say that they are highly portable headphones. First, you can quickly detach the cords for secure storage and transport. This allows you to separate both these elements, so you don't damage them. Now, in instances where the cable gets damaged, you can quickly replace it with a brand new one.
Both headphones come with a 3-meter cable, which is undoubtedly more than enough for your needs. However, as an added accessory, the HD 598 provides a much shorter 1.2-meter cord that is perfect for use at work or at home. It also makes it highly portable since you will have less cable to bring along with you.
One downside of these headphones is that their built-in headphone jack is the larger 6.3mm and not the more popular 3.5mm. Sennheiser does include an adapter, but it means that you will always have to bring it with you. It also sticks out a bit when it uses, so you might run into some issues with some carrying cases.
Overall, the HD 558 and HD 598 are headphones that are easy to carry. You can use them on the road or whenever you travel. They are lightweight and should not give you a hard time as storing them is easy and offers a way to compartmentalize different components.
Our Pick: Sennheiser HD 598 for the included shorter 1.2-meter cable for easier transport
Additional Features and Accessories
As for added features, the Sennheiser HD 598 is definitely ahead of the HD 558. Although both have detachable cables, the HD 598 comes with two, a 3-meter one and a shorter 1.2-meter with a microphone. The HD 558 only comes with the longer 3-meter cable. It might not be a big deal, but the shorter cable means versatility when it comes to packing it for travel.
Unfortunately, the HD 558 does not come with a microphone, so if you want that feature that will turn this headphone into a headset, you will have to pay extra. Since both of these come with the much larger 6.3mm jack, plugging them into other devices can be a hassle. You do not have to worry, though, as they have 3.5mm adapters included so you can quickly use this on just about any source device that you want to listen to.
The added accessory of the shorter cable with a microphone is certainly a game changer for the Sennheiser HD 598, that's why it is taking the win in this category.
Our Pick: Sennheiser HD 598 for the additional 1.2-meter cable with a microphone
Price
These headphones from Sennheiser are relatively reasonably priced. They are in the midrange category knocking at the door of high-end pricing. However, we all know that Sennheiser consistently produces high quality audio devices, and these are definitely no different. They do sacrifice a bit on the build quality, allowing them to lower their prices a bit. Still, when it comes to the audio experience, you are getting the best there is.
The Sennheiser HD 598 is the more expensive of the two, and that is due to its better build quality. It has a more balanced audio experience compared to the HD 558, making it a more versatile headphone that you can use in just about any situation.
The HD 558, on the other hand, is a great budget-friendly alternative to the HD 598. It is not as expensive but comes with sound quality that you expect from a Sennheiser headphone. Not as versatile as the HD 598, but it is excellent to use for gaming and listening to your favorite rock and electronic tracks.
One thing to know about pricing is that you can always get these at a discount. With deals and sales all year long, you can certainly get any of these headphones at a bargain. Always be on the lookout since you never know when the next sale will come. Although, you can always bet on sales holidays like Black Friday and Cyber Monday to get any of these at the lowest possible price.
Which is the Better Headphone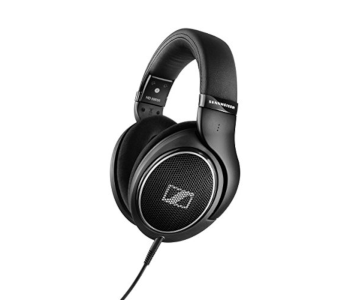 Retail Price: $249
The Sennheiser HD 598 is one of those headphones that you want to use if you want to experience space and depth of the audio you are listening to. Its open-back design lends to that and is perfect as a home theater system alternative when you can't crank it up. It is definitely the headphone you want to use at home for any of your delicate audio needs.
With a design that can sometimes be considered a little too much for Sennheiser standards, it stands out and looks pretty good. The cream finish with the wood accents is definitely different, but once you wear and turn up the volume, you will quickly realize that it is a Sennheiser product.
Even though it is made from predominantly hard plastic, you still get that premium feel, from the weight and attention to detail. Wearing it will also enhance that impression as it is exceptionally comfortable to use thanks to the velour earpads.
As for the sound, there is no trickery with the HD 598. All the sense of space and depth that it delivers is due to its open-back design with the drivers allowing it to sound like you are in a room rather than wearing a pair of headphones. The audio it produces is clear, open, and airy, not constricted, giving it some added life that audiophiles will genuinely enjoy.
The Sennheiser HD 598 is certainly a versatile pair of headphones. They are comfortable to wear for hours, and sometimes you will even forget that you are wearing one. Whether you are using it to listen to your favorite music or watching a movie, this is one of those headphones that you will instantly grab without hesitation.
Sennheiser HD 598
✔ Outstanding overall audio experience
✔ Exceptional balance of mid and high tones
✔ Comfortable to use for extended periods
✔ Excellent headphones for listening to music
The Budget Alternative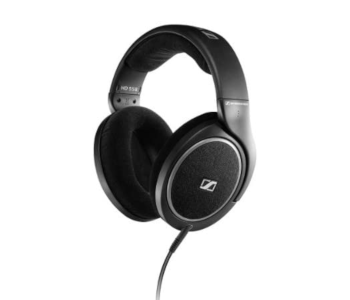 Retail Price: $179
The Sennheiser HD 558 can be considered as a no-frills alternative to the HD 598. It is one of the best sounding headphones in its price range, giving you excellent value. Most of the features of this headphone are closely similar to the HD 598, of course, minus the cream color and the wood trims. So, you know you are getting an exceptional product.
When it comes to the design, it is not as flashy as the HD 598, but with the velour ear cups, the matte black color makes it a more neutral headphone that is focused more on performance than looks. It definitely lacks flair, but it does the job.
The acoustic design of the HD 558 is similar to the HD 598. It also comes with an internal sound reflector that projects the audio in such a way that it feels like you are in a spacious room rather than wearing a headphone.
One of the most discernable differences between the two headphones is the bass response. The HD 558 simply has more of it. It is a bit more bass-forward, but it is not too overpowering. You can undoubtedly crank the volume up without experiencing any distortion because of too many low tones. As for the mid and high tones, the balance on the headphone is on point, making it an excellent one to use for watching movies and listening to music from specific genres.
The Sennheiser HD 558 is definitely the headphone to get if you are looking for an entry-level gadget that is going to offer high-end audio. It sounds refined, smooth, and the detail is on point that it is comfortable to listen to even for long periods.
Sennheiser HD 558
✔ Superb and refined audio performance
✔ Rich bass levels with an open sound
✔ Extremely comfortable to use
✔ Reasonably priced offering excellent value
Wrap Up
You can never go wrong with a Sennheiser headphone no matter the price point. Even the more affordable ones have the quality that will leave you extremely satisfied with your decision to get it. This is absolutely the case with the HD 558 and HD 598.
Both these models are two of the more popular and well-built headphones in the market, and they hold up well through the years. They are highly-rated by users, and a choice between these is an excellent problem to have if you are looking for a quality pair.
The HD 598 is undoubtedly the more premium model, but if you do not like the flair that it brings, the HD 558 is a perfectly great alternative. Both are incredibly comfortable to use, and you should have no problem wearing them for hours.
Sound quality is where you will find quite a bit of difference. Both are impressive, but there are just some preferences that you need to take into account. The HD 598 produces well-balanced audio that is perfect for just about anything, and the HD 558 comes with a bit more bass. So, if you enjoy using a headphone when listening to movies and music with a lot of low tones, the HD 558 is the one for you.
The Sennheiser HD 598 is surely the better pair overall. Audio quality is more balanced and refined, making it versatile. The frequency range is also improved and is an impressive all-around headphone for your needs.