Sennheiser HD 598 Cs Review
3D Insider is ad supported and earns money from clicks, commissions from sales, and other ways.
Sennheiser is an industry-leading brand that offers innovative headphones across numerous marketplaces. The HD 598 Cs is one of their premier headphones that offer excellent value for money. They are highly rated among buyers and come packed with features that allows them to stand out from the rest of the pack.
In this review you'll learn the top noteworthy features that can help you make an informed buying decision. Therefore, you can picture yourself using the headphones and if they are a good match for your specific requirements. You'll also learn about the negatives so that you can buy with no nasty surprises down the line.
Performance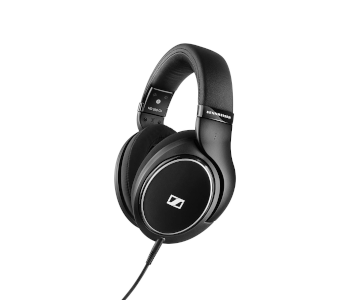 The Sennheiser HD 598 Cs headphones feature a closed-back design that allows you to block out the surrounding environment so you can focus on the music. Furthermore, closed back headphones are not prone to noise leakage, which means you will not bother others around you. This format is great for use outdoors and when in a noisy household around others.
The premium audiophile grade drivers provide exceptional quality across the 10-28KHz frequency range. Aluminum voice coils are used to deliver high efficiency, good dynamics, and low distortion. Sennheiser understands how to manufacture a premium audio driver and the execution here is of premium quality.
E.A.R Technology is used that gives you more of an "in room" listening experience. Therefore, the audio is clear and you can get immersed in the music. You'll enjoy all your music genres since there is good balance across the low, mids, and highs.
The Sennheiser HD 598 Cs headphones are ideal for music lovers that are passionate about attention to detail and quality audio. The price of around $150 is competitive since the audio quality can compete with higher priced options. If you've bought Sennheiser headphones in the past, then you'll understand what to expect.
Design
Sennheiser is known for their large oval over-ear design and that's what you'll find here. The large earcups mean there is a lot of space for your ears and the soft padding ensures you won't get fatigued from clamping pressure.
Closed back designs suffer from reduced moisture and heat ventilation. Fortunately, these earcups do a good job of providing ventilation due to the clever use of materials. You'll feel comfy wearing these for prolonged periods without the need to take constant breaks.
The package includes a 3m cable with a 6.3mm jack and a 1.2m cable with a 3.5mm jack. Therefore, you can switch between personal devices and home entertainment systems. Also, there is a one button remote for accessing the mic when you want to take calls. Therefore, you don't have to reach for your smartphone every time a call is incoming.
The headband has extensive padding on the underside, which means you can enjoy a fit that's secure without pressure on your head. The padding adds bulk, which means these headphones are not the best option to take outdoors.
Lightweight materials are used, which means they will not wear you down when used for long periods. Also, the materials are durable so the headphones can take a beating. Sennheiser offers a trustworthy 2 year warranty that gives you peace of mind when buying.
Pros
Competitive audio: the combination of the wide frequency response (10-28KHz) and good audio drivers means you'll enjoy excellent audio. They compete with headphones at a higher price bracket, which means you're getting a bargain.
Noise isolating: the strong noise isolation of the closed back design means you don't have to worry about looking for an isolated environment. You can enjoy good music clarity in noisy environments without disturbing others.
Comfort: the advanced comfort allows you to wear the Sennheiser HD 598 Cs headphones for long periods. The mixture of the soft earpads and headband means no pressure is exerted on your head. Also, the large oval earcups provide lots of space for your entire ear to fit inside.
Premium brand: Sennheiser is a trustworthy brand that understands its target market. The HD 598 Cs is based on years of trial and error. You can trust in their workmanship, attention to detail, and customer service so buy confidently.
Cons
Bulky: the extra soft padding means the headphones are bulkier than most. They are not ideal for use while on the move outdoors. The earcups are especially large, which is the trade-off you need to make if you want advanced comfort.
Limited controls: there is no remote volume control, which means you need to interact with the audio emitting device to make changes. It seems like an oversight since the majority of alternatives nowadays provide remote controls to change volume and skip tracks.
Conclusion
The Sennheiser HD 598 Cs headphone is a great choice for buyers that want audiophile grade audio and don't mind the bulky wearing format. These headphones are a prime example of the quality that Sennheiser delivers.
The big selling points of the HD 598 Cs include the noise isolating closed back design, advanced audio drivers, wide frequency response, long-lasting comfort, and trustworthy warranty. The combination of these features means the headphones provide good value for money.
The final verdict is that the Sennheiser HD 598 Cs headphones are the right choice for buyers that want premium audio quality from a top brand. Visually it's a simple design, but the attention to detail means there is a lot to like here.