Sennheiser HD 600 vs HD 650: The Open-Back King
3D Insider is ad supported and earns money from clicks, commissions from sales, and other ways.
Sennheiser has undoubtedly made a name for themselves in the audio space. They produce some of the best headphones in the market and getting one already assures you of quality, comfort, and elegance.
They produce different types of headphones, and one kind is the open-back, which provides airy acoustics that sounds fresh and feels like you are in a vast space rather than closed off in a room. Two of the best in this category are their HD 600 and HD 650. You can certainly consider their siblings as they do have a lot in common.
These are their flagship open-back models that professionals and enthusiasts love to get their hands on. They are not exactly brand new models, but their popularity with audiophiles reveal their quality and level of performance.
Sennheiser HD 600 vs HD 650 Comparison
Both the Sennheiser HD 600 and HD 650 are equally good. They do come with a lot of similarities, but some slight differences can make or break your decision on which one to get.
What you can be sure of with these two pairs of headphones is that Sennheiser did not neglect their designs. Both are sleek, elegant, durable, and are incredibly comfortable to use for hours on end.
Audio quality is also consistently good between these two headphones. Although there is some subtle variance, it ultimately depends on the genres that you like to listen to. You can be sure that you will not regret getting any of these.
Now, let's take an in-depth look at their different features and functions so you can finally determine which of these will work best depending on your listening preferences.
Sennheiser HD 600
Sennheiser HD 650
Style
Headband
Headband
Fit
Over-Ear
Over-Ear
Enclosure
Open-Back
Open-Back
Wireless
NO
NO
Noise Cancelling
NO
NO
Sound Output
Stereo
Stereo
Frequency Response
12 – 40500 Hz
10 – 41000 Hz
Sound Pressure Level
97 dB
103 dB
Total Harmonic
Distortion
0.1 %
0.05 %
Impedance
300 Ohms
300 Ohms
Driver Magnet
Neodymium
Neodymium
Transducer
Dynamic
Dynamic
Connection Type
Wired
Wired
Microphone
NO
NO
Connector
3.5 mm Stereo
6.35 mm Stereo
Dimensions
7.7 x 6.9 x 4.0 inches
7.7 x 7.0 x 4.0 inches
Weight
260 g
260 g
In-Depth Comparison
Design
Getting a headphone does not simply mean that you are after sound quality. Yes, it is a significant factor in making your choice, but if there one that can affect your decision, it's the design. The great thing with the Sennheiser HD 600 and HD 650, is that they both look impressive and have very similar designs.
Both weigh the same at 260 grams and come with open, dynamic builds. There are also some differences, but it is more with aesthetics rather than features that can affect overall performance. The HD 600 has this black and blue marble-like finish, while the HD 650 comes with a more metallic look. The HD 650 has this subtle elegance and is a bit more fashionable as you can quickly pair it with any outfit.
As for the build quality, both these headphones offer the sturdiness that you expect from premium Sennheiser devices. They look and feel solid, that you will not have to worry about grabbing them and putting them on quickly.
The ear cups on both these headphones are large enough that they should fit just about anyone, so you do not have to worry about fit and comfort. The padding is sufficient in making sure that your ears do not touch the drivers directly, and these make them extremely comfortable to wear.
The headbands on both these devices are adjustable, so you should have no problem getting them on. Anyone can also wear it, even kids, making them a versatile pair of headphones. No matter what your head size is, both the HD 600 and HD 650 will fit you.
There is one design feature that might make or break both these headphones for you. They have an open-back design, which means that you do not get any form of noise isolation. Now, there are pros and cons to this, so depending on your preference, any of these two might be the perfect headphone for you or not.
Both the Sennheiser HD 600 and HD 650 have similar design qualities. Although, when it comes to looks, the HD 650 does have an advantage over the HD 600 because of its sleeker, more elegant appearance. The marbled design of the HD 600 is something that not a lot of users will opt for. In terms of the design, the HD 650 definitely takes this one over the HD 600.
Our Pick: Sennheiser HD 650 for its more elegant design
Comfort
One of the hallmarks of the Sennheiser HD 600 and HD 650 is their comfort levels whenever you use them. They are incredibly comfortable to use thanks to the padding from the ear cups to the headband. It ensures that you will not feel tired even after using it for hours.
There are a few noticeable differences with the padding. For one, the HD 600 comes with four padded areas, while the HD 650 has two. These do not only provide respite from the hard materials of the headphone, but they also make sure that your head gets good airflow. This way, you will not feel hot or sweaty when you use them for a long time.
These two headphones do clamp quite a bit on your head, and there are times when you are able to feel it. The padding certainly helps, but they are not as comfortable as those that are made for maximum coziness. Still, these headphones are impressive, and should not bother you as you wear them throughout the day.
Apart from the relative softness of the inner materials that come in contact with your head, another factor that determines comfort is fit. Both the HD 600 and HD 650 have excellent fits. This is due to the fact that the earpieces are stiff and do not sway, so they stay in place as you move your head around. The ear cups are always going to be on your ears, no matter how much you turn your head. This makes both headphones great for listening to your favorite music or gaming.
Both the Sennheiser HD 600 and HD 650 are comfortable to use with a good fit on your head and ears. The design also accounts for decent airflow, so you will not feel hot and sweaty after wearing them for hours.
There's really no clear winner here since both headphones have similar styles that provide the same level of comfort. If you are looking for a comfortable pair of headphones, you can definitely take a close look at these two as they will deliver.
Our Pick: It's a Tie. Both headphones possess similar comfort characteristics
Sound Quality
One of the primary reasons why you want to get a Sennheiser headphone is because of their superior sound quality. Of course, this is true with both the HD 600 and HD 650 as they are capable of producing high quality audio that casual and enthusiast users can enjoy.
Let's start with the Sennheiser HD 600 and look at its audio qualities and compare how it fares with the Sennheiser HD 650.
The HD 600 comes with a more neutral sound, and this provides a natural feel to whatever it is you are listening to. This definitely comes in handy when you listen to a lot of music. Since you want to hear it as if the sound came directly from the instrument or the artist. Compared to other headphones, the audio that the HD 600 produces is as realistic as it can get.
One of the differences between the HD 600 and HD 650 is the way that they handle vocals. The HD 600 is better in this regard as it seems like it is tuned for it. Vocals sound a bit better, and you will be able to notice the emphasis on mid and high tones. This allows you to enjoy them a lot more, especially if you like to sing along.
Another difference between these two impressive headphones is audio brightness. This characteristic is more about clarity and openness, and the HD 600 does an excellent job here. However, the HD 650 does an even better job giving you brighter sounds, especially with the higher tones. Audio is a lot clearer with the HD 650. It allows you to hear the environment, making it an excellent headphone for watching movies.
The HD 650, since it produces open sounds, there is a tendency to miss out on some of the low range tones, and can affect some of the minor details. This soundstage is more fit for listening to music where you want to hear where the sound is coming from.
If you are looking to hear the smallest of details, the HD 600 is a much better choice. It is not as bright as the HD 650, so its low tone production is not as affected, and it gives you the detail that you want.
Where these two headphones shine is how they treat their mid tones. This gives the headphones their impressive and natural sound quality. They also come with a great bass response that provides punchy audio. Although, they do not have sub-bass, which might be a turn off for bass lovers who love them.
Still, the bass on both these devices is tight. Not too strong, but just enough to add a layer of depth and improve your listening experience. This bass will allow you to hear drum beats and even their vibrations so you can fully enjoy the music you are listening to.
Overall, the Sennheiser HD 600 has a more neutral approach to its sound. It gives you natural music, as is, without having any add-ons. It has more of a raw feel to it, in a good way, whenever you listen to it.
The Sennheiser HD 650, on the other hand, is a brighter pair of headphones. It also has that extra punch as it comes with more bass. It is a great pair to listen to music for long periods as it has a more open sound and does not feel too constricted.
Picking one over the other really depends on how you want to use your headphones and what you are listening to. If you prefer a more neutral sound, go for the HD 600. However, if you want an open sound with a little bit more power, then the HD 650 is an excellent choice. Both are undoubtedly impressive headphones that you will enjoy listening to for a long time.
Our Pick: Sennheiser HD 650 for the punchier and livelier acoustics
Portability
Both the Sennheiser HD 600 and HD 650 are professional-grade headphones, so do not expect them to be that portable and easy to store. They are lightweight, but it does not mean that they have a small footprint. The large oval ear cups make these two headphones a bit on the bulky side, so whenever you want to bring them along, be prepared to carry some large cases.
They do not come with space-saving features, so you will have to be extra careful whenever you store them in bags. There are no folding or retractable mechanisms that enable other headphones to be packed easily. However, even without these, they do make up for it in the audio experience that they provide.
These headphones are made to be used with an amp as they are not capable of producing enough power on their own to power their drivers. There is no question that you can use them by plugging them directly to a computer or smartphone. Still, you will not be able to enjoy their full capabilities. Volume levels are definitely not at the optimum levels, so you are going to miss out on subtle acoustics and detail.
There is really nothing you can do when it comes to portability for both these headphones. Sure, you can bring them along, but be prepared to use carrying cases that will not compromise them. However, if you are using these professionally, these are perfectly comfortable staying in your studio.
Our Pick: It's a Tie. Not the most portable, but is fine on occasional travels
Price
Both the Sennheiser HD 600 and HD 650 are high-end headphones, and you expect the prices to be up there. They are not as affordable as you might think, but they consistently produce audio that even other loudspeakers can only dream of. If you are a professional or an audiophile that knows how to appreciate great audio experience, these are the headphones for you.
There is really not a lot of differences between these two. In terms of design, they are extremely alike, with the minor variance in finish and material. But, when it comes to comfort, you could not tell one from the other.
Getting one over the other is really a matter of sound preference since they have different audio characteristics. The HD 650 offers a brighter and clear sound, and the HD 600 is more neutral. So, if you are particular about these qualities in the audio that you are listening to, it is justifiable to get the pricier HD 650.
The HD 600 is more of a fun high-end headphone. It produces the sounds but does not necessarily have that professional touch with the audio quality. It is still great value for your money as you will surely identify the difference over getting a cheaper pair from a different brand.
These two are definitely excellent headphones, and if you like listening to polished audio, these are the equipment for you. You can also watch out for sales and discounts as these can get significantly reduced prices at the right time. If you are not in a hurry, better to continually check out the prices and grab them when they are offered at insane discounts.
The Best Open-Back Headphone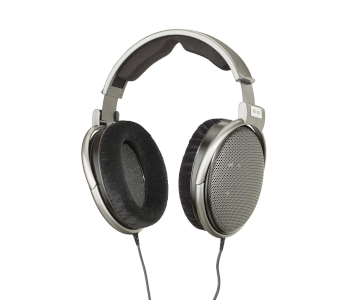 Retail Price: $499
If you are looking for one of the best open-back headphones in the market, the Sennheiser HD 650 is surely one that will pop into mind first. It is one of the company's best pair, and they do look the part. These headphones have a luxurious finish and extremely comfortable padding that you expect from a premium product. You can instantly tell that this is a unique product.
The HD 650 has been around for quite some time, and it is still a favorite of audiophiles everywhere. One of the reasons is that it comes with a lot of depth in terms of the sound. Its openness will give you the impression that the sound is coming from a different part of the room rather than close to your ears.
One of the things that you will not be able to do with the HD 650 is carry it around. Sure, you can bring it with you, but be prepared to lug it around in a large bag or case. However, it is really intended for use at home. They also require a bit more power, so plugging it into smaller devices such as your smartphone will not give you the volume you expect from this device.
Using it on a home theater system is definitely the most ideal situation. This way, you will be able to enjoy all the sounds that it is meant to produce.
The open sound that the HD 650 produces enables you to hear details that you will not be able to notice with any other headphones. High tones are laid back, giving a more relaxed sound, while rock tunes are definitely a bit mellow compared to other devices. However, playing acoustic music brings a bit more life when heard through this pair of headphones. The sound is undoubtedly clean, and it allows you to listen to it at higher volumes than usual.
The Sennheiser HD 650 is an excellent pair of headphones. It is capable of producing clear and detailed audio that should be perfect for professionals and audiophiles. Its neutral tone and impressive detail make it an excellent device to use in different listening situations. It is an elegant and comfortable piece of hardware that you will enjoy using, whether you are a professional or an audiophile that loves to get the best out of what you are listening to.
Sennheiser HD 650
✔ Exceptional detail and clarity
✔ Consistent audio quality on different genres
✔ Reliable build quality for comfort and durability
✔ Professional and elegant design
A Headphone Worth Considering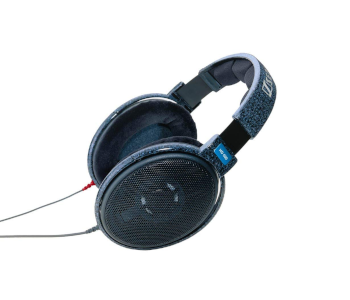 Retail Price: $399
If there is a headphone from Sennheiser's high-end line worth considering, it is the HD 600. You will be able to get it for significantly less than its big brother, the HD 650. As long as you are willing to make some concessions on the design front, it is still a pair of headphones that are capable of producing high-end quality audio.
With the HD 600, you are trading in the HD 650's elegant titanium metallic housing and finish to a gray and black plastic material. It will inevitably not affect the durability of the headphones, but this is how Sennheiser can significantly reduce the cost to make the HD 600 a lot more reasonably-priced.
The HD 600 retains the open-back design of the HD 650 offers roughly similar listening experiences. This concept allows the sound waves to propagate in all directions without getting blocked or bounced around, which might affect the audio quality. This results in an airy sound that does not feel constricted or closed off, making you feel like you are listening to music that is in a large space rather than a small room.
As for the drivers, the HD 600 uses similar ones to the HD 650, optimized neodymium magnets that lessen distortion producing a more natural and balanced sound. Bass is good, strong, and precise with detail that you will be able to pick up that other headphone simply can't. The midrange tones are excellent, and this is where the HD 600 really shines.
It seems that the HD 600 is for listening to acoustic recordings as the open design gives you the impression that you are sitting live in a large space. It does lack some power in the bass, but you can certainly hear most of the details in the low tones. It is an excellent pair of headphones to listen to acoustic and rock genres, but a little less when it comes to classical.
Similar to the HD 650, it is exceptionally comfortable to use. The soft cloth padding on the earcups ensures a good seal and fit that you will enjoy the music and not worry about it clamping too hard on your head. You can even wear it for hours on end as long as you are in a comfortable environment.
Overall, the Sennheiser HD 600 is an exceptional pair. The pricing makes it a winner since you get a premium product at a significantly more affordable price point. It is an excellent piece of equipment if you rely on headphones to listen to music, and want the best performance possible. There are definitely some differences between it and the HD 650. Still, if you simply can't afford to spend a bit more, it is an excellent option.
Sennheiser HD 600
✔ Detailed sound is impressive
✔ Neutral sounding
✔ Extremely comfortable to use
✔ Deep bass that is not overpowering
Wrap Up
These two headphones are fantastic pieces of audio equipment. They are capable of taking your listening experience to the next level. Both of these are very similar with some subtle differences, especially when it comes to sound quality. The HD 600 is more neutral sounding and does not put any digital effects on the audio, while the HD 650 adds just a touch of brightness and bass.
Each of them certainly has their own strong points, but the HD 650 looks like it is ahead of the curve from the design and build quality to overall audio quality. It is the more versatile option as it can cater to a broader array of music genres, and, on top of that, they also sound professional.
The two headphones process bass in a slightly different manner, and picking one over the other can ultimately come down to your preference of genres to listen to.
Overall, you will not regret getting one over the other as these are both solid options in the high-end headphone market. Robust materials and excellent sound quality make these the best ones out there that you can get.