Sennheiser Headphones Black Friday 2019 Deals
3D Insider is ad supported and earns money from clicks, commissions from sales, and other ways.
German brand Sennheiser is one of the few audio brands that are instantly recognizable. They have been in the industry for decades, rightfully earning a reputation as one of the best in terms of the overall quality of their products. They are known for a wide range of microphones and professional headset, but we'll be setting our sights on Black Friday deals for their excellent headphones.
With the huge discounts on Sennheiser headphones this Black Friday, it truly is a great time to get a new one. We might even see more deals as Black Fridays draw closer, and we'll make sure to keep you posted.
Black Friday deals on Sennheiser headphones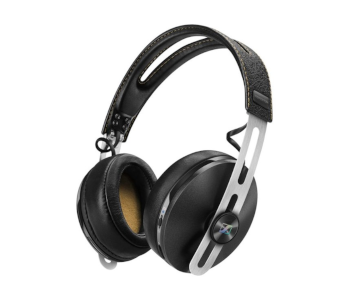 1. Sennheiser – Momentum (M2) Wireless Over-the-Ear Headphones – on Best Buy
Original Price: $399.98
Black Friday Price: $199.98
This deal easily stands out because of the huge discount. A price that's $200 lower than the original retail price is rare even on Black Fridays, making this quite a compelling purchase at first glance.
In terms of overall quality, the 2nd generation Sennheiser Momentum has massively improved on the design of the original Momentum. By incorporating a series of hinges, the M2 headphones are much more portable and even come with a compact carrying case that can easily fit in your backpack.
Despite the enhanced portability, the ear cups of the M2 are actually a little larger, which supports the headphones' Noise Gard active noise cancellation technology. The ear cups also feel more luxurious with comfortable and breathable memory foam lining. The stainless steel headband lined with a leather cover looks and feel appropriately elegant.
The Momentum line has always been known for delivering a full-bodied sound with rich bass, and we're glad to report that this has not diminished in the M2. The audio is to articulate enough for you to pick out subtle vocals and guitar strums even in less than stellar audio recordings. The superior sound quality is sure to keep you satisfied over the 22-hour duration of its battery.
Touch-sensitive buttons allow you to control everything through the side panels, although the M2 can also interface with all major voice assistants.
The one downside of the M2 has always been its price, so we're really glad to see it at half off this Black Friday.
Stainless steel headband and leather-covered ear cups
Built-in microphones with VoiceMax technology for clarity
Dual connectivity feature
Incorporates apt-x codec for CD-quality sound output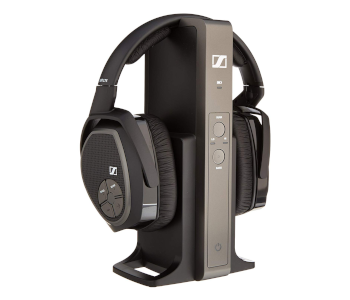 2. Sennheiser – RS 175 RF Wireless Over-The-Ear Headphones – on Best Buy
Original Price: $279.98
Black Friday Price: $199.98
Watching TV with headphones seems like an unusual setup, but perhaps that's only because it's impossible to do with standard Bluetooth headphones. Well, you can do that now if you get the Sennheiser RS 175 wireless headphones this Black Friday. Using RF wireless technology, the RS 175 can be used across a wide range of audio output devices.
By operating on the 2.4 GHz frequency band, the RS 175 can maintain a connection up to an impressive 100 meters (line of sight). If you want the freedom of being able to walk around while still listening to music, then these are the headphones for you.
In terms of sound quality, the RS 175 performs at par with most wired headphones in the same price range. You have the option of enabling either of two Surround Sound modes, which adds a bit of depth to the audio – a great mode for watching films. The Bass Boost mode can be your go-to to listen to your favorite songs with an extra kick to the bass.
This Black Friday, the RS 175 is available at a huge $180 discount. It may not exactly be the best in audio quality, but makes up for it with flexibility and versatility.
Sound pressure level of 114 dB at 1 kHz
Frequency response range of 17 Hz to 22 kHz.
Multipurpose transmitter and multi-receiver transmission support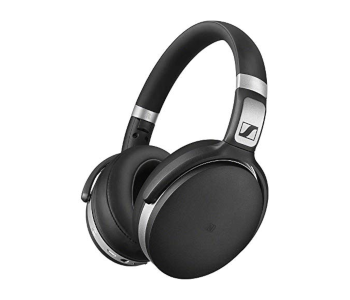 3. Sennheiser – HD 4.50R Wireless Noise-Cancelling Over-the-Ear Headphones – on Best Buy
Original Price: $179.99
Black Friday Price: $79.99
Wireless headphones with active noise canceling for only $80 – need we say more? If you're trying to keep your Black Friday spending low, then the Sennheiser HD 4.50R is a very wise way of spending your $80, especially because it now costs less than half of the original price.
Considering how much the noise-canceling headphones from other brands cost, it's easy to forgive Sennheiser for taking a few measures to keep the price of the HD 4.50R low. These headphones are practically made of plastic all throughout, and the faux leather lining doesn't feel quite as elegant or breathable. The ear cups are still outfitted with memory foam, so it's not an entirely uncomfortable affair.
The noise-canceling performance of the HD 4.50R isn't quite as refined as higher-end models, although it still does an acceptable job of reducing ambient sounds to barely audible levels. The audio quality is also satisfying with rich bass and a well-defined treble. There isn't much of a surround sound effect to the audio, though, so you might not get the kind of "open" sound that works best with movies.
Ultimately, it's going to be hard to find a better pair of wireless headphones for just $80. This is an excellent deal and is one of the most affordable ways that you can buy headphones with active noise-canceling.
Supports apt-x and Bluetooth 4.0
Frequency response range of 18 Hz to 22,000 Hz
19-hour battery life noise-canceling