Headphones Comparison: Sennheiser RS 175 vs. Sennheiser RS 185
3D Insider is ad supported and earns money from clicks, commissions from sales, and other ways.
In certain situations, using wireless headphones instead of speakers for watching TV at home is a better option. They help reduce background noise and allow you to hear better, which is beneficial if you have hearing problems. But more importantly, they prevent you from disturbing your neighbors or other people around you when watching TV at high volume, especially at night.
However, not all wireless headphones are suitable for watching TV due to latency issues. The majority of Bluetooth headphones on the market have high latency, which results in audio-video sync issues that can ruin your viewing experience. If you want to use wireless headphones for watching TV, the RS 175 and the RS 185 from Sennheiser are two of the best options. In this head-to-head comparison, we'll give you a detailed comparison of these two headphones to help you make a more informed decision.
Quick Look
Sennheiser RS 175
Sennheiser RS 185
Type
Wireless over-ear
Wireless over-ear
Enclosure
Closed-back
Open-back
ANC
No
No
Connectivity
Transmitter: 1/8 in (3.5 mm)
analog, optical
Transmitter: RCA analog, optical
Battery
18 hours
18 hours
Weight
10.9 oz
10.9 oz
Price
Amazon
Amazon
Design
The RS 175 and the RS 185 are very similar in design. They are practically tied in four of the five categories in this section. The RS 185 are better-built headphones made of higher-quality and more premium materials. They are also more breathable due to their open-back design while the RS 175 have a slightly more stable fit, but both headphones are similarly comfortable to use. They also have the same on-cup controls design but with different functions, while their accessories are nearly identical, with the only difference being their different analog cable types.
Fit
Both headphones are bulky over-ear headphones with large and spacious ear cups that can fit around most ear shapes and sizes. Their padded headbands are similarly flexible while their earpads have a good amount of padding for better comfort. Although the two headphones are similar in overall comfort and fit, there are minor differences that you need to consider.
The RS 185 are more breathable, making them more suitable for watching TV and movies for extended periods, especially if you live in a hot and humid place. They have open-back ear cups and include more premium velour-covered earpads that are more breathable than the cheap-looking earpads on the RS 175. Additionally, their velour earpads feel more pleasant on the skin, which is a big plus for some people.
The RS 175 are also decently breathable for closed-back headphones, but their open-back counterpart has a more breathable design. On the other hand, they are slightly more stable on the head due to their tighter clamp. However, both Sennheiser headphones have mediocre stability compared to other over-ear headphones, mainly due to their large and heavy ear cups. You need to be careful when moving around while still wearing them since they slide off more easily.
Build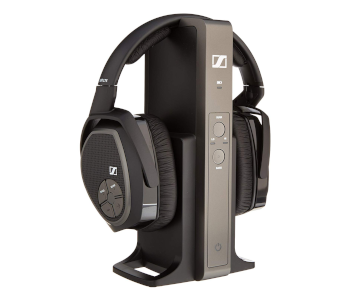 The RS 175 and the RS 185 are both primarily made of plastic, which contributes to their relatively lightweight frames. Their ear cups feel sturdy and durable while their headbands – which are metal-reinforced – don't creak alarmingly when being adjusted. The battery slots hidden behind their earpads are also well-secured. However, the more expensive RS 185 are better-built overall and look more premium.
Compared to the RS 175, they are made of higher-quality materials, which is easy to see if you place the two headphones side by side for comparison. Their plastic parts look and feel less cheap than that of the RS 175 while their earpads have a better cover material. Furthermore, their headband is covered with artificial leather for a more premium look, unlike the RS 175 which have a purely plastic headband exterior.
Regarding aesthetics, the two Sennheiser headphones have the same practical design. The RS 185, like all other open-back headphones, have grilles on their ear cup backplates while the textured backplates on the RS 175 are just for aesthetics. There isn't much to say about the wireless transmitters of both headphones; their build qualities are good, with buttons, switches, and connection ports that don't come off as cheaply implemented.
Controls
The RS 175 and the RS 185 both have on-cup controls that are easy to use, with responsive buttons that are neither too stiff nor too mushy and have good feedback. But while their controls have the same design, the functions are slightly different, with both headphones offering unique features.
Located on the right ear cup, the RS 175 have separate buttons for activating the bass boost and the virtual surround sound, along with volume buttons and a power button that also serves as a mute button. Meanwhile, the on-cup controls of the RS 185, which are similarly found on the right ear cup, are composed of volume buttons, balance buttons, and a level control button, along with the same dual-function power button seen on the RS 175.
You can use the balance buttons to make one side louder, which is especially beneficial if one of your ears is impaired and can't hear as much as the other. The level control button is used for switching between automatic level control (ALC) and manual level control (MLC). In ALC mode, the headphones automatically adjust for sudden volume jumps when watching TV and listening to music, but it only works when using an analog connection.
Unlike regular Bluetooth headphones, the RS 175 and the RS 185 both lack controls for call and music management. The lack of call management controls is understandable for headphones that are designed primarily for watching TV and don't even have a mic. However, the absence of easily accessible music management controls on the ear cups can be inconvenient if you intend to use the headphones as all-around headphones for watching TV and listening to music at home.
In addition to the on-cup controls, the transmitters of both headphones also have controls, located on the front panel and at the back. The RS 175 transmitter has a bass boost button and a surround sound button, while the RS 185 transmitter has a level control button and a knob for manual adjustment when the headphones are in MLC mode. Both transmitters have a small switch at the back for toggling between analog and optical inputs when connected to two sources. Unlike the headphones themselves, they lack a power button and instead automatically turn on and switch to standby mode.
Portability
Both headphones are not portable and are designed for home use only, especially considering they need their bulky transmitters to actually work. Even with their transmitters removed from the equation, they are still not easy to carry from one place to another: In addition to their bulky frames, they lack a carrying case and don't fold into a more compact format to take up less space in your bag. If you want more portable wireless headphones that are suitable for watching TV, you can look into Bluetooth headphones with low latency like the Plantronics BackBeat Pro 2.
Accessories
The two headphones come with almost the same accessories. Both include analog and optical cables for connecting the transmitter to a source, two rechargeable AAA batteries for the headphones, and a power adapter with multiple plugs for different regions. The only difference between them is the type of analog cable included: the RS 175 come with a 1/8 in (3.5 mm) analog cable that can be connected to a regular headphone port, while the RS 185 include an RCA analog cable.
For both products, there is no audio cable included for directly connecting the headphones to a source like regular wired headphones. The transmitters of the two headphones serve as a dock and charging station, automatically charging the headphones once they are docked, but you need to make sure the transmitter is also connected to a power source.
Performance
Like in the design section, the RS 175 and the RS 185 have more similarities than differences in overall performance. They use the same RF wireless technology with excellent wireless range and very low latency. They have the same battery type, battery life, charging time, power-saving features, digital connection option, and pairing setup. Furthermore, the transmitters of both headphones can connect to two audio sources and pair with two headphones at the same time.
The two headphones take different paths in only three areas: sound quality, sound isolation, and analog connectivity, with the latter being the most trivial. The RS 175 provide better sound isolation, with better passive noise isolation and lower sound leakage. Meanwhile, the RS 185 are better-sounding overall, with a more pleasant and better-balanced, not to mention less bass-heavy, sound profile. While both headphones include an analog cable for their transmitters, they use different types of cables.
Sound
The RS 175 and the RS 185 are both good-sounding headphones, but their sound signatures are different from each other, with the latter offering a more pleasant and more accurate sound that audiophiles will prefer. The RS 175 have a much more bass-heavy sound even with the bass boost disabled. Their treble is better than that of the RS 185, with more detail, while their mid-range is decent. If you want even more bass, you can enable the bass boost mode. You can also enable the virtual surround sound feature, but it doesn't really make for a significantly better listening experience.
In the opposite corner, the RS 185 have a more neutral sound profile, which is either a good thing or a bad thing, depending on your preferences. Their bass is lighter, more accurate, and less overpowering while their mid-range is better-balanced. As expected from open-back headphones, their soundstage is also more open and more spacious.
Although their treble is not as good as that of the RS 175 and can be too sharp sometimes, many people will agree that the RS 185 are the better-sounding headphones overall. If you want a more immersive experience when watching movies and gaming, with a much less overpowering bass, they are the better option.
Isolation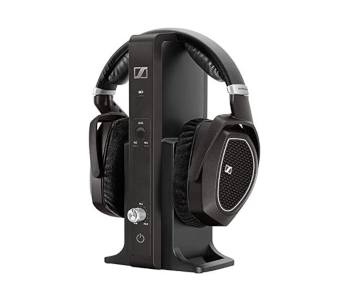 With their closed-back design, the RS 175 provide better passive noise isolation and have a lower sound leakage than the open-back RS 185. But their overall noise isolation performance is not as good as that of other closed-back headphones, especially those equipped with active noise cancellation technology. They are decent at reducing ambient chatter and high-frequency noises, which is good enough for watching TV at home, but they are poor at blocking out low-frequency noises.
Their sound leakage is also quite high for closed-back headphones, but it's not as bad as that of the open-back RS 185. If you want to reduce background noise or don't want to disturb other people around you when watching TV, especially in the bedroom, the RS 175 are the more suitable headphones. If you live in an apartment with thin walls and simply want to avoid disturbing your neighbors with your loud sound system, especially at night, both headphones are suitable for the job.
Mic
Both headphones lack an integrated mic, which makes their lack of call management controls a trivial matter. This makes them less versatile than Bluetooth headphones, which normally have a built-in mic for phone calls and video conferences. Since both headphones also lack a regular analog cable for wired mode, you don't get an in-line mic as well.
Battery
The RS 175 and the RS 185 are identical in battery performance. Both can run up to 18 hours per charge, making them suitable for movie and TV series marathons, and take around 8.5 hours to fully charge. Their charging times are much longer compared to regular Bluetooth headphones, which usually take around two to three hours to fully charge.
Both headphones can't be used passively with a regular audio cable when their batteries are depleted, which is disappointing. On the bright side, you can easily replace their batteries with regular, non-rechargeable AAA batteries if they run out of power at an inopportune time. Furthermore, both have power-saving features in the form of auto-off timers. They automatically turn off when they have been muted for 15 minutes or when out of range from the transmitter for more than five minutes.
Connectivity
Excluding their different analog cable types, the RS 175 and the RS 185 are identical in this category, with the same connection features and specifications. They use dedicated transmitters for their RF wireless connections and have much lower latency than Bluetooth headphones. Their very low latency is practically undetectable for most people and reduces audio-video sync issues when watching TV and gaming. Their wireless ranges are also excellent, with Sennheiser listing a line-of-sight range of up to around 328 ft (100 m) for both headphones.
The transmitters of both headphones can connect with two different audio sources using the analog and optical cables, with easy switching between inputs. They can also pair with two compatible headphones at the same time, allowing you and one other person to listen to the same audio. As mentioned, the RS 175 and the RS 185 include different analog cables for the transmitter: the former has an analog cable with a 1/8 in (3.5 mm) plug while the latter has an RCA cable.
Connecting the headphones to their respective transmitters is simple and easy. There is no need to go through the sometimes complicated pairing setup associated with Bluetooth headphones. In fact, both headphones are paired with their transmitters out of the box, allowing you to use them right away. If you need to pair them again, you simply need to place the headphones on the charging dock and wait for them to establish a connection, which only takes about a second. Pairing another set of headphones to the transmitter also requires the same procedure.
Wrap-up
Sennheiser RS 175
The RS 175 are the better option if you prefer closed-back TV headphones not only for better passive noise isolation but also for lower sound leakage. Although their overall build quality is not as good as that of the RS 185, they feel sturdy and durable and are comfortable to wear for long hours, with their tighter clamp allowing for slightly better stability. Their sound profile is more bass-heavy, which is either a good thing or a bad thing, depending on your audio preferences.

Unlike with their open-back counterpart, you can alter the sound of the RS 175, with options to enable a bass boost mode and virtual surround sound using the on-cup controls. Overall, the RS 175 are a good pair of wireless TV headphones. They are more affordable and provide better sound isolation than the RS 185, which is a plus if you want to reduce more background noise or don't want to disturb people around you while watching TV.

Pros
Cons

More affordable price
Bass boost and surround sound modes
User-friendly on-cup controls
Analog and digital connection options
Very low latency
Excellent wireless range

Bass can be overpowering
Long charge time
Subpar sound isolation compared to other closed headphones
Sennheiser RS 185
If sound isolation is not an important aspect for you, the pricier RS 185 are the better wireless TV headphones overall. They are better-built than the RS 175, with more premium materials used in their construction, including velour earpads that are more comfortable for extended use. They sound better, with a more pleasant and significantly less bass-heavy sound profile, and offer balance control and manual level control options for a more personalized listening experience.

The RS 185 use the same low-latency wireless technology used by the RS 175, with their transmitter also capable of connecting to two audio sources and pairing with two compatible headphones at the same time. Their wireless range is just as good as that of the RS 175 while their transmitter similarly offers analog and digital connection options, but with a different cable type for the former. All in all, the RS 185 are the better wireless TV headphones, with their worse noise isolation and higher sound leakage being their only notable disadvantages.

Pros
Cons

More premium build quality
Automatic and manual level controls
Balance control option
Analog and digital connection options
Very low latency
Excellent wireless range

Poor noise isolation
High sound leakage
Long charge time