6 Best Silent PC Case Picks for 2020
3D Insider is ad supported and earns money from clicks, commissions from sales, and other ways.
Cases are already at the bottom of many PC builders' parts lists, and the noise they put out sounds like an unimportant stat on paper. Don't make the mistake of assuming acoustics aren't essential and end up with a PC you can't hear yourself over when playing a resource-intensive shooter. Investing in a case optimized for soundproofing will save you and your friends from headaches down the line.
Quiet cases are built from quality materials and often have special sound-dampening panels that will muffle your fan and HDD noise. They support many fans or radiators that not only reduces the speed & sound at which each unit operates but makes for much better thermals as well. The best do not compromise on cable management and ease of system building either.
Here are the six best silent PC case picks for budget-minded builders and enthusiasts alike. You'll find models of varying sizes equipped with everything from RGB to tempered glass panels and customizable PSU shrouds among them, so finding one suited to your needs will be a snap. Choose one of our recommended cases and start enjoying your system in blissful tranquility.
Budget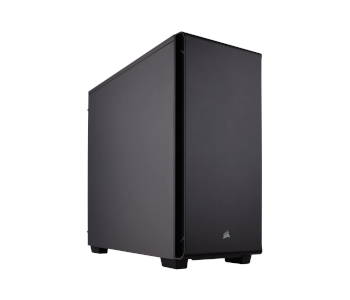 CORSAIR Carbide 270R
4.3/5.0
Weight: 15.4 lbs.
Type: Mid tower
Drive bays & PCIe slots have thumbscrews.
Check Amazon
Best Value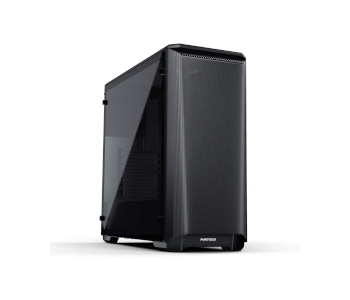 Phanteks Eclipse P400A
4.5/5.0
Weight: 15.4 lbs.
Type: Mid tower
Quiet despite minimal sound dampening.
Check Amazon
Top Pick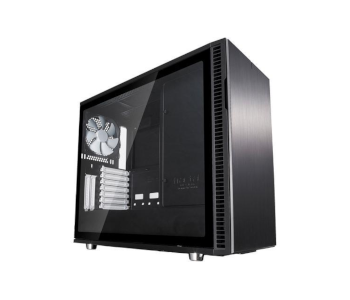 Fractal Design Define R6
4.8/5.0
Weight: 27.3 lbs.
Type: Mid tower
Removable sound dampers and panels.
Check Newegg
Silent PC Cases Comparison Table
1. Best Overall – Fractal Design Define R6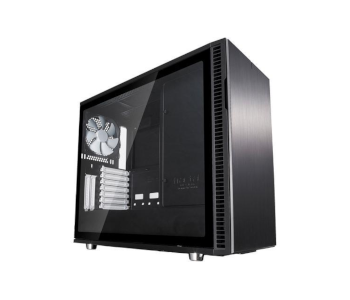 View on Newegg
Editor's Rating: 4.8/5
The sixth iteration of Fractal Design's Define R series is everything you could want in a noiseless case. It has superb acoustics and even better thermals due to a large number of available fan and radiator mounting options. The case is attractive, versatile, and a pleasure to build in. It's a firm foundation for building a silent PC even if you're an enthusiast who pushes her hardware to its limits.
Overview of Features
The R6 is not a flashy case, but the subdued design works in its favor as you can set it up in an office without a second thought. Even so, you'll be able to show off a high-end GPU or bathe a room in RGB thanks to a large tempered glass panel. It's not tinted and only has a thin metal frame, which gives the illusion of there being no glass at all.
The front panel is solid and has a metal sound-dampening insert. Opening it reveals a grille and two 140mm fans. You can remove the panel altogether as the I/O is located behind it on top. The top panel has a similar design. You may keep the metal insert for better acoustics, remove it to increase the airflow and still have a grille, or remove both and free up space for an external 480mm radiator.
The back and bottom look traditional. The former sports seven horizontal and two vertical expansion slots with reusable screws while the latter houses an easily removable mesh filter. The insides look standard too, but everything is precision-engineered and custom-built. The perforated shroud has holes for two SSD trays you can pace either there or leave behind the motherboard cover. There's room in the front for six 3.5" drives, four if you decide to place a 360mm radiator underneath them.
There's not much space for cable routing behind the mobo tray, but it isn't needed either since you get plenty of Velcro straps and pass-throughs to maximize the room at your disposal. Installing the motherboard is straightforward as standoffs are already set up, and setting up the PSU Is a matter of sliding it in place.
The R6's heavy emphasis on quiet performance pays off; expect noise levels not to breach 35dB when all three stock fans are running at full blast. Removing the front and top panels makes the case slightly louder, but it's a tradeoff that's easy to accept if you're going to install an elaborate liquid cooling system.
What We Didn't Like
The R6 has a PCB capable of controlling nine fans, six with three-pin connections, and three PWM models. Sadly, its I/O doesn't have a fan controller. Fractal Design says the case is compatible with E-ATX boards. However, some of them might not fit.
Tech Specs
Dimensions: 21.4 x 9.2 x 18.3 in.
Weight: 27.3 lbs.
Type: Mid tower
Supported motherboards: Mini-ITX, Micro-ATX, ATX
Expansion slots: 7+2
Front connections: 2x USB 3.0, 1x USB-Type C, 2x USB 2.0, 3.5 mm audio & mic
Max. CPU cooler height: 7.3 in.
Max. GPU length: 17.3 in.
Internal bays: 6x 3.5-inch, 2x 2.5-inch
Installed fans: 2x 140 mm front, 1x 140mm rear
Pros
Great acoustics
Lots of room for multiple fans and large radiators
Large, non-tinted tempered glass panel
Removable sound dampers and panels
Cons
No fan controller on I/O
Doesn't accommodate all E-ATX boards
2. Best Value – Phanteks Eclipse P400A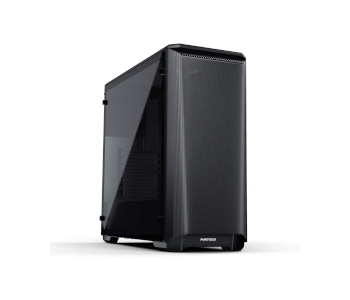 View on Amazon
Editor's Rating: 4.5/5
The P400 series offered decent build quality and aesthetics but was criticized for lack of airflow on release. It took Phanteks several years to perfect the formula, but the wait for the Eclipse P400A was worth it. The case balances superb airflow and cable management with controlled acoustics and is an excellent mid-range buy for all types of PC builders. If you're into RGB, a more expensive and more colorful version of the case is available too.
Overview of Features
The Eclipse P400A's standard version isn't much to look at, mostly because of its all-black exterior that keeps most of the internals hidden. However, taking a closer look reveals intriguing design choices, like the front panel that's completely removable if you need to clean it from dust. There's no mesh between it and the preinstalled two 120mm front fans. This is a smart move by Phanteks as airflow is unrestricted while thermals and noise levels are lower.
The top features an uninspired I/O with two USB slots and a fan speed controller. Most of the top panel is reserved for a mesh that houses two optional 120mm or 140mm fans. Installing them will improve air output but limit the space above the motherboard, so take that into account if you need better thermals. There's no room up there for a radiator, but you can fit a 360mm one snugly in the front.
The internals are split into two parts. The smaller bottom one has a perforated shroud that hides the power supply and drive bays with enough room for two 2.5" and as many 3.5" disks. The top part is more spacious and accommodates large motherboards along with long GPUs. Phanteks designed this part with several cutouts and grommets for easier installation. Couple that with a generous supply of Velcro strips, and you've got everything covered for hassle-free cable management.
The Eclipse P400A is surprisingly quiet, given its lack of soundproofing and a front panel that barely limits access to the internals. Cranking the fans up to full speed won't reach the 40dB mark, and running them at lower speeds produces considerably less noise. Outfit your system with SSDs only, and you'll barely know it's on.
What's Bad About It?
The Eclipse P400A has room for four HDD drives but comes with a bay that only supports two. You will need to buy more separately if you need the extra drive space. The case has a nice tempered glass panel that's fragile and prone to shattering, so be careful when handling it.
Tech Specs
Dimensions: 18.5 x 8.3 x 18.3 in.
Weight: 15.4 lbs.
Type: Mid tower
Supported motherboards: ITX – ATX
Expansion slots: 7
Front connections: 2x USB 3.0, 3.5 mm audio & mic
Max. CPU cooler height: 6.3 in.
Max. GPU length: 14.5 in.
Internal bays: 2x 3.5-inch, 2x 2.5-inch
Installed fans: 2x 120 mm front
Pros
Excellent value for the money
Easy to clean from dust
Quiet despite minimal sound dampening
Great cable management
Cons
Fragile glass side panel
Limited hard drive mounting options
3. be quiet! Silent Base 601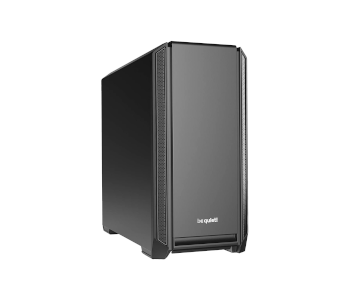 View on Amazon
Editor's Rating: 4.6/5
Be quiet!'s mission is to enhance your gaming and productivity by making your PC run as silent as possible, and the Silent Base 601 accomplishes this with ease. It's a straightforward case focused on whisper-quiet decibel levels over everything else. It's not the best fit for overclockers and people with beastly GPUs that radiate lots of heat. Everyone else will find it a fantastic choice, though.
Overview of Features
The Silent Base 601 is a traditional-looking case as there's no tempered glass panel or RGB to be found. Accented side vents are its only standout style elements and are available in either black, silver, or orange with a corresponding light on the power button. The shape of the vents on its top panel is unusual, as s is the top placement of the entire I/O consisting of three USB ports, the power button, audio jacks, and a fan controller.
The case achieves impressive acoustics thanks to its closed design and abundance of sound-dampening material. You'll find the material on both side panels and in the front, where it protects a honeycomb-shaped mesh filter. Another filter is on the bottom, and both can be removed from the front without tipping the case over. However, the Silent Base 601 isn't completely sealed off since two vent strips on its corners provide air for the 140mm front fan's intake.
The back of the Silent Base 601 is standard, consisting of a central bottom PSU cutout, an adjustable rear fan mount, and enough space for the motherboard I/O and expansion slots. There are seven of these, plus two vertical ones for users who want to show off their GPU.
The inside is spacious and outfitted with several grommets & pass-throughs that make component installation and cable management easier. The case accommodates PSUs of all sizes, with the biggest ones fitting if you take out the HDD rack. Speaking of which, the Silent Base 601 comes with another optional one if you need more drive space.
Cooling is handled by two 140mm fans with room for more on the bottom and top. You may also employ water cooling since there's room for 360mm radiators in the front and above the motherboard.
What We Didn't Like
The Silent Base 601's thermals are not great. You'll have no problems with PCs intended for office work or casual gaming, but overclocked systems may run warm. Maxing out the fan count will help, but not by much. The front panel is easy to remove by tugging it upwards. This is great when you're cleaning the filters out but could cause problems if you pick the case up by the front panel instead of its base.
Tech Specs
Dimensions: 20.9 x 9.4 x 20.2 in.
Weight: 23. lbs.
Type: Mid tower
Supported motherboards: Mini ITX – E-ATX
Expansion slots: 7+2
Front connections: 2x USB 3.0, 1x USB 2.0, 3.5 mm audio & mic
Max. CPU cooler height: 7.3 in.
Max. GPU length: 17.6 in.
Internal bays: 3x 3.5-inch, 6x 2.5-inch
Installed fans: 1x 140 mm front and rear
Pros
Exceptionally quiet due to closed design and dampening materials
Large meshes are easy to access
Supports two 360mm radiators
Easy to work in
Cons
Stock configuration has poor thermals
Front panel slides off too easily
4. Fractal Design Define Mini C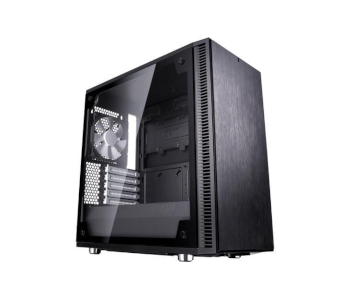 View on Newegg
Editor's Rating: 4.5/5
We've only talked about mid towers so far, but what if you're after a quiet case for your ITX build? In that case, there's no better choice than Fractal Design's Define Mini C. This small case is equipped with enough sound-dampening material to keep things quiet even under full load. Better yet, its dual interior design and ample cable room mean you can show off your skills and build tidily.
Overview of Features
The Define Mini C doesn't stray far from the minimalistic yet eye-catching aesthetics of the R6. There's the solid front panel with side vents, a quality side panel made from tempered glass, and four rubberized, sturdy feet that help keep noise down. The top I/O panel is nothing to write home about, but we do appreciate the blackened USB 3.0 ports that blend in nicely with the rest of its design.
A large dust filter runs along the Define Mini C's bottom and can be removed by tilting the case upwards and tugging. You may also install a filter on top or leave the sound dampening material in place. There's room in the case's front for three 120mm fans. Alternately, you can install several 280mm radiators since there are no front drive bays. Placing additional fans on top is an option too.
The case's interior is cleanly split between the motherboard housing and the rest. Installing the mobo involves placing it on a sliding tray and putting the assembly back in. Three SSD mounting brackets run along the enclosure's top, and there's room for two more 3.5" drives inside as many metal mounting bays. You can move them back to make room for water cooling or remove them altogether. If that's not enough, the enclosure's front part can be taken out for extra space.
The two built-in 120mm fans provide ample cooling for all but the hottest-running builds. They're quiet when idle and tolerably so at max RPM. Airflow upgrade space is abundant for such a small case, so investing in another fan or two will prevent the fans from spinning at their fastest.
Are There Drawbacks?
Installing disk drives into the Define Mini C can become a hassle since all of them, even 2.5" ones, require screws. While the case's build quality is sound, the same can't be said for the I/O panel. Yours might come with a faulty power button or audio jack, forcing you to wait for a replacement.
Tech Specs
Dimensions: 16.3 x 8.3 x 16.2 in.
Weight: 15.2 lbs.
Type: Mini tower
Supported motherboards: mATX, ITX
Expansion slots: 5
Front connections: 2x USB 3.0, 3.5 mm audio & mic
Max. CPU cooler height: 6.6 in.
Max. GPU length: 12.4 in.
Internal bays: 2x 3.5-inch, 3x 2.5-inch
Installed fans: 1x 120 mm front and rear
Pros
Shares much of the R6's design philosophy, including noise management
Clean interior with enough room for cables and radiators
Movable drive bays
Has several large dust filters
Cons
Drive installation isn't toolless
I/O panel needs better quality control
5. Silverstone Fara R1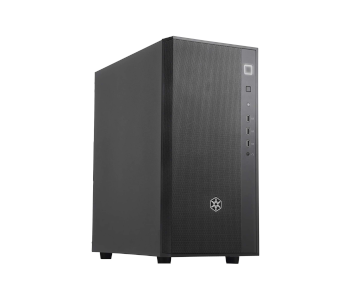 View on Amazon
Editor's Rating: 4.3/5
The Fara R1 from Silverstone is proof that smaller, budget-oriented ATX cases can excel at keeping sound to a minimum. It's a simple yet attractive case that cuts corners on flash rather than build quality. It's more cramped than other mid towers we've reviewed and best-suited as a case for a productivity or average gaming build.
Overview of Features
The Fara R1 is a no-nonsense case that still catches the eye with its large glass side and attractive front panel. The latter has a mesh pattern for better airflow and conceals a filter with the popular honeycomb motif. The filter isn't removable, but the mesh in front of it will keep most dust particles from reaching it anyway. The I/O occupies the right-most fifth of the panel. It has a large square power button, three USB ports, and a combo jack for your headphones.
There's not much space to work with in the interior, but the Fara R1 makes smart use of it. Six standoffs come preinstalled, so you'll need to add three more when mounting the motherboard. You'll find two dedicated SSD mounts underneath it and one more on the back of the motherboard cover. The final SSD bracket is located next to the 3.5" drive bay hidden under the PSU shroud.
You can fit ATX-sized PSUs into the Fara R1 without a hitch, just be mindful of the reduced GPU space. Installing a PSU and HDD is straightforward, especially since the latter has a screwless caddy. The front is left bare for you to either mount several 120mm or 140mm fans or put in an AIO solution.
The Fara R1 comes with a single preinstalled fan, so of course it will be quieter than many other cases. However, installing additional units into a complete build doesn't worsen the performance. Running in idle mode doesn't exceed 35dB while doing so at load has varying results, depending on your GPU. A high-end graphics card with three fans will spoil the performance, but that would be true for any case of this size.
What's Bad About It?
The Fara R1 has poor cable management. It's a small case to begin with, so routing space is at a premium. There's also less than an inch of space behind the motherboard, forcing you to get creative or buy flat power cables. Build quality is mediocre as the case is made from thin metal sheets that flex if you apply pressure.
Tech Specs
Dimensions: 17.6 x 8.5 x 15.4 in.
Weight: 14.3 lbs.
Type: Mid tower
Supported motherboards: Mini-ITX, Micro-ATX, ATX
Expansion slots: 7
Front connections: 2x USB 3.0, 1x USB 2.0, 3.5 mm audio/mic combo
Max. CPU cooler height: 6.5 in.
Max. GPU length: 12.7 in.
Internal bays: 1x 3.5-inch, 4x 2.5-inch
Installed fans: 1x 120 mm rear
Pros
Good acoustics for a case of its size
Affordable yet comes with tempered glass panel
Enough room in the front for three fans or a radiator
Motherboard, PSU, and HDD are easy to install
Cons
Mediocre build quality
Poor cable management
6. Best Budget Option – CORSAIR Carbide 270R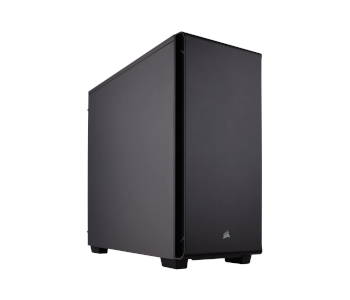 View on Amazon
Editor's Rating: 4.3/5
Our budget pick is a case that brings nothing new to the table in terms of design and features but keeps things cool & quiet. Corsair's Carbide 270R leverages lots of internal space, a mesh roof, and a useful PSU shroud to deliver noiseless operation and a tidy environment. Build quality is decent, and nothing about the case feels as cheap as the price would have you believe.
Overview of Features
Clean is the word that best describes the Carbide 270R's appearance. Transparent panels are hit & miss at this price, so we're glad that Corsair went for a solid steel one instead. Ventilation strips line both sides of the solid plastic front panel, with a standard I/O arrangement on the right. Reaching it might be tricky if the case sits on the ground, but that's a minor inconvenience.
Removing the side panels isn't hard even though they have a traditional hingeless design. They're held in place by thumbscrews and readily slide out to reveal a cavernous interior. The bottom filter isn't as easy to remove the first time since it's stiff. It gets easier the more you do it, though.
The Carbide 270R comes with preinstalled 120mm fans in the front and back with lots of room for expansion. The top panel can house two more 120 or 140mm units, while there's room in front for two 140mm or three 120mm fans. No drive bays clutter the space behind the front fans, and there's even a dedicated area for 360mm radiators next to the PSU shroud. More radiators can be mounted on top and in the rear.
The CPU shroud is fixed in place and filled with strategically-placed holes for better airflow. Inside it are foam pads designed to protect the power supply from shock and reduce vibration. A large empty area inside the shroud is the ideal place to store excess cables. The back of the case is reserved for cables and a total of four disk drives.
We were satisfied with the Carbide 270R's lack of overly loud sounds. Its stock fans barley exceed 35dB when running at 1,300 rpm, and the situation doesn't change much once your build is complete. You'll get the best results if the case is on your desktop since its hollow top panel can amplify fan sounds under the desk.
Are There Drawbacks?
The aforementioned top panel is the Carbide 270R's biggest downside. You can't replace it with a solid version, and Corsair doesn't sell a mesh for it. That means the case is louder and more prone to attracting dust than it needs to be. HDDs are mounted awkwardly in the back and will require longer cables to connect to the power supply.
Tech Specs
Dimensions: 20 x 8.3 x 18.1 in.
Weight: 15.4 lbs.
Type: Mid tower
Supported motherboards: Mini-ITX, Micro-ATX, ATX
Expansion slots: 7
Front connections: 2x USB 3.0, 3.5 mm audio & mic
Max. CPU cooler height: 6.7 in.
Max. GPU length: 14.6 in.
Internal bays: 2x 3.5-inch, 2x 2.5-inch
Installed fans: 1x 120 mm front and rear
Pros
A silent mid tower case at a fantastic price
Roomy and clean interior
Supports several fan and liquid cooling configurations
Drive bays and PCIe slots have thumbscrews.
Cons
Top panel lacks a dust filter
Awkward HDD placement