5 Best Single-Board Computers in 2020
3D Insider is ad supported and earns money from clicks, commissions from sales, and other ways.
Laptop and desktop computers are old hat. The cool thing nowadays for tinkerers and coders are single-board computers. These computers offer just about the same basic functions as regular-sized computers, but they are much cheaper, use less power, and are just about the size of a matchbox.
More importantly, single-board computers are a great introduction to the greater world of coding and robotics. If you're looking to buy your first single-board computer, then check out our list of the best options that are available right now.
What are single-board computers?
A single-board computer is an entirely functioning computer contained in a board that fits on the palm of your hand or even inside a matchbox. It has all the standard components of a standard-sized computer such as CPU, graphics processor, RAM, and input and output ports. Depending on the model, single-board computers may have varying compatibilities with operating systems and other external devices.
Because of their flexibility and size, single-board computers have become integral components of many industrial applications, such as in process control or complex robotic systems. They have largely replaced microcontrollers because of their open-source nature, allowing codes to program them to create a variety of different functions. There are also hobbyists who use single-board computers for more "domestic" uses such as game emulation, image editing, or simply surfing the Internet.
By far, Raspberry Pi is the most popular name in the field of single-board computers. Originally designed by the Raspberry Pi Foundation as a learning tool, the Raspberry Pi series of single-board computers have gone on to become the third highest-selling computers worldwide, trailing only after PCs and Macs. Today, Raspberry Pi boards can be found in various consumer devices such as digital cameras, printers, and portable media players.
The top 5 best single-board computers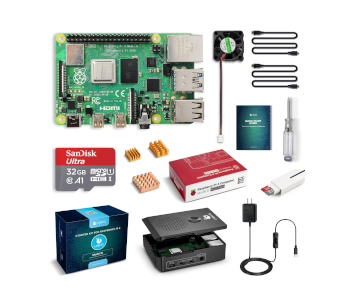 We're starting off this list with the current king of the hill: the Raspberry Pi 4 Model B, which was launched less than a year ago. This starter kit comes with the latest Raspberry Pi board, a set of heat sinks, a 32 GB microSD card pre-loaded with NOOBS, a power supply cable with an on/off switch, and a premium black case designed specifically for the Raspberry Pi 4.
The Raspberry Pi 4 Model B has a lot of advantages over other single-board computers and previous Raspberry Pi boards. Its processor is among the most powerful in the industry, and its GPU supports 4K dual-screen output. Even just these features are enough to make the Raspberry Pi 4 Model B stand out among its ilk.
This starter kit comes with 4GB of RAM, although there are also 2GB and 1GB option for those that are looking for more budget-friendly options. The black case with an integrated cooling fan is also a nice touch that would fit well for home use.
If there was a single-board computer that could readily replace a home PC, then a Raspberry Pi 4 Model B would be an excellent candidate. The only thing it lacks for mainstream appeal is compatibility with Windows 10, although this is still a relatively rare feature in the world of single-board computers.
Tech specs
CPU: 1.5 GHz quad-core ARM Cortex-A72
RAM: 4GB LPDDR4-3200 SDRAM
I/O ports: USB 2.0, USB 3.0, micro-HDMI, 40-pin GPIO
Connectivity: Wi-Fi, Bluetooth 5.0
Storage: 32 GB microSD card
PROS
Dual-screen 4K display support
Wide RAM options
Powerful processor
CONS
Expensive
No Windows 10 support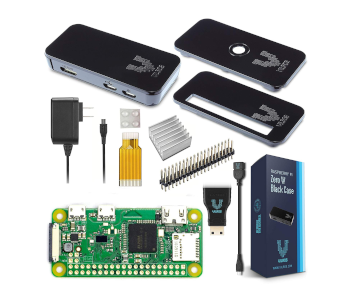 If you want a single-board computer but don't want to spend too much on it, then this Raspberry Pi Zero W starter kit might be just what you're looking for. The cheapest and smallest single-board computer to be created by Raspberry Pi, the Zero W is an upgraded version of the original Raspberry Pi Zero that comes with a Wi-Fi module.
As you can expect, the Raspberry Pi Zero W is far from what you'll consider a powerful single-board computer. The moderate CPU and RAM are good enough for small projects, but more advanced users may be left wanting for more. It still has all the necessary components to qualify as a computer, so you can still use it for coding and for interfacing with the usual external devices.
The perfect use of the Raspberry Pi Zero W is as a learning tool. It's just capable enough to get beginners and DIY enthusiasts some practice on making their own digital or robotics projects before they move on to more powerful single-board computers. The starter kit provides all the usual accessories, including a set of heat sinks, a 2.5A power supply, and a premium black case.
Tech specs
CPU: 1 GHz single-core ARMv6 C
RAM: 512MB
I/O ports: USB-OTG, micro-HDMI, 40-pin GPIO
Connectivity: Wi-Fi, Bluetooth 4.1
Storage: None
PROS
Inexpensive
Compact
Pre-loaded with Raspbian OS
Comes with a camera connector
CONS
Less powerful processor and RAM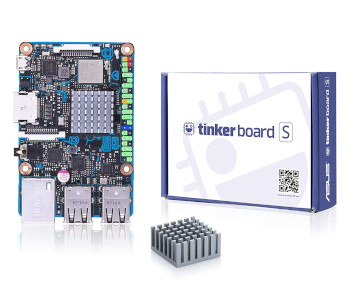 The Asus TinkerBoard S is only slightly cheaper than the Raspberry Pi 4 Model B, but it does have comparable specs, making it our choice for the best value for money. This is an extremely powerful board that we can fully recommend for advanced users.
The 1.8 GHz Rockchip quad-core CPU gives this board impressive processing power, which more than makes up for an underwhelming 2GB DDR3 RAM. The integrated graphics processor supports accelerated HD and UHD video playback, and the Wi-Fi and Bluetooth capabilities will certainly come in handy for IoT projects. It still has the usual interface options, including two USB 2.0 ports, an HDMI port, and the standard 40-pin GPIO header.
A standout feature of the ASUS Tinkerboard S is the 16GB eMMC storage – basically, an SSD-like storage that can make apps run faster on the board. The fact that the board runs eMMC technology is already surprising, but the 16GB storage capacity is just a cherry on top. We can imagine using the Tinkerboard S for some complex robotics projects that make perfect use of its low-latency capabilities.
Tech specs
CPU: 1.8 GHz quad-core ARM SoC
RAM: 2GB DDR3
I/O ports: USB 2.0, micro-HDMI, 40-pin GPIO
Connectivity: Wi-Fi, Bluetooth 4.0
Storage: 16GB eMMC
PROS
Super-fast eMMC storage
Powerful processor
Supports 4K and HD video output
CONS
Older Bluetooth version
Low RAM
Does not come in a kit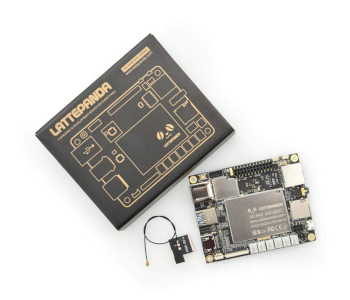 The LattePanda single-board computer has a major thing going for it: it's one of the few SBCs that are compatible and come pre-installed with the Windows 10 operating system. Although Windows isn't the all-encompassing system that it used to be, there are still some coders who still prefer to develop on the system for better compatibility. If this sounds like you, then the LattePanda is the way to go.
Versatility is another big advantage of the LattePanda. Because it has an Arduino-compatible processor, the LattePanda can be expanded with a variety of sensors, motors, and other electrical components to create highly complex projects. With a powerful processor, 4GB RAM, and massive 64 GB internal storage, the LattePanda should have enough hardware for both standard computer operations and more ambitious DIY kits.
There are two downsides to the LattePanda. The first is that it's very expensive – easily the most expensive entry on this list. The second is that it's a very complex single-board computer to work with. Since the LattePanda works differently to other single-board computers, its learning curve is even more steep than usual. If you're still a beginner, we wouldn't recommend the LattePanda for you.
Tech specs
CPU: 1.92 GHz quad-core Intel Z8350
RAM: 4GB DDR3L
I/O ports: USB 3.0, USB 2.0, HDMI, 40-pin GPIO
Connectivity: Wi-Fi, Bluetooth 4.0
Storage: 64GB
PROS
Compatible with Windows 10
Powerful processor
Huge internal storage capacity
CONS
Very expensive
Not beginner-friendly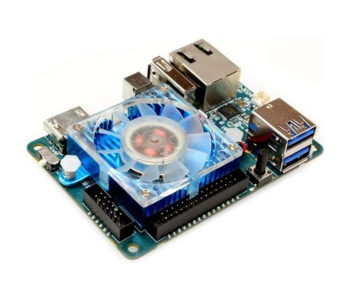 Picking just five single-board computers is tough because of how many excellent choices there are nowadays. The ODROID XU-4 sneaks by on account of its extremely powerful and energy-efficient hardware. What's even more impressive is that the ODROID XU-4 is just a little more compact than the standard Raspberry Pi SBC.
The Samsung Exynos 5422 processor is extremely powerful, even compared to similarly priced Raspberry Pi boards. The 2 GB isn't anything to be impressed at, but we like the massive 64 GB internal storage for storing media and programs. The ODROID XU-4 is compatible with various Linux and Android systems, which should be good enough for most developers.
One more aspect of the ODROID XU-4 we are impressed with is the eMMC 5.0 storage technology. Compared with the USB 3.0 port, the ODROID XU-4 can handle data transfer at blazing speeds – fast enough even for professional-grade applications.
There's a critical piece that the ODROID XU-4 is missing, which certainly hurts its position in this ranking. This is the lack of any wireless connectivity modules. It has neither Wi-Fi nor Bluetooth, severely limiting how its use for IoT projects or anything that requires more than a wired LAN connection. Although it's possible to add this function via USB dongle, it's still disappointing to not see the technology built-in in such a powerful SBC.
Tech specs
CPU: Samsung Exynos 5422
RAM: 2GB RAM
I/O ports: USB 3.0, HDMI, 40-pin GPIO
Connectivity: None
Storage: 64GB eMMC 5.0
PROS
Powerful processor
Huge internal storage capacity
eMMC technology
CONS
No Wi-Fi or Bluetooth connectivity
Final thoughts
It's not impossible for a future to come when all our fancy computers are replaced with their single-board counterparts. We're already at the dawn of the age when SBCs are becoming just as powerful as full-sized computers. With such an active community of users and developers, we fee like we've barely scratched the surface of what SBCs are capable of.