Slow Motion Cameras: The Best Ones to Get in 2021
3D Insider is ad supported and earns money from clicks, commissions from sales, and other ways.
With technological advancements, the capabilities of slow motion cameras have become so incredible. You can find budget-friendly cameras that can shoot high-quality frames in 120 frames per second at 1080p. There are also mirrorless cams that can shoot 60fps in 4K. You can use them to film movies and sporting events and capture fun activities, such as skiing, skating, cycling, and more.
Slow Motion Cameras Comparison
Camera
Type
Megapixels
Slow Motion
Video
4K Video
FPS
Continuous
Shooting
Retail Price
GoPro Hero
9 Black
Action
Camera
23.6 MP
2.7K
resolution at
120fps
Up to 30fps
25fps
$449
GoPro Hero
8 Black
Action
Camera
12 MP
2.7K
resolution at
120fps
Up to 60fps
30fps
$349
Canon
PowerShot
G7 X Mark
III
Mirrorless
20.1 MP
4K
resolution at
120fps
Up to 30fps
20fps
$749
Sony
Cybershot
RX100 VII
Mirrorless
20 MP
4K
resolution at
1000fps
Up to 90fps
20fps
$1,298
Sony
Cybershot
RX10 IV
DSLR
20 MP
1080p
resolution at
120fps
Up to 60fps
24fps
$1,698
Panasonic
Lumix GH5S
DSLR
10.2 MP
1080p
resolution at
240fps
Up to 60/50fps
60fps
$2,497
Sony A7R IV
DSLR
60.2 MP
Full HD at
120fps
Up to 10fps
30fps
$3,499
Blackmagic
Design
Pocket
Cinema 6K
DSLR
21.2 MP
6K
resolution at
120fps
Up to 60fps
30fps
$1,995
Sony PXW-
FS7 XDCAM
Super 35
Camcorder
21.2 MP
2K
resolution at
240fps
Up to 60fps
60fps
$6,899
Blackmagic
Design URSA
Mini Pro 12K
Camcorder
80 MP
4K
resolution at
240 fps
Up to 60fps
110fps
$9,995
Consumer-Grade Slow Motion Cameras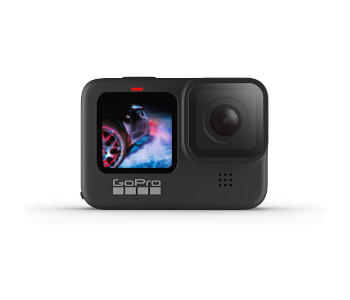 Retail Price: $449
GoPro's are not the first thing that comes to mind when you're looking for a slow motion camera. However, they have proven to be quite a device, especially when capturing high-speed action while preserving all the details.
The GoPro Hero 9 Black is currently the most powerful action camera you can get. Its handy size also accounts for its versatility so that you can shoot just about anywhere using its many settings. It's a clear upgrade from its predecessor with a new 23.6-megapixel sensor capable of shooting videos in 5K resolution.
Design
The Hero 9 Black is everything you expect a GoPro to be. It retains the boxy shape, but it is a bit larger than its predecessors. It now comes with a 1.4-inch color display on the front, making it a handy addition for vloggers. The display is not as responsive as a dedicated panel but is useful when you want to frame and preview your shots on the go.
Still, the action camera is a handy and pocketable device that will get you clear and detailed shots of your adventures. It is waterproof down to ten meters, and excellent to have if you're vlogging.
Features
One of its most beneficial features is the introduction of GoPro's latest stabilization technology, HyperSmooth Boost. It is available on all of the Hero 9 Black's shooting modes, so whether you're vlogging or taking some high-speed action for slow motion shots, you'll be able to take full advantage of it.
The Hero 9 Black also sports a front color display useful for vlogging or any general shooting projects. There's a noticeable lag, but if you're mainly using it for framing while shooting yourself, this is the feature that you're looking for.
Video and Image Quality
The Hero 9 Black is the most detailed GoPro camera capable of recording video in 5K. It also shoots some of the best still photos with its upgraded sensor. You will enjoy more detail in your shots, especially with the 5K 30fps coupled with its high speed 100 Mbps bitrate mode.
Slow Motion Performance
The Hero 9 Black may not be a dedicated or a camera specialized in slow motion footage, but it can produce decent shots given the right conditions. You'll be able to enjoy crisp slo-mo footage at 2.7K resolution at 120 frames per second. It would have been better if they made it possible to shoot slow motion footage in 4K, but its current mode produces pretty decent results.
This capability will give your videos some welcome change of pace, primarily if you shoot many action and sports scenes and highlight those with some slow-mo footage. Since it's not a dedicated slow motion camera, you'll still have to plan most of your shots as you'll need bright lighting to pull it off.
It will give you some of the best high-speed camera action for a handheld device in perfect conditions. It certainly makes a tremendous entry-level slow motion camera that you can use on your vlogs or any video projects for its price point.
Why Choose the GoPro Hero 9 Black
• 5K video offers far more detail
• Front display is useful for vlogging
• Latest image stabilization tech is excellent
• Clear and crisp slow motion footage in the right conditions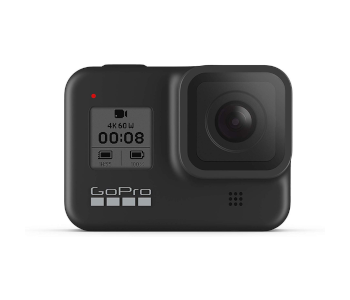 Retail Price: $349
The GoPro Hero 8 Black is not their latest model, but it remains the device that offers the most for its price. It's a great all-around camera that will get you the results you expect from a more expensive option. On top of that, its compatibility with GoPro's Mod accessories makes it an even more versatile device.
Design
GoPro's design has not really changed over the past years, and you get the same rugged look since the Hero 5 Black. The main reason why it remains the same after all these years is that it just works. As an action camera, it needs to be resistant to all types of stresses.
The Hero 8 Black is a lot easier to use with its built-in foldable hinges that allow you to stick on many GoPro mounts. You won't have to put on snappers giving you a lot more flexibility in using your camera.
Features
One of the prominent features of the Hero 8 Black is the introduction of GoPro Mods. These are new accessories that you can use to boost the capabilities of the camera. The Media Mod is an add-on that includes a shotgun microphone, mic port, and an HDMI out to offer a lot of shooting versatility.
The Display Mod also adds an external display to rotate so that you can preview your shots or frame yourself if you are vlogging. It does come with its battery, so you don't have to worry about it eating the power out of your camera.
You can also get the Light Mod that gives you additional lighting to continue to shoot in dark conditions. It can project up to 200 lumens within 3 feet, making it a welcome addition for vloggers. Like the Display Mod, it does come with its battery pack, so your camera can use its own to capture images and videos.
Video and Image Quality
GoPro has always been known to provide excellent video footage. One of its downsides is that the still images it captures are a long way behind flagship smartphone cameras. However, in Hero 8 Black's case, they have significantly improved that by improving HDR and night mode. It still needs some catching up to do, but it's certainly better than the previous models.
Where it gets everything right is in its 4K video recording capabilities, which is impressive. It even matches the performance of the latest flagship, the Hero 9 Black. The excellent image stabilization also helps, especially when you want to record incredibly smooth sports action. The higher bitrate also helps as it offers more levels of detail to every shot.
Slow Motion Performance
The Hero 8 Black is a fine entry-level slow motion camera as it is capable of recording 2.7K videos at 120 frames per second. Capable of capturing videos at a wide-angle means that you won't miss any of the action. This makes it great for getting slow motion shots of your adventures, whether you're surfing, cycling, or skydiving.
Mix this with its image stabilization HyperSmooth 2.0, and you'll be able to enjoy incredibly smooth slow motion shots for any of your video projects.
Why Choose the GoPro Hero 8 Black
• New Mod compatibility is excellent
• Improved microphone
• Excellent video and image quality for its price
• Slow motion videos are smooth and detailed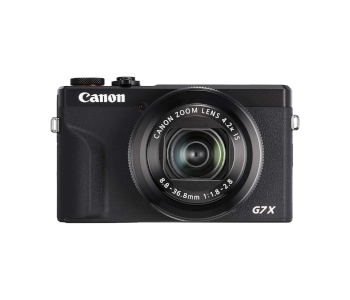 Retail Price: $749
The Canon PowerShot G7 X Mark III is a vlogger's favorite with excellent handling and features geared towards videographers. It offers versatility with its many capabilities allowing you to shoot videos in 4K and live streaming features.
Design
The PowerShot G7 X Mark III is a compact camera that remains portable and usable. It's comfortable to hold and come with easy to use controls, so you can use it to shoot just about anything.
The camera is responsive and is quick whenever you change the controls. This way, you'll be able to change your shooting settings depending on the scene without taking a lot of time. Overall, it's an excellently built camera made to tag along with you wherever you go making it the vlogger's device of choice.
Features
As an enthusiast-level compact camera, you'll be able to enjoy a lot of the pro features in a small package you can carry everywhere with you. If you're the type who does not want to compromise on video and image quality and still wish to travel light, this is the camera for you.
Even though it's a nearing professional-quality device, it's still easy to use, making it an excellent choice for budding vloggers and videographers. Its 20.1-megapixel sensor, paired with the DIGIC 8 image processor, makes it a fast camera, especially in terms of autofocus and auto-exposure features.
The 4K video recording capability is excellent for a compact camera, making it an ideal device for live streaming on YouTube. It also comes with a flexible 3-inch touchscreen that can be articulated so you can preview your shots, whatever your position is.
Video and Image Quality
The PowerShot G7 X Mark III lens is outstanding, with a decent focal range that's perfect for its sensor. It does tend to be a little soft with some noticeable fuzziness on more distant subjects. However, it performs well on subjects that are close to it. The detail is excellent, especially at the center of the frame, and as you move farther, the softness starts to seep in. This is particularly noticeable on wide aperture photos, but you can still get away with it.
Video, on the other hand, is where this camera excels. After all, it's a vlogging camera, so it gives you enough details for everyday shooting. There are times when it does not capture all of the detail, especially with more intricate subjects. But for a compact camera that can shoot reliably great videos, it's something worth getting for its price point.
Slow Motion Performance
The camera is excellent with slow motion shots as it is capable of shooting high-speed videos in 4K at 120 frames per second. This allows you to capture the action with as much detail as possible, making it perfect for vlogs and other video projects.
Its compact and handy nature also gives you the versatility to use its high-speed slow motion mode in just about any situation. For a consumer-grade camera, its 4K slow motion capability certainly gives it an edge over the GoPros.
Why Choose the Canon PowerShot G7 X Mark III
• Excellent build quality
• Responsive touchscreen
• Outstanding image stabilization
• 4K 120fps slow motion gives you more detail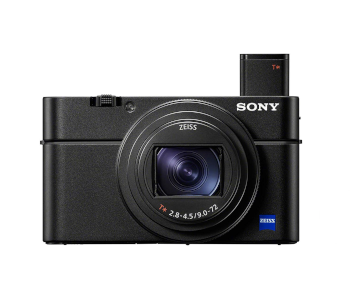 Retail Price: $1,298
The Cybershot RX100 VII is currently the most capable compact camera on the market. It uses the 24-200mm equivalent F2.8-4.5 lens with an easier-to-use auto-focus system. It also boasts superfast continuous shooting and high-quality 4K video capture. Additionally, the Sony pocket camera comes with a mic socket for improved audio recording.
Design
The Sony RX100 VII shares a similar body design and a 20MP 1-inch sensor as other models in the famous Cybershot RX100 line. It has a 3-inch touchscreen LCD that flips up 180 degrees or down by 90 degrees. It also comes with Wi-Fi and Bluetooth connectivity, as well as NFC. Moreover, the pocket camera is super compact at 302 grams or 0.67 pounds.
Features
The RX100 VII features a lens equivalent to 24-200mm in 35mm terms in its small body, resulting in a reduced maximum aperture. The Optical SteadyShot technology keeps it steady, while the tilting touchscreen helps get rid of the glare. There is also a pop-up viewfinder to help you capture a correctly exposed image.
New to the RX100 VII is the newly-developed stacked BSI-CMOS sensor and the Real-Time Tracking AF. The former has a native 100-12,800 ISO range and can shoot continuously at 90fps or 20fps without blacking out. On the other hand, the latter automatically selects the Tracking AF or Eye and Face Detection AF modes to help you save time. It is arguably the most significant update.
Video and Image Quality
The image quality of the RX100 VII has a slight improvement over its predecessor, thanks to its wider AF spread and faster readout. It retains fine details, even in low light, and its lens is sharp and consistent throughout the zoom range. Skin tone renderings also seem accurate. Overall, the image quality is outstanding, whether you are shooting Raw or JPEG.
The RX100 VII delivers crisp videos, making it excellent for high-quality movie shooting. It responds well to changes in subject distance, maintaining focus as it approaches the camera. The Sony compact camera can also lock onto and track the subject even when something moves randomly across the frame. It quickly reacquires focus.
Slow Motion Performance
The Sony Cybershot RX100 VII has an HFR Mode with up to 1000fps Slow Motion Video capture. It enables high-speed videos to maintain their resolution. You can shoot continuously at 5x slow motion if your final project is 24 fps or raise it to 10x for four-second scenes. The compact camera is also capable of shooting 4K videos with full pixel readout. Moreover, it has the same high frame rate as the VI.
Why Choose the Sony Cybershot RX100 VII
• 1-inch sensor design
• Tilting touchscreen
• 20fps capture with subject tracking
• 4K video with an external mic port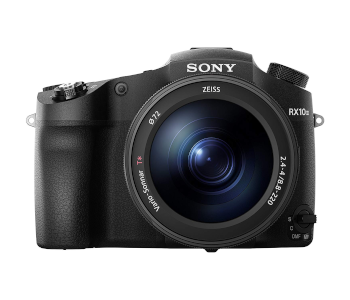 Retail Price: $1,698
The RX10 IV is a premium bridge-camera known for its super-zoom feature. It has elevated all-in-one capabilities and all-time high image quality that allow you to shoot impressive videos and stills. The Sony camera also delivers an incredible zoom range with its 25x zoom lens. Moreover, its stacked sensor design and phase detection focus enable a 24fps image capture for premium image quality.
Design
The Sony Cybershot RX10 IV is nearly identical to its predecessor. It has a bridge-style with a body similar to the shape and size of the SLR. Measuring 3.7 by 5.2 by 5.7 inches and weighing 2.4 pounds, it is comfortable to carry. It also has a black external body made of mixed metal, rubber, polycarbonate, and an internal magnesium alloy chassis. Additionally, the camera has a weather-sealed design, making it dust and splash resistant.
Features
The lens has a 25x zoom ratio and doubles as a capable macro, making it good enough for 1:2 magnification. The Sony camera also has a focus limiter switch that disables macro capture, focuses on subjects farther than 3 meters, and speeds focus when photographing them. Moreover, you can find a focus hold button on the barrel that prevents autofocus.
Key specs include a 20MP 1-inch stacked BSI-CMOS sensor and 24-600mm equivalent F2.4-4 stabilized zoom lens for a detailed image and video capture. The camera will undoubtedly appeal to various users with its 315-point phase-detection autofocus system covering 65% of the frame and 24 fps burst shooting in JPEG + Raw, with full AF and AE.
Video and Image Quality
The RX10 VII uses an 8.8-220mm (24-600mm equivalent) f/2.4-4 lens to capture an excellent image and video quality. You can set the physical aperture ring between f/2.4 and f/16 in third-stop increments. You can also set the focus adjustment toggle to AF-S (Single), AF-A (Auto), AF-C (Continuous), or DMF (Direct Manual Focus) modes. Furthermore, the Sony camera has a 4.5 optical stabilization CIPA rating that allows you to take consistently crisp images at 1/13-second when shooting at 600mm.
Slow Motion Performance
The Sony Cybershot RX10 IV allows you to shoot at 120fps 1080p in standard mode for a slow motion effect. It can also go beyond that if you need a slower slow-motion. The HFR setting can shoot footage at 240, 480, or 960fps and play it back at 24, 30, or 60fps, giving you a varying range of slow motion. The high-quality mode captures four seconds of real life, while the lower quality option can extend to seven seconds.
Why Choose the Sony Cybershot RX10 IV
• 25x zoom lens
• Dust and splash resistant design
• Touchscreen
• 4K video and 1080p slow-motion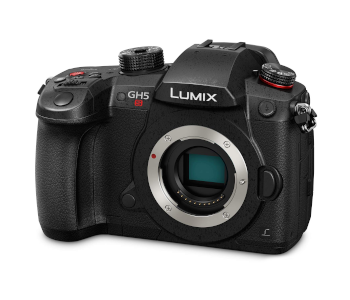 Retail Price: $2,497
The Panasonic Lumix GH5S is a mirrorless camera that delivers professional photo and video performance. It also boasts a rugged splash and freeze-proof design, as well as an unlimited in-camera recording of C4K. Additionally, the anamorphic video mode enables premium performance, mobility, and durability. If you want to record professional-quality footage without breaking your bank, you will not find a better video-focused camera out there.
Design
The Lumix GH5S has a multi-aspect sensor design that allows you to shoot at different aspect ratios without cropping down from 4:3. It delivers sufficient margin to get the same angle and the option to shoot raw 14-bit files. Its magnesium alloy frame makes it feel nice and sturdy. The camera has a decent amount of weather sealing, too. It is dustproof, splashproof, and freeze-proof down to -10°C.
Features
With the Lumix GH5S, making composition and shooting at low light is not a problem. It has a Live View Boost feature that increases Live View's sensitivity and a night mode that features a red interface. It is also capable of an internal 4:2:2 10-bit recording, allowing it to deliver stronger color reproduction.
The camera uses an all-new 10.2MP sensor that allows it to shoot in multiple aspects and provides sufficient margin to get the same angle. It enables the camera to improve on the maximum ISO of 25,600.
Panasonic also included the Dual Native ISO Technology to reduce the risk of background image noise in low-light conditions. As a result, the camera shoots at a world-class 4K footage up to 60/50p.
Video and Image Quality
The large and bright EVF of the Panasonic Lumix GH5S makes it excellent for shooting images and videos. It handles higher sensitivities well, with less grain-like noise and better dynamic range. The 10.2MP images also hold up well, considering the low resolution.
4K video from the GH5S is impressively clean. The camera captures more information in the highlights and shadows. The footage is highly flexible when it comes to color grading, as well. Skin tones look very natural.
Slow Motion Performance
The GH5S shoots slow motion, specifically 240fps in Full HD, and records up to 10x slow-mo video in 1080p. The footage is super smooth, but there is a considerable amount of digital noise. The heavy in-camera processing also leads to a significant loss of detail. What appeals to many videographers the most is its ability to shoot in multiple recording formats and create 4K Anamorphic professional videos.
Why Choose the Panasonic Lumix GH5S Mirrorless Camera
• Excellent ISO performance
• Unlimited in-camera recording of C4K
• Durable magnesium alloy body
• Anamorphic video mode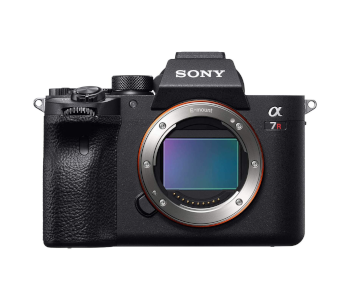 Retail Price: $3,499
The Sony A7R IV is a full-frame mirrorless interchangeable lens camera that offers stunning resolution, accurate color reproduction, and incredible detail. Built around a BSI-CMOS sensor that outputs 60.2MP images, it shoots up to 10 frames per second with full autofocus, generates 240MP images of static scenes, and more. Plus, it comes with a host of internal and external refinements to give you incomparable picture and video quality.
Design
As soon as you hold the camera, you will feel that the handgrip is more comfortable, the AF joystick large and well-textured, and the buttons more prominent and better. You will also notice the high-resolution viewfinder that uses the latest 5.76M dot OLED display. The user interface is extensive and not so navigable, but you can set up a My Menu tab for your convenience. Also, the A7R IV is solid without being overly heavy, making it comfortable to carry and use.
Features
After a period of improvement, the A7R IV now has a simple but powerful autofocus system. Its Real-time AF Tracking system is easy to use and makes a massive difference to the camera's usability and performance. You don't need to move or place your autofocus point, saving you time from diving into the menus to change settings.
The Sony camera features the 5.76-million-dot UXGA OLED Tru-Finder that reproduces fine detail with approximately 1.6x higher resolution than its predecessor. It also maintains its shooting speed of up to 10fps with a mechanical shutter, allowing you to capture decisive moments. Moreover, the A7R has Dual media slots, both supporting UHS-II.
Video and Image Quality
With a new 60.2MP sensor, the A7R IV provides impressive resolution and detail capture. It is slightly noisier than its predecessor, but it has excellent JPEG sharpening and color. It is also worth mentioning that the camera uses various shutter modes. More impressively, it exhibits outstanding dynamic range performance.
The A7R IV has plenty of capture tools that allow you to shoot 4K video at up to 30p. It also offers both full-width and APS-C crops for both 4K and 1080p. Plus, Real-time Tracking of faces and eyes is now available while shooting video. Just make sure to enable touch-to-track focus.
Slow Motion Performance
The Sony A7R IV has an S&Q setting on the Mode Dial that switches to in-camera slow-motion. It can record Full HD (1,920 x 1,080) videos at frame rates ranging from 1fps to 120 fps, which allows for up to 5x slow motion and 60x quick motion video. The camera is excellent for landscape photographers and wedding shooters but not for sports and action videographers.
Why Choose the Sony A7R IV
• Real-Time Tracking Autofocus
• Dual UHS-II slots
• 10fps bursts at full-resolution
• Improved ergonomics
Professional-Grade Slow Motion Cameras
Retail Price: $1,995
The next generation of handheld digital film cameras is finally here. Blackmagic Design launches a device better than a simple video camera. The Pocket Cinema 6K has professional features that allow you to create Hollywood-like films. It uses a high dynamic range and excellent low light performance to deliver accurate skin tones and gorgeous organic colors.
Design
The elegant design of the Blackmagic Design Pocket Cinema 6K encompasses several brilliant features. It uses the lightweight carbon fiber polycarbonate composition that makes it comfortable to hold and carry. There is also a multifunction handgrip with all the controls for your convenience. Plus, the large 5-inch LCD allows you to get perfect focus at 4K and 6K resolutions.
Features
Since it is an advanced digital film camera, the Pocket Cinema 6K comes with a sensor that reduces thermal noise to allow for cleaner shadows and higher ISO. It also features a removable battery door, heavy-duty lens mount, built-in speaker, and four shockproof microphones. The larger 6144 x 3456 Super 35 sensor and EF lens mount enable you to create cinematic images with a shallower depth, defocused backgrounds, and gorgeous bokeh effects.
Conveniently placed below the right thumb rest, you can change shooting speed, zoom, access set up menus, and playback shots at the back panel controls. There are also fingertip shooting controls on the front and top, so you can quickly record videos and take still photos. Additionally, the camera includes many advanced connections such as HDMI monitoring, mini XLR audio input, power, and many more.
Video and Image Quality
The Blackmagic Design Pocket Cinema 4K raises the ante on resolution and picture quality with its larger image sensor. It gathers more light and delivers a cleaner, wider field of view. With full 13 stops of dynamic range, you get excellent digital film quality. Moreover, the dual native ISO of up to 25,600 brings fantastic low light performance.
The videos captured by the Blackmagic camera look sensationally cinematic. Shooting 6K with 12-bit colors leads to unbelievably flexible footage. More impressively, you can achieve all kinds of dramatically different effects – from washed-out looks to modern films.
Slow Motion Performance
Turning on the Off Speed Recording of the Blackmagic Pocket Cinema 6K allows you to adjust the frame rate. You can set it to 120fps to capture videos in 5 times slow motion. You can even set this to a preset for quicker access. Furthermore, the camera produces amazing half-speed footage.
Why Choose the Blackmagic Design Pocket Cinema 6K
• Excellent image and video quality
• Incredible range of ports
• Compatible with a wide range of Canon EF-mount lenses
• Large 6144 x 3456 Super 35 sensor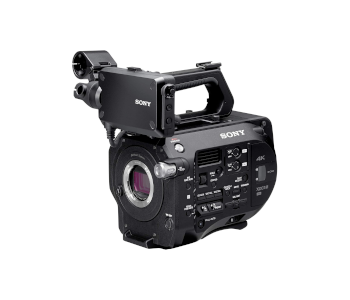 Retail Price: $6,899
The Sony PXW-FS7 is a professional camcorder available at a reasonable price. It comes with many high-end features and has superb ergonomics, making it close to being perfect right out of the box. If you are seeking a camera to shoot documentaries, this device works surprisingly well. It feels very much like a cinema camera with the functionality of a real ENG camera.
Design
The form of the PXW-FS7 is excellent. It takes after other handheld super 16mm cameras and has a standard ARRI rosette on the front side for portability. The handle and arm include a camera, while the controls include a zoom rocker, record, menu navigation, and two custom function buttons.
The Sony camera is also well-built with a magnesium body to keep the weight down and increase durability. Weighing under 5 pounds without a lens, it is crazy light to be handheld. The sturdy top handle comes with a mic holder, monitor mount, and hot shoe.
Features
What makes the Sony PXW-FS7 a standout is the tons of high-end features it includes. It has an internal 4K with a super 35mm Exmor CMOS sensor that delivers cinema-like images with beautiful depth. It uses XQD cards, which are comparatively inexpensive, and has two slots to let you record simultaneously and relay records.
The Sony FS7 also comes with tons of connections, separating it from the competition. There are the 2X SDI outs, 2X XLR, HDMI out, headphone jack, USB, and a mini-jack for the remote. You will find the three customizable ISO preset settings on the side. Moreover, the camera has full audio control to go with the two XLR inputs.
Video and Image Quality
The images out of the PXW-FS7 looks fantastic and very cinematic. The quality of the pictures, texture, and overall tone is very film-like. The grain does not look digital. You also get a plethora of frame rate options. In UHD, you can choose among 59.94p, 50p, 29.97p, 23.98p and 25p. In HD, you get the same options with the added ability to crank up the rate to 180 fps.
Equipped with a high-sensitivity 4K Super 35mm Exmor CMOS sensor, the Sony FS7 records 4K internally to deliver excellent film footage. The videos have tons of latitude. You can shoot in bright daylight with direct sun and shadows without issues. It also does exceptionally well in low light.
Slow Motion Performance
The PXW-FS7 has an S&Q button that allows you to shoot between 1 and 60fps. To go faster, switch to HFR mode and change "Off" to "Full Scan." You can capture Super Slow Motion continuous recordings in Full HD image quality and up to 180 frame rate per second on internal XQD media. You can also take external RAW recorder images in 2K for up to 240fps.
Why Choose the Sony PXW-FS7 XDCAM Super 35
• Equipped with 4K Super 35mm Exmor CMOS sensor
• Easy settings for one-person operation
• Internal recording in 4K resolution up to 60fps
• Super slow motion continuous recordings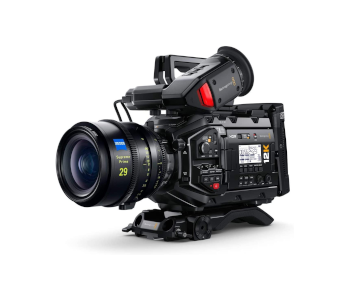 Retail Price: $9,995
The Blackmagic Design URSA Mini Pro 12K is the world's most advanced digital film camera. It records 12K raw video, as well as stunning 4K and 8K footage. If you are looking for a high-end cinematography camera, including documentaries, this is most suited for you. It can capture anything you throw at it and does it very well.
Design
The URSA Mini Pro 12K boasts a revolutionary and portable design that allows you to take it anywhere. Made of magnesium alloy, it is genuinely lightweight and robust. The buttons, dials, and switches are arranged in a logical order for convenience as well. Then, there's the external backlit LCD status display that lets you view critical information.
In addition to connections, you also get a 4-inch fold-out touchscreen to review shots and access the menu settings. Plus, the Blackmagic Design camera comes with an innovative high-speed USB-C Expansion Port for direct recording to external disks.
Features
The Blackmagic Design URSA Mini Pro 12K uses the Cinematic Super 35 12K Sensor with a native resolution of 12,288 x 6480 and an incredible 80 megapixels per frame. It also uses the incredibly efficient next-generation codec Blackmagic RAW that lets you shoot 12K and edit on a laptop. The massive resolution allows you to reframe shots to 4K and 8K.
Optimized for capturing images at multiple resolutions, you will find the superb 14 stops of dynamic range and the native ISO of 800 useful in capturing every ounce of character and detail. The URSA Mini Pro also comes with a dual built-in CFast and UHS‑II SD card recorders and a SuperSpeed USB‑C expansion port to quickly record to SATA and NVMe drives.
Video and Image Quality
The Blackmagic Design camera shoots standard resolutions and frame rates in 4K, 8K, and even insanely detailed 12K. The massive 80 megapixels per frame at 60 fps allows you to capture perfect stills and motion shots. Images have unprecedented resolution and quality for color, while videos get smoother edges even at lower frame rates. Additionally, the URSA Mini Pro 12K features the Generation 5 Color Science to bring you better color response and a better rendering of highly saturated colors in high contrast scenes.
Slow Motion Performance
The Blackmagic Design URSA Mini Pro 12K has superb slow-motion capabilities. The company released a firmware update that added many new frame rate options, including 4K Super 16 to 240fps in the full sensor. You can shoot 120 fps at high frame rates and even window the sensor to Super 16 to capture 4K at an incredible 240 fps at 4096 x 2160 DCI.
Why Choose the Blackmagic Design URSA Mini Pro 12K
• Shoots in 12K
• Lightweight but extremely durable
• Super 35mm sensor with PL mount for high-end production
• 14 stops of dynamic range and native ISO of 800
What to Look For in a Slow Motion Camera
Slow motion cinematography used to be a technique only professional videographers could achieve. Thanks to advancements in consumer technology, many cameras can now record at frame rates high enough to produce slow motion effects. Here are the assets you should look for in a camera to capture beautiful, cinematic slow-mo footage.
High Frame Rates
High Frame Rate (HFR) is a video practice related to a higher number of frames per second than the conventional 24fps. When buying a slow-motion camera, look for a product that can record higher frame rates for extra smoothness and resolution. It makes your videos look more lifelike with additional clarity.
Shooting and editing footage at high frame rates also delivers super slow motion, which is ideal for showing off camera tricks. It displays greater detail within scenes and significantly reduces lag. Overall, it improves the smoothness of movement, gives higher resolution, and makes clearer footage.
Build Quality
Cameras with the best build quality can last over ten years. Choose a product that feels solid in your hand and does not get easily damaged by accidental knocks. Other features that make a slow-mo camera durable are splashproof, dustproof, and freeze-proof. They make your device ideal not only for outdoor photography but also for travel.
User Interface
The user interface is about programming the looking of things. It allows you to view and use settings quickly and easily. But, a great UI maximizes responsiveness, efficiency, and accessibility. It facilitates usability and improves the user experience. More importantly, it helps you find the information you need to complete various tasks.
Auto Focus
Autofocus intelligently adjusts the camera lens to obtain focus on a subject. It is an excellent tool for non-professional photographers and videographers as the camera or lens moves and aligns itself automatically. It is also advantageous when the subject is moving or when other things pass behind or in front of it.
Image Quality
Image quality is one of the most essential things you should look for in a slow motion camera. Many cameras can now shoot 60 to 120fps in 4K resolution, giving filmmakers enough room to work with slow-motion footage without sacrificing image quality and resolution. Factors that affect it include sharpness, distortion, color accuracy, and digital noise.
Shooting in Slow Motion
When shooting a video, you have several frames per second to use. A standard frame rate of 24fps essentially means capturing 24 images per second and putting them together to create footage. For a slow-motion video, you double or triple the frame rate. This means you'll have more images per second, no empty spaces, and no abrupt motions when you stretch it out in the post.
However, different kinds of emotions make for various frame rates. You cannot just set it based on your preference. To slow-mo an expression, a 60fps frame rate is enough. In the case of cars exploding or colliding, you may need a higher frame rate, like 120fps. It would help if you also keep the shutter speed twice the inverse of the frame rate. This means shooting at 120fps would require you to set the shutter speed at 1/240.
Wrap Up
When choosing a slow-motion camera, there are many things you should consider. But if you are looking to add slow motion to your projects, your best bet might be to get a solid High Frame Rate camera.
The best budget-friendly products in the market today are the GoPro Hero 8 and 9. The GoPro Hero 9 Black is currently the most powerful action camera, with a handy size and 23.6-megapixel sensor. The Hero 8 Black, alternatively, has an improved HDR and night mode.
For vloggers, the, Cybershot RX100 VII, Canon PowerShot G7 X Mark III, Sony Cybershot RX10 IV, Sony A7R IV, and Blackmagic Design Pocket Cinema 6K are excellent choices. They give videographers a lot of versatility with their many features.
If you have enough room in your budget, the PXW-FS7 boasts superb ergonomics and high-end features to help you take cinema-like footage. The premium URSA Mini Pro 12K, on the other hand, is the world's most advanced digital camera, which captures anything you want and does it very well.