6 Best Small DSLR Cameras in 2020
3D Insider is ad supported and earns money from clicks and other ways.
Size is one of the most common complaints against DSLR cameras. They might offer superior picture quality, but that's the last thing on a photographer's mind after she's spent a day lugging around a DSLR and telephoto lens at a sporting event. However, not all DSLR cameras are behemoths.
We've assembled the six best small DSLR cameras and go into detail n what makes them great in this lightweight roundup. You'll find out that being lean doesn't make them any less capable. All cameras on review have commendable image quality. Most excel at shooting in low light, while some offer special features that make night sky photography easier or introduce newcomers to the craft. Pick your favorite, and never worry about your DSLR's bulk again.
Budget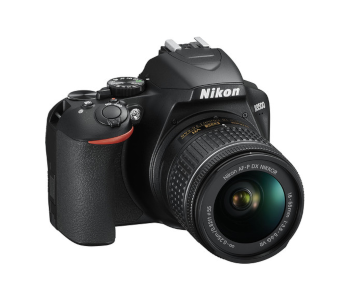 Nikon D3500
4.1/5.0
Sensor: APS-C
Burst: 5.1fps
Versatile little DSLR at a bargain price.
Check B&H
Best Value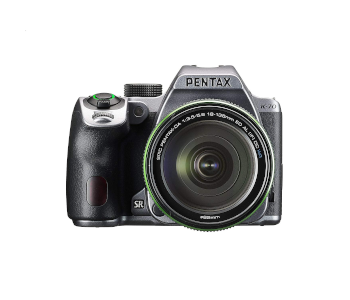 Pentax K-70
4.5/5.0
Sensor: APS-C
Burst: 6.1fps
Has Pixel Shift and Shake Reduction.
Check Amazon
Top Pick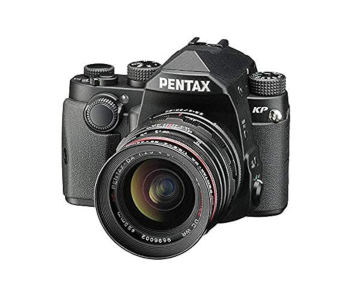 Pentax KP
4.7/5.0
Sensor: APS-C
Burst: 7.1fps
Excellent build quality and weather sealing.
Check Amazon
Small DSLR Cameras Comparison Table
1. Best Overall – Pentax KP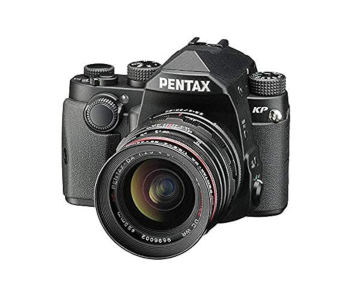 View on Amazon
Editor's Rating: 4.7/5
Pentax's KP is the Swiss army knife of small DSLR cameras. It has several unique features like interchangeable grips or a night vision menu mode, along with Pentax's excellent image stabilization and Pixel Shift technologies. It's perfect for shooting in low light and offers an impressive degree of customization to boot. Video and battery life are lackluster, but the KP is as good as it gets for compact DSLR photography.
Overview of Features
The KP is a hefty camera in spite of its small size, thanks to a robust body and effective weather sealing. It's made mostly from metal and has knurled dials for easy operation. You can choose between three interchangeable grips and easily swap them out depending on your hand size or the lens you're currently using.
The control layout was inspired by the larger Pentax K-1 and its third control dial. The KP's dial has seven instead of nine settings, but three can be mapped to custom settings like exposure bracketing or shutter mode toggling. Setting the dial to the desired feature changes the smallest dial's contextual functions, letting you make quick adjustments. These, along with dedicated D-pad controls, make the KP a hands-on camera whose menus you'll rarely need to access.
Welcome innovations continue in the form of an LCD flip screen. It's great for selfies or vlogs and has a handy night vision mode. Turning night vision off tints the screen a shade of red that's easier on the eyes and helps them adjust to dark surroundings faster. You'll be using this feature a lot if you're into astrophotography or work in dimly-lit venues.
The KP has excellent image quality. Its white balance is on point whether you're outside or under artificial lighting. The PRIME IV image processor brings theoretical ISO up to absurd degrees but also makes shooting with five-digit values viable and noiseless. Photos also have outstanding color fidelity thanks to Pixel Shift. Enabling it takes four shots in rapid succession, preserving RGB information for each pixel.
Shake Reduction does a fantastic job of stabilizing the camera for photos and videos alike. You can expect close to four stops of compensation in real-life conditions, allowing you to leave the tripod at home. In a first for Pentax DSLRs, the KP also has an automatic shutter that makes it a great performer when shooting fast subjects wide-open.
What We Didn't Like
Poor battery life is the KP's most serious shortcoming. CIP puts its capacity at 390 shots. You can squeeze more out of it if you don't use the screen, but the results aren't even close to what we'd expect from a DSLR battery. The camera's continuous autofocus is fine for still subjects but struggles to keep up with fast-moving ones. Expect a lot of blurry duds when shooting in bursts.
Tech Specs
Dimensions: 5.2 x 4 x 3 in.
Weight: 24.7 oz.
Sensor: APS-C
Burst: 7.1fps
Battery capacity: 390 shots
ISO range: 100 – 819,200
Max still resolution: 24.3 MP
Max video resolution: 1080p 60fps
The Pros
Excellent build quality and weather sealing
Outstanding image quality
Flip screen with night mode
Impressive image stabilization
The Cons
Poor battery life
Autofocus has trouble with fast-moving subjects
2. Best Value – Pentax K-70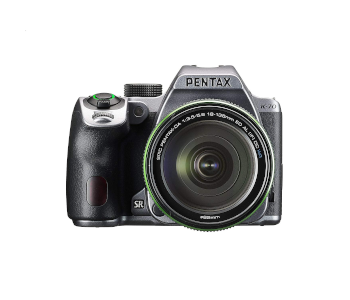 View on Amazon
Editor's Rating: 4.5/5
Do you like what the KP has to offer but want a cheaper alternative? Pentax has what you're looking for, the K-70! This slightly less capable DSLR is cheaper yet keeps some of our winner's most advanced features like excellent Shake Reduction and the Pixel Shift technology. The battery capacity is better, shooting at high ISO nets usable snaps, and sharing your work or controlling the camera is easy thanks to a solid companion app.
Overview of Features
The K-70 is slightly taller than our overall winner but still firmly in small DSLR territory. It's heavy, though, since the weather sealing is equally reliable. The K-70 also has a glass pentaprism instead of a pentamirror array, which noticeably improves its OVF's quality over similarly-priced competitors. The grip is fixed and fits comfortably in hand as there's a recess for your middle finger and a thumb rest in the back.
The LCD is both more and less advanced than the KP's. On the one hand, it has a wider range of motion and is able to move in a 270-degree arc once flipped out. On the other, the screen doesn't respond to touch, so you'll have to choose AF points with the directional pad.
Shake Reduction is present and works as well as on the KP. It helps reduce focus inaccuracy and lets you shoot with less light, but you can also use Shake Reduction to simulate a low-pass filter. You'd usually want the opposite to bring out more details, but the K-70 can deliver photos with slight, deliberate blurring that counteracts moiré patterns.
The K-70's photo autofocus is dependable and fast when there's enough light. Expect it to hone in on stationary subjects in a tenth of a second outside in broad daylight, while challenging light reduces reaction times to a second. You shouldn't shy away from bad lighting, however, as the K-70 produces printable images with little noise at ISO 12,800.
What's Bad About It?
The K-70's image buffer is modest. It can only store 10 RAW or 14 RAW + JPEG images before slowing down. This nets you two seconds of optimum burst at best as the rate of 6.1fps is rarely attainable in real-life circumstances. The camera uses on-sensor phase detection when autofocusing. This makes the process faster but moves the lens back and forth, which is noticeable in videos. You'll need a more expensive Pentax lens with a stepping motor for best results.
Tech Specs
Dimensions: 4.9 x 3.7 x 2.9 in.
Weight: 39.6 oz. with kit lens
Sensor: APS-C
Burst: 6.1fps
Battery capacity: 410 shots
ISO range: 100 – 102,400
Max still resolution: 24.2 MP
Max video resolution: 1080p 60fps
The Pros
Great value for the money
Solid build quality
Has Pixel Shift and Shake Reduction
Focuses quickly in optimum lighting
The Cons
Autofocus movement visible in videos
Small image buffer
3. Canon EOS Rebel T7i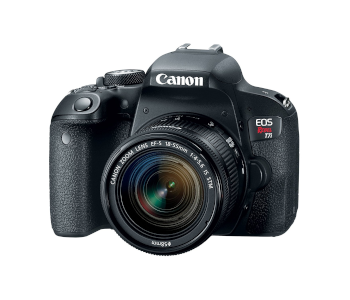 View on Amazon
Editor's Rating: 4.5/5
Canon's Rebel series might be synonymous with beginner-friendly DSLRs, but the T7i proves that even simpler cameras have a lot to offer. It features the best autofocus system on review, easily keeping track of anyone and anything for photos or videos. It will help ease newcomers in thanks to a well-thought-out guide mode and continue to create snazzy snaps long after the training wheels go off.
Overview of Features
Discerning users will recognize that the T7i isn't a professional's camera at first glance. Its body is made from tough polycarbonate, and the control scheme is simplified to suit beginners. There's no second LCD, and you only get one command dial. However, the camera fits well in hand and its screen has a wide range of motion content creators will love.
Guided mode makes the T7i the ideal starter camera. It transforms and simplifies the menu system, giving you a description of each menu category and turning the items within into large, easily tappable icons. Moreover, settings like aperture size and shutter speed are accompanied by graphics describing what effect each setting will have on the outcome in a way that's easily understood by users unfamiliar with photography principles.
The T7i is easy to use thanks to a capable auto mode combined with fast and accurate autofocus. It's geared towards users who will mostly shoot HPEGs, and these are both punchy and rich in detail. The camera snaps to attention and has no trouble tracking subjects in different lighting conditions, thanks to Dual Pixel CMOS AF. Best of all, a full array of manual options is available once you're comfortable shooting in RAW.
Movies made with the T7i look good and are tack-sharp due to the implementation of dual-pixel autofocus for video. The quality isn't good enough for indie filmmakers, especially if you don't add an external mic. Even so, beginner photographers have a means of accompanying their snaps with fine-looking videos of family outings, fishing trips, and other cherished adventures.
Are There Drawbacks?
A mediocre viewfinder is the weakest part of the T7i's build. It doesn't have a pentaprism like Pentax's cameras, so it's dimmer. You also get only 95percent frame coverage and have to take care not to include unwanted elements when framing a shot. The T7i is a specialized camera that has fewer features than other models in its price range. You can get more for the same price if you aren't a beginner.
Tech Specs
Dimensions: 5.2 x 3.9 x 3 in.
Weight: 26.3 oz. with kit lens
Sensor: APS-C
Burst rate: 6 shots
Battery life: 600 shots
ISO range: 100 – 25,600
Max still resolution: 24.2 MP
Max video resolution: 1080p, 60fps
The Pros
The perfect first camera thanks to guided mode
Above-average image quality
Excellent autofocus for all shooting modes
Simple control scheme
The Cons
Dim OVF with less than 100% coverage
Expensive for what it offers
4. Nikon D5600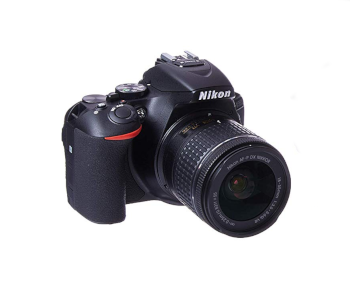 View on B&H
Editor's Rating: 4.4/5
The D5600 is a modest refresh of the older mid-range D5500 but has enough charm and polished features to win the title of our favorite Nikon compact DSLR. Its image quality is exceptional for the price, you get a versatile screen, and the inclusion of SnapBridge lets you effortlessly transfer images for social media publication. Add to that a serious battery capacity, and you've got a capable shooter you can use all day long.
Overview of Features
Nikon designed the D5600 to be accessible to newbies yet functional for pros, which is evident in the layout of its controls. There are just enough dials and buttons not to confuse inexperienced users while keeping all of them spaced out so that reaching the right command is never tricky. You may use the d-pad to select focus points or populate the custom menu with frequently-used functions for a smoother workflow.
The LCD has seen the most improvements from the D5500. It's a fully articulating touchscreen you can flip forward or towards the camera for safer storage when not in use. You can easily adjust its brightness manually and use the screen on sunny days. The LCD responds promptly to commands, letting you engage the shutter or set an AF point with a tap. Finally, it will turn itself off to save energy if you get close to the viewfinder.
Speaking of energy, the D5600 boasts a capacious battery. Its capacity is close to a thousand shots, leaving you free to concentrate on working instead of keeping track of spares.
Several factors come together to make the D5600's image quality exemplary. Rendered colors are accurate and pleasingly saturated, while you won't experience muddiness or detail loss as there's no optical low-pass filter. Low-light performance isn't on par with the KP's, but you can pull off print-worthy photos on values as high as 3,200.
Videos made with the D5600 are limited to 1080p at 60fps. While we'd have been more impressed with 4K considering its price, the D5600's video quality is good. You can step the resolution down for slow-motion videos, and time-lapses are supported as well. You can manually adjust the internal stereo mic's levels, but a 3.5mm jack and HDMI port let you improve sound quality while putting video out to an external recorder.
Are There Drawbacks?
The D5600 is best-suited for portraits, landscapes, and architecture. Its autofocus has trouble with fast-moving subjects, and a 5fps burst rate isn't world-class either. SnapBridge is a useful feature for remotely controlling the shutter and transferring images, but its connection to the camera is spotty.
Tech Specs
Dimensions: 4.9 x 3.8 x 2.8 in.
Weight: 23.6 oz. with kit lens
Sensor: APS-C
Burst: 5.1fps
Battery capacity: 970 shots
ISO range: 100 – 25,600
Max still resolution: 24.2 MP
Max video resolution: 1080p, 60fps
The Pros
Excellent image quality for an APS-C camera
Versatile touchscreen
Has microphone and HDMI outputs
Long-lasting battery
The Cons
Unreliable SnapBridge connection
Slow autofocus
5. Canon EOS Rebel SL3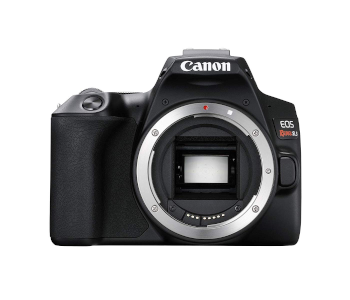 View on Amazon
Editor's Rating: 4.2/5
The SL3 takes DSLR dimensions to the extreme end of small, and you'd be forgiven if you mistake it for a mirrorless camera. It's less capable and cheaper than the T7i, but core features appealing to pros and beginners are still at its heart. There's a different version of the guided menu you get to take advantage of dual-pixel autofocus, and you can even record videos in 4K.
Overview of Features
The SL3 is the smallest DSLR on review and among the lightest ones if you don't take its kit lens into account. Even so, the camera is robust and well built. There's no weather sealing, but using the SL3 in humid or cold weather won't affect it. The buttons and dials are tactile and easy to distinguish even when working in the dark. We only wish that the on/off toggle wasn't so easy to switch to video mode.
We love the SL3's LCD! You can flip it out for selfies or tilt the screen when taking pictures from tricky angles. It's also very responsive to touch, allowing you to navigate the menus or set autofocus points. It has a structured menu system with separate settings for video and stills. There's also a version of the newbie-friendly guided mode that simplifies menus and tells you what each setting does.
The optical viewfinder's 9-point focus system is outdated, but using the screen puts Dual Pixel CMOS AF along with 3,000 AF points at your disposal. The SL3 grabs focus nearly instantly during the day and doesn't struggle in challenging light nearly as much as the D5600. JPEGs are vibrant and balanced from the get-go, while RAW images retain a broad dynamic range for effective post-processing.
The SL3 will be of particular interest to vloggers and other content creators. Its flippable screen is a good start, but it's the numerous filters and scene modes that make the deciding difference. For example, creators focused on beauty products will be thrilled to discover Smooth Skin mode. Everyone else can play around with creative filters like fish-eye and scene filters optimized for candlelight or food.
What We Didn't Like
The SL3 is the only camera on review capable of 4K video recording. However, there are several severe limitations. An additional crop is applied to 4K footage, reducing the APS-C camera's already narrow field of view even more. 4K also suffers from rolling shutter and doesn't support autofocus. These problems go away at 1080p. The SL3 has an excellent battery that is undermined by its limited OVF autofocus. You'll either have to manually focus through the viewfinder or drain the battery faster than anticipated.
Tech Specs
Dimensions: 4.8 x 3.6 x 2.7 in.
Weight: 23.4 oz. with kit lens
Sensor: APS-C
Burst rate: 5fps
Battery capacity: 1,070 shots
ISO range: 100 – 25,600
Max still resolution: 24.2 MP
Max video resolution: 4K, 24fps
The Pros
Exceptionally small for a DSLR
Lightning-fast autofocus
Responsive touchscreen
Has lots of scene modes and fun effects
The Cons
4K video has severe limitations
Dated OVF autofocus system
6. Best Budget Option – Nikon D3500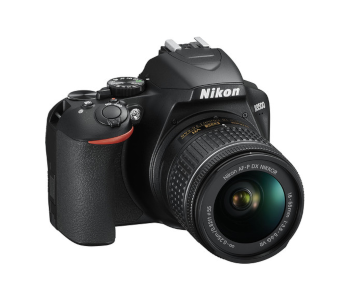 View on B&H
Editor's Rating: 4.1/5
Our budget pick is another lightweight DSLR aimed at beginner photographers. The Nikon D3500 doesn't have as many features as the T7i, but it will get you up to speed in photography basics and have you snapping keepers in no time. It has the best battery capacity on review, delivers above-average image quality in favorable conditions, and comes at an appealing price.
Overview of Features
The D3500 and 18-55mm kit lens combo weighs just 21 ounces, making it the lightest on review. A lack of heft is reflected in the camera's thin plastic body, so be careful not to ding it while shooting. D3400 users complained that the handgrip felt uncomfortable and natural. We're pleased to say that the D3500 is more ergonomic. The button layout has changed slightly, too. There are no more controls to the left of the screen, making for a cluttered interface that's easier to operate singlehandedly.
The entry-level D3500 comes with Nikon's own version of guided menus. It works similarly to what we've seen on the T7i; you specify what kind of scene you're shooting, and the camera will adjust accordingly while offering tips on manual correction. The feature will help with the basics, but the D3500's automatic performance is hit and miss since it tends to be heavy-handed with EV compensation.
The D3500 powers up quickly and is ready to shoot in as little as 0.5 seconds. Its autofocus shines when using the viewfinder since it takes a maximum of 0.3 seconds to make subjects sharp in poor lighting. The downside is that there are only 11 AF points whose coverage extends to 50 percent of the frame. Switching to live view greatly increases the number of available AF points but also slows down performance.
Image quality is the D3500's main selling point. It uses the same sensor as Nikon's leading APS-C cameras. It's also received an updated processor that improves low-light performance by letting you bump up the ISO without introducing noise. Broad dynamic range makes for little detail loss when shooting contrasting scenes, while colors are saturated and warm if you're in JPEG mode.
What's Bad About It?
The D3500 is much better at snapping pictures than recording videos. The quality is good enough for private use since autofocus is limited to an old, unreliable contrast-detect system. There's no microphone input, either. The touchscreen is bright but fixed in place. It isn't touch-sensitive, which feels like a missed opportunity since the D3500 attracts people looking to upgrade from their smartphone.
Tech Specs
Dimensions: 4.9 x 3.8 x 2.7 in.
Weight: 21.7 oz.
Sensor: APS-C
Burst: 5.1fps
Battery capacity: 1,550 shots
ISO range: 100 – 25,600
Max still resolution: 242 MP
Max video resolution: 1080p 60fps
The Pros
Versatile little DSLR at a bargain price
Comfortable thanks to redesigned grip
Exceptional battery life
Great image quality
The Cons
Mediocre video quality
Fixed LCD with no touch sensitivity