6 Best Small Gaming Mouse Picks for 2020
3D Insider is ad supported and earns money from clicks, commissions from sales, and other ways.
Peripheral manufacturers tout how their mice have many customizable buttons and RGB channels but treat size information as an afterthought. That's all well & good if you have large or average-sized hands. However, if the length measured between the heel of the palm and tip of the middle finger is less than 6.5 inches, you have small hands. That's not bad in and of itself, but it does make shopping for a mouse harder.
Gaming with an inadequate mouse can have many adverse consequences. You'll miss more shots and have a slower reaction time if you always need to adjust your hand's position or can't reach every button. You may even experience long-term health risks as incorrect hand placement can lead to carpal tunnel and wrist pain.
Picking out the best small gaming mouse for you is a serious matter, and our in-depth guide is here to help. We've assembled diminutive rodents that excel at different genres, have varying degrees of customization, and which accommodate different grip styles. Check out their measurements, become familiar with the features that make each unique, and get a gaming mouse you'll finally find comfortable.
Budget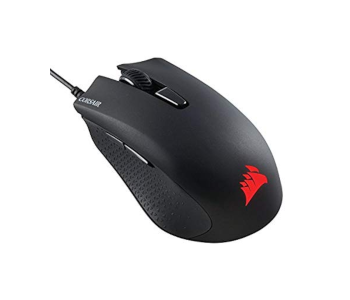 Corsair Harpoon RGB
4.4/5.0
Buttons: 6
Ambidextrous: No
It has an adjustable number of DPI settings.
Check Amazon
Best Value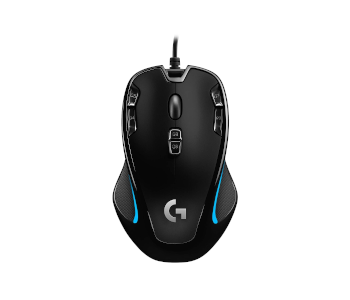 Logitech G300s
4.4/5.0
Buttons: 9
Ambidextrous: Yes
Has an intuitive configuration software.
Check Amazon
Top Pick
Logitech G302 Daedalus Prime
4.6/5.0
Buttons: 6
Ambidextrous: Yes
Impressive responsiveness and cursor accuracy.
Check Amazon
Small Gaming Mice Comparison Table
1. Best Overall – Logitech G302 Daedalus Prime
View on Amazon
Editor's Rating: 4.6/5
MOBA players are a fiercely competitive lot in need of a mouse that can keep up with hours of intense clicking without a single miss. Logitech listened to the MOBA community's design suggestions, and the result was a no-frills mouse that puts responsiveness and ease of use with a plain yet attractive aesthetic. The G302 might have been designed for your DOTA and LoL needs, but its usability and small format make it an excellent all-around choice.
Overview of Features
Understated comes to mind as the first word we'd use to describe the G302. It's a small and slim mouse that slightly expands in the middle to resemble a diamond shape when viewed from above. It fits amazingly well in small hands and accommodates your grip style indiscriminately. The G302 is even symmetrical enough to be used by lefties, albeit with a loss of functionality since there are two buttons only on its left side.
Most of the G302's body is matte and textured to ensure a tight grip even if your hands sweat a lot. The glossy bits accentuate its buttons and lead to two perforated side panels. Logitech's signature blue light shines through them and the company's logo, giving the G302 an appealing look without assaulting your eyes with colorful gaudiness.
Positioning and firing off skills at the exact moment is fundamental to a winning MOBA strategy. That's why the G302 features one of the best sensor and button response combinations in its price range. The max DPI is 4,000 and can be toggled with the button conveniently placed behind the scroll wheel. The left and right mouse buttons have metal springs that ensure a click is registered a mere millisecond after you press them. The side buttons perform equally well, and they're different sizes, so it's impossible to press the wrong one accidentally.
What We Didn't Like
While the G302's build quality is excellent, the same can't be said for its cable. It is stiff and cumbersome, so you'll have to pay attention when positioning it to avoid accidental mouse movement. The mouse might start to double-click after years of use.
Tech Specs
Dimensions: 2.6 x 4.5 x 1.5 in.
Weight: 4 oz.
Buttons: 6
DPI range: 100 – 4,000
Ambidextrous: Yes
The Pros
Excellent ergonomic shape suitable for lefties
Understated but appealing design
Impressive responsiveness and cursor accuracy
Intended for MOBAs but works well for all genres
The Cons
Stiff cable requires careful placement
Develops double-clicking after extended use
2. Best Value – Logitech G300s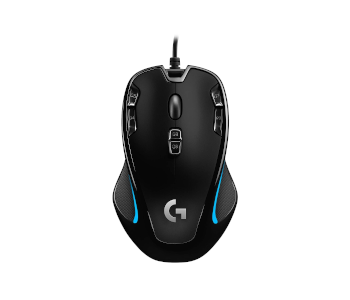 View on Amazon
Editor's Rating: 4.4/5
Do you like the G302's ambidextrous design, but find that six buttons aren't enough? Logitech has got you covered with the G300s, a mouse that offers more customization options and great ergonomics at an excellent price. It's a jack-of-all-trades you can depend on whether you're into FPS, RTS, or MMORPG games.
Overview of Features
The G300s has little in common with the G302 on the surface. While both mice are ambidextrous, the G300s drives the point home with perfectly mirrored contours and a set of buttons that are equally accessible for either hand. It features two comfortable thumb rest areas with honeycomb-shaped textures that keep the thumb from slipping. This is another mouse that combines a predominantly matte shell with glossier accents for more appealing aesthetics.
The G300s has nine buttons, and all of them are customizable, including the left one. There are no side buttons, so you get access to all nine regardless of your dominant hand. Sets of two are positioned on the left and right mouse buttons instead. They're small, but the indentation between them makes telling each button apart by touch alone easier.
As this is a mouse for the budget-conscious, its sensor isn't the most advanced. That's not to say it's bad; Logitech estimates you'll click ten million times and cover 200 miles before the mouse starts to falter. The highest DPI you can achieve is 2,500 and comfortable for the vast majority of games. Two buttons behind the scroll wheel are set to cycle between DPI settings by default, so getting to the right one doesn't take long.
While you can use the G300s out of the box, you'd miss out on a lot if you didn't give Logitech's Gaming Software a try. It's wonderfully simple and lets you reconfigure each button by dropping commands onto it. Macro creation is supported, too, and you can change the side light color to one of seven presets. The mouse even has onboard memory to store three distinct profiles.
What's Bad About It?
The G300s accommodates a variety of hand sizes and grip styles. However, it isn't suitable for people who use their fingertips as the pairs of side buttons are hard to reach that way. This mouse doesn't work with G-Hub, Logitech's new configuration tool. Keep this in mind if you're using newer Logitech peripherals alongside it as having both programs installed can cause conflicts.
Tech Specs
Dimensions: 4.5 x 2.8 x 1.4 in.
Weight: 2.9 oz.
Buttons: 9
DPI range: 250 – 2,500
Ambidextrous: Yes
The Pros
Excellent value for the money
Many reprogrammable buttons
Intuitive configuration software
Stores three onboard profiles
The Cons
Isn't supported by G-Hub
Side buttons are hard to reach for people with fingertip grip
3. BenQ Zowie EC2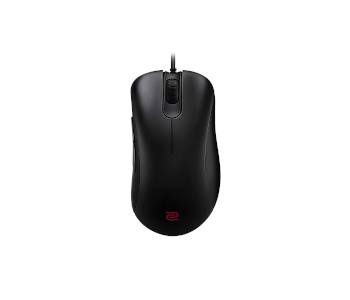 View on Amazon
Editor's Rating: 4.5/5
Serious gamers in the pro circuit need a comfortable mouse that performs with pixel-perfect precision more than RGB and other distractions. If you also happen to have smaller hands, then BenQ's Zowie EC2 is by far the best choice. It's one of the most responsive and ergonomically sound mice on the planet. It is portable despite having a cable due to Zowie's plug & play philosophy.
Overview of Features
The EC2 is Zowie's newest pro gaming mouse and a masterclass in simplicity. It's refreshing to see a rodent that's clearly built for performance yet lacks any kind of lighting. The only distracting elements on its matte shell are a red Zowie logo and a smaller BenQ one you won't even notice while playing.
On the other hand, you will notice and appreciate the EC2's flawless ergonomics. The best way to describe the feeling is natural – the mouse just feels right in the hand whether you grip its shell with your palm or execute precise headshots with the tips of your fingers. Zowie has listened to fans and replaced the four small feet seen in the EC's last iteration with two larger ones that effortlessly glide along most flat surfaces.
The mouse's buttons use Huano switches. These are as responsive as Omrons but require a little more pressure, making the clicking experience more tactile. There are only five accessible buttons since the EC2 doesn't have a traditional DPI selector. Rather, there are two dedicated buttons for polling rate and DPI selection on its bottom.
A mouse with so few outward features needs to have stellar performance, and the EC2 does not disappoint. Its 3360 optical sensor has a max DPI of 3,200. While low on paper, that's a value few people exceed even for twitch shooters. What it lacks in overinflated DPI numbers the EC2 makes up for in precision. Each movement is smooth and unimpeded by artificial assistance like angle snapping and acceleration.
Are There Drawbacks?
The EC2's plug & play approach is great for people who frequently play on different computers and don't want to deal with convoluted or intrusive configuration software. That being said, having a way to store at least one onboard profile would eliminate the need to fiddle with control settings once you're in-game. The EC2 is a fantastic choice for FPS games. It's one step away from perfect, though, since the omission of a DPI switch or sniper button means you can't quickly switch to a smaller DPI when you need to line up a tricky shot.
Tech Specs
Dimensions: 2.5 x 1.6 x 4.7 in.
Weight: 3.2 oz.
Buttons: 5
DPI range: 400 – 3,200
Ambidextrous: No
The Pros
Fantastic comfort and responsiveness
Minimalistic design without distractions
Works anywhere without the need to install additional software
Suitable for any grip style
The Cons
No onboard configuration profile
DPI button would have been handy
4. Razer Viper Mini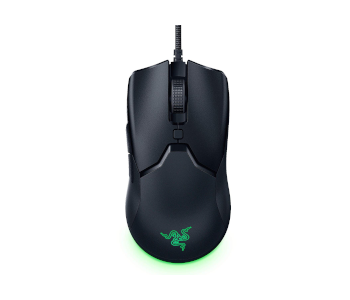 View on Amazon
Editor's Rating: 4.3/5
Razer is the world leader in gaming periphery sales, and the original Viper is one of its best models. It's also too big for some people, which is why this special mini version was disabled. The newest Viper is considerably smaller and lighter while retaining the same shape and feel long-time Razer lovers expect. It might lack the depth necessary for competitive MOBA or MMO players, but FPS lovers will definitely feel at home when using it.
Overview of Features
The Viper Mini stays true to the original's simple design. Its comfortable shell is mostly matte and textured, but a glossy line divides the rump from the two main buttons. Like the G302, you can use the Viper Mini without issue as a southpaw, but that also means giving up two customizable buttons. The mouse has unobtrusive RGB that shines through the Razer logo and its bottom.
Several elements come together to deliver the Viper Mini's smooth gaming experience. There's the SpeedFlex cable, which resists tangling and isn't as prone to becoming misshapen as regular braided cables are if bent. The Viper Mini has broad polymer feet that help it glide across a mouse pad or your bare desk without issue. Most importantly, the optical sensor communicates instantly with your PC, delivering response rates as quick as 8,500 DPI for split-second targeting.
You can use Razer Synapse to alter the functions for all buttons except the DPI toggle. Synapse is one of the best-designed configuration utilities on the market, allowing for precise sensitivity adjustment, profile creation, and simple macro mapping in little time. It's also renowned for its chroma settings and can configure the two channels to emit separate colors and visual effects.
What's Bad About It?
We've mentioned this in previous mouse reviews, but it bears repeating – Synapse is needlessly intrusive. It asks you to create an account and demands either an email address or logs you in through social media. Razer is the only peripheral manufacturer that insists on this, and we aren't sure why. The single DPI button means you have to cycle through all available settings. There's no current setting indicator, so finding one you like can take precious seconds.
Tech Specs
Dimensions: 4.7 x 2.4 x 1.5 in.
Weight: 2 oz.
Buttons: 6
DPI range: 200-8,500
Ambidextrous: Yes
The Pros
Faithful smaller version of an excellent Razer mouse
Great cable
In-depth lighting and button layout customization
Solid optical sensor
The Cons
Synapse is unnecessarily intrusive
Lacks a DPI indicator
5. Cooler Master MM711
View on Amazon
Editor's Rating: 4.2/5
All the mice we've covered so far have been small, but none of them placed much importance on weight reduction. Cooler Master's MM711 takes weight trimming to the extreme and has a unique, airy shell to show for it. Comfort and accuracy don't suffer because of the weight loss, and you'll equally appreciate the MM711 for hectic firefights and situations best resolved with a stealthy bullet from far away.
If you want something even lighter and don't mind ditching RGB, the MM710 offers the same performance while weighing a mere 1.9 ounces.
Overview of Features
The MM711 wins our award for the most peculiar mouse design. Its shell is symmetrical, and you could say that it has a conservative shape, were it not for the dozens of hexagonal holes that perforate it. These holes do much to cut down on the rodent's weight and are strategically placed so that there's still a solid area large enough for your fingers, thumb, and palm.
The perforations even extend to the bottom, where you'll also find three polymer legs that make the MM711 move smoothly across flat surfaces. There are two LED zones inside the mouse, one for its scroll wheel and another that illuminates the core. Having the mouse glow from deep inside creates a striking visual effect you can further tweak with Cooler Master's excellent software.
The MM711 has Omron switches that promise nearly instantaneous response times and 20 million clicks each. Its PixArt PMW3389 sensor has a tracking speed of 400ips and a max DPI of 16,000. It works in tandem with the MM711's negligible weight to offer an accurate and engaging gaming experience. Expect to zip around the battlefield or take precise aim with equal ease while barely noticing that you're holding anything at all. The feeling might be weird at first, but you'll wonder how you ever got on with heavier mice once you're used to it.
The MasterPlus software offers in-depth customization whose elements are accessed through multiple tabs. The first one provides general button configuration while the second handles light settings. Switching to the Performance tab lets you fine-tune the DPI rate in increments of 100 and map seven custom values to the corresponding button. You can also turn on angle snapping, adjust the polling rate, or set up individual sensitivities for the X and Y axis. There's even an option to toggle button response time between 4 and 32 milliseconds. The last two tabs handle macro management and the creation of unlimited profiles.
What We Didn't Like
All these holes make the MM711 hard to maintain. Neat gamers will need to pay more attention to dust buildup. Those that like to snack while playing might want to rethink their habits as the MM711 won't handle spills well. Dodgy quality control is the main reason the MM711 isn't higher up. Your unit might be fine, or it might come with problems like a sticky button or wobbly scroll wheel-.
Tech Specs
Dimensions: 4.6 x 2.5 x 1.5 in.
Weight: 2.1 oz.
Buttons: 6
DPI range: 400 – 16,000
Ambidextrous: Yes
The Pros
Weighs next to nothing
Unique perforated design
Comprehensive configuration software
Weight has no bearing on its performance
The Cons
Quality control issues
Hard to maintain
6. Best Budget Option – Corsair Harpoon RGB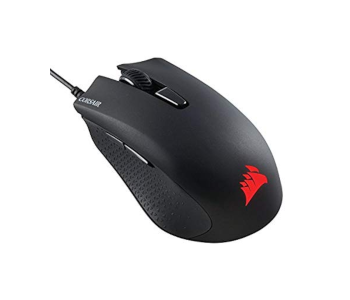 View on Amazon
Editor's Rating: 4.4/5
Our budget pick is a mouse that puts both larger and more expensive models to shame with what it offers. Corsair's Harpoon features outstanding build quality for its price, has a fine sensor, and even comes with memory for an onboard profile that makes it more portable. Add in some RGB, and you've got one of the most under-appreciated nice in existence.
Overview of Features
The harpoon is a deceptive rodent. It's light yet doesn't feel flimsy or cheap. Its form looks basic, but you'll feel your hand ease into the contours as soon as you rest it on the slip-resistant shell. Your thumb and fingers will feel right at home, cradled in its rubberized side rests. These are also dimpled for extra grip.
One design decision you don't see with most mice is the wide space left between the scroll wheel and main buttons. It might increase the risk of getting gunk in there, but the wider gap also lets you get rid of obstructions more easily. Speaking of the wheel, it is textured and rotates smoothly while maintaining a tactile feel crucial for accurate weapon cycling. The RGB settings let you paint Corsair's sails in millions of colors. The effect is somewhat diminished since you'll be covering the logo up most of the time, but it looks great on your table.
Actual gaming performance is another area where the Harpoon punches above its weight class. Its buttons are well placed and react to clicking immediately. Switching between DPI settings is smooth, as is the way in which the Harpoon glides. You can't adjust each axis separately, but the mouse has little trouble traversing large screens from end to end. It tops out at 6,000 DPI, while 4,500 is the setting to use for the best ratio of accuracy and responsiveness.
Corsair's iCUE config utility is fantastic. There's your standard macro creation and button remapping, but iCUE also tackles DPI settings and colors effectively. The Harpoon can cycle through five DPI presets, but you can disable as many of them as you want. That means you could create a profile with a high and low setting and use it to increase your aiming accuracy in sniper mode effortlessly. Speaking of which, iCUE has a dedicated sniper setting that works in the same way but requires that you set it to a separate button.
Are There Drawbacks?
Corsair's Harpoon is another mouse with a stiff, standard cable. It's the right component to cheap out on, but having to worry about cable placement drains a bit of the joy out of using the mouse. You can assign a color to each DPI profile, and it will briefly shine when switching. The feature is excellent on paper, but it requires that you lift your hand to look at the logo since there's no scroll wheel lighting.
Tech Specs
Dimensions: 4.4 x 2.7 x 1.6 in.
Weight: 3.2 oz.
Buttons: 6
DPI range: 250 – 6,000
Ambidextrous: No
The Pros
Fantastic performance given its price
Comfortable and slip-resistant
Adjustable number of DPI settings
Sniper function
The Cons
Standard cable prone to snagging
DPI color coding needs better implementation